Rear Admiral Rich Correll graduated from Rose Hulman Institute of Technology in 1986 with a Bachelor of Science in Chemical Engineering. He also holds a master's degree in international strategic studies from the Fletcher School of Law and Diplomacy.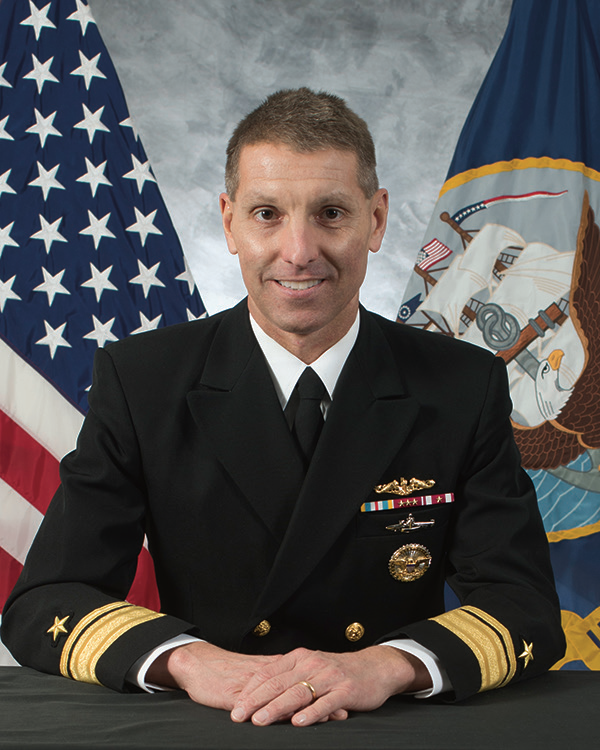 His command assignments include the USS Topeka (SSN 754); Submarine Squadron (SUBRON) 11 in San Diego; and Submarine Group 7 in Yokosuka, Japan. He also served at sea on the USS Henry M. Jackson (SSBN 730), USS Hyman G. Rickover (SSN 709) and USS Buffalo (SSN 715).
His staff assignments include duty at the U.S. Fleet Forces Command as the director of Joint and Maritime Operations (N3), Strategic Systems Programs Headquarters, Naval Personnel Command, Naval Reactors Headquarters in the "Line Locker" and an assignment on the staff of the Office of the Secretary of Defense as the military assistant to the deputy under secretary of defense for strategy plans and forces and military assistant for the under secretary of defense for policy.
In July 2018, he assumed his current duties as the Director, Plans and Policy, United States Strategic Command. He is responsible for the development and implementation of national security policy and guidance, military strategy and guidance, space and weapons employment policy and concepts and joint doctrine as they apply to the execution of the command's global mission.
Correll served on U.S. Navy teams that have been awarded the Naval Unit Commendation, the Meritorious Unit Commendation and the Battle Efficiency E Awards.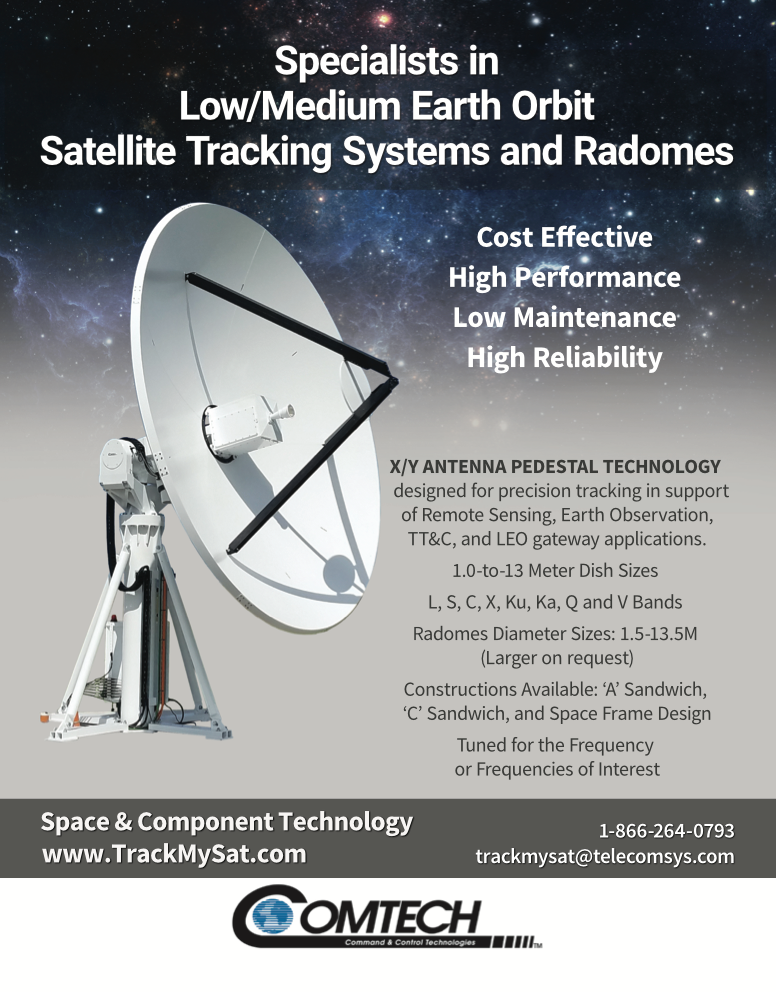 Admiral, would you please outline your current duties as the Director of Plans and Policy for USSTRATCOM?
Admiral Correll
I am responsible for the development and implementation of national security policy and guidance, military strategy and guidance, space and weapons employment policy and concepts and joint doctrine as they apply to the execution of U.S. Strategic Command's global mission.
We have a team of dedicated Soldiers, Sailors, Airmen, Marines, and Civilian professionals that accomplish our mission.
Admiral, what do you see as crucial elements and technologies that need to be implemented to improve space-flight safety?
Admiral Correll
First and foremost, spaceflight safety is a global challenge and it is in everyone's best interest to continue encouraging safe and responsible behavior in space while emphasizing the need for international transparency and Space Situational Awareness (SSA) data sharing.
There are a number of efforts underway that are critical to improve space-flight safety. As increased satellite operations make lower Earth orbits (LEO) more congested, the United States will seek to develop a set of standardized techniques for mitigating the collision risk of increasingly congested orbits, particularly for large constellations.
Additionally, orbital debris poses a growing threat to military, commercial, and civil space operations. Debris mitigation guidelines, standards, and policies must be revised periodically, enforced domestically, and adopted internationally to mitigate the operational impacts of orbital debris.
---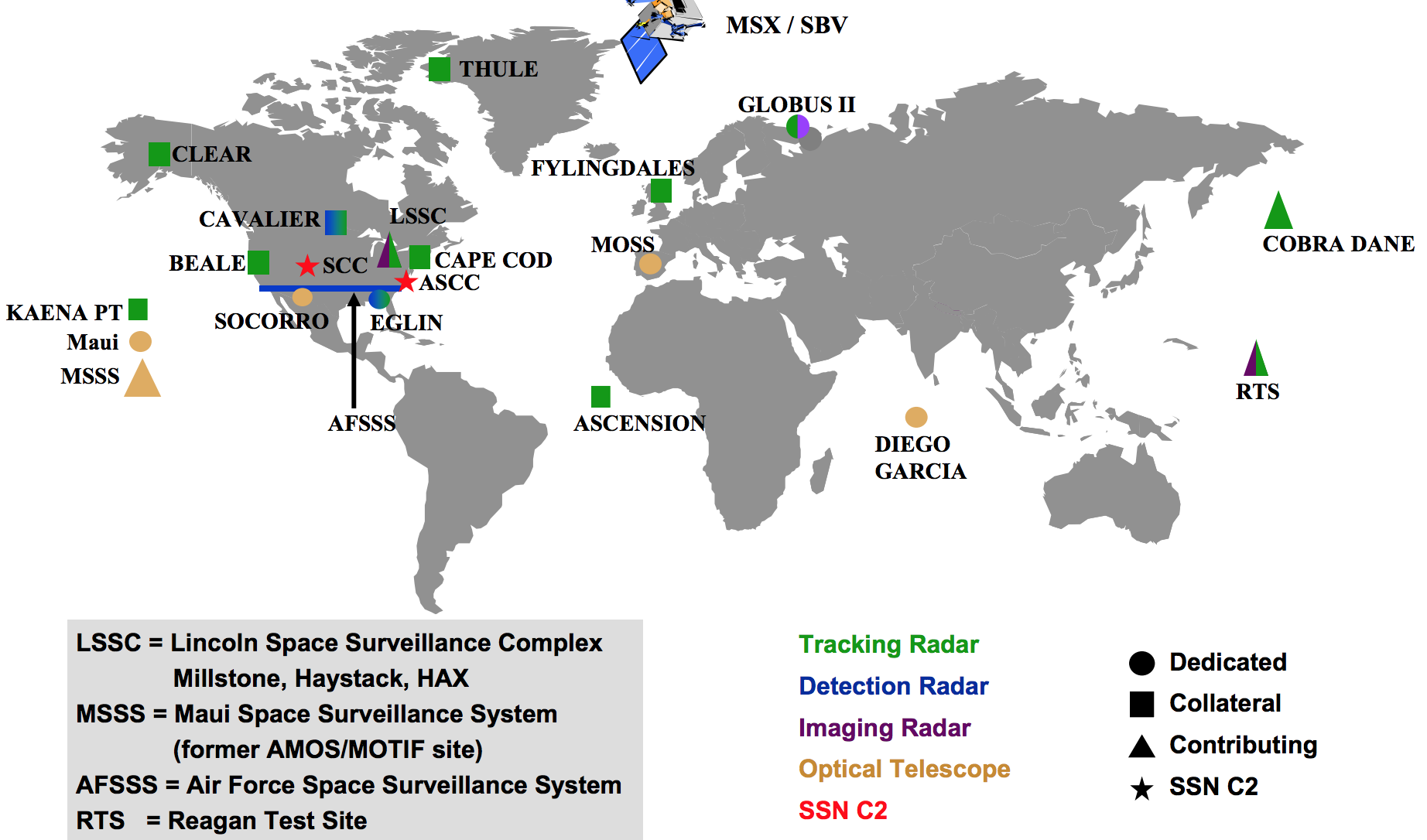 ---
What object sizes can be recognized by the Space Surveillance Network (SSN)? How are threats to spacecraft (military and commercial) determined and how does USSTRATCOM inform satellite operators of these potential encounters with space debris? What guidelines determine when to alert operators to engage in evasive actions?
Admiral Correll
The United States' Space Surveillance Network (SSN), using a combination of terrestrial and space-based radars and optical telescopes, can detect objects 10x10x10 cm., or about the size of a softball.
USSTRATCOM's Combined Space Operations Center (CSpOC) at Vandenberg Air Force Base, California, constantly monitors tens of thousands of objects in Earth orbit, predicts their future orbits and compares them against all objects in their database. The CSpOC compares the predicted orbital characteristics of all space objects to determine if two objects are going to closely approach each other using a process known as conjunction assessment (CA).

CSpOC conducts CAs during the launch, on orbit, and end-of-life phases for all satellites and other orbiting objects. When CSpOC identifies a possible conjunction, CSpoC will send a notification to the satellite owner/operator warning them of the potential hazard. It is then up to the satellite owner/operator whether or not to maneuver their satellite.
How will policies driven by your organization address such a growing number of smallsats and reduce concerns of collisions? Will additional personnel be required to decipher the ever-increasing influx of data from the Space Surveillance Network in order to produce reliable collision alerts?
Admiral Correll
Consistent with the principles as stated in U.S. Space Policy Directive-3 (SPD-3), the overarching goal is for the United States to continue to lead the world in creating the conditions for a safe, stable, and operationally sustainable space environment.

Toward this end, SPD-3 establishes nine goals to meet the Space Traffic Management (STM)-related challenges of the future environment:
• Advance SSA and STM Science and Technology (S&T)
• Mitigate the impact of orbital debris on space activities
• Encourage and facilitate U.S. commercial leadership in S&T, SSA, and STM
• Provide U.S. Government supported basic SSA data and basic STM services
• Improve SSA data interoperability and enable greater SSA data sharing
• Develop STM standards and best practices
• Prevent unintentional radio frequency interference
• Improve the U.S. domestic space object registry
• Develop policies and regulations for future U.S. orbital operations
An area of concern for the militaries, especially within the satellite and space arena, is locating and enlisting individuals who possess the necessary expertise to manage the intricacies of space ops. What support is the U.S. Navy, and USSTRATCOM, giving to middle, high school students as well as college students to further their training for careers into your critically-needed organization? What courses do you recommend students consider availing themselves of to initiate careers that will support our nation's future space concerns?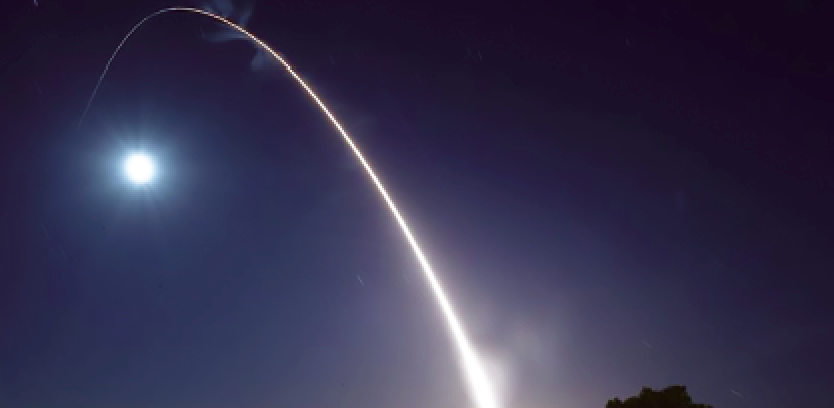 Admiral Correll
USSTRATCOM is very involved with academics across the nation and in the local community to increase the discussion about space. Echoing General Hyten, if we are not exploring, Americans aren't excited.
USSTRATCOM has an exciting and vitally important role to play in deterring adversaries while assuring allies and partner nations. Likewise, the U.S. Navy has a compelling mission in support of our country's security. The challenges and the mission draw talented young men and women from all over our nation to join our team.
The great thing is, we are talking more about space. You can see that in Congress, the White House, and within the Department of Defense. The more we recognize the importance of space and the possibilities it presents, the more excitement and curiosity young Americans feel. And that will motivate students to study science, technology, engineering, and mathematics in order to follow a career path for the future of the country.
In your opinion, Admiral, what are the greatest concerns our military and government face as the future unfolds within the space environs?
Admiral Correll
In my opinion, one of the greatest concerns we face is a lack of common standards and norms of behavior among the countries and corporations that own and operate assets in space.
As technology continues to develop, there will be fewer barriers to accessing space and an increase in the number of players in the domain. As space becomes increasingly congested we will need a mutual understanding of acceptable standards of behavior to ensure we all benefit from safety of flight in space.
While we have decades of experience in how to safely operate on land, at sea, and in the air, we are only just now beginning to develop a shared understanding of how to do so in space.
---
A USSTRATCOM UPDATE
United States Strategic Command and the Royal Thailand Air Force have signed an agreement for space situational awareness (SSA) services and data. Agreements like these lay the foundation that allows the United States to share information with allies and partners.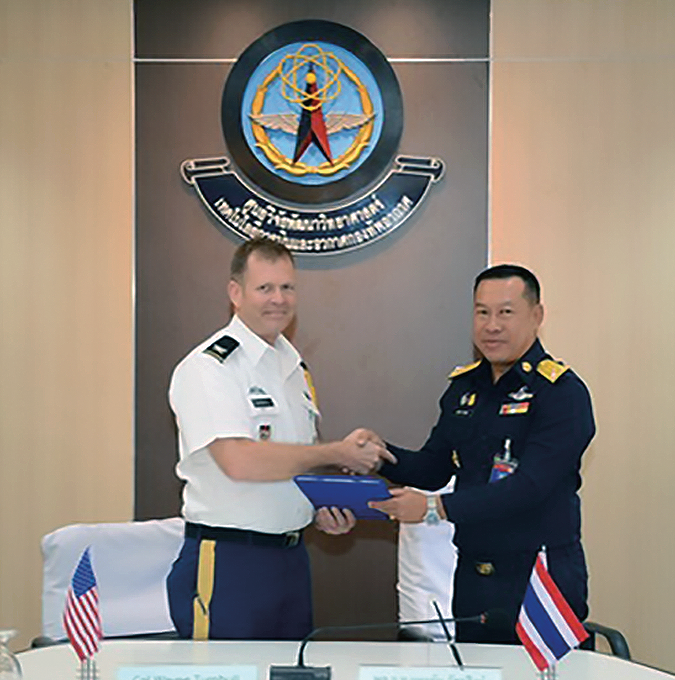 Rear Admiral Richard Correll, director of plans and policy for USSTRATCOM, signed the agreement, which bolsters the United States' and Thailand's awareness in the space domain. The bilateral relationship between the United States and Thailand dates back to 1818, equating to 200 years of friendship.
"Formalizing this relationship with our oldest Southeast Asian partner is crucial as space becomes more contested," said Adm. Correll. "Agreements like this one, between responsible nations, ensures safe and secure space operations."
Thailand joins 16 nations (the Netherlands, Brazil, the United Kingdom, the Republic of Korea, France, Canada, Italy, Japan, Israel, Spain, Germany, Australia, Belgium, the United Arab Emirates, Norway, and Denmark), two intergovernmental organizations (the European Space Agency and the European Organization for the Exploitation of Meteorological Satellites), and more than 70 commercial satellite owners, operators, launchers already participating in SSA data-sharing agreements with USSTRATCOM.
"Thailand signing these guidelines with the United States demonstrates their continued leadership within the [Association of Southeast Asian Nations] ASEAN organization and firmly establishes the Royal Thai Air Force in the Space Community," said Correll.
SSA data-sharing agreements enhance multinational space cooperation and streamline the process for USSTRATCOM partners to request specific information gathered by Air Force Space Command's 18th Space Control Squadron at Vandenberg Air Force Base in California. The data is critical for launch support, satellite maneuver planning, support for on-orbit anomalies, electromagnetic interference reporting and investigation, satellite decommissioning activities and on-orbit conjunction assessments.
USSTRATCOM has global responsibilities assigned through the Unified Command Plan that include strategic deterrence, nuclear operations, space operations, joint electromagnetic spectrum operations, global strike, missile defense, and analysis and targeting.
---