Training Is The Key To Success
Communication is key in every workplace, but even more so for the military. Keeping up-to-date equipment is the first line of defense.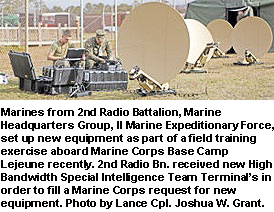 For 2nd Radio Battalion, Marine Headquarters Group, II Marine Expeditionary Force, recent equipment acquisition included new, lightweight satellites for field training.
The newest arrival—the High Bandwidth Special Intelligence Team Terminal—meets the Marine Corps' urgent request for new satellites to be employed.
The new dish provides the battalion the capability to pass collected data to intelligence analysis centers in near real time, resulting in timely and actionable intelligence product. It also provides an ability for the battalion to access national and theater-level intelligence networks.
HBSI-TT consists of two main subsystems. The radio frequency subsystem provides voice connectivity, while the network subsystem provides for Internet requirements. This lightweight solution can be deployed in a matter of minutes.
Twelve Marines took part in the training and fielding of the new systems and were instructed on how to bring the new system online and conduct function checks.
On the final day of training technical inspections were conducted on the equipment and the HBSI-TT's were added to the battalion's capability set for current and future operations.
"All the testing has already been completed, the gear passed its validation," said Maj. David Arjona, project officer at Networking and Satellite Communications, Satellite Communications Systems, Marine Corps Systems Command. "This fielding is for the Marines to train on the gear before it's turned over to them."
MCSC will continue new equipment training and fielding to other units across the Marine Corps receiving the HBSI-TT.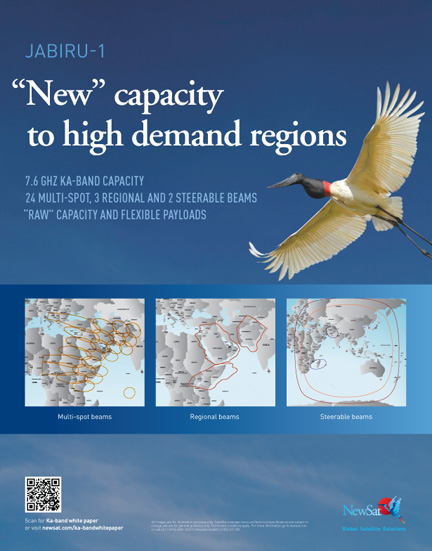 Story by Lance Cpl. Joshua Grant, Marine Corps Base Camp Lejeune

* * * * * * * * *

Insights From SIA's DoD Workshop
Last December, the Satellite Industry Association (SIA) held its 2012 DoD Commercial SATCOM Users' Workshop, which brought together government leaders from the Department of Defense along with commercial satellite operators and manufacturers.
The event covered a wide range of issues and challenges that confront the state of SATCOM and defense today.
For U.S. Africa Command (AFRICOM), commercial SATCOM is critical as existing systems in this region are not sufficient for manned or unmanned ISR, reinforcing the need for Ku- solutions.
In addition, U.S. Pacific Command (PACOM), now requires commercial SATCOM resources that are portable to any part of the region and support UAV and comms-on-the-move efforts.
During the Mission Assurance Panel, which was moderated by Dr. John F. Plumb, Acting Deputy Assistant Secretary of Defense for Space Policy, the key topic was the vulnerability of U.S. communications capabilities to attack, reinforcing the need for prevention and retaliation strategies.
Another theme was the growing need of the DoD for viable SATCOM solutions. The U.S. Air Force is increasing the use of SATCOM to meet ISR needs, with assured access in all environmental conditions. The U.S. Marine Corps is moving towards the use of tri-band terminals to access MILSATCOM and commercial SATCOM. The U.S. Army needs more satellite power delivered to smaller terminals to meet the needs of its fragmented user base, while the U.S. Coast Guard needs streamlined solutions for supporting its aging fleet.
Kay Sears, President of Intelsat General, participated on a panel where she discussed the best ways for meeting the DoD's SATCOM needs. In particular, she highlighted how satellite operators must continue to invest in ground and space infrastructure, as the DoD cannot "do it all." In addition, she discussed how the commercial sector must always play a critical part in military communications, yet one that does not duplicate what the DoD is doing.
In terms of Intelsat General's support for the DoD, the company, and its team of partners, delivers worldwide commercial telecommunications services to the U.S. Navy's fleet of ships under the Commercial Broadband Satellite Program (CBSP). It is also a leading supplier of global satellite services in support of UAVs in the ISR arena.
The annual DoD Commercial SATCOM Users' Workshop is always the ideal forum for government and industry to gather to discuss the biggest issues and trends that face our sector. This year's event proved that commercial SATCOM solutions will continue being viable as new opportunities and challenges lie ahead.
Story courtesy of Intelsat General's Satcom Frontier blog
* * * * * * * * *

Special Ops Continue Collaboration With Aviation As Army Downsizes
Army aviation special operations forces and conventional aviation forces will continue to collaborate and forge bonds that will become tighter as the Army downsizes special operations forces and others, commanders have said.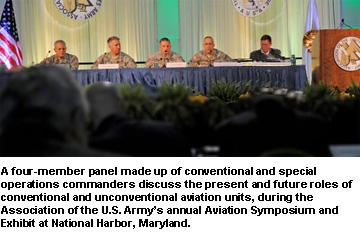 Col. John R. Evans, commander of the 160th Special Operations Aviation Regiment (Airborne), said as demands for his unit's services have increased, conventional aviation has stepped up in every regard and supported operations across a broad spectrum.
Evans spoke as part of a four-member panel made up of conventional and special operations commanders at the Association of the U.S. Army's annual Aviation Symposium and Exhibit. They discussed the present and future roles of conventional and unconventional aviation units.
"I can tell you right now, we have as good a relationship as we've ever had with conventional aviation. It's been a very collaborative and collegiate one," he said. "We've got units within the conventional Army that are doing missions that are very similar to what we're doing with regard to assault, precision fires and then all the critical medevac, logistics and supply functions as well."
Evans noted that special operations forces, or SOF, rely heavily on the Army aviation enterprise for virtually everything it does—from manning, to training and resourcing—and will continue to tighten its bonds with its conventional brothers to make the overall aviation enterprise even more successful.
"As we take a look at not just the current battlefield and what our emerging battlefields are going to be and see our forces become more regionally aligned, we're also looking at things like our emerging global force requirements," he said.
Addressing emerging global force requirements and the shift from Afghanistan to the Pacific-Asia area of responsibility, Col. Daniel E. Williams, director of aviation for U.S. Army Forces Command, said maritime over-water competency was already in place, the book written by Army aviation SOF.
"We've taken that book and made it match to Apaches, so as recently as four weeks ago, we had conventional 160th Apache aviation 75 miles off-shore in the Atlantic Ocean on Navy ships," he said. "That's happening today in limited operations."
Williams said Army conventional and SOF had been working with each other for the last decade and as a result long-term friendships have been made between the groups and their commanders. He also said FORSCOM's headquarters move to Fort Bragg, North Carolina, was "huge" because it cemented conventional with SOF aviation.
Today, Joint Special Operations Command, U.S. Army Special Operations Command, known as USASOC, the Joint Special Warfare Center, XVIII Airborne Corps and the 82nd Airborne Division are all at Fort Bragg, and the geographical location has made all the difference.
"Synergy probably didn't happen as easily as before when we were down in Atlanta and other places," Williams said. "It's now happening—it's too easy to get out of your office to go talk with your brothers, and that's air and ground."
Williams said that with rapidly dwindling resources and the drawdown of Operation Enduring Freedom, conventional and SOF aviation would find themselves in contact in the same battlespace with little notice or planning, so it was imperative they stay in synch and interoperable at all levels.
Former commander of the 82nd Combat Aviation Brigade, or CAB, Col. Terry "TJ" Jamison addressed the challenges he and his Soldiers had as a conventional CAB commander in working with SOFs. He said that in Afghanistan he had 196 rotary-wing aircraft—made up of utility helicopter, cargo helicopter, and medevac helicopters out of the Army Reserve and National Guard communities. On any given night 15 to 20 percent of those aircraft were in a direct support role to SOF mission sets.
"As you look at SOF mission sets that we did, we had what was a 20 percent utilization rate," Jamison said. "What I mean by that is you would commit aircraft and crews to an SOF mission set as they waited for target fidelity and the ability to execute that target opportunity sometimes that took time, but you still had to have those aircraft and crews dedicated to that mission set."
Jamison said "counter-intuitive" to what most people would think, his conventional force usually had the riskier missions and often pulled five and sometimes six air assaults a night if the "hunting was good during the fighting season." His crews also had the autonomy to engage the enemy when positively identified, whereas an SOF mission was more specific to the target and rarely performed an air assault more than once per night.
"The biggest challenge we had was the terminology and the verbiage that the aircrews use in talking to the SOF elements on the ground," he said, adding that since the SOF community is "joint" across the board, they all use joint terminology.
"We are not there in most of the conventional CABs," he said. "The ground force customer is working off standard operating procedures; we're working off SOPs for terminology. Just in my own brigade we had four different words for 'in-flight, link-up'. There's an effort to fix that and that should continue."
Rounding out the panel, Brig. Gen. Clayton Hutmacher, commander, Army Special Operations Aviation Command (Airborne), said that on the materiel side, the interaction with conventional aviation has been going on for quite a while, noting that "Army influence and participation in programs such as Future Vertical Lift and Armed Aerial Scout is not only desirable, but critical because we're likely going to see ourselves in a COIN (counter-insurgency) fight for the future, which will require an SOF-like approach to a lot of these problem sets."
"We're moving into the UAS (Unmanned Aerial Systems) world now with Gray Eagles, Ravens, and Shadows, and I think you will see in the future our influence over those programs within the Army as we try to break new ground and incorporate new technologies into those platforms which I see will proliferate down," he said.
Story by J.D. Leipold
* * * * * * * * *

Algerian Aviation Control
Harris Corporation has been awarded a contract to provide a voice communications system for military air traffic control in Algeria.

This will be the seventh Harris Voice Communication and Control System (VCCS) deployed in Algeria, with an option for four additional systems to be deployed over the next two years.
Harris will supply the Liberty-STAR™ VCCS to a partner that will integrate the system into a mobile military shelter for monitoring aviation activity in remote locations.
The mobile shelter system will be equipped with touch-screen operator positions, radio and telephone interfaces, and a System Maintenance, Administration and Reconfiguration Terminal (SMART) POSITION™.
Liberty-STAR features a modular architecture, open-platform software and commercial-off-the-shelf hardware that delivers a reliable, scalable communications solution for air traffic control (ATC) towers, airline and area control dispatch, flight service stations, and mobile shelters.
Harris has extensive experience developing mission-critical solutions that support civil and military air traffic control operations worldwide, including more than 200 customers in 50 countries.
The company has installed more than 60 mobile military ATC systems, including six in Algeria. Harris also has installed one civil ATC system in Algeria.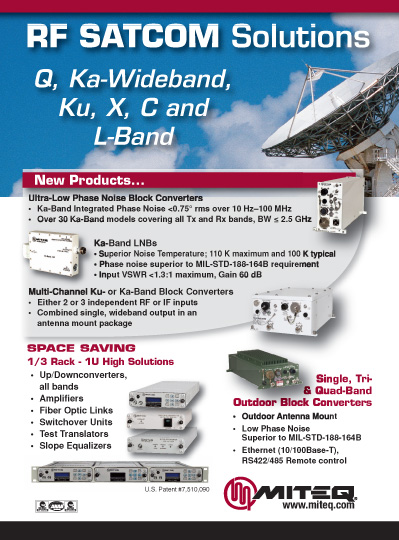 As part of its initiative to further expand internationally and introduce new products to market, the company launched a new IP-based, ATC voice communications system during ATM World Congress that was held February 12-14, 2013, in Madrid. #
* * * * * * * * *

Two Are Lofted
Japan launched two new satellites on January 23rd, one of which was designed to strengthen its monitoring capabilities amid concerns that North Korea may carry out more missile and nuclear tests.
A rocket carrying a radar-equipped satellite blasted off from a space centre at Tanegashima in the southwest, the Japan Aerospace Exploration Agency (JAXA) announced. The space agency said the satellite would be used for information-gathering, including data following Japan's 2011 quake and tsunami, but did not mention North Korea by name.
The launch was carried out by a H-IIA rocket and the satellite should give Tokyo the ability to detect areas as small as one square meter at night or through cloud cover.
The second satellite was designed to test new optical technologies.
* * * * * * * * *

A FAB Time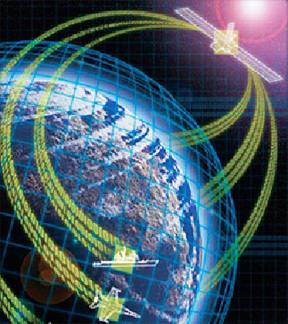 Boeing recently achieved two important milestones on the U.S. Air Force Family of Advanced Beyond Line-of-Sight Terminal (FAB-T) program, which will provide protected wideband satellite communications among ground and airborne terminals for the command and control of U.S. nuclear forces.
The Boeing FAB-T team has completed software qualification testing and systems integration testing on the FAB-T development program. The team demo'd FAB-T's integration with the Advanced Extremely High Frequency (AEHF) and Milstar mission control subsystem, which commands both satellite constellations. Conducted in Boeing's factory, this test validated FAB-T's ability to control strategic satellite communications payloads on orbit. The AEHF and Milstar satellite constellations will relay FAB-T communications once FAB-T is operational.
During testing, FAB-T also transmitted data using both low-data-rate and extended-data-rate (XDR) communications protocols.
The system's advanced XDR capability offers Internet-like functionality and improved speed compared with earlier systems and software.
In April 2012, Boeing and the Air Force agreed on a set of additional FAB-T capabilities, including Presidential and National Voice Conferencing, to be developed under Boeing's firm fixed-price contract.
The Boeing team has implemented those capabilities and expects to enter functional qualification testing early this year.
* * * * * * * * *

Addressing Aeronautical Needs
ORBIT Communication Systems Ltd., a subsidiary of ORBIT Technologies Ltd., has won a major contract for a large Asian's country defense organization to supply an end-to-end aeronautical test telemetry solution.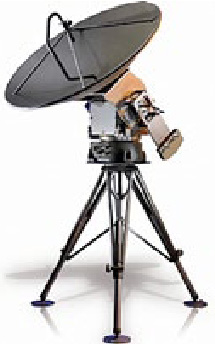 The telemetry project, comprising ORBIT's off-the-shelf tracking systems, third-party equipment, software and services is estimated at more than US$ 3 million.
A follow-up order for a similar project is expected in the near future. To service its growing base of customers in this strategic market, ORBIT has established a local customer support center in one of the evolving markets of Asia.
Using these resources, ORBIT will provide the defense organization with local training and support to solve problems in the field with minimum downtime.
ORBIT will supply the defense organization with a turnkey end-to-end aeronautical telemetry solution. Additionally they will assume full project ownership from installation to operation with ORBIT's highly accurate, off-the-shelf tracking systems for L- and S-bands for antennas ranging from 1.2 to 3 meters in diameter.
By offering a combined L- and S-band feed with auto-tracking capabilities, ORBIT's solution eliminates the need for dual antennas, reducing customer's cost by almost half.
In addition, the use of off-the-shelf products enabled ORBIT to realistically commit to very fast delivery times. Consistent with customer's functional requirements,
ORBIT's products are proven to operate in high temperatures and humidity, and their portability facilitates use in different applications. ORBIT's tracking antenna systems are part of ORBIT's field-proven suite of Tracking & Telemetry systems, which enable continuous communication with aircraft, missiles and UAVs. ORBIT's flight telemetry systems can be operated from fixed positions as well as mobile platforms such as vessels.
* * * * * * * * *

MILSATCOM Ops Strengthened
Infrastructure for the 3rd and 4th Space Operations Squadrons' integrated operations environment at Schriever Air Force Base is complete, and combined operation began on January 15th.
"The start of satellite command and control operations in the integrated ops environment this week is the culmination of countless hours of work by hundreds of government and industry people," said Col. James Ross, 50th Space Wing commander. "This new facility will allow 3 SOPS and 4 SOPS professionals to more effectively and efficiently deliver decisive communication effects on a global scale."
The IOE is a 50th Space Wing initiative to integrate the operations of Department of Defense military satellite communications systems and architectures into a single operations floor.
"This is designed to strengthen the effectiveness of military satellite communication operations and enhance operational efficiencies and situational awareness while creating a truly integrated MILSATCOM operations center," said Capt. Gail Smicklas, 3 SOPS IOE project officer.
"Without question, the geosynchronous space environment has become increasingly congested," said Lt. Col. Chadwick Igl, 3 SOPS commander. "The warfighters demand for reliable, space borne communications becomes even more critical as the nation prepares for a potentially contested environment. IOE realizes this vision of a combined MILSATCOM operations center where the two premier SATCOM squadrons at the 50th Space Wing will have unprecedented situational awareness to recognize, react and respond to potential hostile actions and satellite anomalies. We hope to expand the synergies realized to our mission partners when they join us in the IOE and provide an even greater opportunity to enhance the combat effects provided by the 50th Space Wing to our U.S. and allied partners."
The IOE concept has been in development for a decade, but the current configuration was solidified in 2005.
"During 2012, 3 and 4 SOPS tested the IOE concept by performing co-located operations," said Capt. Micah Dodds, 4 SOPS operations flight commander. The IOE aims at preparing the U.S. to successfully operate far into the future, in a spectrum of environments.
The layout of the ops floor is designed to encourage inter-squadron communication and situational awareness to respond to satellite anomalies, potential attacks or interference.
"What started with a vision many years ago by my forward thinking predecessors Lt. Gen. John Hyten, Brig. Gen. Teresa Djuric, Brig. Gen. Cary Chun and Col. Wayne Monteith is now becoming a reality. We should be proud to continue the 50 SW tradition of innovation and operations excellence," said Ross.
Story by Staff Sgt. Robert Cloys. 50th Space Wing, U.S.A.F.
* * * * * * * * *

Remote Sensing Augmentation
Andrews Space (Andrews) has been funded by the U.S. Army Space and Missile Defense Command to design and deliver a Kestrel Eye Block 2 Earth imaging spacecraft as part of the Army's Kestrel Eye program.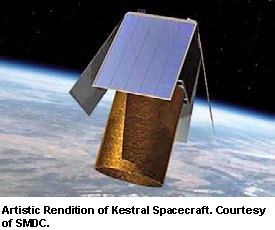 Under the current effort, known as Kestrel Eye Block 2, Andrews will develop, build and deliver an Earth imaging nanosatellite.
The spacecraft embodies a paradigm shift to lower-cost, higher persistence overhead reconnaissance capabilities.
While not meant to replace traditional imaging assets, Kestrel Eye Block 2 seeks to augment the current approach
to remote sensing by demonstrating the application of low-cost, commercial technologies to enable a new tier of reconnaissance capability.
The overall Army effort is a Joint Capability Technology Demonstration (JCTD) that requires the demonstration program be completed in 24 months, or 2014.
Incremental subsystem hardware demonstrations will occur regularly during development to build confidence in the system and assess subsystem performance against threshold objectives and goals.
* * * * * * * * *

Agile, Light + Compact W/Large Results
More mobile, Manpack Antenna options for warfighters in theater, on-the-move small form factors, high data rate, rugged systems with lower cost broadband connectivity.
Agile Milcoms revealed their newest MST-series manpack antenna, the MST Ultra-light flat panel Ku-band antenna, and two of their most popular antenna systems, at the AFCEA/USNI West 2013 event.
The new MST Ultra-light Antenna includes either an X-, Ku- or Ka-Band flat panel ultra-light Flyaway Manpack antenna with a CAP (Computer Assisted Pointing device) controller—this enables a warfighter to locate the desired spacecraft in a matter of minutes.
The MST-100M-HD features a fully motorized, Tri-Band platform with auto-acquisition that locates and peaks on the desired satellite. This allows a warfighter to focus on other tasks while the system locates the network that typically takes between two to five minutes. The antenna supports X-, Ku- and Ka-bands.
ACS is expanding its line of MST ultra-light man-packable terminals with an ultra-small (10" x 32") X-or Ku-band CTS technology, (Continuous Transverse Stub), Flat Panel Antenna which reduces adjacent satellite interference.
The Ka-band version measures only 10" x 15" in size and is one of the smallest manpack terminals available. This Planar Array antenna Technology provides "large dish performance" and is optimized for maximum efficiency of Eb/No Performance which requires no spreading, unlike other larger antennas.
The narrow aperture beamwidth is equivalent to a 1m 1M dish, without the bulk of a larger antenna. It features:
• 70 percent+ efficiency versus 50-60 percent of 1M dish
• No spillover or tapering required
• Discreet sidelobes axes that can be slightly rotated off-axis to further reduce any ASI
• Requires no reflector panels, simplifying installation and improving performance
The ACS-COTM-300 satellite system is an affordable, low-profile (11cm / 4"), high data rate (up to 10 Mbps 2- way) highly efficient and rugged Ku-Band Satellite Comm's-On-The-Move system which provides continuous broadband connectivity. The System is based on Variable Inclination Continuous Transverse Stub (VICTS) array technology developed by ThinKom Solutions.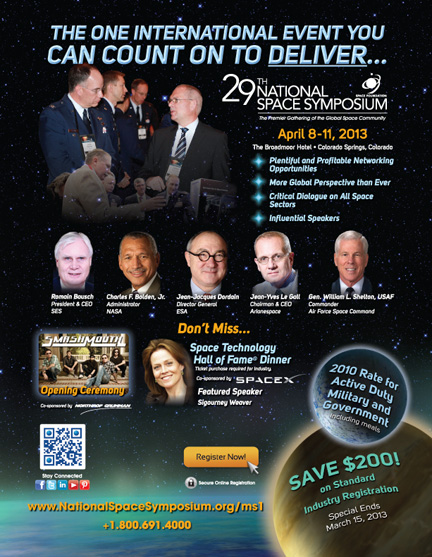 VICTS provides superior side lobe performance opposed to other on-the-move-array technology which typically requires signal spreading to meet Adjacent Satellite Interference (ASI) requirements. Elimination of the necessity of spreading allows the ACS-COTM-300 to be more easily adapted to a broader range of satellites on a global basis.
The unit tracks at speeds up to 300°/second that enable the system to perform continuous "on-the-move" tracking of satellite signals with minimal interruptions.
Also provided is 3x to 10x higher spectral (MB/$) efficiency than competing OTM products resulting in a huge reduction in bandwidth costs over other systems requiring Spread Spectrum bandwidth and higher G/T transponders
This unit is configurable with any satellite modem, including the rugged ACS-e850MPR (powered by iDirect) with full TRANSEC FIPS 140-2 security, which is optimized to achieve high-performance and quick response time for professional, enterprise and government applications for voice, video, and data in iDirect Star or Mesh topology configurations and ISCPC networks) or the rugged ACS- DVB-RCS modem which are intended for outdoor applications in the most demanding of environments.
Both modems have been designed to interface directly with the ACS-COTM-300 or the SQD (Super Quick Deploy) antenna systems or the CAP controllers for all the non- motorized ACS-MST-series antennas.
The MST-100M Man-Pack Satellite Tri-Band Terminal is a portable X-, Ku-, or Ka- communications system consisting of a .75m satellite dish, tripod, and modem which are conveniently carried in a rugged case (measuring 21" x 35") for easy, remote use. The system can be configured to accommodate various up and down bandwidths. With Advanced DVB- RCS/S2 the system is capable of uplinking up to 6MB of usable bandwidth.
The MST-100 is available in two models: MST-100-HD (non-motorized for less weight, with CAP (Computer Assisted Pointing), and MST-100M-HD (motorized, fully auto- acquiring).
Both models feature:
• Optional Advanced DVB-RCS/S2, TDMA, FTDMA, DAMA or SCPC Topology
• Dual Frequency DVB-RCS remote terminals
• Manual point with CAP or Auto-Acquire/deployed systems
* * * * * * * * *

Presidential Campaigning Required Geofences
During the recent presidential campaign, local law enforcement agencies and other departments needed to be aware of the temporary flight restrictions (TFRs) in place to accommodate the presidential candidates' movements across the country.

LA County Sheriff's Department (LASD) made extensive use of SkyWeb, SkyTrac's asset management program to ensure aircraft avoided TFRs, and to identify and respond to questions about aircraft flying during the restrictions.
When new TFRs were announced, LASD were able to set up geofences so they could be notified if any of their aircraft flew into or near a restricted area.
LASD was also easily able to identify if an aircraft belonged to them when questioned by other groups monitoring the TFRs.
"Having an ISAT installed on our aircraft made navigating the TFRs a much simpler process. At a glance we were able to redirect our aircraft if needed," stated a sergeant at LASD.
LASD has also found the service valuable for when their aircraft are operating out of state, and have no radio communications with the base.
The system provides an extra layer of safety for the unique flying environment found in California, which includes deserts, mountains, oceans and other bodies of water.
"LASD has employed many advanced features in SkyWeb, and the efficiency and effectiveness of their operation is obvious," commented SkyTrac President and CEO Malachi Nordine. "It is amazing to be able to watch how differently each client uses our system, and how we can help tailor a solution to fit each individual's needs."