Daniel Gazinski is the President of Comtech Satellite Network Technologies, Inc. (a U.S. Corporation) He was named to this leadership position on January 3, 2022. Previously, he held various senior management positions at Comtech, including Vice President of Product and Strategy for Comtech Systems Inc. Prior to joining Comtech in 2019, Daniel held program management and leadership roles at General Electric, Sierra Nevada Corporation, and L3Harris Technologies. Daniel holds a Bachelor's degree in Electrical Engineering from the University of Virginia and a Master's degree from Duke University.
As near-peer threats reach their highest level since the Cold War, battle- ground-infrastructure innovations are increasingly mission critical. Comtech has developed key software-defined components that are enabling US and allied forces to instantly bring JADC2- level capabilities to fielded gear.
---

---
That has proven to be a game changer for warfighters who are tasked with many responsibilities – from tactical logistics to comms. Daniel Gizinski offers his thoughts regarding the latest on such groundbreaking defense solutions and the impact they've already had, as adversarial threats continue to rise around the globe.
Comtech has made some big contributions to the defense and government market. What are some of the most significant differences you've made for warfighters lately?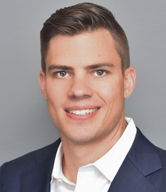 Daniel Gazinski
Daniel Gizinski
Adversarial threats have certainly reached Cold War levels and, as a result, global communications requirements have shifted toward addressing an advanced threat profile where Comtech truly excels.
The U.S. Government and many of our allies have migrated to a strategy that has explicitly re-focused on addressing near-peer threats.
Comtech has been delivering software-defined modems into the defense market for more than a decade, offering software-only upgrades to fielded, in-use hardware, to bring them up to the current fight, which has been a game-changer for our in- theater forces.
We've been highly effective at providing capabilities to bridge the gap between old standards and new capabilities, addressing a core challenge of fielding Joint All Domain Command and Control (JADC2) in connecting more sensors to more shooters and shortening the time to close the kill chain.
What are the game-changing defense solutions Comtech has recently brought to market that have already had an impact across the battlespace?
Daniel Gizinski
Comtech has received WGS / ARSTRAT certification of our newest SLM650C2 modem, enabling our most widely fielded government satellite modem family to work on the WGS constellation as well as COTS / commercial satellite constellations.
With the ever-growing demand in data and imagery, our defense and government customers are demanding higher capacity communications links.
The newly released CDM-780 ultra-high-speed modular modem will give our intelligence and warfighter communities the fastest communications speeds available over satellite, supporting up to 7.2Gbps of user traffic. Our users also require a wide variety of communications capabilities, which have historically been used independently in a sort of
communications "vacuum". We have demonstrated technologies that enable our users to communicate over terrestrial, satellite, tropo and microwave in an auto switching, auto healing environment so that any communications channel available can be used to aggregate comms or self-heal in a contested environment. This capability enables an always on, always available link to valuable support and data services.
Comtech is close to opening a newly expanded defense solutions manufacturing facility in Arizona. How important is that expanded production capability to your overall mission?
Building products in the U.S. has become more important as the impacts of the COVID-19 pandemic have revealed supply chain vulnerabilities. Comtech has been and remains a U.S. manufacturer for more than 40 years. While others outsourced production overseas, we have learned how to better compete with American manufacturing, which has allowed us to build our brand known for high quality. Comtech is expanding our manufacturing and technology facility in Arizona.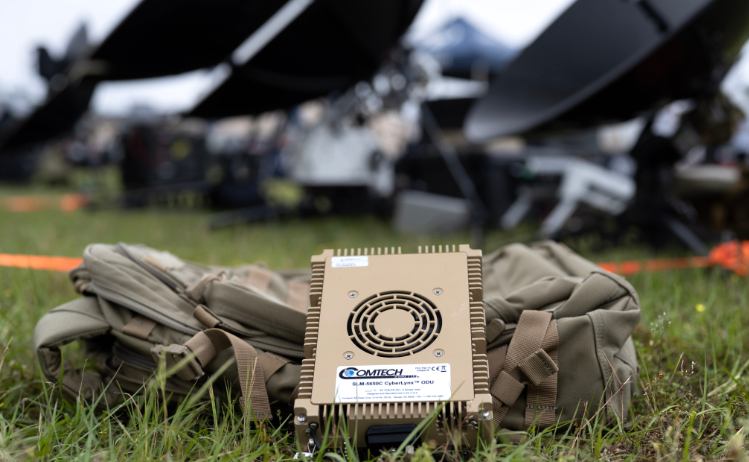 Comtech SLM650C modem
We recently invested in a new 150,000 square foot manufacturing and engineering center of excellence in Chandler, Arizona. The operation is strategically located down the street from a large Intel Corporation facility, as well as TSMC's new 1,000+ acre fab. Investments in production facilities take time and energy, and leaning forward into the U.S. Government's (USG) desire to on-shore production has been key in our ability to deliver on these capabilities.
How has the Russian invasion and the subsequent war in the Ukraine impacted your dedication to the U.S. and allied governments?
Daniel Gizinski
Early during Russia's invasion of Ukraine, we donated several, small form factor, troposcatter systems and upgrade kits for fielded equipment
The ability to communicate in a denied and degraded electromagnetic environment is critical. We understand the need to move fast and we were able to deliver these systems prior to any contracting efforts. We have now seen demand for dozens of follow-on systems via Foreign Military Sales (FMS) channels and we are fulfilling these orders to continue the support of the Ukraine and allied countries.
It proved to be an extension of our commitment to delivering solutions based on our customer's problem sets, rather than a defined path to addressing requirements. We've been able to deliver advanced satellite communications capabilities, resilient troposcatter networks, and supporting equipment based on customers' real challenges and issues that they experience with their equipment in the field.
Our defense customers have stated to us privately and publicly that our products have proven to provide reliable communications in contested theater where others could not. When you hear from users in mission-critical situations who say they rely and trust in the Comtech products where other communications solutions failed, it really underlines our team's dedication to doing our part in defending our U.S. and Allied interests.
You have personally participated in defense and government technical trials in the field and heard firsthand about the pain points and challenges being faced by warfighters around the world. What are some of the biggest technical and comms challenges across the battlespace and how has Comtech helped to solve them?
Daniel Gizinski
One of the most exciting things about our organization is that we haven't lost sight of our end user's requirements. I have personally attended dozens of customer demonstration events and training exercises throughout the year. It's a hands-on experience that allows us to rapidly align our development focus with real customer needs, sometimes before they even realize there is a capability gap.
One of the biggest challenges is that most communications operators don't just have one job. They are responsible for setting up and troubleshooting communications equipment, as well as a dozen other tasks. Any time spent troubleshooting a satellite link is time that could be better spent elsewhere.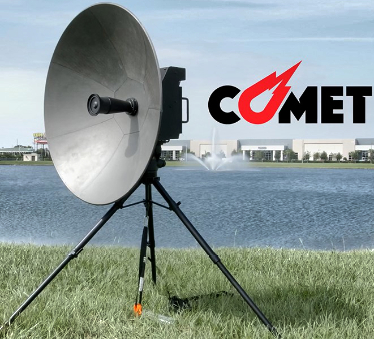 One of our responsibilities it to ensure our end users can easily configure and establish communications with minimal time and training. Witnessing these on-site demonstrations and speaking directly with the military and government users is one of the reasons why we developed our SCC (Stored Configuration Controller), a field installable push- button configurator that is pre-loaded for multiple communications missions. This SCC allows the warfighter to change the communications mode, frequency, data rate, waveform and more without the need to carry a laptop or cables. It ensures that our warfighters can set-up reliable communications in seconds with nothing more than a finger.
Comtech is a big company but we haven't lost the personal touch with our customers. We offer ease of use across our solution sets and we consistently stay focused and on the operator and have a personal touch with our customers. Anywhere in the world our customers will call us on the phone and can talk with an engineer in minutes. We actually answer the call.
The complexity of the various constellations has made setting up satcom networks very difficult for the average soldier, sailor and airman. Comtech equipment plays well across all providers, and our technicians have broad experience to help in any region of the world, any network.
We have made modifications to products that are 7+ years old to work over GEO, MEO, LEO and HEO constellations. Our next generation products will support single box hitless antenna handovers and multi-constellation, multi-waveform solutions while minimizing cabling and configuration.
Comtech is a longstanding leader and innovator in defense solutions — how does the company continue to further its mission of enabling government and defense communications capabilities?
Daniel Gizinski
Comtech has always been an innovator in defense solutions, and we continue to provide our customers new capabilities and services to ensure communications dominance over our adversaries. We recently introduced the modem breakthroughs we discussed earlier and have also enabled 3rd party manufacturers and service providers to implement and integrate some of Comtech's intellectual property and communications waveforms into non-Comtech hardware solutions.
We have ported our waveforms onto 3rd party modems to ensure that more branches of the DoD can access global gateways and trunking nodes, and we are working with companies that are porting our waveforms into virtualized environments. We have also initiated the development of our own virtual environment, as well as digital IF between modems and edge devices to support the flexibility and expandability needed by our government and defense community.
The past few years have marked a major shift in the Government spending away from a focus on the Global War on Terror towards a primary focus on addressing near-peer capabilities. There's been a shift from operations in a permissive environment to operations in an Anti-Access / Area Denial (A2AD) environment. Our communications will be up against much more sophisticated threats, and we've been working to develop capabilities that are up to the challenge.
What are a few key differentiators when it comes to Comtech's innovative approach to defense solutions?
Daniel Gizinski
When Comtech shows its offerings to potential military customers, unlike our competitors, we show up with real operating equipment, not a PowerPoint presentation. We are a commercial manufacturer that has high manufacturing output and high- quality product capacity. We don't have to wait a few years to determine how we will build a new product, because manufacturing is built into our design with co-located U.S. based manufacturing and engineering in Arizona.

Our design, release, and testing is second to none. This is why Comtech has come to be known as the most reliable modem manufacturer in the world. We are like the Toyota of the modem industry— many of our modems have lasted decades beyond expectations, and we regularly get customers calling asking about modems that we thought were long retired.
That is a testament to our quality and ability to offer software and firmware upgrades that enable our users to maximize the value of the product and extend the life of their investment.
www.comtech.com
---