USMC + US Navy—Practice For Perfection At Pohang
In an age where technology enables rapid decision making, and information can be moved in seconds, the ability to communicate is an invaluable asset for all and can make—or break—a military operation.
For Marines and Sailors taking part in the Marine Expeditionary Force Exercise 2014 at Pohang, Korea, communication will be a key element to a successful command post exercise which will test the abilities of the U.S. and Republic of Korea Marines to react to a crisis situation.
"This is the largest communications architecture that we have deployed in support of a MEF-level exercise," said Capt. John R. Sisson, commanding officer of Company A, 7th Communications Battalion, III MEF Headquarters Group, III MEF. "This is an austere environment which brought new challenges and required considerably more logistical planning than compared to exercises we conduct on Okinawa."
The MEFEX 14 CPX tests the abilities of the ROK and US relationship to operate and communicate effectively across the range of military operations, from disaster relief to complex, expeditionary operations.
Upon arriving at the 1st ROK Marine Corps Division Base in Pohang, 7th Communications Battalion had an empty field of mud and snow in front of them and a deadline of 96 hours to provide multiple Internet systems, phone and video teleconferencing capabilities to a combined operations center.
"It is always a daunting task to come into a barren area but this is what expeditionary operations are all about, this is what we as a Marine Corps are here to do," said Capt. Allen V. Pollard, future operations officer with the battalion. "We are able to come out here into an austere environment, not rely on any pre-existing structures or power supply and set up a command post, complete with Internet and phones, from scratch."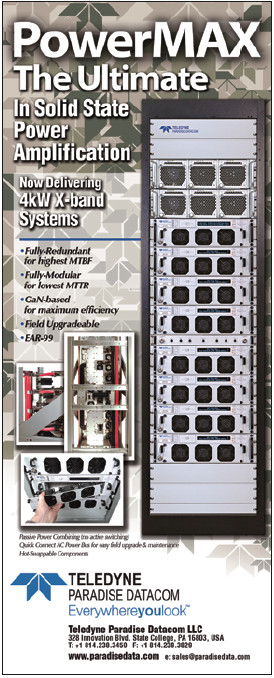 In order to make the 96-hour deadline they were faced with, the battalion had an internal deadline for themselves of 48 hours, according to Pollard.
"Within the first 48 hours we have to have our classified, unclassified and coalition computer networks links operational, our classified and unclassified phone lines connected as well as the ability to perform classified video teleconferencing," said Pollard. "Once we have all these links set up and operational, we will link these capabilities to the COC within the 96 hour point. After the COC is up and running, we will set up links throughout the rest of the camp."
Marines worked in 12 hour shifts through the cold Korean nights to accomplish the mission.
"There was still snow on the ground when we first got here and the site was basically a giant mud pit for several weeks," said Lance Cpl. Helen M. Girardot, a native of Royal Oak, Michigan and field wireman with the battalion. "But everything is working now. We never thought we would miss our deadline because we have a great team who went through a month-long workup communication exercise where we did checks on all of our equipment and were able to get everything in place for setting up here in Korea."
Prior planning and having well-trained Marines will have monumental effects on the success of an exercise or operation, according to Sisson.
"We have been planning, preparing equipment, and training Marines through communications exercises since mid-December for this exercise," said Sisson. "The training we performed before coming to Korea was absolutely essential to our success once we were on site. You can't have a command post exercise without communications, so if we were to come out here and failed in our mission, there would not be a command post exercise for MEFEX 14."
This is the largest footprint the battalion has had in Korea, or any other country, in many years to support the III MEF Command Element as a whole, according to Pollard.
"Throughout the year we support any communications requirements and command and control requirements for the III MEF commanding general, 3rd MEB commanding general as well as any III MEF or 3rd MEB-led exercise," said Pollard. "This includes exercises such as Key Resolve, Cobra Gold, Balikatan and MEFEX in which we are currently participating. We are responsible for providing the communications support throughout the entire area of operation. We are also responsible for providing rapid response contingency communications anywhere in the Asia-Pacific within 96 hours. This was seen most recently in the humanitarian assistance and disaster relief efforts of Operation Damayan in the Philippines."
"For MEFEX itself we are providing services to many different areas," said Maj. John R. Boutin, operations officer with the battalion. "We have the MEF main body in Pohang, we have forces providing services in Gwangyang for Freedom Banner, we have Marines on the 31st Marine Expeditionary Unit providing services for Ssang Yong, we have forces prepared for an air contingency Marine air-ground task force back in Okinawa and we have Marines preparing to go to Balikatan in the Republic of the Philippines once MEFEX is over. We are providing the best quality services we can to our customers, the MEF staff and their forces."
As the exercise moves forward, the battalion will continue to provide tactical communication links to approximately 300 users and will additionally add set up commercial connections to provide a better quality of service to the Marines and Sailors in Pohang, according to Pollard.
"The Marines have been working their tails off," said Boutin. "We have had 24-hour operations going since we arrived in mid-February. They set up all the tents, ran all the wires, they made a small city here. We want to make sure that each user, no matter the rank, is provided the best possible services we can provide."
The ROK and U.S. Marine Corps III MEF teams regularly conduct exercises to ensure interoperability and maintain strong relationships, contributing to the security and stability on the Korean Peninsula as well as the entire Asia-Pacific (APAC) region.
Story + photos by Cpl. Matthew Manning, III Marine Expeditionary Force, Marine Corps Installations Pacific
* * * * * * * * *
CPI Satcom Division—Triple Launch
The Satcom Products group of Communications & Power Industries LLC (CPI) has introduced three new products to the market.
First, there's a new 80 watt Ku-band, GaN-based, solid state block upconverter (BUC). This new BUC augments CPI's extensive selection of solid state GaN and GaAs products in C-, X-, Ku- and Ka-band. The 80 watt GaN BUC is nearly twice as power efficient as its GaAs counterparts, features a user-selectable LO frequency for improved operating flexibility, and complements our existing 40 watt Ku-band GaN BUC, which was introduced last year.
"CPI's new 80 watt BUC is ideal for satellite uplinks where compact size and light weight are critical factors in overall system design, such as in maritime, SATCOM-On-The-Move (SOTM), MILSATCOM, offshore energy, emergency response and natural gas extraction applications" said Gary McGovern, director of business development for CPI Satcom Products. "At only 10.6" x 7.2" x 5.6"and 15 lbs, CPI's 80 watt Ku-band GaN BUC is a great solution for increasingly demanding applications."
Also debuting is the firm's TouchPower™ line of touchscreen TWTAs. CPI's latest high-power amplifier (HPA) represents a significant step forward in rack-mount traveling wave tube amplifier (TWTA) design and is available in C-, DBS- and Ku-bands.
"CPI's newest HPA combines the latest developments in touchscreen technology with other technological innovations to dramatically improve ease-of-use and to maximize the value of the amplifier by reducing cost of ownership," said Colin Eastment, vice president of business development at CPI Satcom Division. "Configurable color displays let the user select which parameters are seen, and our SCOPESCREEN feature provides charts and graphs that display amplifier performance over time. In addition, TouchPower™ amplifiers are available with CPI's patented LifeExtender™ innovation, the only technology in the industry today that actually increases TWT cathode life by up to 50 percent. CPI also offers a companion feature called LifePredictor, which enables users to better plan TWT maintenance over time."
The third new offering is multi-band capability in CPI's Ka- and Ku-band TWT and solid state BUCs. This optional capability will significantly increase the ability of users to switch between different frequency bands using only one amplifier and BUC.
The CPI Satcom Product Group infosite is located at http://www.cpii.com/division.cfm/4
* * * * * * * * *
Surrey Satellite Technology Ltd (SSTL)—Modernizing GPS With SmallSats
People all over the world have depended on the U.S. Global Positioning System (GPS) for defense, transportation, and surveying applications since the GPS constellation became fully operational in 1994.
GPS' civil and recreational use has proliferated since 2000, when then-President Clinton ended Selective Availability—the service the GPS satellite constellation provides has now become a crucial part of everyday life.
GPS has faced increasing challenges as well as competition from other Global Navigation Satellite System (GNSS) systems around the world. In a time when U.S. government departments are operating on tight budgets, but demand for GPS data is increasing, future GPS satellites will need to be able to do more for less. They must also continue to fulfill essential requirements such as improved accuracy, interoperability with other GNSS systems, anti-jamming, and other signal security capabilities.
Progress has been made to modernize the system since Congress authorized these efforts in 2000—the first GPS III satellites are due to begin service in 2015. This is a long concept-to-launch time (and one that has already been subject to delay), meaning that by the time the new satellites reach orbit, they will already be flying outdated technology. Various studies have also identified areas where delivery of subsets of GPS signal data would benefit the GPS military, civil, and commercial user communities.
In 2005, Surrey launched GIOVE-A, the first satellite in Europe's Galileo GNSS system, designed and built by Surrey in 29 months for a budget of around $35 million (today). GIOVE-A far surpassed its design life and secured the Galileo frequency filings, showing that small satellites have their place in space-based navigation systems.
In 2012 the Air Force Research Laboratory (AFRL) selected Surrey to investigate how our small satellite approach could provide increased system capability while reducing the cost of acquisition and management and accelerating the timescales associated with the deployment of GPS satellites and infrastructure. Our experience developing GIOVE-A and building the navigation payloads for the first 22 Fully Operational Capability satellites for the Galileo constellation were important selection criteria for being awarded the study.
Small satellites are being used for increasing numbers of government, institutional, and commercial programs, where high-capability missions must be cost-effective and delivered quickly to orbit. A small satellite's low mass and volume mean that launch costs are dramatically reduced and more than one satellite can be launched at a time, which is important for constellation applications.
The increasing need to "do more for less" means that we must approach missions differently and drive innovative development. This is exactly where the benefits of cost-effective, rapid-build small satellites can play a part in ensuring the long-term sustainability and competitive advantages of the GPS system.
Story is courtesy of the Surrey Blog.
* * * * * * * * *
STRATCOM Commander Outlines Deterrence Strategy
While U.S. Strategic Command remains capable and ready to meet its assigned missions, sequestration will continue to stress its human element and ability to meet 21st century threats, Stratcom's commander told the Senate Armed Services Committee on February 28th.
Navy Adm. Cecil D. Haney reported that though the two-year bipartisan Budget Act of 2013 and the 2014 Consolidated Appropriations Act reduce near-term budget uncertainty, significant national security challenges loom, spurring the need for collaboration and a unified command plan.
"Against this dynamic and uncertain backdrop, U.S. Strategic Command's mission is to partner with other combatant commands to deter and detect strategic attack against the United States [and] our allies and to defeat those attacks if deterrence fails," the admiral said.
The unified command plan-assigned missions are strategic in nature, global in scope, and intertwined with the capabilities of the joint military force, the interagency and the whole of government, Haney added.
According to Haney, the deterrence plan will be executed through provision of a safe, secure and effective nuclear deterrent force, partnership with other combatant commands, assessment of challenges in space, development of necessary cyberspace capability and capacity, and preparation for uncertainty. However, he acknowledged his concern that the current global security environment is more complex, dynamic and uncertain than at any time in recent history.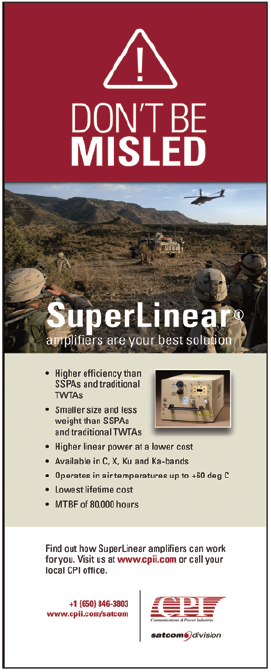 "Advances in state and non-military capabilities continue across air, sea, land [and] space domains, as well as in cyberspace," Haney said.
The space domain is becoming ever more congested, contested and competitive, Haney reported, adding that worldwide cyber threats are growing in scale and sophistication.
Weapons of mass destruction and nuclear technologies continue to proliferate, Haney said. "No region in the world is immune from potential chemical, biological, radiological or nuclear risk," he said.
Terrorist threats are still a source of significant ambiguity, Haney said, and the threat of homegrown violent extremists remains a concern.
Haney emphasized that America's nuclear deterrent force remains safe, secure and effective.
Story By Amaani Lyle, American Forces Press Service
* * * * * * * * *
TrustComm, Spectra Group + Inmarsat—L-TAC Leanings
TrustComm Inc. has been designated as a Service Provider for Inmarsat's new L-TAC space-segment services and has signed a distribution agreement, with Spectra Group to provide Slingshot adapters required to access L-band frequencies from existing fielded
UHF radios.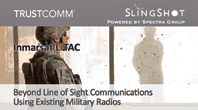 L-TAC from TrustComm, available now, uses existing fielded UHF tactical radios to access the Inmarsat-4, L-band satellite constellation when UHF capacity is not available for any reason.
TrustComm has been conducting live demonstrations of L-TAC at selected locations worldwide with excellent feedback, particularly for those users who have a Communications-on-the-Move (COTM) requirement for UHF.
By attaching a Spectra Group Slingshot adapter kit (a small converter and antenna) to the external communications port of commonly used UHF MILSAT radios, users can achieve short-term and/or longer-term network access to private leased channels on Inmarsat satellites that have the same capabilities as UHF 25kHz channels (e.g. one 56kbps wideband channel or five 5kHz ANDVT voice channels) on UHF MILSAT or UHF commercial satellites.
"TrustComm recognizes the value of L-TAC's capabilities and the gap it fills, along with the significant cost savings for government end users when compared to commercial UHF channels.
We have dedicated significant resources to field this service, working closely with Inmarsat and Spectra Group," said TrustComm Chief Executive Officer Bob Roe.
"Being selected as an Inmarsat Service Provider for L-TAC demonstrates Inmarsat's confidence in our secure infrastructure and our deep understanding of military COMSATCOM requirements."
More information on L-TAC from TrustComm is available at http://www.trustcomm.com/solutions/l-tac/
* * * * * * * * *
Track24 Defence—BLOS For Blue Force Tracking
Situational command and control (SCC) specialist Track24 Defence has manufactured and launched a new IP68-rated beyond line-of-sight (BLOS) satellite device, the Echo, for secure blue force tracking (BFT) and command and control.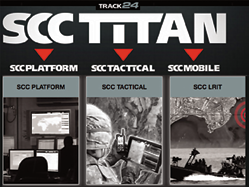 Functional as a standalone device and as part of Track24's SCC TITAN BFT solution, the Echo operates on the Iridium satellite constellation.
It is a commercial off-the-shelf (COTS) tracking and messaging solution designed for security and defence sector users.
A ruggedized handheld device, the Canadian-built Echo is IP68-rated waterproof to 2 meters, designed to withstand the austere land and sea environments that military users operate within. As well as a satellite tracking and BLOS communications solution, the hardware's M2M functionality means it can connect to an array of tablets, smart phones or sensors to transmit data in near real time to the operational command. This could be situational awareness or vital signs of a soldier. The device has already been adopted by one special forces organization.
Track24 defence sector director Giles Peeters said, "The Echo is smaller and lighter than Track24's existing tracking device, the Whisper, yet represents a more robust, ruggedized option for forces operating in vast and austere terrain. As a COTS solution, it's cost-effective and delivers secure and reliable BLOS communications, an important operational requirement for BFT – we've already shipped the first units to a special forces client."
The Echo works with Windows and Android operating systems and the solution is configurable over the air using the Track24 SCC Platform – all data communications are secured by AES256 encryption.
"The Echo integrates with SCC TITAN command and control system, relaying GPS position updates, emergency panic alerts, pre-configured text messages and other M2M data reports—all securely encrypted. This information can then be plotted on a common operational picture to enable better and faster command and control decision-making," concluded Peeters.
The Track24 Defense infosite is located at http://www.track24defence.com/
* * * * * * * * *
A New Satellite To Gather GEO Intelligence
There's a new 'kid' on the block—or rather a classified electro-optical satellite—that the Air Force has acknowledged is designed to spot other satellites and space debris.
The Geosynchronous Space Situational Awareness Program (GSAP) is sure to gain the attention (and ire) of China and Russia, who currently understand the military advantage that space provides the United States.
These newbies are described as upgraded versions of DARPA's MiTEx (Micro-satellite Technology Experiment) satellite. They were reportedly used, among other things, to get close to, and observe, other satellites.
Brian Weeden, technical adviser for the Secure World Foundation that focuses on the peaceful uses of outer space, in a candid email sent after reading the Air Force Fact Sheet on G-SAP, said, "Having these satellites drifting by everything in GEO [geosynchronous orbit, which allows a satellite to hover over one spot of the globe] would be a big source of information. Of course, that's exactly the sort of thing the U.S. military is extremely worried another country will do to figure out what the U.S. has in GEO. So it's likely other countries, especially Russia and China, are going to consider this a threat."
Recently, the U.S. Air Force's General William Shelton explained what makes these new satellites tick:
Once in orbit they can be moved to an area of interest to maintain a vigil to a specific area of interest.
Moving a satellite while in geosynchronous is not a common practice, as the fuel's weight is a major budgetary constraint. Hence the Air Force, which keeps their cards close to their vest, reveals that this is, indeed, a most important mission.
As the satellites are electro-optical it is speculated (as the program's details are classified) that they probably use a combination of sensors and telescopes to spy on objects.
Lastly (and no surprise), General Shelton was not offering any information regarding the cost factor of the satellites that are built by Orbital Sciences Corp. That probably means cost could provide a competitor with a good estimate of just what sensors are on board.
The first two birds will launch "later this year," Shelton told reporters after his remarks.
Why is the U.S. building and revealing the existence of these satellites?
Weeden, of Secure World Foundation speculated, "As far as why they're doing this, I think China is probably part of it, but not all of it. The U.S. has always been concerned about the security of its assets in GEO, particularly the satellites used for missile warning, protected SATCOM [satellite communications], ELINT [electronic intelligence], and SIGINT [signals intelligence].
"Recent activities by China, including a launch last May that some have claimed to be a test of a direct ascent ASAT [anti-satellite] system that could reach GEO, have certainly heightened their concerns. But the Russians developed a co-orbital ASAT system that could reach to GEO back in the late 1990s and early 2000s, so a Chinese ASAT is not the only potential threat.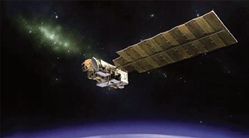 "This is about more than just detecting potential threats. I think part of it is also the ability to collect better intelligence on what other countries have in GEO."
Why reveal, and why tell the world now at the Air Force Association in Winter Park, Florida? Presumably the decision to declassify the existence of G-SAP was made at the White House level, probably an interagency decision involving the Office of Science and Technology Policy, the State Department, Defense Department, Director of National Intelligence.
Lastly, in keeping one step ahead of those who track spy satellites as a hobby, unless these sats are as small as MiTEx, they would be visible to these observers, and the government may have wanted to 'show and tell' before it was revealed in news reports and social media.
Certainly, since this announcement by the USAF, Russia, and, for that matter, the world, continues to undergo change—and not necessarily for the better.
* * * * * * * * *
Naval Postgraduate School + SOUTHCOM—More Than Just A CubeSat Consultancy
The U.S. Southern Command (Southcom) has embarked on an ambitious international CubeSat program and has turned to the Naval Postgraduate School for assistance.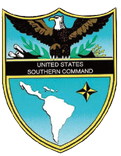 The NPS Distributed Information Systems and Experimentation (DISE) research group, along with the university's Space Systems Academic Group (SSAG), have teamed up to help the combatant command evaluate how low-cost space communications capabilities can support information sharing and tactical communication across the remote and densely-forested areas common to the Southcom area of operations.
A specially-modified CubeSat, dubbed the Space and Missile Defense Command Nano-Satellite-3 (SNAP-3), was launched from Vandenberg Air Force Base aboard an Atlas 5 rocket, and housed inside the NPS SSAG-developed CubeSat launcher, NPSCuL.
DISE Research Associate Brian Wood has lead the NPS effort to assess the operational value of the technologies employed by the mini-satellite.
"SNAP-3 is an attempt to fill a capabilities gap associated with the need for other than line-of-sight communications in Southcom's heavily-forested area of operations," said Wood. "NPS will be conducting an assessment of SNAP-3's ability to fill that gap." SNAP-3 seeks to overcome line-of-sight limitations in two ways. First, it allows Soldiers on the ground to ping CubeSats in low earth orbit which in turn relay messages to command and control nodes or to other service members.
However, SNAP-3 also uses Unattended Ground Sensor Exfiltration technology. Researchers hope to use unattended ground sensors to gather intelligence, such as the presence of insurgent or criminal groups traveling along known smuggling routes, and then beam that data to orbiting SNAP-3 satellites. The satellites would then download the data to receivers without the need to place Soldiers in harm's way.
"Over the next 18 months, we will be traveling to Brazil and Peru, and possibly other interested nations, where we will set up a scenario that tests the ability of SNAP-3 to perform as designed," said Wood.
NPS space systems student, U.S. Marine Corps Capt. Clayton Jarolimek of Minto, N.D., is working with Wood on the SNAP-3 assessment.
"One of the things that drew me to this was my past experience on the ground without satellite communication in Helmand Province, Afghanistan," said Jarolimek. "If adopted, SNAP-3 has the potential to bring satellite communications down to squad size units on the ground.
"I will be conducting an analysis of the architecture of the constellation of the SNAP-3 network," continued Jarolimek. "I hope to be able to make recommendations to the U.S. Army's Space and Missile Defense Command and look at the manner in which the Marine Corps may be able to benefit from this technology as it is realized."
Vidur Kaushish and Wenshel Lan, doctoral students in the university's space systems program, are quite familiar with the NPSCuL launcher, and helped get SNAP-3 into the payload for the Southcom launch.
"We built, tested and integrated the system before delivering it to Vandenberg," said Kaushish.
"I used to work on launch vehicles before I came to NPS, but I rarely had the opportunity to get up on the rocket and work with the hardware like we do here," said Lan. "It's something that not many people get to do."
Satellite education is central to the SSAG goal of "blending classroom experience into a hands-on pedagogy that links theory and reality," says SSAG Professor Dr. Jim Newman.
Newman has been educating NPS students, and develop satellite technology, since his time as an astronaut in NASA's space shuttle program.
"I realized that CubeSats are an ideal satellite-studies platform due to their cost, the variety of missions they are suited to perform and their ability to be used in conjunction with other CubeSats," said Newman.
That realization has led to numerous CubeSat launches and the incorporation of CubeSat technology into the SSAG curriculum, which has allowed NPS students and faculty to demonstrate the full spectrum of satellite operations.
"You get a rounded experience [at NPS] when it comes to how a satellite is developed from start to launch, its something that you would not see at other graduate institutions,"
added Kaushish.
Newman insists that satellite research at NPS has both academic and practical value.
"There is a need in the fleet to understand what the capabilities of our space systems are. We are educating students to understand and to be able to speak to satellite capabilities... Students have a variety of thesis topics available to them, by studying in this area they know how to apply what they have learned," said Newman.
SSAG's hands-on application of theory is evident in the two CubeSats it has launched this year. These satellites are helping students and researchers to understand the complexities of Low Earth Orbit (LEO) and providing platforms that can be used to test new technologies.
In addition to SNAP-3, NPS also recently launched its Solar Cell Array Tester (NPS-SCAT) satellite. Indicative of the SSAG approach to both satellite education and development, SSAG students and faculty worked together to build and launch the NPS-SCAT satellite in order to test solar arrays in the LEO environment.
"NPS-SCAT has room for four different types of solar cells, ranging from cheap to expensive high-efficiency cells. The experiment will allow us to see how the various cells perform and degrade in a low earth orbit," said Aaron Felt, an NPS intern from nearby California State University Monterey Bay (CSUMB).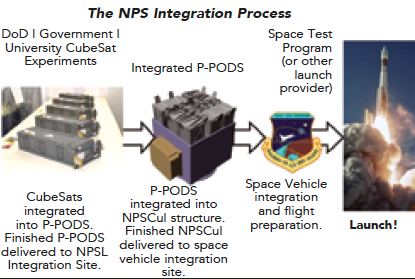 Felt is tracking the NPS-SCAT from SSAG's local ground station, the Mobile CubeSat Command and Control (MC3) center.
"There is currently a lot of interest in our command and control center from various groups and academic institutions; NPS currently has the only functioning CubeSat network," said Felt.
NPS has partnered with the University of Hawaii, Utah State University, and the Air Force Institute of Technology to develop the MC3 Center. Partnered universities donate sites for dishes and antennas and in turn, they are able to use NPS-provided ground stations for their own satellite programs.
"Our network of sites allows us to have more frequent and longer satellite contacts," said Felt. "This is important because if you are working with data-intensive payloads, a network gives you more room to download your data." Other members of SSAG's eclectic student body are working on myriad technologies associated with neither SNAP-3 nor NPS-SCAT.
Lt. Jordan Goff of Pittsburgh, Pennsylvania, is working with Newman and Professor Hersch Loomis on the development of a payload processor that will be able to work in the presence of harmful radiation. He hopes that the work that he is doing now will be applied to future CubeSat technology.
"The processor that I am working to create will interface with CubeSats and will hopefully be able to do everything from process images to open doors," said Goff.
Natasha Nogueira came to NPS as a high school summer-intern. She is working with Newman on a high altitude balloon program to test the conditions of near space.
"A lot of what we do with our balloon is testing capabilities and technologies that will later go into CubeSats," said Nogueira. "Balloons are an inexpensive way to get the equipment we are testing into the Low Earth Orbit environment."
With a broad range of expertise across campus to tap into, NPS' diverse satellite program continues to support student efforts to harness emerging technologies and continue to push the envelope of space education and exploration.
The Naval Postgraduate Schools' infosite is located at http://www.nps.edu/