Advantech Wireless
By Cristi Damian, Vice President, Business Development

At Advantech Wireless, we have more than 25 years of experience in helping military, special forces and government agencies by delivering cutting-edge innovations in communications that solve mission critical communications challenges.
We understand the challenges that government and military forces face and our technologies bring them the freedom to communicate quickly, reliably and securely.
Advantech Wireless offers reliable solutions for the challenges of the Tactical communications environment. In 2015, we launched a new line of extremely powerful Second Generation GaN (Gallium Nitride) based SSPAs. These units exceed in RF power, linearity, and efficiency beyond any existing technology, either solid state, or TWT based.
In parallel to the improvements in Size, Weight and Power (SWaP), our Second Generation GaN technology brings enhancements in overall link performance and linearity. Extremely powerful SSPAs are manufactured by us for gateways as well as remote sites, all designed to work seamlessly with Advantech Wireless' Satellite Networking and Broadcast products. GaN systems with power levels over 6 kW in X-Band are in operation today in locations across the globe.
The company also builds extremely small power amplifiers, which are critical for Satcom-On-The-Move (SOTM), man-pack SATCOM, and flyaway Satellite Networking terminals. Using Second Generation GaN, a new generation of SOTM terminals was released in 2015, designed to work in extremely harsh environment, as defined by MIL STD 810G.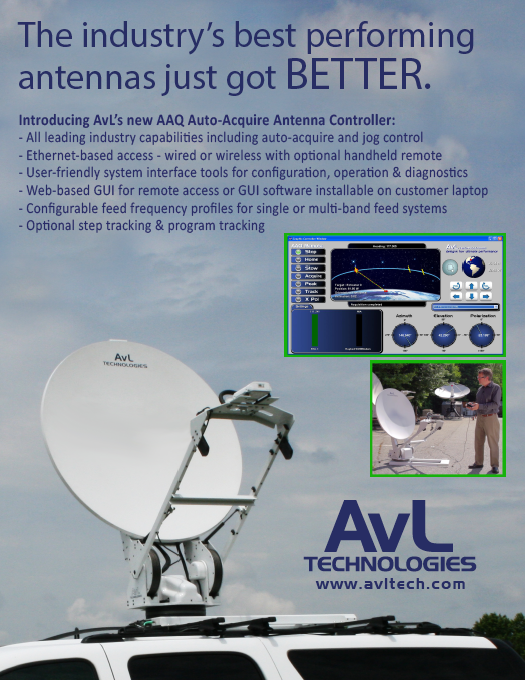 In 2015, Advantech Wireless received significant orders to provide GaN based SSPAs for SOTM solutions and flyaway terminals. These GaN based units are currently operating on the US Military's Wideband Global Satellite (WGS) terminals and can handle a wide operating temperature range, high levels of shock and vibration, while delivering very high linearity and efficiency.
This year, Advantech Wireless launched the Second Generation 350W/500W CL-Band SapphireBlu™ GaN based SSPA/SSPB for Troposcatter (TROPO) Applications. These new Solid State Power Amplifiers are designed to be used as direct replacement of older generation Klystrons or TWTs.
Tropo applications have certain advantages for strategic communication links, either for Military users, or for remote access in isolated areas with no satellite access. The Second Generation GaN 350W/500W SSPAs address this fast growing market, with a unique highly efficient and powerful solution.
Several Advantech Wireless tactical terminals were released in 2015. A 65 cm man-pack solution from Advantech Wireless includes an X-, Ku-, or Ka-band antenna reflector and feed, the corresponding Second Generation BUCs, and the ASAT-II™ triple access mode series modem.
Integrated together, this is an ideal solution for intervention teams which do not have the option of traveling by a vehicle. The 65 cm terminal is fully independent, with battery and battery chargers, including solar panels.
During 2015, Advantech Wireless completed the delivery of a multi-million-dollar order of the new 1.2 meter Engage™ class High Performance VSAT flyaway terminals.
This flexible and transportable VSAT solution is a fully integrated tri-band system designed for easy deployment and use and is based on a high efficiency, ruggedized, tri-band 1.2 meter, motorized auto-acquire antenna, which can cover X-, Ku-, or Ka-band, by replacing only the feed.
The new Engage™ class 1.2 meter Flyaway VSAT Solution from Advantech Wireless includes the most advanced SATCOM technology available today.
The RF section includes the award winning Second Generation GaN technology based SSPA/SSPBs. The system is equipped with a 50W X-Band SSPB, a 50W Ku-Band SSPB or a 20W Ka-Band SSPB.
These flyaway terminals allow much higher data rates and are ideal for remote tactical operations and command centers. The terminal is also equipped with ASAT-II™ modems and antenna controller and includes IP routers, a complete set of test equipment, location finding equipment, battery and chargers, all presented in ruggedized, military grade, transportable cases.
Advances in satellite networking technologies also bring tangible benefits to military and tactical users. Advantech Wireless' Compact Transportable RAPTOR Hub with ASAT-II™ (Adaptive Satellite Access Technologies) capabilities is a ruggedized, military grade, advanced multiple access wave form Hub, currently operating under the WGS constellation of satellites.
The hub incorporates key technologies that allow the unit to be at the heart of a typical SOTM network. This is the only hub in the world with built in triple access mode (ASAT-II™) and can operate as a STAR/MESH SCPC hub, TDMA hub, or Burst Mode FDMA hub. Each remote can switch from any access mode to any access mode, without user intervention, by analyzing traffic profile and data requirements.
Each remote can become a very high data rate SCPC terminal and switch to different classes of burst mode access when its traffic profile changes. This allows maximum bandwidth efficiency and standardization among all network users, without the risk of a wrongly assumed initial traffic profile.
Advantech Wireless has a long history of providing extremely reliable and secure systems to government, civil, and military users. With partners in more than 100 countries, government and military leaders trust Advantech Wireless to deliver fast, reliable and secure global satellite and wireless communication capabilities.
The company provides diverse and extensive technologies with proven flexibility to deliver video, voice and data transmissions to mobile groups of personnel anywhere and at any time.
advantechwireless.com
---
B U L L E T I N S
---
Advantech Wireless Gains Points
LAN-COM-East GmbH, a privately held German company known for full-service terrestrial networking solutions and microwave links, has placed follow-on orders with Advantech Wireless for more than 100 point-to-point microwave links.
LAN-COM-East GmbH has an established reputation for Low-Latency network design and selected Advantech Wireless' Transcend 800 series of Microwave Products to provide secure high availability leased lines and private networks to their customers.
The frequency and power range of Advantech Wireless's microwave offering meets the required flexibility and specific applications of LAN-COM-East's customers by covering all bands from 5 GHz to 42 GHz. Advantech Wireless was able to meet an aggressive delivery and installation schedule in-part due to the flexible firmware based design of the Transcend 800. This unique capability gave LAN-COM-East a critical advantage in rapid deployment and efficient network rollout.
The Transcend™ 800 Microwave Radio from Advantech Wireless carries native video, IP and TDM traffic and is an affordable high capacity, high performance and flexible solution for demanding transmission, telecom and broadcast applications. It is available in a split-mount version and all-indoor configurations.
"Our long term partnership with Advantech Wireless has grown not only through top level products, especially we also appreciate the intensive and high-quality support," said Carsten Pueschel, Service Manager at LAN-COM-East GmbH.
"Advantech Wireless pays close attention to our customer's needs by selling solutions that lead to higher revenues and lower operational costs. We have ported our industry leading innovations and experience in satellite networking equipment into our microwave products. The Transcend 800 is a disruptive technology platform for the microwave industry and does not share the risk associated with typical leading–edge technologies," said Bojan Skulic, Terrestrial Microwave Communications Manager at Advantech Wireless.
---
A Longer Life
Advantech Wireless recently announced a substantial increase in bookings for their award winning line of Gallium Nitride (GaN) based Solid State Power Amplifiers (SSPAs) in the first half of the Fiscal Year 2016.
One example : The new Super Compact SG Series Ku-Band Rackmount SSPA/SSPB and BUCs provide highest power density in the industry. Combined with the traditional Advantech Wireless features, these new series of BUCs provide the ultimate in performance and convenience.
Introducing Advantech Wireless' second generation of GaN based units has opened new opportunities in market segments that traditionally relied on Traveling Wave Tube (TWT)-based amplifiers. This breakthrough in design—GaN-based units have vastly reduced size, weight and power consumption—along with the enhanced linearity of this state-of-the-art technology, make possible new applications in tactical Troposcattering communications, and scientific research facilities. GaN technology continues to offer dramatic cost reductions for teleport operators in the broadcast industry.
In early stages of technology development, Advantech Wireless researchers realized the potential of these GaN-based devices for high frequency satellite communication. An R&D program was begun in 2006 to design and manufacture a complete line of C-, X-, and Ku-band SSPAs that would meet the demands and requirements for commercial and government communications infrastructure.
In partnership with key technology providers, Advantech Wireless engineers have focused on technology transition to high frequency, high efficiency, and high performance, as demanded by the growing SATCOM-on-the-Move, Mobile, Manpack, broadcast and teleport markets.
---
Providing BLOS Security
Advantech Wireless has also been selected by Airbus Defence & Space to provide the Beyond Line of Sight communications solution as part of their successful Border Control infrastructure.
Advantech Wireless have successfully partnered with Airbus to provide A-SAT™ technology capable hubs and remotes delivering a realistic, affordable and adaptable SATCOM option where fiber or microwave links are unachievable in a Border Control and Security arena.
Advantech Wireless offers two-way, open standard (DVB-RCS), broadband satellite access system. Their hubs and terminals are highly flexible and several different network architectures are possible. The award winning A-SAT™ technology provided in this deployment is beyond dual mode DVB-RCS/TDMA-SCPC. It monitors channel utilization and switches the satellite access method and MODCOD for the return channel in real-time to dynamically maximize the space segment utilization efficiency. Additionally, by having TDMA and true DVB-S2 SCPC technologies in a single platform, the switch between traffic patterns is efficiently supported and all risks of equipment obsolescence are mitigated.
---
AvL Technologies
By Tony Wilkey, Vice President, Sales

2015 has been a dramatic year for the satellite communications industry­—unexpected mergers and acquisitions, innovative new products, a continued battle over spectrum with the wireless industry, continued growth in HTS services, big announcements on new innovative satellite constellations, and mind-boggling demonstrations of the bandwidth of MEO systems.
For AvL Technologies, 2015 was a year of stability and transition—stability due to our success at launching new products into new industries to offset reduced spending from government and military customers, and transition as our footprint was expanded with a now-under-construction facility near company headquarters and new test range.
Though government and military agencies have slowed spending in general, investment in new communications technologies has continued. Many of government and military customers are actively transitioning from traditional commercial Ku-band service to HTS Ku- or Ka-band, which has required some antenna upgrades. However, the resulting improvements in service and throughput has initiated long-term cost savings for these government and military customers using commercial satellite networks and has enabled many to expand their applications for satellite communications.
HTS growth was also seen in the SNG market as end-users move from traditional C- or Ku-band services to HTS Ku- or Ka-band, included adding new antennas to their trucks—mostly 1.2 meter antennas—a size that enables smaller and smaller sized news trucks that are packed with more and more capability.
One such customer configured the bed of a standard pick-up truck with an AvL 1.2 meter Ku-band antenna mount. The reporting crew was able to easily access urban parking deck rooftops for live reporting in dense downtown locations.
The Oil & Gas market continued to feel the effects of depressed oil prices through 2015—many cut back dramatically on spending. Some AvL customers, however, continued to invest in HTS equipment and services in an effort to get "lean and mean" with real-time performance data and lower overall costs for the satellite communications technology investment.
Many in the industry expect oil prices to remain low through 2016, which equates to Oil & Gas communications spending likely to remain quite conservative for the foreseeable future.
With longer active deployments in Afghanistan and other rising threats in the Middle East, another trend that continued into 2015 for AvL's government and military customers was the requirement for smaller, lighter and faster-to-deploy systems. As a result, the company continued to refine its family of manual flyaway antennas and successfully launched new designs for the
60 centimeter, 1.2 meter and 2.4 meter antennas.
2015 also marked the introduction of new capabilities for AvL, including the new MEO tracking antennas for O3b. Launched were the 85 centimeter tactical tandem antennas at the SATELLITE show, and since that time, the company has supported O3b with numerous demonstrations of the network's capabilities—with mind-boggling results.
At a recent demonstration for the U.S. DoD, the 85 centimeter antenna system's throughput was an amazing 400+ Mbps down and 100+ Mbps up. Available early in 2016 will be the 2.4 meter tactical tandem antennas, which are now in final testing. At a recent test at AvL, the 2.4 meter system's throughput was nearly 600 Mbps down and 500+ Mbps up.
Another first for AvL in 2015 was the introduction of fixed Earth stations with carbon fiber composite reflectors. At the request of three customers, the company designed and produced Earth stations with 1.2 meter, 1.6 meter and 2.4 meter reflectors with carbon fiber's signature zero coefficient of thermal expansion and will remain stable in extreme heat and cold without losing shape, unlike aluminum and other materials.
AvL Expansion
Why is AvL expanding in this era of reduced spending by government and military, Oil & Gas and other key markets? Have we gone mad? Perhaps, but our culture has always been one of seizing opportunities when presented and pushing the innovation bar at every turn.
AvL is purposely headquartered in a community where nearly every car proudly wears a "Keep Asheville Weird" bumper sticker. AvL Technologies is not your typical tech company.
Ground was broken on a new 55,000 square foot facility in June, with the expectation that the new building will be move-in ready by the end of Q1 2016.
With the second building, AvL will officially become a "technology park" that will facilitate close working relationships with key customers who will be renting space in the new building.
Space will also be rented to local start-up technology companies, many of whom are working on technologies relevant to satellite communications.
The new building also enables AvL to expand our growing composites business, which has been busting at the seams for several years. As product lines have grown, so, too, have the sizes of carbon fiber and carbon fiber composite reflectors.
Antennas are now manufactured with reflectors that are sized from 60 centimeters to 5.0 meters, and the tooling and materials to make these reflectors requires an immense amount of space.
In the new building, the composites team will expand in to a new state-of-the-art 20,000 square foot production space with new tooling and non-contact laser scanning equipment to increase production levels, while also improving production efficiency and product accuracy.
In all, the actual goal for AvL's expansion is to continue to add high-value technology jobs to the Asheville community, most of which will be in the satellite communications industry.
Five years from now, the hope is that the new facility will be a "twin" of AvL today in terms of the number of employees (150+), innovation and capabilities.
In addition to the new building, AvL has been hard at work on a new test range that is located one mile from company headquarters. The range construction is complete and will soon be operational—expect a formal announcement early in 2016.
---
B U L L E T I N S
---
Earth Station Antennas In The Works
Earlier this year, O3b Networks selected AvL Technologies to design and build the Transportable Terminal Antenna System for use with O3b's Medium Earth Orbit (MEO) Satellite Network.
AvL will develop and manufacture the hardware and software for a family of Earth station antennas with reflector sizes of 0.85 meters, 1.0 meters, 1.2 meters, 1.8 meters and 2.4 meters.
These Transportable Antenna Systems will enable O3b's customers to rapidly deploy systems to take advantage of O3b's "Fiber Speed with Satellite Reach."
The O3b network is unique in that its use of multiple satellites in MEO and Ka-band frequencies will allow for extremely wideband digital traffic with minimal latency, effectively doing away with the delay inherent in traditional satellite communications.
The AvL Transportable Terminal Antenna System will enable users to realize the benefits of this technology with the ability to move and rapidly deploy the network's capabilities to meet changing requirements and evolving needs.
The Transportable Terminal Antenna System is designed to be transported in durable transit cases and to be set up and on-the-air within two hours.
"These high performance transportable antennas are designed to acquire and track the O3b satellites as they move across the orbital arc. AvL Technologies was selected by O3b because of the high quality of our antennas and our engineering expertise to design and manufacture antennas that can work in tandem to accurately follow the satellites," said Mike Proffitt, President of AvL Technologies.
---
CPI Satcom Products
By Doug Slaton, Marketing Communications Manager

2015 was another exciting year for Communications & Power Industries (CPI) with regard to both technical innovation and new product introductions.
The company answered the strong TWTA market need for higher output amplifier power at DBS- and Ka-band, implemented our LifeExtender™ technology into several product lines, and opened up an entirely new market for CPI's high-efficiency HPAs with the implementation of our patented "Dynamic Depressed Collector" (DDC) technology. Expanding CPI's already significant family of SSPAs, we continued to add to our Gallium-Nitride- (GaN-) based product line, including the introduction of a new lightweight X-band product.
2015 Highlight: Patented DDC Technology
More than a decade ago, CPI introduced a simple, yet revolutionary, product: the SuperLinear® high power amplifier (HPA). As the only fully vertically integrated HPA manufacturer in the world, we were able to optimize the pairing of a CPI-manufactured traveling wave tube (TWT) with a CPI-manufactured HPA power supply; no one else has the capability to manufacture both of these products in house.
This integration has created significant power efficiency improvements, which in turn has led to advancements in the amplifiers' size, weight, reliability, and cooling structure.
For many full-time operators, CPI's technology has led to prime-power cost reductions of thousands of dollars per year per amplifier. HVAC costs and UPS requirements have also been reduced. For other operators, the smaller footprint of CPI's HPAs has allowed for more efficient and compact Earth-station designs. As a result, CPI SuperLinear TWTAs are a very popular choice for:
• Fixed Earth stations with high energy costs
• Mobile uplinks for commercial and military where size and weight are a premium
• Systems driven by generators that consume valuable fossil fuels
The CPI SuperLinear® TWTA is regularly chosen by many operators over other technologies because it simply makes good technical, financial and business sense to do so.
However, not all system operators have been in a position to reap the efficiency benefits that CPI's SuperLinear TWTAs offer. Because SuperLinear HPA technology sacrifices the ability to run at peak power (Psat) so that maximum efficiency can be achieved in the linear operating performance range, those operators who require occasional full peak output power have had to rely on traditional HPAs.
With CPI's new DDC technology, this has changed: no longer must operators choose between high efficiency and high power.
Thanks to CPI's patented Dynamic Depressed Collector (DDC) technology, operators can alternate between highest efficiency and CW modes on the same amplifier at the touch of a button.
For more autonomous systems, the HPA can automatically select the best mode of operation based on system requirements.
As with CPI's SuperLinear HPAs, the cost savings are quite dramatic when compared to traditional TWTAs operating at linear power. However, when breakthrough power is needed, the CPI DDC HPA delivers that as well.
DDC amplifiers are very appropriate for applications that require occasional operation at high output power levels, such as:
• TT&C and IOT users who need max power regardless of linearity
• Uplinkers on the edge of a beam or in rain-fade conditions who rely on full power to make their links reliable
• Single carrier users who want to push higher than 3 dB backoff
DDC technology is currently available on the CPI C-band 2.25 kW rack-mount TWTA, with more frequency and power options to follow in 2016
New 1.25 kW DBS-Band TWTA
CPI's new 1.25 kW DBS-Band SuperLinear ODU provides up to 552 W of linear output power at the flange, in the same mechanical outline as the company's 500 W and 750 W CW products. This allows for a form-fit-function upgrade in power.
The TWT in this new amplifier, while remarkable for its breakthrough power, represents a relatively low-risk development compared to other high power DBS-band TWTs on the market, as the amplifier and tube were the result of a collaborative internal effort between CPI's Microwave Power Products (MPP) and Satcom divisions. For facilities requiring quieter operation and improved MTBF, CPI's 1.25 kw DBS-band SuperLinear ODU is also available with liquid cooling.
CPI Surpasses The 700 W Ka-Band Mark
Continuing the expansion of its broad Ka-band product line, CPI recently introduced a 4 GHz bandwidth, 700 W Ka-band TWTA. This combination of power and bandwidth represents a real breakthrough for Ka-band uplinks. As with the 1.25 kW DBS-band amplifier, the TWT and amplifier are the result of a collaborative internal effort between CPI's MPP and Satcom divisions.
10 W X-band Transceiver
CPI entered the RF transceiver market this year with a 10 W X-band GaN device suitable for an ARSTRAT-certified "man-pack." It is highly efficient, requires no fan, and is extremely rugged. CPI has already delivered approximately 100 of these devices to the US military.
Among many other technical milestones and advancements, these four major accomplishments from CPI in 2015 are notable; they fulfill urgent market demands with new and innovative solutions. Because of these accomplishments, system operators and integrators now have options for higher power in DBS and Ka-band. Some markets that previously were not able to take advantage of CPI's industry-standard SuperLinear TWT offerings now have the option to realize similar cost savings with DDC technology. These advances are not simply a repackaging of existing technology --- they are breakthrough solutions that keep CPI TWTAs and SSPAs at the leading edge of amplifier technologies used in ground-based satellite communications.
cpii.com/satcom
---
B U L L E T I N S
---
On The Acquisition Trail
CPI also acquired ASC Signal Corporation, a company that designs and builds advanced satellite communications, radar and high-frequency antennas and controllers.
ASC Signal's high-performance antennas are used in commercial and government satellite communications, terrestrial communications, imagery and data transmission, and radar and intelligence applications. Under the acquisition agreement, CPI acquired ASC Signal from Resilience Capital Partners. CPI expects to realize approximately $50 million in annual sales, as well as positive contributions to its earnings, in the first year following the acquisition. ASC Signal will be operated as an independent division of CPI and will retain its current leadership and personnel, including its sales force.
ASC Signal's product portfolio includes SATCOM antenna systems with UHF to V-band capabilities; radar antennas in S-and L-band for air traffic control radar applications and in S-and C-band for weather radar applications; and high-frequency and specialty antennas in a wide frequency range for a variety of applications. ASC Signal's antennas are typically between 2.4 meters and 14 meters in diameter.
---
SuperLinear® Integration In Africa
The Satcom Division of Communications & Power Industries LLC (CPI) has been awarded a competitive contract valued in excess of $600,000 (at list prices) from an African integrator for the company's new, 1.25 kW, DBS-band SuperLinear® traveling wave tube amplifiers (TWTAs) and related system hardware.
CPI's products will be part of a primary uplink system in a well-established, DTH network in Africa. CPI's SuperLinear high-power amplifier (HPA) was selected over competing products in part because of its patented LifeExtender™/LifePredictor technology, which can result in an increase of up to 50 percent in tube longevity.
In addition, the customer chose CPI because CPI manufactures both the TWT and the amplifier and because CPI's SuperLinear® TWTA high-power efficiency results in significant power cost savings for the end user.
CPI is the one of the largest manufacturers of high-power communications amplifiers. CPI's broad line of HPAs includes solid-state power amplifiers (SSPAs), TWTAs and klystron power amplifiers (KPAs). CPI's amplifiers are used around the world in fixed and mobile gateways for both military and commercial applications. CPI offers amplifiers in frequencies from S-band to V-band and supports its fielded products through more than 20 service centers around the world.
---
Orange Teleport In France Obtains CPI's ASC Signal Ka-Band Capabilities
The ASC Signal Division of Communications & Power Industries LLC (CPI) has completed installation of two new antennas at the Orange Teleport in Bercenay, France, bringing Ka-band capabilities to the teleport that will enable continued growth in the face of saturation of Ku-band space segment—the teleport supports service to the enterprise market, principally oil and gas companies, in Francophone Africa and North America.
The new installation includes one 7.6-meter C-band and one 5.6-meter Ka-band antenna equipped with the Next-Generation Controller (NGC) and unique Sub-Reflector Tracking (SRT) system from CPI ASC Signal Division.
The NGC gives Orange Teleport a single, simplified, central device to control and operate multiple antenna systems. The NGC's advanced features include remote access and tracking capabilities built into the system, an internal spectrum analyzer, redundancy control systems, and many other high-performance controller features.
The SRT system provides Orange Teleport with the ability to track the Ka-band satellite to within 1/1000th of a degree, which eliminates the need to move the main reflector as any part of the tracking. By relying on the SRT for tracking, Orange Teleport will be able to capitalize on the reduced operating and maintenance expenses, as well as performance optimization, that will result when the main reflector can stay locked down.
"ASC Signal's patented technologies continue to drive installation of our high-performance antennas by the world' s most demanding teleport operators," said Keith Buckley, president of CPI ASC Signal Division.
"We have worked with ASC Signal on antenna projects for years," said Patrick Meline of the Teleports & VSAT Maritime Group with Orange. "Their team is always available and extremely professional in their approach. The quality of their products and equipment perfectly answers our needs."
---