It's here, that much is certain. A transformation in military satcom (MILSATCOM) is no longer just a vision, but a necessity. The Department of Defense must embrace the change, as there are many forces at work:
An already large — and growing by the day — satellite bandwidth shortfall, publicly acknowledged by U.S. Army Forces Command and Defense Information Systems Agency
The accelerating "pace of change" for telecoms technology and tightening defense budgets mean that large, funded developments are yesterday's news, e.g., the much-discussed TSAT cancellation
The need to step up to military networking objectives such as "global cyber dominance" and improving "NETOPS for the next fight", most recently discussed at this summer's LandWarNet conference HD video and other new bandwidth hungry apps that simply demand a different kind of network infrastructure
These realities, trends, and objectives have refocused the challenges for DoD satellite network planners. Now it's about getting as many warfighters as possible onto the network with more and more sophisticated applications.
Such requires more than small bandwidth increases provided by the move from
DSCS
and
Milstar
to
Wideband Global Satcom
and
AEHF
— there must also be an order of magnitude increase in bandwidth. It's a disruptive change in focus that requires an equally disruptive new technology to make it happen.
Long-Lead Programs — Not Practical Or Affordable
The last timetable for the
Transformational Satellite
system (
TSAT
) projected the first satellite would launch in 2019. If that date was met (and it is increasingly in doubt), a full 15 years will have passed after the U.S. Air Force awarded first study contracts to the two competing primes in January of 2005. And that would have been only the first of six satellites included in the initial plans for this massive project.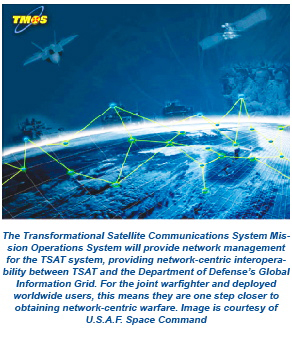 Imagine waiting a decade and a half for your cell phone carrier to deliver 4G service or your
direct-to-home
(DTH)
television provider to add HD video!
Obviously, the DoD can no longer afford the dollars or time it takes for such long development cycles for new satellite capabilities. The pace of telecommunication technology innovation is simply too fast.
Commercial Sets the Pace
The more sensible approach is to look to
commercial-off-the-shelf
(
COTS
) products and services, driven by wide open competition and innovation needed to satisfy today's consumers. COTS technology enables the DoD to more quickly implement the current advances in speed and bandwidth of the AEHF and WGS constellations they are building and launching now.
COTS technology is already appearing in modems for fixed-site and
comms-on-the-move
(
COTM
) broadband. Many terminals were adapted from commercial modem systems, needing only a matter of months to be made ready for military use, including the
ViaSat LinkWay
and
ArcLight
VSAT systems that have been in use for many years by commercial service providers.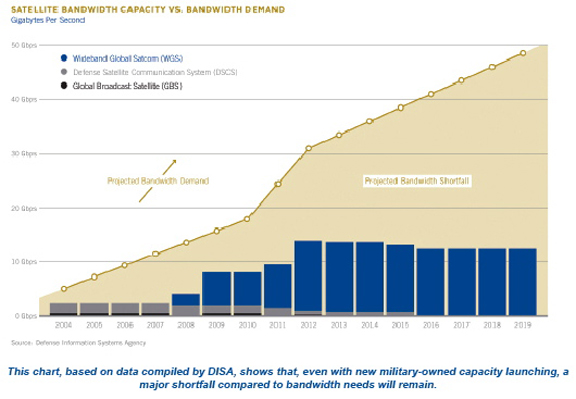 Drawing from advanced commercial technology that includes turbo codes, advanced modulation, DVB broadcast and return channel standards, AES TRANSEC security, and spread-spectrum code reuse multiple access (CRMA), these SATCOM systems are already providing efficient and cost-effective connections across much of the Internet protocol (IP) infrastructure for the U.S. DoD.
FSS Satellite Limits Need to Be Overcome
COTS technology is a great first step in accelerating the spread of advanced communications into the hands of more warfighters, yet it's not the full transformation that the military requires. Commercial ground systems can ensure that the Air Force gets the most out of its investments in the space assets it owns now, but they do not address the overwhelming costs of vast amounts of commercial bandwidth leased by the DoD.
The U.S. government is the single largest buyer of commercial Common Fixed Satellite Services (FSS) capacity in the world. According to DISA figures, leased capacity is providing at least half of total military bandwidth demand this year. The same projection estimates that the figure will rise to 60 percent in 2011, and continue to grow through the next decade.
FSS has shown itself to be a resilient technology. At one time or another, FSS has been used for almost every satellite application: television, long distance telephony, vehicle tracking, position location, credit card validation, corporate networks, mobile phone service, remote village telephony, oil and gas pipeline monitoring, video surveillance, and home Internet access.
FSS pioneered two-way satellite data transmissions and was pretty good at its job when there wasn't much data to be transmitted. Low data rate messaging has been an important means of mililtary communications for years, and it requires only a handful of bits to do it.
The FSS satellite has been so successful that it has practically become viewed as the satellite. As a result of the success of FSS satellites, there has been little incentive to change over the past three decades. Unfortunately, people have settled into a view, even if inaccurate, that the limitations of FSS satellites are inherent in all satellites.
However, while FSS satellites are relatively good at doing almost everything, they don't do a lot of things really, really well. As a result, a need for specialized satellites has, in some cases, already developed, once FSS applications uncovered demand for some types of services. DTH TV and mobile communications are now carried by spacecraft designed for such work.
It is clear that for broadband applications, "how much" data you deliver is as important as "how fast."
AT&T Wireless
created quite a stir among its customers in the past year — the company didn't alter the speed at which they delivered services, but limited the amount of data subscribers could use on their network.
Bandwidth is the new focus in the disrupted communications landscape — the challenge is to design a whole new system to deliver more of it, and at less cost.
A Constant Focus On Bandwidth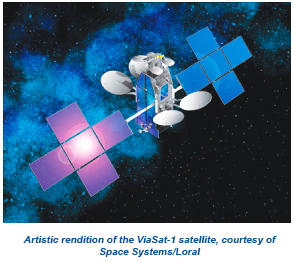 The bandwidth limitations of FSS satellites need not apply to all two-way satellites. Why not focus on designing a new satellite system with the objective of optimizing it in every way to deliver more bandwidth capacity? That could create a much, much larger inventory of bits, available at a far lower cost. The commercial broadband-by-satellite market is proof of the demand and utility for such a system — the same technology can provide the transformational networking capability the DoD requires, as well.
This next generation system, called
high-throughput
(
HTS
), or
high-capacity satellite
(
HCS
), is under construction right now by
ViaSat
and other satellite operators. The first ViaSat satellite is known as
ViaSat-1
. The system design encompasses several techniques and technologies to maximize available bandwidth as well as the number of subscribers that can be served and the level of service each user of the network will experience...
All Ka-band frequencies
Many narrow "spot beams", similar to mobile phone cells, to reuse frequency spectrum
A matching advanced ground system that can easily and efficiently provision and manage bandwidth among subscribers
Network + application acceleration
Ability to deliver more bandwidth volume, not just more speed
While ViaSat-1 is designed to send and receive data faster than any other commercial broadband satellite, it is the quantum jump in total capacity that is so revolutionary. The total throughput for ViaSat-1 is expected to be well above 100
gigabits per second
(
Gbps
). That compares to about 1 to 2 Gbps for a conventional FSS satellite, and about 10 Gbps for the best broadband satellites serving the United States today.
A number of demonstrations of the HCS system, at both Ku-and Ka-band, have shown the satellite can provide a 10X jump in level of service. Video is perhaps the application where the performance gain is most noticeable. In side-to-side comparisons, high-capacity satellite delivers smooth,
full-motion video
(
FMV
) in high-definition (
HD
), compared to jittery, halting video that is, basically, totally unusable.
All of this performance comes at a cost of about $250 million for the satellite alone, a price comparable to standard FSS satellites. That makes the transmission cost per Gbps of communicating over a high-capacity satellite just a fraction of what it would cost over any other satellite.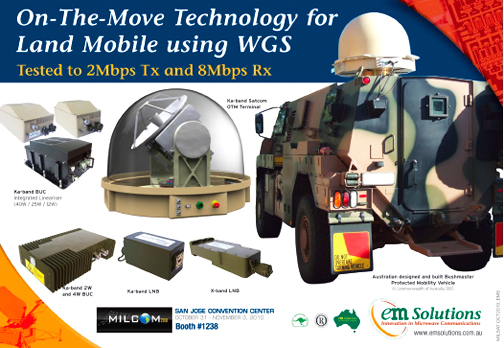 Also, compare that cost to the 28-30 Gbps throughput total estimated for all six TSAT birds, at a cost of $12-15 billion or more. Granted, TSAT had additional mission components, such as built-in security and system continuity, but for pure cost-per-bit, there is no comparison.
How HCS Fits The DoD Network Objective
Let's examine the need to obtain more network capacity over DoD areas of operations, and to do so quickly. The U.S. government, with its huge appetite for commercial FSS capacity, leases a significant portion of that bandwidth over the United States, where ViaSat-1 will offer coverage. By cooperating with ViaSat's international, high-capacity broadband partners —
Barrett
in Canada,
Eutelsat
over Europe, and
Yahsat
in the Middle East — the benefits of high-capacity satellite will soon extend to most of the operational areas where the United States purchases FSS capacity. Within six to nine months, the first two HCS satellites are scheduled to launch over Europe and the U.S.
Then there is the need to move satellite communications capablities deeper and deeper into the military organization — virtually every warfighter would gain access to the services. As outlined in the previous paragraph, the coverage is going to quickly blossom in the next year. As a complement to the coming Ka-band capacity, ViaSat and
KVH Industries
have built a mobile broadband network that now encircles the globe with Ku-band capacity. Terminal technology that would operate on both frequencies is in design, again leveraging already proven and widely used commercial systems and services. All that is left is for the DoD to do is to tap into this seamless network for global roaming between high-throughput Ku- and Ka-band, similar in practice as how consumer roam from 3G to 4G networks with mobile phones.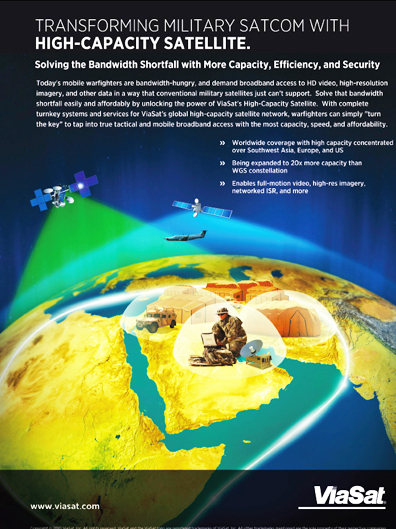 Another advantage of Ka-band SATCOM is that it requires smaller antennas and RF transceivers. That is a major advantage to placing SATCOM into the hands of individual warfighters at the edge of crucial operations.
With next-generation Ka-band, the cost per bit will make it not just technically possible, but also economical in providing more bandwidth to more users.
Not A Replacement—A Low-Cost Addition To MILSATCOM
In the near term, high-capacity satellite technology is not a replacement for military-owned and operated systems such as AEHF and WGS. Rather, high-capacity satellite technology can be part of the MILSATCOM transformation, addressing the obvious bandwidth shortfall the military faces in leased, commercial bandwidth capacity. In the future, this satellite communications technology could be incorporated into either hosted military payloads or new satellites constructed specifically for military use. These next-generation satellites deliver the same benefits in any application:
Primary, military enterprise communications infrastructure
In blended networks, such as high-volume backhaul for cellular smart phones as they become a bigger part of battlefield communications
Mobile broadband for airborne, vehicle, or dismounted COTM/SOTM
High-speed delivery of high-definition video from unmanned systems
First responder and civil emergency communications
The first turnkey high-capacity systems — gateways, ground terminals, satellites, and services — will soon be carrying fixed and mobile satellite networking to commercial customers. The low-cost bandwidth delivered by these next generation satellites can be a strategic advantage for the U.S. military, as well, helping to overcome the bandwidth gap that challenges warfighters with their current — and future — missions.