United Launch Alliance, U.S.A.F. SMC, ATK—GPS IIF-8 Launch Success
A United Launch Alliance (ULA) Atlas V rocket successfully launched the eighth Global Positioning System (GPS) IIF-8 satellite for the U.S. Air Force at 1:21 p.m. EDT on October 29th, 2014, from Cape Canaveral Air Force Station's Space Launch Complex-41 in Florida.
This was ULA's 12th launch in 2014, and the 89th successful launch since the company was formed in December 2006.
"We are very proud to have delivered the GPS IIF-8 satellite to orbit on the 50th Atlas V mission," said Jim Sponnick, ULA vice president, Atlas and Delta Programs. "Achieving 50 Atlas missions with 100 percent mission success is a tribute to this team's sustained focus on one mission at a time and dedication to reliably meeting our customer's launch needs."
This mission was launched aboard an Atlas V Evolved Expendable Launch Vehicle (EELV) with a 401 configuration, which includes a 4 meter diameter payload fairing. The Atlas booster for this mission was powered by the RD AMROSS RD-180 engine and the Centaur upper stage was powered by a single Aerojet Rocketdyne RL10A engine.
ULA's next launch is the Delta IV Heavy Exploration Flight Test (EFT-1) mission of NASA's Orion spacecraft for Lockheed Martin, which is scheduled for December 4th from Space Launch Complex-37 at Cape Canaveral AFS, Florida.

GPS IIF-8 is the eighth in a series of next generation GPS satellites and will join a worldwide timing and navigation system that uses 24 satellites in six different planes, with a minimum of
four satellites per plane positioned in orbit approximately 11,000 miles above the Earth's surface.
The Block IIF series will replace the GPS Block IIA satellites that were launched between 1990 and 1997. The IIF space vehicles provide improved accuracy, enhanced internal atomic clocks, better anti-jam resistance, a civil signal for commercial aviation and a longer design life. The GPS IIF-8 satellite provides space-based system global location and time information in all weather conditions.
The EELV program was established by the United States Air Force to provide assured access to space for Department of Defense and other government payloads.
The commercially developed EELV program supports the full range of government mission requirements, while delivering on schedule and providing significant cost savings over the heritage launch systems.
This launch marked the 8th successful Boeing Global Positioning System (GPS) satellite. The craft signaled controllers that all systems were functioning properly with signal acquisition, some 3-1/2 hours post launch. This was the fourth, and final, GPS IIF launch scheduled for the U.S. Air Force this year.
"The schedule this year has put the GPS team through its paces, with launches occurring approximately every three months to continue GPS modernization," said Dan Hart, vice president of Government Space Systems at Boeing Network & Space Systems. "We typically were processing two satellites concurrently at the Cape, requiring strong execution, an unrelenting focus on mission assurance and solid team work with the Air Force and United Launch Alliance."
Now in Medium Earth Orbit (MEO), approximately 11,000 miles above the Earth, the eighth GPS IIF satellite in the constellation will replace older, first-generation GPS satellites and provide improved accuracy, signal strength and quality to America's warfighters, allies and civilian users worldwide.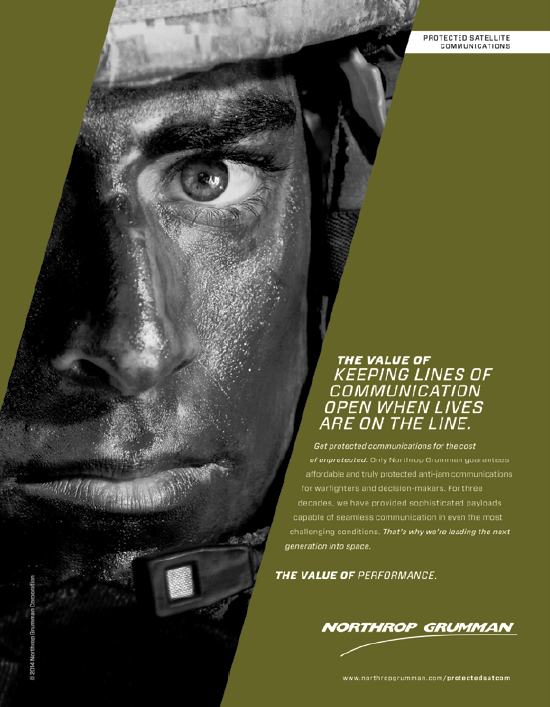 The next GPS IIF launch is expected during the first quarter of 2015. The Air Force ordered 12 satellites in total—four remaining satellites are stored and maintained at the Boeing Satellite Development Center in El Segundo, California.
ATK played important roles for the mission and their products supported this successful launch of the United Launch Alliance (ULA) Atlas V vehicle and the GPS satellite.
"The Atlas V and GPS programs encompass the scope and scale of ATK's highly engineered products and affordable innovation," said Blake Larson, President of ATK's Aerospace Group. "Both military and civilian GPS users around the world will benefit from increased capability as a result of our team's collective dedication and execution excellence."
For the GPS IIF-8 satellite, ATK provided a host of products and services. ATK's Goleta, California, facility designed and manufactured the satellite solar arrays and a deployment boom. ATK has achieved 100 percent on orbit success on all solar arrays and deployable systems delivered and launched to date.
The ATK components, in the Atlas V launch vehicle and satellite, use the latest, cutting-edge technology across multiple ATK facilities. These include large composite structures, retro motors, state-of-the art solar arrays and other critical components on the GPS IIF satellite.
For the ULA Atlas V rocket, ATK produced the 10-foot diameter composite heat shield, which provides higher performance with lower weight, and essential protection for the first stage of the launch vehicle from engine exhaust temperatures in excess of 4,000 degrees Fahrenheit.
The assembly was fabricated using advanced fiber placement manufacturing techniques at ATK's Luka, Mississippi facility. This is the 50th Atlas V launch using ATK-built composite structures.
This launch also marked the 16th successful flight of ATK-produced retro motors. Eight of these solid motors supported separation of the spent first stage. The Atlas retrorocket was built at ATK's Missile Defense and Controls facility in Elkton, Maryland.
ATK's San Diego, California, facility manufactured the composite solar array substrates. ATK's Commerce, California, facility had responsibility for the ullage tank assembly, including the blankets, heaters, thermistors and pressurant lines. This tank is a spherical vessel constructed of titanium.
ATK's Beltsville, Maryland, facility provided heat pipes for the GPS IIF equipment and radiator panels. The company has delivered more than 50,000 heat pipes to the space industry with perfect on-orbit mission success record. ATK's Rancho Bernardo, California, facility performed final assembly and RF (Radio Frequency) testing of the antenna suite.
Colonel Bill Cooley, the director of Space and Missile Systems Center's Global Positioning Directorate at the Los Angeles Air Force Base, said, "I'm delighted with the outcome of this launch. Thanks to the men and women of SMC, the 45th, 50th and 310th Space Wings; Boeing; ULA; the Aerospace Corporation; and the GPS IIF and Atlas V launch teams ceaseless efforts, commitment, dedication, and focus on mission success, we successfully launched the fourth GPS IIF space vehicle this year. This launch demonstrates our commitment to users around the globe that GPS is the gold standard for position navigation and timing and will continue to deliver capabilities for the foreseeable future," he said.
The GPS constellation itself is healthy, stable and robust, with 31 operational satellites orbiting the Earth. Operated by U.S. Air Force Space Command, the GPS constellation provides precise positioning, navigation and timing services worldwide seven days a week, 24-hours a day.
Prior to this important launch, senior command personnel and executives from mission partners participated in a pre-launch teleconference to discuss GPS IIF-8 and the work involved.
During this pre-launch teleconference, Colonel Cooley said that the GPS satellites are broadcasting 14 L2C signals, seven civil signals, and also have 14 M-CODE capable space vehicles on orbit.
"In June of 2013, we achieved the best performance of 46.6cm user range error and, in August of 2014, achieved the best weekly average of 58.7cm user range error. This means performance is improving as these newer satellites replace the older spacecraft.
"Since its inception in the 1970's, GPS has evolved into an essential capability that enables technologies that are employed every day across our nation and the world. GPS continues to be the cornerstone of the Global Navigation Satellite System (GNSS) and the gold standard by which global applications are measured."
Colonel Alvin Burse, the Chief of the EELV Generation and Operations Division within the Launch Systems Directorate at SMC, as well as the Mission Director for the launch, discussed some of the planning and execution of the GPS IIF-8 mission.
He said, "While the frequency of these launches may appear routine, their apparent ease is maintained by a significant amount of work leading up to the day of launch. The Air Force, along with its industry partners, applies rigorous engineering discipline throughout the build and processing of the flight hardware and software.

"This approach gives us confidence that both the launch vehicle and the space vehicle are ready to go. While we do continue to look for more efficient ways to conduct mission assurance, we do so under the standard that will not compromise our focus on 100 percent mission success."
The Colonel then added, "In addition to the various engineering disciplines so important to the mission, I also want to acknowledge our teammates in contracting, finance, safety, production planning, quality, and manufacturing, for creating an environment for mission. Without their dedicated support, we would not be able to deliver payloads to orbit."
Munzir Badawi, the Boeing Manager for the GPS IIF Program, offered that 2014 had been a busy year for the GPS IIF team. He said the satellite had been flown from the company's Satellite Development Center in California to the Florida location aboard a C-17, arriving on July 16th.
Activities were then underway at the launch site. Activities performed included functional checkout, compatibility testing, battery installation, fueling, mating to the payload adapter and determining the final flight weight.
On October 14th, combined operations with ULA began as the spacecraft was encapsulated in the payload fairing and later transferred to Space Launch Complex 41 for mating to the Atlas V rocket.
After launch, Boeing support continued with verification testing and checkout of the satellite, prior to GPS IIF-8 being handed over to the Air Force to start service.
"On behalf of the Boeing GPS IIF team that encompasses the factory in California, the launch site at the Cape, and mission operations in Colorado Springs and El Segundo, I am very proud of our efforts this year," he said.
For additional information, please visit the ULA infosite at http://www.ulalaunch.com
The ATK infosite is located at: http://www.atk.com/
The Los Angeles Air Force Base infosite may be accessed at: http://www.losangeles.af.mil/
---