Force 2025 Comms System Testing Is Completed By U.S. Army
The Brigade Modernization Command has completed their latest field test of the second increment of the Warfighter Information Network-tactical communication system, a Force 2025 initiative that will push real-time intelligence down to a maneuver brigade's company level for the first time.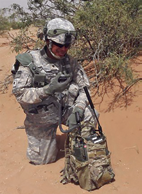 Network Integration Evaluation 15.1 is the eighth iteration of the semi-annual field test, in which 3,900 Soldiers and 1,200 government employees put multiple pieces of equipment through its paces in the rough Fort Bliss terrain, from October 3rd to November 4th. This exercise refines tactics, techniques and procedures for the equipment as well as pushes the capabilities of the communication network to the limit.
"It's amazing what the Soldiers are able to do with these systems," said Maj. Gen. Peter Utley, commanding general of the U.S. Army Test and Evaluation Command. "They are able to find other capabilities and really maximize the capabilities of these systems far beyond what we thought they could do."
The new network will provide actionable information in a manner that is easy to process, allowing commanders on the ground to have greater awareness of the battlefield around them and the assets at their disposal, which will in turn make the unit more agile and flexible as part of the Army's transformation.
While each piece of equipment went through developmental testing before originally coming to NIE, the exercise has reached a point now where Soldiers, most of whom come from 2nd Brigade, 1st Armored Division, are familiar enough with the equipment from past NIEs to see improvements in the system and build upon past experience to expand what they can do well past the limitations of a lab, according to Col. Jim Crider, BMC's deputy commander.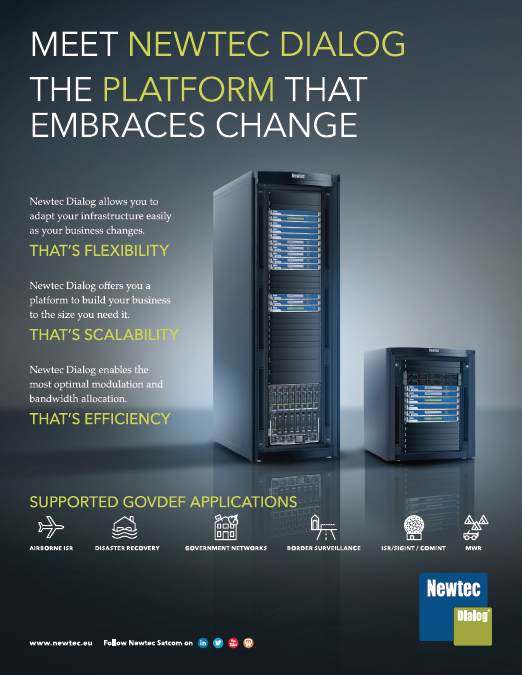 "When you put things out in the field, and you get a rain storm, or the wind blows 20 or 30 knots, or it gets in the heat, it performs differently," Crider said. "This area is more than just desert. There's undulating terrain, high mountains, narrow and wide passes ... all of which makes this an ideal location to conduct evaluations."
The main tests for the WIN-T2 system are its simplicity and interoperability. The network of computers and radios is designed to easily work with current systems and adapt to the technology of America's allies and even future pieces of equipment. Brig. Gen. Timothy Coffin, commanding general of White Sands Missile Range, New Mexico, where a large part of the NIE testing occurs, noted it was critical for the systems to communicate with as little human interface as possible, so that Soldiers could focus their attention on completing the mission.
"The promise of NIE is the ability to bring all those systems together in a seamless way, where the operator can really focus on the fight, and not fight the systems," Brig. Gen. Coffin said. "We don't want to add burden onto the Soldier or the commander. We want to allow them to focus their intelligence and their efforts into fighting the adversary."
Past iterations of NIE have already proven their worth, most notably validating Capability Set 13, for the 10th Mountain Division (Light Infantry), prior to their 2014 deployment to Afghanistan. With this iteration NIE, has evaluated more than 200 systems and used those lessons learned to provide recommendations for the future of doctrine, organization, training, material, leadership, personnel and facilities to the Department of the Army.
According to Lt. Col. Timothy Gearhart of Project Manager Mission Command, the evaluation accomplishes this by putting the developers of the equipment side-by-side with the Soldiers testing the systems.
In addition to Fort Bliss Soldiers shaping one of the initiatives designed to boost Army equipment availabilities, they are also receiving a new form of training that will prepare and improve them for future operations.
According to Maj. Gen. Utley, the knowledge Soldiers take from NIE is also increasing their creativity and flexibility in utilizing the equipment tactically: a vital trait for them to pass on as leaders.
"I feel very strongly that NIE allows us to see what is in the art of the possible as it relates to these systems," Utley said. "We could have a system that was developed to address a specific capability but now we're starting to see the capability for it to, perhaps, do other things beyond what we originally designed it to do."
Story by Sgt. James Avery + SSG Christopher Blakeslee, 16th MPAD
---
No Sticky Problems With Boeing's New Anti-Jamming Technology
Boeing has proven its new anti-jamming communications technology is capable of operating as either a ground-based user terminal or satellite-based networking hub, enabling the military to send and receive secure communications at a significantly lower cost by using existing terminals and satellites.
The anti-jam technology uses a protected tactical waveform, which shields signals from interference by adversaries or cyber-terrorists. This demonstration complements previous on-orbit demonstrations over satellites like ViaSat-1 and the sixth Wideband Global SATCOM (WGS-6), showing the ability to operate anti-jam waveforms over existing commercial and military spacecraft.
"We've confirmed this technology can be applied quickly and affordably to existing assets, especially operational WGS satellites and ground terminals," said Dan Hart, vice president of Boeing Government Satellite Systems.
This testing, done under contract for the U.S. Air Force Space and Missile Systems Center and supervised by the U.S. government, confirms that the modem meets technical interface specifications, while successfully transmitting information to and from the ground user terminal.
---
KVH TACNAV Beefs Up Armored Vehicles
KVH Industries, Inc. has received a $4.3 million order for its TACNAV tactical navigation systems from a new customer who is a major defense contractor that provides armored vehicles for an international military client.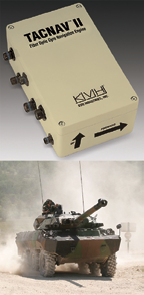 With a short delivery requirement, shipments for this order are expected to be substantially completed in Q4
of 2014.
KVH's Guidance and Stabilization Group Executive VP Dan Conway said, "Providing precise navigation as well as coordination of vehicles in critical situations is an important tool that helps keep soldiers oriented wherever they operate."
KVH's TACNAV military vehicle navigation systems provide unjammable precision navigation, heading, and pointing data for vehicle drivers, crews, and commanders. TACNAV can also serve as a heading and position source for situational awareness.
TACNAV systems are currently in use by the U.S. Army and Marine Corps, as well as many allied customers including Canada, Sweden, Great Britain, France, Germany, Spain, Egypt, Botswana, Australia, New Zealand, Saudi Arabia, Taiwan, Romania, Poland, Turkey, Malaysia, Switzerland, South Korea, Singapore, Brazil, and Italy.
Additional information is available at
http://www.kvh.com/Military-and-Government/Land-Systems/Tactical-Navigation/All-Navigation-Systems/TACNAV-II.aspx
---
CPI To Continue With Ground Data Terminals for U.S. Military
The Malibu Division of Communications & Power Industries LLC (CPI) has been awarded a follow-on order of more than $5 million for the continued production of tactical common data link (TCDL) antenna ground terminals operating
in Ku-band.

With this most recent order, in the past two years, CPI Malibu Division has received multi-year orders totaling more than $30 million for advanced ground data terminals.
These ground data terminals are used by the U.S. military in intelligence, surveillance and reconnaissance (ISR) applications to communicate information, including video and radar information, between ground control stations and unmanned aerial vehicle (UAV) platforms.
CPI Malibu Division's Ku-band advanced ground data terminals feature unique auto-tracking capability, which facilitates continuous contact between ground personnel and the UAV.
"ISR systems provide critical communications links to our military personnel and must be capable of operating in a network-centric battle-space where there is no room for error or delay.
"It is crucial to us that our troops be able to depend wholeheartedly on CPI's tactical and portable data links," said Steve Lonngren, president of CPI Malibu Division.
Work on these orders is being completed at CPI Malibu Division in Camarillo, California.
Additional information regarding CPI's Malibu division may be found at http://www.cpii.com/division.cfm/10
---
Four Years Of Space Surveillance For U.S.A.F.'s SBSS
Members of the 1st Space Operations Squadron gathered to celebrate the Space-Based Space Surveillance Satellite's (SBSS) fourth anniversary on orbit recently.

The event provided an opportunity for squadron members and leaders to celebrate mission success as well as helped to fortify a new identity for the 1st SOPS, which has transitioned into a space-based, space situational awareness squadron in the past
12 months.
While the squadron has commanded and controlled SBSS since it reached orbit in September 2010, it also gained a new space situational awareness system, the Geosynchronous Space Situational Awareness Program (GSSAP), this past summer.
Last June, Air Force Space Command leaders directed the 1st SOPS to add command and control of GSSAP to its portfolio of situational awareness systems, which includes the SBSS and Advanced Technology Risk Reduction (ATRR) satellite.
"With leadership's decision to make (the) 1st SOPS a space-based SSA squadron, we begin the work of truly operationalizing SSA to where the Joint Functional Component Command space commander will receive truly actionable information," said Lt. Col. Toby Doran, the commander of the 1st SOPS. "Moreover, by gaining synergy among SBSS, ATRR and GSSAP, we can say that space superiority starts in (the) 1st SOPS."
SBSS plays a large and significant role in the space situational awareness realm. Built by Ball Aerospace Technologies Corporation and the Boeing company, SBSS uses a two-axis, gimbaled optical telescope to provide coverage of satellites and other objects in the geostationary belt.
SBSS is one of the few satellites on orbit that look out toward the heavens instead of toward Earth. The SBSS is a Low Earth Orbit (LEO) sensor that provides all-weather, 24-hour space situational awareness data to assist commanders throughout the military in detecting, identifying and tracking potential hazards in space. In essence, the SBSS helps provide a better understanding of the space environment.
"The vehicle performs more GEO observations than any other sensor," said Capt. Jared Grady, the 1st SOPS lead SSA space vehicle engineer. "It also performs a significant number of deep space observations beyond the GEO belt." Grady also said that 1st SOPS analysts and engineers have continued to innovate during SBSS's lifespan, which has extended the satellite's capability beyond its original design life.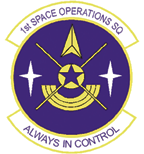 This year proved to be an important one for the satellite and the squadron, as 1st SOPS members rewrote the vehicle's tactics manual. This helps operators understand the updated vehicle as well as informs the SSA community about how SBSS contributes to space situational awareness.
"When we consider a one-of-a-kind system like SBSS, we have no choice but to be innovative," Doran said. "There is no opportunity for material solutions, so we turn to our tacticians to get the most out of the system. They have done it and our new tactics manual documents that innovation."
As the squadron opens year five of SBSS operations, the lessons learned and the experience gleaned from the system's performance will be invaluable as it embarks on year one of operating the GSSAP.
"As we transition our mission sets, we're commemorating our success of another year on orbit (for SBSS)," said Capt. Brett Kasischke, the 1st SOPS chief of operations training. "At the same time, what's new and different is we're doing this with a vision of ourselves as an SSA squadron."
Story by Scott Prater, Shriever Air Force Base Public Affairs
---