There is no denying the military's dependence on satellite applications. Satellite is relied upon for all-important radar operations, from anti-missile and air-defense systems to enabling land and ocean surveillance.
Satellite communications are also especially crucial for maintaining communication links with operatives in the field, often in remote areas where other links are simply not available. In those instances, satellites literally provide a lifeline.
However, this functionality doesn't come without challenges. RF components are often overlooked as simply something that need to be purchased; however, getting it right can be key to ensuring resilience throughout the satellite networks.
---

---
Challenges
Military satellite operations, as well as experiencing the challenges associated with any satellite network, have their own unique challenges. Here are some of the most significant difficulties for the military today:
Cyber Attacks
As the world becomes more connected, cyber-attacks are becoming a serious threat to pretty much everyone, from huge companies to the man on the street. The military is a significant target for potential cyber criminals in view of its importance to our protection. While communication is key, the security and safety of our people is paramount.
Remote Operations
Military operations often occur in remote locations and may require substantial hardware to be redeployed in a short periods of time. For effective operations, the hardware needs to be portable, compact and resilient and also needs to be quick to setup and operate as well as easily implemented into an existing system.
Extremes of Weather
Military operations require global access and quick deployment across the globe. In many locations, there can be extremes of temperature and weather that require products that are designed to operate across such extreme conditions without performance degradation. In some cases, operational temperatures span from -20°C to +65°C or beyond. All products need to pass well controlled test regimes to ensure resilience across harsh operational or storage conditions.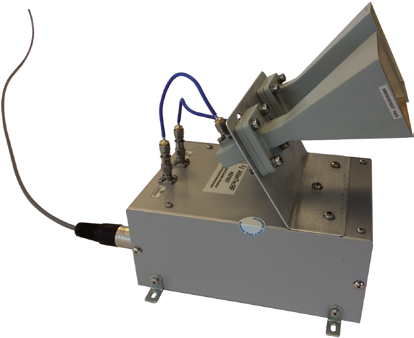 Atlantic Microwave's drone payload satellite simulator.
Interference
Interference is a challenge for the entire satellite industry. Interference free operation is fundamental for the functioning of any satellite link. This requires well planned frequency allocation, antenna pointing and expertise in the field of communications.
For effective and compliant performance, RF components with good spectral purity are required.
Interference of any kind can cause degradation of signal or even downtime. In many military situations, that is simply not an option and, therefore, military operators need to be able to mitigate interference before the crucial service is negatively impacted. RF Products should provide very low spurii characteristics and filters to limit or restrict interference.
COTS
In an attempt to reduce costs and increase speed of delivery, many defense companies are looking for Commercial-Off-The-Shelf (COTS) products.
It is important for all mission critical applications that reputable companies with proven track records are selected as the equipment suppliers.
The expected life cycle of such equipment is typically 10 years or more. This requires programs where product cycles and the subsequent replacements are well planned. When it comes to end of life it is vital that the services are maintained, and new products are backward compatible. These schemes are required to deliver desired solutions quickly and to maintain COTS provisions.
The Role of RF Components
RF components are fundamental in determining the performance and resilience of any satellite link. For this reason, the specifications and performance parameters need to be clearly defined. In doing so, RF system analysis and link budgets are essential tools which determine the performance of the entire satellite communication network.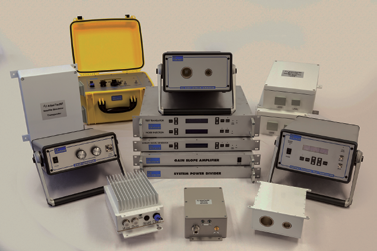 Atlantic Microwave's range of SATCOM products.
In addition to performance, there are several key factors to be considered as outlined below:
Reliability
RF components need to be extremely resilient for military applications. Reliability is critical in ensuring no downtime and therefore it is important that the products perform to their specifications without any deviation.
Additionally, products designed for high reliability applications need to pass strict requirements complying to EMC (Electromagnetic Compatibility), vibration and extreme operational and non-operational environmental conditions. These are captured by internationally recognized military standards.
Cost versus Specifications
While the industry is under pressure to deliver products to a tight time scale and budget, this needs to be done without compromise to the technical specifications and reliability. The desired solution should involve an interactive exchange of ideas between the supplier and end-user to deliver to the requirements.
Compact
The designs need to be compact to facilitate mobility and ease of deployment. Miniaturized devices, multilayer PCB boards, effective thermal dissipation and smart HMI (Human Machine Interface) all enable light weight and reliable product solutions.
Life cycle
Products developed for high reliability applications require a well-planned life cycle and obsolescence management. The industry requires support beyond the nominal life cycle of 10 years. The new products need to be backwards compatible and introduce enhancements over their preceding products at the same time as producing new and superior products to ensure advancements without compromising on the products' longevity.
Testing
In applications where resilience and reliability are critical, extensive testing is extremely important. This should apply to relatively simple products such as coaxial cables and cable assemblies, as well as to the more sophisticated products such as frequency synthesizers, test loop translators and satellite simulators.
Selecting RF Components
The selection of the most suitable RF products requires a good understanding of their specifications and intended applications. Selecting a supplier that offers a broad range of RF components, modules and equipment, as well as custom solutions, will save investment in time and money.
www.atlanticmicrowave.com

Esen Bayar has 30 years of experience in satellite communication systems. He joined ETL Systems in 2003 and has been pivotal in transforming the firm into a world leading RF company. Esen is now actively engaged with Atlantic Microwave following it's acquisition by ETL. Prior to ETL, he worked for BAE Systems, Matra Marconi Space Systems (now Airbus), Com Dev and Radiant Networks.
---