Mr. Robert Tipton (Tip) Osterthaler joined the SES family in December 2006 when he became the President and CEO of AMERICOM Government Services. Since then, the independent corporation and wholly-owned subsidiary of SES WORLD SKIES has grown and integrated with other USG business elements within SES to become SES WORLD SKIES, U.S. Government Solutions. During his tenure at SES, the U.S. Government business transformed from a product oriented sales channel into an end-to-end satellite solutions company, and now to an entity that is directly aligned with the global assets and resources available on the SES fleet of 44 communications satellites.
From 1998 until 2006,
Tip
was a Senior Vice President at
Science Applications International Corporation
(
SAIC
), a large systems, solutions and technical services company serving the needs of the US government. His last assignment at SAIC was Deputy General Manager of the
Strategies, Simulation and Training Business Unit
, a 2,300 person organization that provides government and commercial clients with advanced modeling, simulation and training solutions.
Prior to joining SAIC,
Tip
served in the
U.S. Air Force
for 28 years, retiring as a Brigadier General and
Deputy Assistant Secretary of Defense for European and NATO Policy
. Earlier assignments included Vice Commander of the
Air Intelligence Agency
,
NATO Staff Officer
, and numerous command and senior staff assignments. Mr.
Osterthaler
is a Command Pilot, having accumulated over 3,200 hours of flying time in fighter aircraft including multiple models of the
F-4 Phantom II
and the
F-15 Eagle
. He holds a BS in Economics from the
U.S.A.F. Academy
and an MBA from
Texas A&M University
, is a graduate of
Harvard University
's
Senior Executives in National Security Program
as well as their
National and International Security Management
course, the
Royal College of Defense Studies
in the U.K., the
Air War College
, and the
U.S.M.C. Command and Staff College
.
MilsatMagazine (MSM)
Mr. Osterthaler, how did your career with the U.S.A.F. prepare you for your leadership position with SES WORLD SKIES, U.S. Government Solutions?
Robert Osterthaler
Government organizations and the private sector use different metrics to measure success, but every leader in either the public or private sector is ultimately accountable for the success of his or her organization. What I found when I joined the private sector is that accountability is as absolute in the business world as it is for command positions in the military, and while it took some time to understand how to drive a different set of metrics, the people and organizational dynamics are no different in the two worlds.
MSM
Why did you select SES after your foray with private companies with SAIC? How do you see your experience helping this company?
Robert Osterthaler
The US Government and particularly the DoD are big users of commercial satellite capacity, but none of the major operators of geosynchronous communications satellites are US companies. For me, SES presented an opportunity to bring to SES many years of experience working in the government and for the government as a contractor, and also to leverage the understanding and insights I gained while living and working in Europe.
MSM
What does SES WORLD SKIES USG Solutions bring to the playing field as far as technologies and capabilities are concerned?
Robert Osterthaler
SES WORLD SKIES, USG Solutions, brings the capabilities of the strongest satellite company in the world. We have the newest and fastest growing global fleet of satellites, and we are in business to serve the long term needs of our customers and investors. Our financial strength and stability enable us to innovate and focus on quality, creating long term value for both groups.
MSM
The integration of AMERICOM GS with SES must have offered a number of challenges for you and the company... what are the most significant advantages resultant of this blending of talent and technologies?
Robert Osterthaler
The integration of SES AMERICOM and SES NEW SKIES enabled us to consolidate our USG business and make it more efficient. It also simplified our customer interactions and helped us to sharpen our strategy. Maybe the most important benefit is that the consolidation brought together the best resources and practices of two highly successful companies and created a single organization that is more than just the sum of its parts.
Organizational changes always create challenges, but SES WORLD SKIES had the courage to take on those challenges, and our customers are already seeing the benefits of the integration.
MSM
With satellite capacity seemingly a constant issue, how does SES WORLD SKIES USG Solutions capture transponders for your clients' use when SES itself has many capacity needs as well? How is priority determined?
Robert Osterthaler
WORLD SKIES USGS is in the business of providing SES satellite capacity to satisfy the needs of the US Government. Because the Government decides what is going to buy and how it is going to buy, we must be capable of responding to their needs either directly or indirectly.
If we have capacity available, we will always support the bids of other companies who are pursuing USG business. Under some circumstances, the US Government makes it clear that they expect companies such as ours to respond directly to them, and in such cases we might put together our own offerings. Although this seems to be an odd notion within the commercial satellite industry, it is actually the prevailing practice within the USG market.
MSM
Has your command military career been an asset in helping you to deal with the intricacies of agency and military procedures for capturing MILSATCOM projects? If so, how
?
Robert Osterthaler
During my years of military service, I gained an appreciation for the essential contributions of the private sector and I learned a lot about how the government buys goods and services. Those experiences have clearly been helpful.
MSM
Hosted payloads offer commercial communication capacity to the military, agencies and governments —is this environment working for both sides of the equation?
Robert Osterthaler
Hosted payloads are not the solution to every problem, but I believe they will be a useful addition to the list of options available to the USG as it strives to meet a growing list of needs, many of which will be unaffordable using traditional approaches. For example, our current Commercially Hosted IR Payload (CHIRP) flight demonstration project will enable the Air Force to complete about 85 percent of an exhaustive list of hundreds of desired test objectives for about 15 percent of the cost of a dedicated government spacecraft program.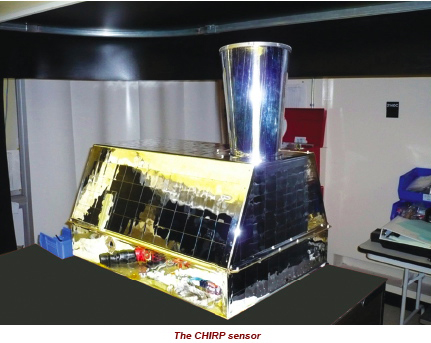 MSM
With the warfighgter on the far side of capacity use, have hosted payloads projects actually improved communications for those involved in hostile encounters?
Robert Osterthaler
Today's warfighters generally use the same capacity we provide to our commercial customers. Having said that, we work very closely with the US Government to identify things we might do to make our spacecraft even more suitable for USG use.
For example, we routinely install special USG-certified security hardware on our satellites, design beam coverage patterns optimized for USG users, develop spectrum of interest to war fighters, and even reposition spacecraft based on USG needs. In the future, we foresee opportunities to provide increasingly specialized capabilities in the form of hosted payloads to support our USG customers.
MSM
Financially speaking, are hosted payloads feasible for the government and for the commercial company?
Robert Osterthaler
From the perspective of the cost savings offered to the government, the answer is an emphatic yes.Hosted payloads share many of the resources of a satellite that is already being built and is going to be launched. The incremental costs to add the capabilities of the hosted payload are a small percentage compared to building a dedicated spacecraft and paying the total cost for the launcher.
From a commercial perspective, we are in the business to provide capability to our customer and to deliver appropriate levels of return on our investments. When we work together with our government customers to design a program and a contractual arrangement that is a fit, we find that hosted payloads are not only feasible, but they are a mutually-beneficial way to do business.
MSM
How does one educate the supplier and the user as to the benefits of hosted payloads? Is CHIRP going to greatly assist in this area?
Robert Osterthaler
Both the user and supplier are educated through open and continuous dialogue. It is important for the government to understand the constraints that commercial industry faces in meeting schedule and cost requirements, and it is equally important for commercial operators to understand the limitations of government funding and procurement practices.
CHIRP is a pathfinder for contracting practices between the government and commercial operators. The framework of the contract ensured that the government interests were protected without exposing the operator to excessive risks.
MSM
What technologies, in addition to IR, does CHIRP demonstrate?
Robert Osterthaler
CHIRP also demonstrates the ability to interface the command and control of a payload with the commercial communications capability of the spacecraft. The Secondary Payload Interface (SPI) enables encrypted communications to the sensor and encrypts the data before transmitting it over the commercial transponder. Transmitting encrypted data at rates as high as 70 Mbs was challenging but the CHIRP team designed and implemented the SPI in less than 12 months.