U.S. Navy C5ISR modernization and maintenance contract to BAE Systems
The U.S. Navy has awarded BAE Systems a five-year, $90 million indefinite-delivery/indefinite-quantity contract
to modernize and maintain C5ISR systems embedded within vehicles, watercraft, and specialized communications platforms.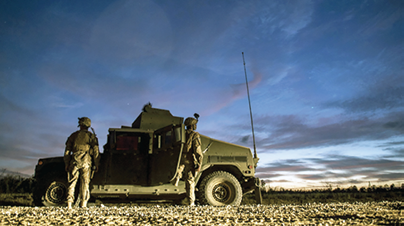 C5ISR includes command, control, communications, computers, cyber, intelligence, surveillance and reconnaissance systems that are integrated and networked to improve the situational awareness of their military operators and decision makers.
BAE Systems has been supporting Naval Air Warfare Center Aircraft Division's Special Communications Mission Solutions Division with mobile deployable systems for more than 25 years.
Work on this program will be performed in St. Inigoes, Maryland; Little Creek, Virginia, and Fayetteville, North Carolina.
Mark Keeler, VP and GM of BAE Systems' Integrated Defense Solutions business, said technology is constantly evolving and the mission needs of the company's customers can change. As systems integrators, BAE Systems is providing agile engineering, testing, and field support to help the firm's military customers adapt and maintain a tactical edge.
www.baesystems.com/
---
C5ISR contract for Kratos
Kratos Defense & Security Solutions, Inc. (Nasdaq: KTOS) has recently received a $4.1 million contract award to provide hardware and subsystems in support of a Command, Control, Communications, Computing, Combat and Intelligence, Surveillance and Reconnaissance (C5ISR) aerial defense related program and platform.

Kratos' C5ISR Modular Systems Division (MSD) provides engineering, system integration and testing/analysis support to deliver turn-key modular solutions.
Kratos' C5ISR Modular Systems business provides specialized, High Altitude Electromagnetic Pulse Protected (HEMP) products, systems and subsystems in support of Missile Defense, Missile, Radar, Unmanned, High Power Directed Energy, Surface Combatant and other systems and platforms.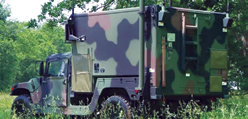 Work under this recent contract award will be performed in secure Kratos manufacturing facilities. Due to competitive, customer related and other considerations, no additional information will be provided.
Tom Mills, President of Kratos' C5ISR Modular Systems Division, said that ballistic missile and aerial defense systems and platforms are a core business area of Kratos and the company's entire organization is honored to have been selected to support this key national security related program.
www.kratosdefense.com/
---
Sierra Nevada Corporation's DSX satellite now on-orbit for USAF
The U.S. Air Force Research Laboratory's (AFRL) Demonstration and Science Experiments (DSX) free-flying satellite, built on a spacecraft platform designed and developed by Sierra Nevada Corporation (SNC), is on-orbit and successfully performing experiments.
The DSX platform provides a free-flying Evolved Expendable Launch Vehicle (EELV) Secondary Payload Adapter (ESPA) platform for AFRL to better understand the dynamics of waves and particles in radiation, enabling better specification, forecasting and reducing impact of the harsh radiation environment of MEO.
DSX experiments include the following:
• The Wave Particle Interaction Experiment (WPIx): Investigate the influence of very-low frequency (VLF) radio waves on particle dynamics.
• Space Weather Experiments (SWx): Measure and map the distributions of energetic protons, electrons and low-energy plasma in the inner magnetosphere to improve environment models for spacecraft design and operations.
• Space Environment Effects (SFx): Determine the MEO environmental effects on electrical components to launch as a secondary payload with primary missions requiring an EELV.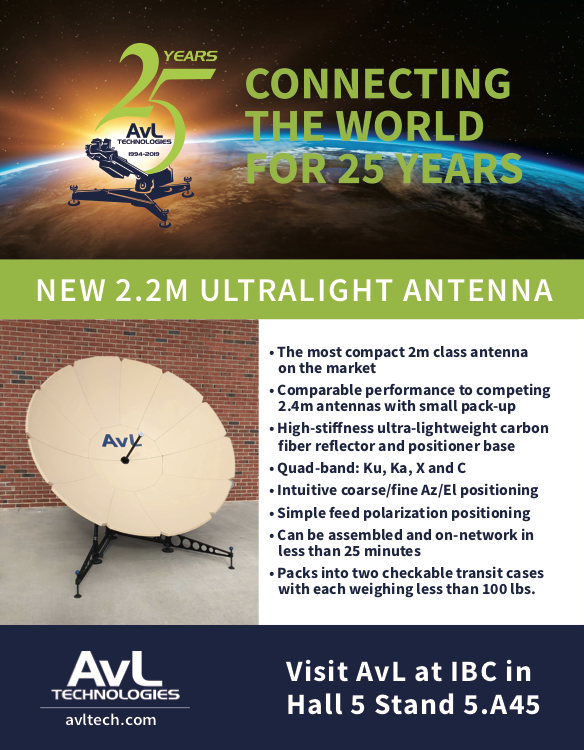 DSX launched June 25th on the Space Test Program-2 (STP-2) mission aboard the SpaceX Falcon Heavy launch vehicle and is expected to be on-orbit for one year.
DSX is the latest innovative satellite program from SNC, the global aerospace and national security contractor owned by Chairwoman and President Eren Ozmen and CEO Fatih Ozmen, with the CEO stating that this integrated system represents the continued growth in SNC spacecraft from proven LEO constellations to developing GEO spacecraft and now increasing capability in MEO.
According to the company, SNC is expanding its satellite portfolio and the firm stated that the DSX spacecraft platform is a perfect example of how the company can offer great technology and platforms that are cost-effective, efficient and help customers achieve their strategic goals.
Joel Nelson, Senior Director of Programs for SNC's Space Mission Systems business unit, added the company's Space Mission Systems team is excited to add both a MEO platform and free-flying ESPA spacecraft to the firm's product line.
Nelson added that, given the need for Command, Control, Communications, Intelligence, Surveillance and Reconnaissance systems and enhanced resiliency, a platform like this can enable new capability for national defense customers in highly-elliptical orbit, MEO and GEO.
www.sncorp.com/
www.wpafb.af.mil/AFRL/
---
SSTL celebrates the SpaceX launch of FORMOSAT-7
The successful launch on June 24, 2019, EST of six satellites for the FORMOSAT-7 joint US-Taiwanese weather forecasting constellation marks the start of another SSTL-enabled space mission.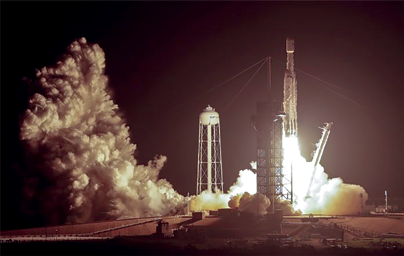 The launch of six FORMOSAT-7 satellites by SpaceX.
The launch on the SpaceX Falcon Heavy rocket from the Kennedy Space Center was attended by SSTL staff including Managing Director, Sarah Parker, who said the company is proud of their role as space mission enablers and, hot on the heels of TeleSat LEO Phase 1 satellites' first ever demo of 5G connectivity, SSTL is delighted that the firm's smallsats expertise has — once again — helped the firm's customers achieve their ambitions.
The company congratulates their customers, NSPO in Taiwan, and NOAA in the United States, on the successful launch of their constellation and look forward to following their mission journey as they move through commissioning and into the beginning of operations.
FORMOSAT-7, also known as COSMIC-2 in the U.S., is a joint constellation meteorological satellite mission between Taiwan and the United States for observing and monitoring the global meteorology, climate, and ionosphere. In addition to two science payloads for detecting ionospheric data, each of the six satellites in the constellation is carrying an advanced GNSS receiver to low-inclination-angle orbits and will collect atmospheric data at low and mid latitudes to provide sounding data to improve regional and global weather forecasting. The processed data will be provided by two data processing centers located in Taiwan and USA
SSTL provided the platforms for this next-generation Global Navigational Satellite System Radio Occultation data constellation, enabling their customer, NSPO of Taiwan, to continue its participation in an internationally recognized science mission at the best possible value for money. Collaborating with SSTL also enabled NSPO's engineers to work hand-in-hand with SSTL's engineering team throughout the program, gaining world-class small satellite expertise in the full range of satellite mission capability including design, assembly, test and on-orbit operations.
As a continuation of this program, NSPO is now developing their own FORMOSAT-7 platform, named TRITON, using some of SSTL's hardware under license in their own satellite structure and avionics. The satellite is scheduled for launch in 2021.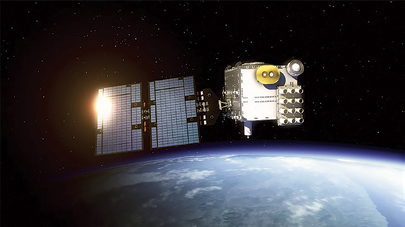 Artistic rendition of the Fomosat-7 smallsat. Image is courtesy of SSTL.
The first fully integrated and tested satellite for the FORMOSAT-7 constellation was completed at SSTL in the UK and delivered to NSPO in Taiwan in 2015. The other five satellites in the constellation were manufactured and assembled by SSTL in the UK and delivered to Taiwan where payload assembly and testing was completed at NSPO's facility as part of the knowledge transfer program.
The payloads for the satellites were provided by NASA (JPL), the U.S. Air Force and the University of Texas and were integrated to the completed platforms by the NSPO team, with support from SSTL. SSTL engineers also provided launch site support and are providing technical on-orbit operational support to NSPO's team who will be performing on-orbit commissioning of the spacecraft from the company's control center in Taiwan.
The launch of the FORMOSAT-7 satellites was managed by the U.S. Air Force STP-2 program.
www.sstl.co.uk/
www.spacex.com/STP-2
---
General Atomics OTB satellite placed into orbit by SpaceX
The General Atomics Electromagnetic Systems (GA-EMS) Orbital Test Bed (OTB) satellite was successfully launched on-board the SpaceX Falcon Heavy rocket from Cape Canaveral.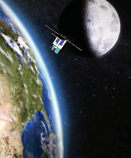 General Atomics
Electromagnetic Systems
Orbital Test Bed Successfully
Launched On Board SpaceX
Falcon Heavy.
OTB was then successfully deployed into orbit after launch and communication was established between the spacecraft and ground operations to begin satellite commissioning and operations.
The launch, sponsored by the U.S. Air Force's Space Technology Program 2 (STP-2), is delivering 25 separate satellites to various orbits around Earth. The multiple hosted payloads launched on GA-EMS' OTB spacecraft include: NASA's Space Technology Mission Directorate's Deep Space Atomic Clock, designed and built at NASA's Jet Propulsion Laboratory, to support deep space navigation and exploration; a Modular Solar Array developed for the U.S. Air Force Research Laboratory (AFRL); an Integrated Miniaturized Electrostatic Analyzer sensor payload developed by cadets at the U.S. Air Force Academy; the RadMon next generation radiation effects monitor; the FlexRX programmable satellite receiver; and Celestis cremains.
OTB's modularity and versatility allows for the simultaneous launch of multiple demonstration payloads on a single satellite. This eliminates the need for customers to bear the costly burden of a dedicated platform and launch.
Scott Forney, President of GA-EMS, said this first OTB launch marks an exciting beginning for the company and the firm's multiple payload customers. GA-EMS is extremely proud of the team, whose tremendous efforts over the past few years have culminated in this successful launch. GA-EMS has successfully initiated the post-launch commissioning activities and the start of payload mission operations.
Nick Bucci, VP of Missile Defense and Space Systems, added that establishing the proper orbit, communications and control is the first critical post launch step for the hosted payload customers.
www.ga.com/ems
www.spacex.com/
---
Naval Postgraduate Schools' NPSAT-1 On-Orbit
The long wait finally came to an end for faculty and researchers in the Naval Postgraduate School's (NPS) Space Systems Academic Group (SSAG).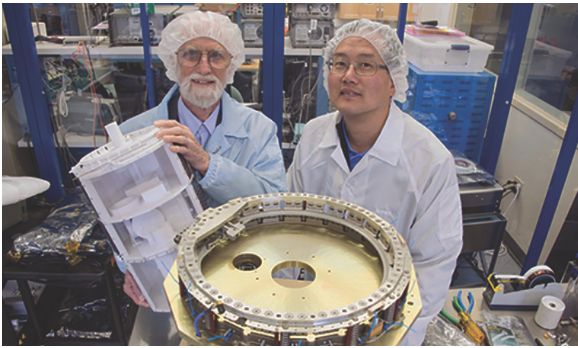 Space Systems Academic Group Chair Dr. Rudy Panholzer, left,
and Research Associate Dan Sakoda stand near one of several
structural pieces to NPSAT1 in the university's clean room in
Bullard Hall, January 11.
Following several external delays to a launch that was originally scheduled for September of 2016, the university's own NPSAT-1 was launched and deployed into a 720 km. orbit by SpaceX's Falcon Heavy at 2:30 a.m. on Tuesday, June 25, from Kennedy Space Center Launch Complex 39A at Cape Canaveral, Florida.
The satellite is the product of years of student and faculty research and will carry several experiments from both NPS and the Naval Research Laboratory into orbit when it launches later this year.
The mission was slated to be the "most difficult" undertaking by the Falcon Heavy to date, according to SpaceX CEO Elon Musk during an interview prior to Tuesday's spectacular night-time launch. The mission called for the release of 24 satellites during three individual deployment stages... each stage separated by a burn of the Heavy's thruster.
Overall, the mission proved to be largely successful, especially for the NPS team who watched NPSAT-1 successfully release from the SpaceX craft and enter into its orbit within seconds of its planned deployment. Like much of the research at NPS, the satellite is ultimately about student experimentation and study. Over the course of the craft's development, NPSAT-1 supported well over 40 student theses, noted SSAG engineer Dan Sakoda, with countless more students contributing via directed study.
On board NPSAT-1 are experiments developed by the Naval Research Laboratory (NRL) to investigate space weather and support space situational awareness (SSA), including ionospheric electron density structures that cause radio scintillations impacting communications and navigation.
my.nps.edu/
---