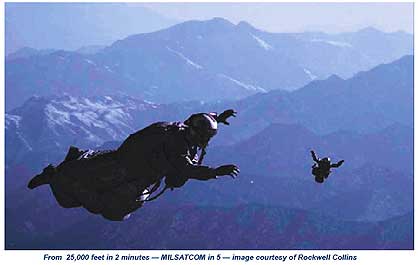 Communications technologies for the global warfighter are developed and fielded based on military requirements. If the last decade has taught us anything, it is that war is unpredictable and the fight can move anywhere — the tactical edge is expansive and ever-moving, requiring communications solutions that adapt to constantly changing requirements.
Teleports and hub sites for command and control will continue to provide the infrastructure backbone for global SATCOM. In the next decade, the challenge to provide reachback from the edge will revolve around reduced size, weight and power (
SWaP
), multi-band capabilities, Communications On-The-Move (
COTM
) and the ability to deliver HD imagery over the SATCOM link. All of these challenges are dependent on the availability of appropriate funding to support communications in the government and military arenas. Continued funding is required for industry to engage and address these challenges that must be overcome to assure battlefield superiority and homeland security.
The Race to Reduce SWaP
The nature of the tactical edge requires Beyond Line of Sight (
BLOS
) communications. Today, a single soldier may be the system, and the real estate available for communications capability is constrained by what a person can carry and still maneuver effectively. Water, ammunition, weapons and communications equipment all compete for the same real estate.
It is critical to design solutions that require one Human Machine Interface (
HMI
) so that controls and outputs of radio, targeting systems, voice, data and video are integrated and easy to access and manipulate with one hand. Integration is crucial to optimizing the package in order for the soldier to access the situational awareness information available at the hub/teleport.
Rockwell Collins
has a strong heritage in the integration and design of satellite Earth terminals and communications networks. We have delivered high bandwidth communications for some of the most critical battlefield networks, including:
The U.S. Army's Joint Network Node/Warfighter Information Network- Tactical (WIN-T)
The U.S. Marine Corps' Support Wide Area Network (SWAN)
U.S. Central Command's Deployable Ku-band Earth Terminal (DKET) network
The Defense Information Systems Agency's (DISA) global teleport system
As military beyond line of sight communication needs have become more tactical, we have also delivered powerful SATCOM solutions with greatly reduced SWaP. These include:
miSAT-X™, a product field-proven in Afghanistan, that provides T1 connectivity in a briefcase-size package, so small it can be stowed in the overhead of an airplane
SWE-DISH CommuniCase® Technology (CCT) products, which are innovative man-portable earth terminals that accommodate field-interchangeable modems, transceivers and antennas. They can be easily reconfigured to accommodate the mission requirements. For example, CCT components can be readily interchanged between Ku- and X- bands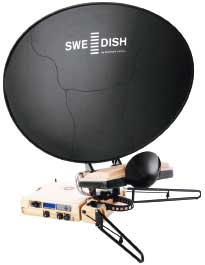 These systems are intended for use at the tactical edge. They are designed to enable one person setup, quick-to-air, ease of use and high speed transmission and reception of voice, data and video.
Saturation Of The Ku-band Space Segment
The explosion of bandwidth requirements means that the Ku-band is over subscribed and the demand is greatly increasing for Ka- and X-band satellites, which offer substantial new bandwidth.
The emergence of the newest Ka- satellites means additional capacity, connectivity and control. The narrower beam improves performance of smaller, less powerful terminals, enabling these devices to be worthy at the tactical edge. Particularly in mountainous terrain, Ka- enables customers to maximize and extend their communications networks, saves money and expands bandwidth to allow IP networking capabilities.
From large fixed deployable Earth terminals, such as
DKET
, to small man-portable units, Rockwell Collins is designing MILSATCOM systems for tri-band capability, which extends options from the soldier to the commander. These additional bands positively impact capability, availability, and cost.
The convergence of demand for terminals with reduced SWaP and the availability of high-power, high-capacity Ka- and X-band satellites, is resulting in the rapid evolution of next generation terminals that will redefine "value" over the next decade.
Growth + COTM Support
Due to the variable location of the tactical edge, COTM will grow in its importance as the critical connection for real-time situational awareness. Internationally, foreign ministries of defense are testing the COTM concept, performing trials and refining requirements. In the U.S., COTM solutions are moving from the trial stage to low-rate production as a result of the
WIN-T
program of record. Still, there is a large amount of work to be done to make antennas less prominent and implementations more standardized.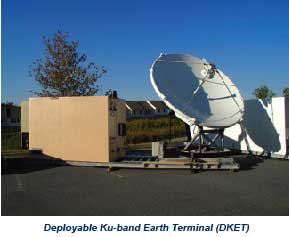 The industry needs to do more than upgrade waveforms and antennas. We must also address security requirements. To meet these challenges, Rockwell Collins is leveraging its expertise and experience in protected MILSATCOM by integrating comprehensive solutions that allow customers to transfer information across the communications spectrum, from
Very Low Frequency and Low Frequency
(VLF/LF) to
Ultra High Frequency
(
UHF
) and
Extremely High Frequency
(
EHF
) communications. These solutions carry voice, video, and data across multiple platforms and protocols, spanning a comprehensive range of technologies including analog and digital, copper, fiber optic, radio, microwave, wireless and satellite-based systems.
The company's
MobiLink™
technologies offer several configurations for COTM. They can be deployed on a
Mine Resistant Ambush Protected
(
MRAP
),
High Mobility Multipurpose Wheeled Vehicle
(HMMWV),
Stryker
or other vehicle, facilitating connectivity on-the-move at high speed, regardless of the distance from a military base. These solutions have been field-proven, providing continuous connectivity across the satellite throughout long convoys in Iraq. Also provided is a reliable COTM Ku-band solution for the littoral marine market that is gaining customer acceptance.
HD Imagery Over SATCOM
While wars are fought in every corner of the globe, support for them is won or lost in our living rooms, as journalists embedded with the military send video home in real-time.
Broadcasters are starting to demand that military reporting be served in HD quality. This is a bandwidth-rich application that, again, requires the smallest SATCOM terminal possible, which allows journalists to embed with the forward deployed warfighter. The solution demands a modem that is bandwidth capable and tightly coupled with baseband and the HD camera — preferably in a single box. Again, integration is crucial because fewer cables and parts increase ease of use, time to set up and reliability.
Rockwell Collins is solving the issue of HD content delivery by leveraging their
CommuniCase
technology to provide quick-to-air, auto acquire HD solutions. Currently, HD CommuniCase solutions are in pre-fielding trials.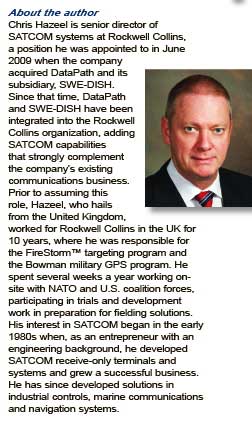 What's next? Globalization and multi-force coalitions will continue to drive changes in the way the industry supports military and governmental satellite communication requirements. With the globalization of our industry, the only way to compete in critical national and international projects is to have a capable local presence. Rockwell Collins achieves this by leveraging more than 80 worldwide locations that support the company's core capabilities, while also offering their own indigenous capabilities.
Communications and electronics technology has gone through important development spirals over the last decade as defense and homeland security needs have become central to the national agenda. As budgets are scrutinized, past performance offers living proof of what companies can do to rise to the challenge of delivering quality and capability in an acceptable timeframe at an acceptable price. The company's expertise in secure communications, flight deck avionics, cabin electronics, information management and simulation and training is delivered and supported by nearly 20,000 employees in 27 countries. The global challenges of military and foreign ministries of defense in developing solutions that turn requirements into trusted systems will enhance the safety and security of warfighters worldwide.