BAE Systems awarded mission tech contract by the DoD
The U.S. Department of Defense (DoD) has selected BAE Systems to compete for future research and development (R&D) task orders awarded under a nine-year, indefinite delivery/indefinite quantity (IDIQ) contract.
The contract provides fast, flexible, low-cost solutions across technical disciplines to meet the current and future technology needs of the
U.S. military.
BAE Systems is one of 15 companies selected by the Defense Technical Information Center to compete for future R&D and support task orders expected to exceed $15 million.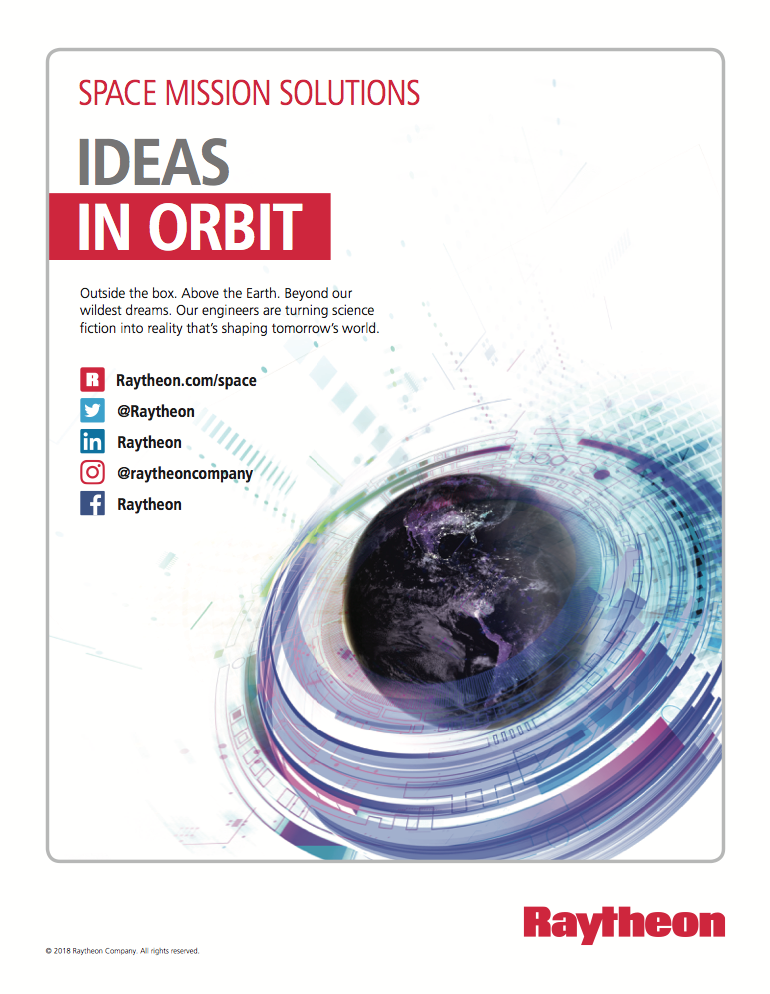 These task orders will be awarded by the Air Force Installation Contract Agency/KD Offutt AFB, Nebraska and support the DoD Information Analysis Center Program Management Office. The ceiling value for all future work awarded under the IDIQ is $28 billion.
BAE Systems delivers a broad range of solutions and services enabling militaries and governments to successfully carryout their missions.
The company provides large-scale systems engineering, integration, and sustainment services across air, land, sea, space, and cyber domains. BAE Systems takes pride in its support of national security and those who serve.
Al Whitmore, the President of BAE Systems' Intelligence and Security sector, said that this large-scale contract provides the company with a tremendous opportunity to reach across BAE Systems and leverage the firm's own internal research and development investments to help the DoD solve its most difficult mission challenges.
He added that BAE Systems is excited to help the government leverage innovations in artificial intelligence (AI), machine learning, and directed energy technologies to enhance the security and effectiveness of our warfighters across physical and digital domains.
www.baesystems.com
---
Northrop Grumman and Australia's Deputy PM shovel sod
The sod has been turned for Satellite Ground Station East in Australia (SGS-E).
Northrop Grumman Corporation (NYSE: NOC) Australia hosted the Honorable Michael McCormack MP, Deputy Prime Minister, at Kapooka where they got out the shovels and turned over the dirt to commemorate the beginning of a new facility.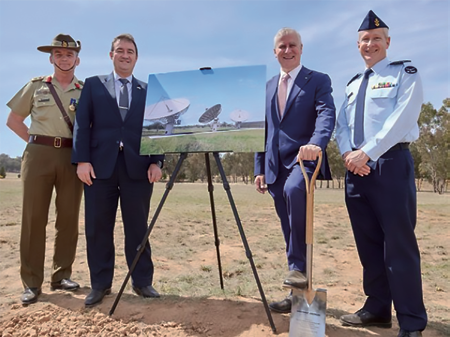 L to R: Colonel Michael Garraway AM, Commandant Army
Recruit Training Centre, Ian Irving, Chief Executive, Northrop
Grumman Australia, the Hon Michael McCormack MP, Deputy
Prime Minister, Wing Commander William Myatt, Department
of Defence.
The Hansen Yuncken company is leading construction of SGS-E, with AECOM providing design and civil engineering support.
The construction will start later this year and is estimated to provide more than 100 jobs across 22 different trades.
The facility will provide the Australian Defense Forces (ADF) access to military communications satellites such as the Wideband Global SATCOM (WGS) constellation.
This access will allow ADF personnel deployed across the Indo-Pacific region to connect to strategic information communications technology networks in Australia.
Additionally, SGS-E will provide access to a range of commercial communications satellite services.
The SGS-E will be a major component of the Australian Defence Force's (ADF) future satellite communications (SATCOM) capability, delivered by Northrop Grumman Australia and Viasat under Joint Project (JP) 2008 Phase 5B2.
Ian Irving, Chief Executive, Northrop Grumman Australia, said that Northrop Grumman and Viasat will provide the ADF a comprehensive and proven solution for taking full advantage of Australia's investment in the WGS communications system.
Their solution will also provide the ADF the flexibility necessary to accommodate future needs.
northropgrumman.com/
---
Two-Channel handheld radios ordered by U.S. Army from Harris
Harris Corporation (NYSE: HRS) has received orders for 1,540 AN/PRC-163 two-channel handheld radios and related equipment and services as part of the U.S. Army's two-channel Leader radio IDIQ contract.

The AN/PRC-163 enables users to send information up and down the chain of command as well as across the battlefield network backbone and incorporates secure two-channel connectivity in a lightweight, easy to use, handheld rugged form factor.
The radio can simultaneously transmit voice, data and situational awareness through Mobile Ad-Hoc Networking applications, VHF/UHF line-of-sight, and legacy SATCOM.
The radios also offer a path to future software-only updates for MUOS, SATURN and other emerging waveforms.
The award builds upon the company's proven ability to engineer and deliver two-channel, next-generation handheld, manpack and vehicular radios.
Harris previously was awarded contracts by the U.S. Special Operations Command for next-generation handheld and manpack radios and was awarded a position on the Army's HMS Manpack IDIQ with its two-channel AN/PRC-158 manpack radio.
Dana Mehnert, President, Harris Communication Systems, said that the AN/PRC-163 is the most advanced software-defined handheld radio in the world today and will provide warfighters and commanders with unprecedented capabilities, including enhanced levels of command and control, and situational awareness. These two-channel Leader radio orders are an important milestone in the modernization of the Army's tactical network.
www.harris.com/
---
DIA awards HELIOS contract to Northrop Grumman as one of nine selected firms
Northrop Grumman Corporation (NYSE: NOC) was one of nine companies that the DIA selected to provide critical support for its Directorate for Science and Technology (DIA/ST).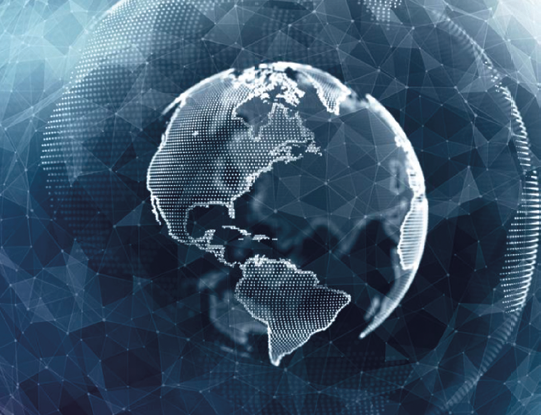 The HELIOS program provides the opportunity for
continued innovation in science and technology for
the Defense Intelligence Agency.
The HELIOS program provides the opportunity for continued innovation in science and technology for the Defense Intelligence Agency.
The agency made the award under its HELIOS Indefinite-Delivery/Indefinite-Quantity (IDIQ) contract.
Northrop Grumman will provide the agency with innovative capabilities for its science and technology missions.
HELIOS is divided into two major technical areas. The aim of these areas is to enhance intelligence; provide strategic warning; and inform research and development, acquisition and operational activities.
Ginger Wierzbanowski, vice president, intelligence solutions, cyber and intelligence mission solutions, Northrop Grumman stated that Northrop Grumman is pleased to continue supporting the Defense Intelligence Agency through the HELIOS IDIQ. The company's work will help ensure the agency can identify, develop and execute the evolving technical capabilities that allow the intelligence community, combatant commands and other federal agencies to achieve mission success.
The $500 million contract ceiling allows Northrop Grumman to continue providing support to DIA in cross-cutting and multi-domain sensor and mission technologies, as well as full systems life cycle development and support.
The work will be performed in Cincinnati, Ohio; Fairfax, Virginia; Huntsville, Alabama and Tucson, Arizona.
northropgrumman.com/
---
DoD confers MUOS-capable airborne radio contract to Rockwell Collins
Rockwell Collins has been awarded the first long-term contract with the U.S. Department of Defense (DoD) to supply Mobile User Objective System (MUOS)-capable airborne radios and ancillaries for DoD platforms including fixed and rotary-wing aircraft, ships and ground installations.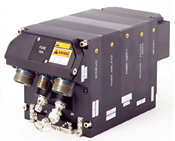 A five year agreement through the U.S. Navy's Naval Air Systems Command (NAVAIR), the indefinite-delivery/indefinite-quantity (IDIQ) contract for sixth-generation ARC-210 RT-2036(C) radios begins with a base award of $82.6 million in 2018 with four option years to follow.
The contract also includes fifth-generation ARC-210 radios and ancillaries, as well as associated data and services.
The ARC-210 RT-2036(C) can use the MUOS network to provide military forces with worldwide, crystal-clear voice, video and mission data over a secure high-speed Internet Protocol-based system.
The radio is also part of Rockwell Collins' TruNet™ family of products that ensures secure connectivity between ground and airborne units.
As the sixth-generation solution, the ARC-210 RT-2036(C) features a software-defined radio architecture enabling multiple legacy and advanced waveforms, high-speed mobile ad hoc networking and beyond-line-of-sight connectivity capabilities. The radio will join the more than 45,000 highly-reliable ARC-210 radios currently fielded across the globe on more than 180 platforms.
Troy Brunk, VP and GM, Communication, Navigation and Electronic Warfare Solutions for Rockwell Collins, said that this is the next big step in arming warfighters with next-generation communications capabilities, including those available through MUOS, which brings greater overall capacity and signal quality for high reliability when it's needed most.
www.rockwellcollins.com/
---
"Good health report" for SBIRS GEO-3
A win-win, as this satellite for the U.S. Air Force was launched in January and now Air force Space Command is receiving data, indicating the good health of the satellite.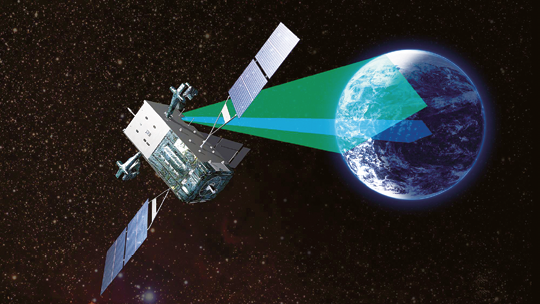 Artistic rendition of the SBIRS GEO-3 satellite. Image is
courtesy of Lockheed Martin.
The Space Based Infrared System (SBIRS) Geosynchronous Earth Orbit satellite (GEO-3) successfully achieved Air Force Space Command operational acceptance.
SBIRS GEO-3 launched from Cape Canaveral Air Force Station aboard a United Launch Alliance Atlas V 411 booster on January 19, 2018.
Upon separation from the booster, satellite operations personnel began a series of planned Liquid Apogee Engine transfer orbit maneuvers to safely place the spacecraft into its final orbit.
GEO-3 reached its intended orbit and began spacecraft checkout activities by deploying the satellite's light shade, solar array wing assemblies, and antenna wing assemblies.
With the spacecraft safely on orbit, sensor testing and checkout activities began, leading to a tuned and calibrated payload ready for warfighter use.
Lt. Col. Leroy Brown, Jr., Program Manager for SBIRS GEO-3, stated that the achievement of operational acceptance means the spacecraft's infrared sensors are now considered fully operational and ready for warfighters. This is a huge win for the combined Program Office, Lockheed Martin Space, and Northrop Grumman team, as well as, the military, civilian, and civil users of the infrared data the SBIRS satellite constellation provides.
The GEO-3 launch marked the fourth launch of a Geosynchronous satellite, providing worldwide coverage as the Air Force replaces the legacy Defense Support Program missile warning and missile detection satellites that began operations over 45 years ago.
The Remote Sensing Systems Directorate at the U.S. Air Force Space and Missile Systems Center at Los Angeles AFB in Los Angeles, California manages the SBIRS program. Lockheed Martin Space Systems Company, Sunnyvale, California, is the SBIRS prime contractor, and Northrop Grumman Electronic Systems, Azusa, California, is the payload integrator.
The 460th Space Wing at Buckley AFB in Aurora, Colorado, operates the SBIRS constellation. The SBIRS program delivers timely, reliable and accurate missile-warning and infrared surveillance information to the president of the United States, the secretary of defense, combatant commanders, the intelligence community and other key decision makers.
The system enhances global missile launch detection capability, supports the nation's ballistic missile defense system, expands the country's technical intelligence gathering capacity and bolsters situational awareness for warfighters on the battlefield.
---
DigitalGlobe's WorldView-1 satellite captures Hurricane Michael's attack on Tyndall AFB in Florida
DigitalGlobe's WorldView-1 satellite collected new imagery on October 11th of Panama City and Tyndall Air Force Base (AFB), Florida, who were in the forefront of the Hurricane Michael onslaught.
Some of the imagery of Tyndall AFB clearly shows the power of the hurricane — stripping off roofs, tossing planes around and destroying property all throughout the region. Note that DigitalGlobe's WorldView-1 satellite only collects panchromatic (black and white) imagery.
---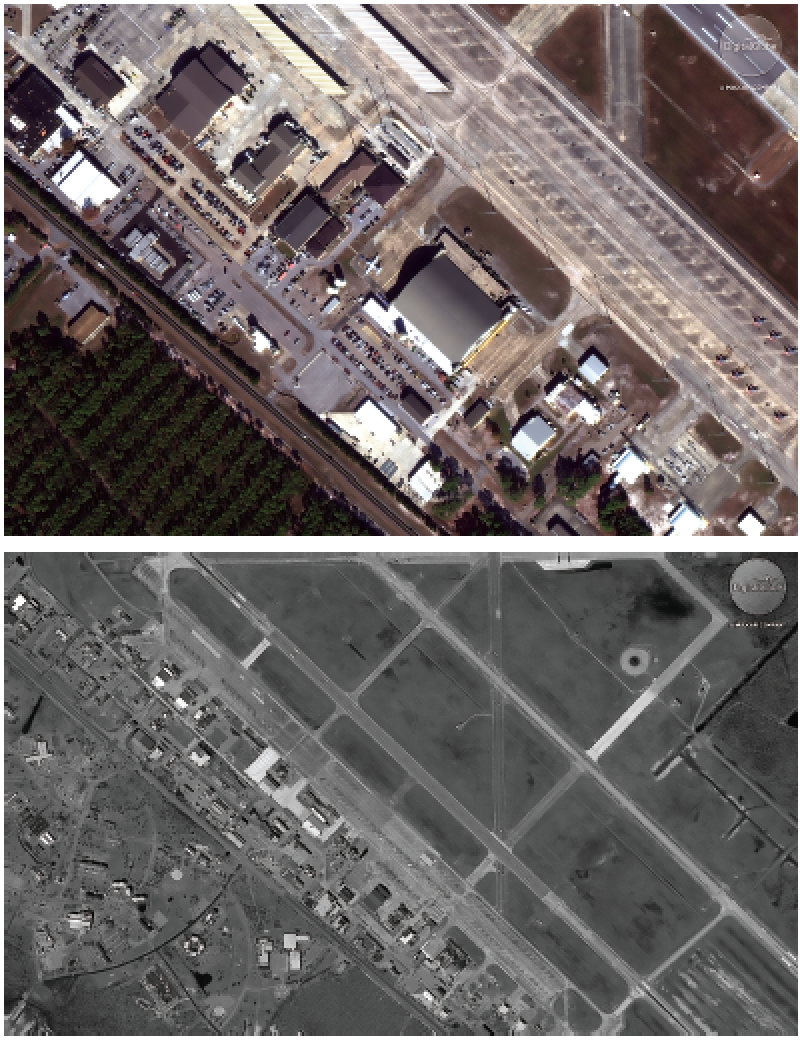 An overview of Tyndall AFB before and after Hurricane Michael. Satellite image ©2018 DigitalGlobe, a Maxar company
Tyndall AFB's main gate and aircraft static display before and after Hurricane Michael. Satellite image ©2018 DigitalGlobe, a Maxar company