Major orders for Spectra Group
Spectra Group (UK) Ltd. has announced the receipt of a series of significant North American orders for SlingShot, Spectra's BLOS COTM (Beyond Line Of Sight Communications On The Move) system for tactical radios.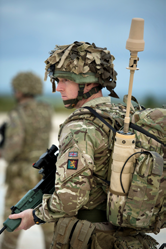 Already popular with specialist users in the U.S., iSpectra Group has received a total of 12 separate orders with a combined value of over GBP £2 million. The SlingShot orders have been placed by undisclosed U.S. partners and are for use by a variety of end-users.
SlingShot is a unique low SWaP system that enables in-service U/VHF tactical radios to use Inmarsat's commercial satellite network. Including omnidirectional antenna for the man, vehicle, maritime and aviation platforms, the tactical net can broadcast over 1000 kms between forward units and a rear HQ, no matter how or where the deployment. In addition to C2 voice, the system enables data capability supporting mission critical applications such as; artillery fire missions, GPS tracking and biometric analysis. With reduced cost compared to traditional TACSAT, increased channel availability and almost no increase in the training burden, SlingShot is redefining tactical communications. Spectra has strategic relationships with both Inmarsat, whose L-TAC™ service uses SlingShot and Airbus which brands SlingShot as TREx services.
Simon Davies, CEO at Spectra Group (UK) Ltd said that these recent orders further consolidate the company's position in the U.S. market and prove, again, that SlingShot is fast becoming the system of choice for tactical radio users needing to increase range, flexibility
and interoperability.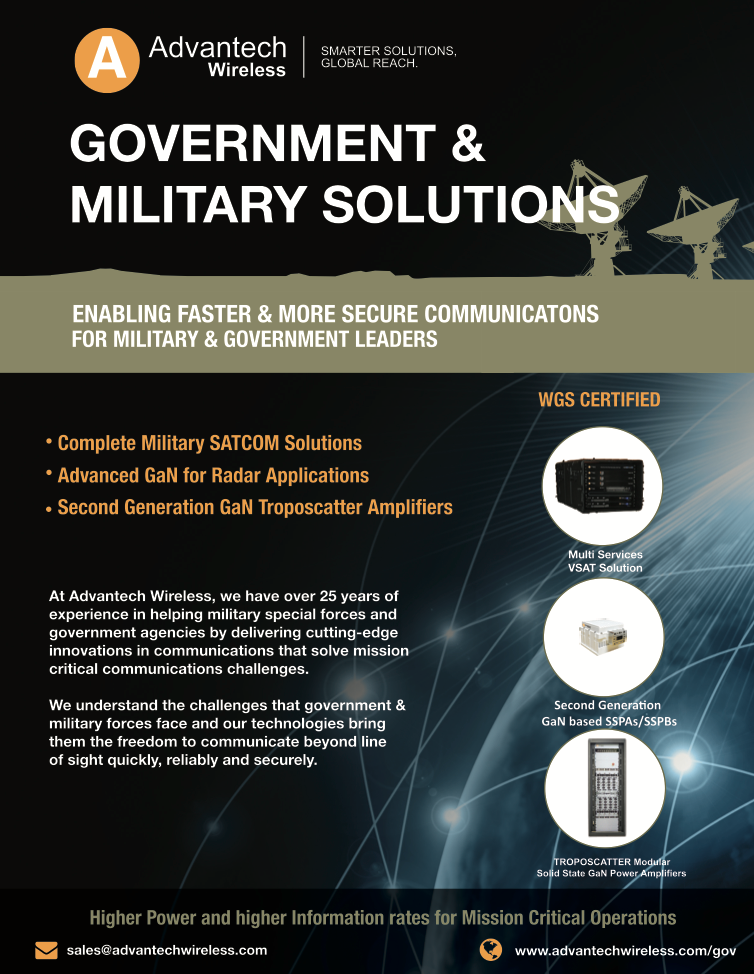 He added that users are really beginning to understand the benefits that SlingShot brings with its excellent utility for coalition interoperability, customs and border patrol, anti-narcotics, maritime patrol, homeland security, National Guard, intelligence communities, police, and emergency responders. Significant amounts of interest regarding Spectra Group products and services is being received from around the globe — the company's attendance at Satellite 2018 is another great opportunity to meet people and explain the advantages of our systems.
spectra-group.co.uk/
---
General Dynamics Mission Systems' Frontier has full interoperability with SKYWAN 5G
General Dynamics Mission Systems Fortress LTE System has Full Interoperability with ND SATCOM's SKYWAN 5G Satellite System
General Dynamics Mission Systems and ND SATCOM recently conducted successful interoperability tests of the Fortress LTE system and the SKYWAN 5G.
The tests demonstrated full interoperability between Fortress decentralized network architecture for autonomous LTE deployables and SKYWAN satellite mesh capabilities for a resilient and bandwidth efficient distributed network of sites with full end-to-end network communications and mobility.
The combined platform provides an ideal solution for transportable and fixed LTE networks that are increasingly becoming a technology of choice for military, tactical, public safety and private mobile users.
The Fortress LTE solution offers autonomous, decentralized LTE sites providing temporary or permanent coverage. ND SATCOM's satellite mesh network solution combined with SKYWAN 5G supplements the solution, enabling direct, single-hop communication between sites.
Fortress LTE products use IP as a convergence layer. The edge centric capabilities of the Fortress Evolved Packet Core, combined with SKYWAN satellite mesh topologies, significantly improve the user experience with reduced network signaling and single hops between rapidly deployable LTE cells.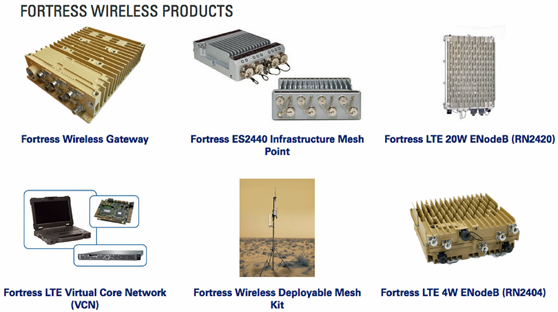 As a result the OPEX is cut in half which reduces transmission delay and jitter. With QoS mechanisms and real-time services of SKYWAN 5G's MF-TDMA, waveform jitter was validated at less than 10 ms, with an MOS value of four even on overloaded links.
Fortress LTE provides a multi-band capability for global operations making it an ideal fit with the topology flexibility of the SKYWAN solution, including mesh.
The low size, weight and power, ease-of- transport, and simplified management of Fortress LTE enables quick deployment of multiple base stations regardless of existing infrastructure.
This configuration enables users to roam the network and perform seamless handovers, both inter-cell and inter-EPC with minimal reliance on backhaul links.
Jacek Jarmul, Cellular Backhaul Sales and Business Development Director at ND SATCOM, reported that, over the past month, the company has been actively pursuing the cellular backhaul segment. There is a momentum for the firm's Cellular Backhaul suite (including mesh) in 4G networks which, in comparison to 2G and 3G, can be decentralized and autonomous.
Jacek added that this especially applies to portable and deployable systems for disaster recovery, public safety and similar. Following the requests of the company's customers for comprehensive LTE solutions, including satellite backhaul, ND SATCOM selected General Dynamics Fortress LTE Solutions to expand the company's product portfolio and meet customers' requirements.
gdmissionsystems.com/
www.ndsatcom.com/
---
GetSat receives multi-million dollar bounty from USG for SATCOM terminals
GetSAT, an innovator in lightweight satellite communication terminals for ground, airborne, and maritime applications, has announced that the U.S. Government selected their MicroSAT and MilliSAT L/M (land and maritime) versions for providing maritime and ground-based secure Communications-On-The-Move (COTM) applications.
GetSat's micronized communications terminals are based on the company's patented fully-interlaced InterFLAT panel technology for transmitting and receiving signals on the same panel. Meeting the demanding requirements of full time usage in harsh environments, these rugged Satellite-On-The-Move (SOTM) terminals offer significant savings in size, weight, and power usage.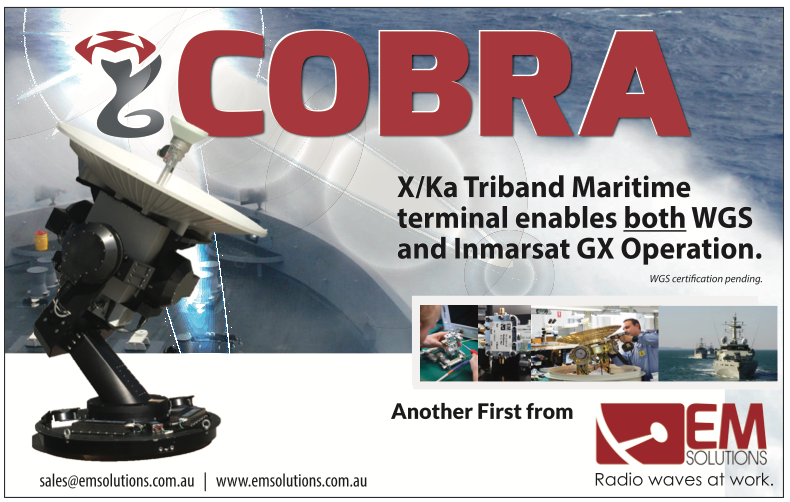 Constructed in a super-light compact installation, GetSAT's L/M platforms are micronized, fully integrated, on the move rugged terminals. Based on built-in InterFLAT panel technology, all L/M terminals are easy to deploy and integrate, and can be outfitted with various antenna sizes in accordance with bandwidth requirements of ground, air and marine applications. Its unique all-in-one design including BUC and modem is optimized for harsh environments specs and its ultra-low power consuming platform is compatible with Ka- and Ku-Band applications.
MicroSat L/M has options for both the Ka- and Ku-bands, providing autonomous operation for transmitting and receiving bandwidth data rates at more than 10 Mbps. This mid-sized terminal offers unprecedented bandwidth that can be hand carried in any environment.
MilliSat L/M Ka is a medium lightweight portable on-the-move Ka-band satellite terminal solution. MilliSat enables fully autonomous transmission and reception of high bandwidth data rates of more than 20 Mbps.
GetSAT CEO, Kfir Benjamin reported that the company's selection by the U.S. Government is not a surprise. Rather, it is a testament to the company's platforms meeting a myriad of mission critical operations parameters. Soon, GetSat's InterFLAT panel technology, as well as our platforms, will become common names throughout the industry as GetSat continues to provide leading edge communications on the move solutions, platforms and technologies.
www.getsat.com/
---
Resilient space defense technologies under study by SSL for U.S.A.F.
SSL, a Maxar Technologies company (formerly MacDonald, Dettwiler and Associates Ltd.) is leveraging the firm's heritage in developing advanced space architectures and systems to assist the U.S. Air Force Space and Missile Systems Center (USAF—SMC) with exploring new enterprise-level solutions to enable resilient space defense capabilities.

The study is expected to accelerate crucial technologies for future missions as identified within the U.S. Air Force Space Enterprise Vision (SEV), and further distinguish SSL as a trusted partner to U.S. government agencies.
The SEV recognizes the increasing threat to space systems and provides an overarching vision for how the USAF should respond. In addition to enabling a more affordable and resilient national security space enterprise, the SEV shapes future space architectures intended to protect and defend our nation's space capabilities against emerging threats.
SSL brings extensive expertise in the development of foundational and resilient space solutions to the study, including technologies for space infrastructure, affordable access to space, commercial data processing, and small satellites with the capability to support a broad range of future USAF missions.
SSL is working across the U.S. Department of Defense, civil, and commercial space communities on several leading-edge programs and studies that are expected to help U.S. government agencies define next-generation space technologies. These include the Payload Orbital Delivery System (PODS), a rideshare technology scheduled for its inaugural launch on an SSL-built satellite in 2018, Dragonfly robotics for on-orbit assembly, and sophisticated technologies for on-orbit GEO and LEO satellite servicing.
SSL is also assisting the USAF develop a secure interface for hosting government payloads on commercial satellites, designing power and propulsion systems for NASA's deep space gateway, and developing concepts for advanced SATCOM.
Richard White, the President SSL Government Systems, stated that national and global security depends on the operational continuity and resilience of the nation's space assets.
He added that SSL is honored to contribute concepts based on the firm's depth of experience to help accelerate the innovation needed for the U.S. Air Force to achieve its Space Enterprise Vision. SSL delivers proven commercial practices to design and build end-to-end space systems that can improve resilience, cost, and speed for government customers and help protect the quality of life for us all.
www.sslmda.com
---