L3Harris infrared space tech will enhance battlefield imagery + missile defense detection
An L3Harris Technologies (NYSE:LHX) infrared instrument will significantly improve the ability to capture high-resolution imagery and other important battlefield information from space — a critical capability for the nation's future missile defense efforts.
L3Harris is providing the instrument as part of a wide-field-of-view satellite that also will help inform future space-based missile defense missions and architectures. The satellite will be positioned 22,000 miles from Earth, enabling the infrared system to see a wide swath and patrol a large area for potential missile launches.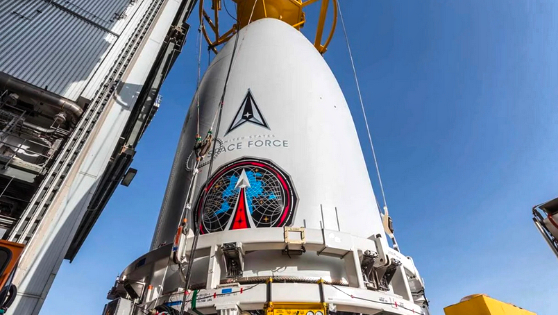 "The L3Harris instrument can stare continuously at a theater of interest to provide ongoing information about the battlespace, which is an improvement over legacy systems," said Ed Zoiss, President, Space & Airborne Systems, L3Harris. "It also provides better resolution, sensitivity and target discrimination at a lower cost."
The instrument was built for Space Systems Command and is integrated into a Millennium Space Systems satellite, scheduled to launch from Cape Canaveral, Florida. The payload, which is more than six feet tall and weighs more than 365 pounds, was developed in Wilmington, Massachusetts.
L3Harris is prioritizing investments in space-based missile defense programs and has accelerated the development of resilient, end-to- end satellite solutions in spacecraft, payloads and ground software, and advanced algorithms.
In a related effort, the Missile Defense Agency awarded L3Harris a missile-tracking study contract in 2019 and the prototype demonstration in January 2021. In December 2020, the Space Development Agency selected L3Harris to build and launch four space vehicles to demonstrate the capability to detect and track ballistic and hypersonic missiles.
L3Harris Technologies is an agile global aerospace and defense technology innovator, delivering end-to-end solutions that meet customers' mission-critical needs. The company provides advanced defense and commercial technologies across space, air, land, sea and cyber domains. L3Harris has more than $17 billion in annual revenue and 47,000 employees, with customers in more than 100 countries.
www.l3harris.com
---
SDA Awards Million$$$ For Ground Control + Ops To General Dynamics Mission Systems + Iridium
General Dynamics Mission Systems (NYSE: GD), and Iridium Communications Inc. (NASDAQ: IRDM) have been awarded a contract by the Space Development Agency in the amount of $324,516,613, including a base amount of $162,954,122 and $161,562,491 in options, to establish the ground Operations and Integration (O&I) segment for Tranche 1 of the National Defense Space Architecture (NDSA).
Together, General Dynamics Mission Systems and Iridium will build ground entry points and operations centers for the NDSA as well as provide network operations and systems integration services for the SDA's next tranche of proliferated LEO satellites.
The core operations and integration functions include enterprise management, network management, mission management, payload data management, and constellation monitoring that spans the ground, link, space, and user segments of the architecture.
Working with partners at KSAT USA (KSAT Inc.), Raytheon and EMERGENT, the General Dynamics Mission Systems-Iridium team will develop, equip, staff, operate and maintain state-of-the- art, commercial-like operations centers, acquire and operate ground entry points, and lead ground-to-space integration efforts.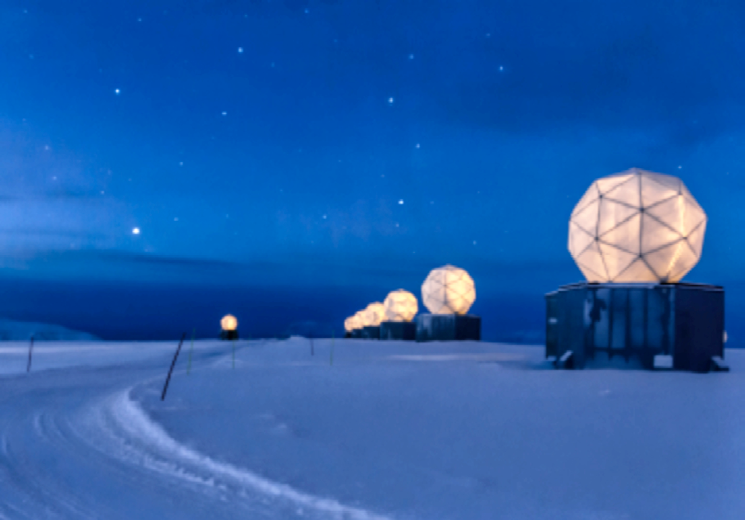 Photo of the Iridium ground Station, courtesy of Ivar Stakvik.
"We are incredibly proud to bring our long heritage of mission-critical space and ground communications and networking expertise to the Space Development Agency," said Chris Brady, president, General Dynamics Mission Systems.
"Together with our partners, we're excited to build the foundation for the SDA's initial warfighting capability and backbone of Joint All-Domain Command and Control."
"Iridium, General Dynamics Mission Systems and the U.S. government have a long and successful history of working together and partnering on this project is a natural evolution of our relationship," said Matt Desch, CEO, Iridium. "Iridium's 25 years of experience operating in LEO makes us uniquely qualified for this opportunity, and we're honored to take on this tremendous responsibility in support of this next generation network."
---
Department of Defense (DoD) releases JADC2 implementation plan
Deputy Secretary of Defense (DSD) Dr. Kathleen Hicks recently signed the Department of Defense Joint All- Domain Command and Control (JADC2) Implementation Plan on March 15, 2022.
JADC2 is a warfighting necessity to keep pace with the volume and complexity of data in modern warfare and to defeat adversaries decisively.
JADC2 enables the Joint Force to "sense," "make sense," and "act" on information across the battle-space quickly using automation, artificial intelligence (AI), predictive analytics, and machine learning (ML) to deliver informed solutions via a resilient and robust network environment.
"We must maintain continued focus and momentum on these initiatives and programs which enhance Department capabilities to face current and future threats," said Deputy Secretary Hicks. "Command and Control in an increasingly information-focused warfighting environment have never been more critical. JADC2 will enable the DoD to act at the speed of relevance to improve U.S. national security. JADC2 is delivering capabilities beginning now, and it will continue to be funded in the coming years."
The DSD chartered JADC2 Cross-Functional Team (CFT) will oversee the execution of the JADC2 Strategy, initially announced in June 2021, and the Implementation Plan.
While the JADC2 Strategy provides a vision and an approach for identifying, organizing, and delivering improved Joint Force C2 capabilities
— the Implementation Plan outlines how the Department will accomplish this. An unclassified summary of the JADC2 Strategy is available at this direct link...
"This step represents irreversible momentum toward implementing the JADC2 Strategy and concepts the Department announced earlier this year," said Gen. Mark Milley, Chairman of the Joint Chiefs of Staff. "This is about dramatically increasing the speed of information sharing and decision making in a contested environment to ensure we can quickly bring to bear all our capabilities to address specific threats."
JADC2 is the Department's way ahead. The JADC2 Implementation Plan, while classified, can be described as the document which details the plans of actions, milestones, and resourcing requirements. It identifies the organizations responsible for delivering JADC2 capabilities. The plan drives the Department's investment in accelerating the decision cycle, closing operational gaps, and improving the resiliency of C2 systems. resiliency of C2 systems.
---
SpiderOak Creates New Space Advisory Board, Appoints Highly Decorated Veterans and Industry Experts to Address Cybersecurity Threats
SpiderOak, recently created a new Space Advisory Board that included the appointment of General Ellen M. Pawlikowski (U.S. Air Force, retired) and Frederick J. Doyle, Jr., along with the reappointment of Admiral James A. "Sandy" Winnefeld (U.S. Navy, retired), Lieutenant General Ken Tovo (U.S. Army, retired), and Phil Eichensehr, veteran industry leader serving the intelligence community. SpiderOak's new advisory board members will be tasked with addressing the cybersecurity vulnerability of commercial and national security space systems, which is widely considered the gravest threat to space resiliency. The board will help guide the company in fielding zero-trust products and services to ensure the confidentiality, integrity, and availability of the most sensitive data in space networks.
General Ellen Pawlikowski — Before retiring in 2018, General Pawlikowski was the four-star commander of Air Force Material Command, leading more than 80,000 people and managing $60 billion annually, executing critical warfighter support through leading-edge research and development technology. With a Ph.D. in engineering from UC Berkeley, she served 36 years on active duty and is a key technology leader in areas as diverse as airborne lasers and space communications. Gen. Pawlikowski is also widely credited with restoring technical rigor to the systems acquisition workforce as the Commander of the Space and Missile Systems Center. Prior to that position, Gen. Pawlikowski was the Commander of the Air Force Research Lab, the Deputy Director of the National Reconnaissance Office, and held various senior positions in the Office of the Secretary of Defense.
"Rethinking our nation's space resilience is now a top priority of the Pentagon, and SpiderOak's blockchain- based products for securing satellites and their networks are a crucial part of building that resiliency," said Gen. Pawlikowski. "I am pleased to join this new advisory board and believe that SpiderOak's technology will usher in a new and enhanced way to secure America's space infrastructure."
Fred Doyle
Mr. Doyle is president of ISBF, LLC, an aerospace and defense consulting company. Previously, he was VP Defense & Intelligence at Ball Aerospace & Technologies Corp. Mr. Doyle held various executive- level positions at Space Imaging, Corp. from 1998 to 2005, including the company's first commercial high-resolution. imaging satellite launch: IKONOS. Prior to joining the private sector, Doyle served more than 20 years in the Defense Mapping Agency, the National Reconnaissance Office and other branches of the intelligence community.
Admiral James A. "Sandy" Winnefeld
With a degree in Aerospace Engineering, Admiral Winnefeld began his naval service as a fighter pilot, flying the F-14 Tomcat. He continued his career as an instructor at the Navy Fighter Weapons School (also known as Top Gun) and served as senior aide-de-camp to General Colin L. Powell. Admiral Winnefeld commanded a fighter squadron, the amphibious ship USS Cleveland and the aircraft carrier USS Enterprise. As a flag officer, he commanded a carrier strike group, two NATO commands, the United States 6th Fleet, United States Northern Command, and the North American Aerospace Defense Command (NORAD). His final tour of duty was as the Vice Chairman of the Joint Chiefs of Staff and Chairman of the Joint Requirements Oversight Committee, ensuring the integrity of warfighter requirements remain at the forefront of decision-making within the Pentagon and Capitol Hill. He is a director for several public and private corporations and chairs the President's Intelligence Advisory Board.
Lieutenant General Ken Tovo
Current chairman of the Green Beret Foundation, Lieutenant General Tovo was Commanding General of the U.S. Army Special Operations Command. Previously, he served as Deputy Commander, Southern Command; Commanding General, Combined Security Transition Command-Afghanistan and NATO Training Mission-Afghanistan; Commander, Special Operations Command Central; Deputy Commanding General, 1st Armored Division; and Deputy Commanding General, Special Operations Command Europe. A combat veteran with multiple deployments to Sierra Leone, Bosnia, Iraq, and Afghanistan, General Tovo is a thought leader in Irregular Warfare and Special Operations.
SpiderOak's new Space Advisory Board reconfirms the company's latest commitment to providing space operators the same levels of assurance in the authority, integrity, and confidentiality of space architectures that other industries have come to expect from SpiderOak's secure communication and collaboration offerings.
In March, SpiderOak announced Charles Beames was elected Executive Chairman, advancing the company's shift to focus on the new space economy, particularly in the defense sector. SpiderOak recently announced the company is testing OrbitSecure, the company's zero-trust, cybersecurity platform to secure data across the space data supply chain with Lockheed Martin Space's Mission Solutions.
spideroak.com
---
Virgin Orbit Heads Straight Up with Space Systems Command's STP-S28A + six DoD rideshare partners aboard LauncherOne
Space Systems Command and Long Beach- based Virgin Orbit National Systems, a US-incorporated, wholly-owned subsidiary of Virgin Orbit, successfully air-launched seven Department of Defense Research and Development satellites for the U.S. Space Force on the company's LauncherOne rocket, after taking off on July 1st from Mojave Air and Space Port, California.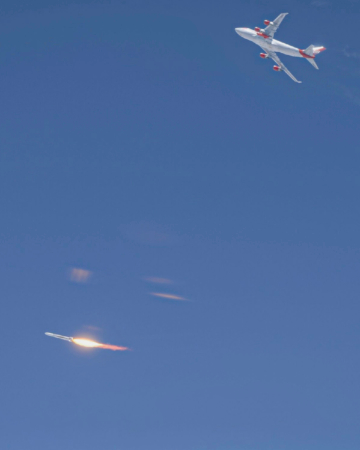 The nighttime mission, designated STP-S28A, demonstrated commercially available solutions to place Space Force satellite capabilities on- orbit, providing flexibility and resiliency for the Space Force and warfighter requirements in an increasingly contested environment. "Congratulations to the STP team and our mission partners on today's successful launch," said Brig. Gen. Timothy Sejba, program executive officer for Space Domain and Combat Power, which manages the DoD Space Test Program. "The STP team continues to demonstrate how agile access to space enables us to quickly and affordably prove out new R&D technology on-orbit, accelerating the development of our future, more resilient, space architecture."
"I'm thrilled with [this] successful launch," said Lt. Col. Jonathan Shea, director of the DoD Space Test Program. "Cost effective space access is key to the U.S. Space Force's pivot to a more resilient space architecture. This launch with Virgin Orbit exemplifies SSC's commitment to expanding partnerships with innovative companies and accelerating the delivery of future capabilities for the Warfighter." According to Shea, these new space vehicles will contribute to the nation's defense and gain ground against any adversaries operating in the highly contested space domain.
Space Systems Command, headquartered at Los Angeles Air Force Base in El Segundo, California, is the U.S. Space Force field command responsible for rapidly developing, acquiring, equipping, fielding and sustaining lethal and resilient space capabilities. SSC mission capability areas include launch acquisition and operations, communications and positioning, navigation and timing (PNT), space sensing, battle management command, control and communications (BMC3), and space domain awareness & combat power.
Virgin Orbit (Nasdaq: VORB) confirmed the success of the company's fourth, consecutive, satellite launch mission named Straight Up which carried seven satellites to LEO for the United States Space Force (USSF), who procured this launch for the Rocket Systems Launch Program, with payloads provided by the Department of Defense Space Test Program (STP). In support of its mission partners, Virgin Orbit has now delivered a total of thirty-three satellites to orbit with 100% mission success.
Virgin Orbit's fully mobile LauncherOne system conducted its first ever evening flight from a bare concrete pad and a runway at the Mojave Air and Space Port in California. The launch began at 10:50 p.m. local time, Friday, July 1, and concluded with the successful deployment of all seven payloads at approximately 12:55 a.m. Pacific on the morning of July 2, completing the company's first nighttime demonstration of the company's responsive space launch capabilities.
The launch reached an orbit approximately 500 km. above the Earth's surface at 45 degrees inclination. This was Virgin Orbit's second time reaching that inclination — an orbit that no other system has ever reached from the West Coast.
The seven satellites deployed by the result of the Straight Up launch are from multiple government agencies and will facilitate experiments intended to demonstrate innovative spacecraft technologies, new approaches for satellite applications, and Earth atmospheric science.
The contract to launch this mission, also dubbed STP-S28, was awarded to Virgin Orbit National Systems in April of 2020 by the United States Space Force as a three-launch mission. STP-S28A is the first of those launches.
The Straight Up launch marked the company's fourth successful commercial flight. The U.S. Space Force Rocket Systems Launch Program is a first-time customer for Virgin Orbit. The U.S. Department of Defense Space Test Program is a three-time repeat customer of Virgin Orbit. Photo Credit: Virgin Orbit / Daniel Jarvis, Mark Waker
"The LauncherOne rocket and Virgin Orbit team have made me immensely proud with today's Straight Up mission," said Virgin Orbit founder, Richard Branson. "There is so much potential benefit for everyone from space if we just manage it well together. We are delighted for the opportunity to work with the US government to help make space a safe and fruitful environment for all."
"We are honored to be supporting and delivering for the U.S. Space Force and the U.S. Department of Defense at such a critical juncture for national security space, our nation, and our world. An incredibly talented Virgin Orbit team and our LauncherOne system continue to demonstrate a track record of success for our spacecraft customers and that was confirmed again today," said Virgin Orbit CEO, Dan Hart.
"I'm proud to be part of this incredible team, both on our side and the government team, in driving this mission to success," said Mark Baird, President of Virgin Orbit National System, the subsidiary that interfaces with the National Security customers. "It was incredible to see the Straight Up mission wheels up, and satellites successfully deployed to support the mission of our customers. We are intensely focused on ensuring we are a key mission partner as we continue to accelerate the operationalization of the LauncherOne system."
Following the success of this launch, the Virgin Orbit team is preparing for its first international launch later this year in collaboration with the United Kingdom Space Agency, the Royal Air Force, and Space Port Cornwall. This will be the first orbital launch from UK soil.
Virgin Orbit (Nasdaq: VORB) operates one of the most flexible and responsive space launch systems ever built. Founded by Sir Richard Branson in 2017, the company began commercial service in 2021, and has already delivered commercial, civil, national security, and international satellites into orbit. Virgin Orbit's LauncherOne rockets are designed and manufactured in Long Beach, California, and are air-launched from a modified 747-400 carrier aircraft that allows Virgin Orbit to operate from locations all over the world in order to best serve each customer's needs. Learn more at www. virginorbit.com and visit us on LinkedIn, on Twitter @virginorbit, and on Instagram @ virgin.orbit.
---
United Launch Alliance advances the USSF-12 mission to GEO + Northrop Grumman's ESPAStar™ satellite
A United Launch Alliance (ULA) Atlas V 541 rocket has accomplished the launch of the USSF-12 mission for the U.S. Space Force's Space Systems Command (SSC). The USSF-12 features two satellite payloads: the Wide Field of View (WFOV) Testbed for SSC's Space Sensing Directorate and the USSF-12 Ring spacecraft for the Defense Department's Space Test Program.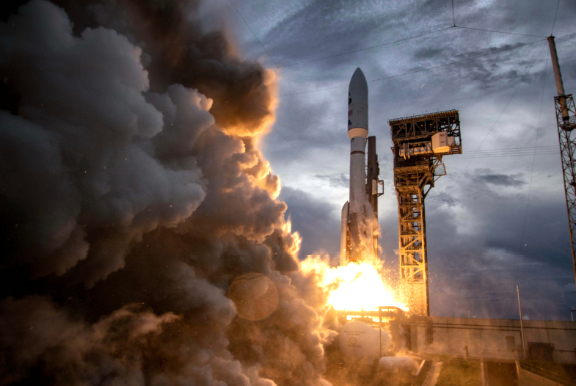 Atlas V will deliver both spacecraft directly to GEO approximately 22,000 miles (35,500 km.) above the equator, approximately 6 hours after liftoff.
The forward payload, WFOV, is a testbed spacecraft that informs the Next Gen Overhead Persistent Infrared (OPIR) program.
The Next Gen OPIR program will succeed the Space Based Infrared Systems program and is designed to provide a resilient, space-based, global missile warning capability against emerging missile and counter-space threats.
Sponsored by Space Systems Command and managed by the NASA Ames Research Center, the mid-sized WFOV spacecraft is based on Millennium's AQUILA M8 affordable platform series and hosts a transformational OPIR six-degree staring sensor developed under a separate contract by L3Harris Technologies. The WFOV testbed is designed for a 3- to 5-year life with a total mass up to 6,613 lbs. (3,000 kg.) and a payload accommodation of over 771 lbs. (350 kg.). WFOV's primary mission in orbit is to explore future missile warning algorithms with data collected in space.
The aft payload is a propulsive ESPA named the USSF-12 Ring. The Ring is a classified mission to demonstrate future technology for the Department of Defense.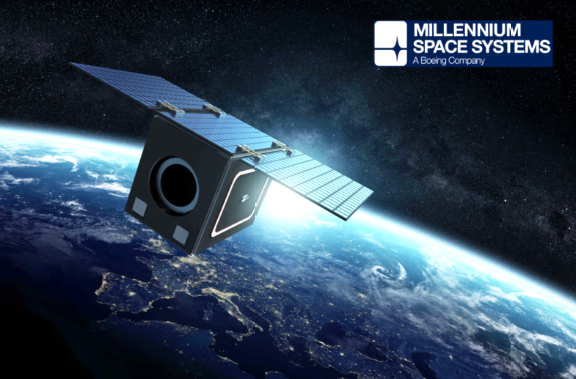 A direct-insertion GEO launch is one of the most challenging types of missions required by national security spaceflight.
The launch vehicle performs three firings of its upper stage to deliver the payload to an altitude more than 22,000 miles over the equator without the satellites themselves needing to perform any large-scale orbit- raising maneuvers.
Geosynchronous orbit is the location where satellites match the Earth's rotation and remain in lockstep above the same spot of the globe as they orbit.
Powering the Centaur upper stage for this launch is the 514th production engine from the RL10 family.
For more than 50 years, Aerojet Rocketdyne's RL10 engine has played a vital role in placing hundreds of military, government and commercial satellites into Earth orbit and has helped send spacecraft to explore every planet in our solar system.
In addition to Centaur, ULA uses RL10 on the Delta Cryogenic Second Stage for the Delta IV and in the next-generation Vulcan Centaur rocket. This was the 93rd security mission in 150 flights for ULA Northrop Grumman Corporation (NYSE: NOC) played a vital role in the successful launch and deployment of the U.S. Space Force (USSF)-12 mission that launched from Cape Canaveral Space Force Station.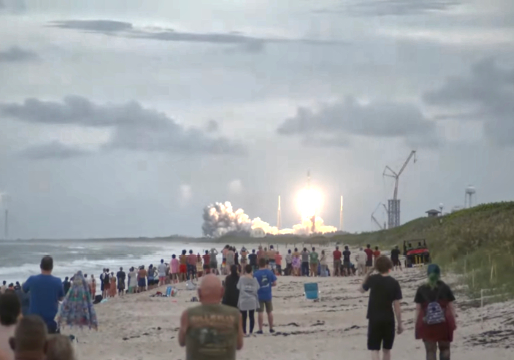 As part of this mission, a Northrop Grumman- built ESPAStar satellite™ and a Wide Field of View testbed missile detection satellite launched on a United Launch Alliance (ULA) Atlas V rocket, powered by Northrop Grumman-provided solid rocket boosters and other critical components.
The ESPAStar platform supports a wide range of missions by utilizing the ESPA standard. ESPAStar is equipped with multiple payload ports that can accommodate hosted and free- flying payloads.
Four of the company's 63-inch-diameter Graphite Epoxy Motors (GEM 63) solid rocket boosters provided approximately 1.5 million pounds of thrust at launch to help lift the rocket and payload from the pad.
Earlier this month, the company finalized a contract for its GEM solid rocket boosters to fly on ULA's next-generation Vulcan rocket, one of the largest commercial solid rocket motor contracts in history.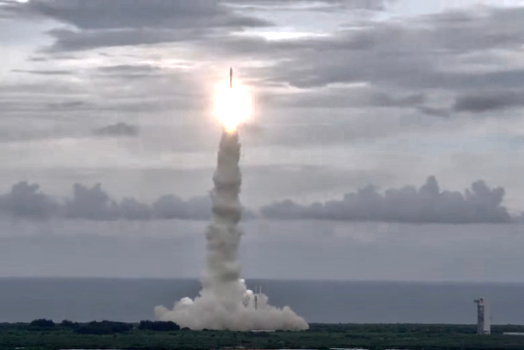 Northrop Grumman also provided numerous subsystems for the ESPAStar bus, including the solar arrays, propellant tanks, satellite and star tracker structures. Using advanced fiber placement manufacturing and automated inspection techniques, Northrop Grumman produced the composite first-stage heat shield, the Centaur Interstage Adapter that houses the second-stage engine and the broadtail that adapts from the core vehicle to the five-meter diameter fairing.
The company also manufactured hydrazine propellant tanks, which feed the Centaur Upper Stage reaction control system to provide guidance and control.
"ESPAStar provides rapid access to space," said Troy Brashear, vice president, national security systems, Northrop Grumman. "As the ESPAStar mission owner, we combined critical technology into a single cohesive mission, including hardware integration and test, ground software, command and control development and integration, mission execution planning, and on-orbit operations."