UAV Ops Gain Ku- Bandwidth Via A UltiSat Task Order
UltiSat, Inc. has announced that the Defense Information Systems Agency Defense Information Technology Contracting Organization (DISA-DITCO) awarded a COMSATCOM Transponded Capacity (CTC) task order for UltiSat to provide United States Pacific Command (USPACOM) Ku bandwidth capacity for Global Hawk (GH) Unmanned Air Vehicle operations and training.

UltiSat will support GH Ku-band Earth terminals and Tri-band Tactical Field Terminals (TTFT) located at Kadena Air Base (AB), Okinawa, Japan as well as a GH UAV based at Andersen Air Force Base (AFB), Guam.
This task order falls under the Future COMSATCOM Services Acquisition (FCSA) Schedule 70 contract vehicle. The total contract value including options is $4,128,240.00.
UltiSat has extensive experience and a proven track record for supporting U.S. Government and federal agencies as a trusted partner of secure, reliable managed network solutions.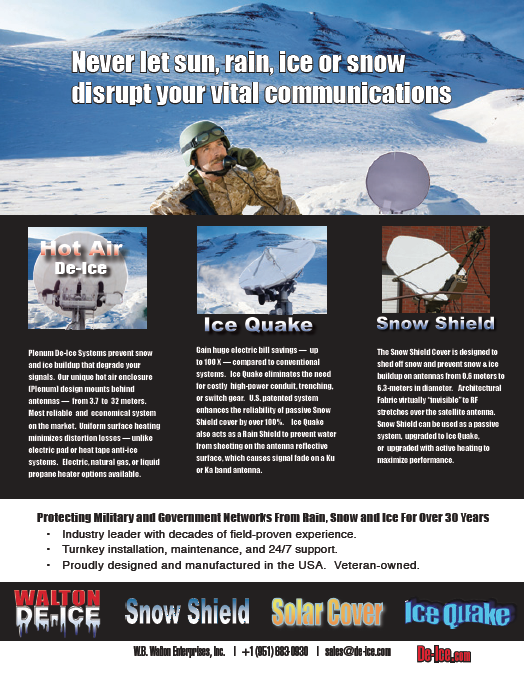 UltiSat is rapidly becoming a key player in the airborne ISR/COTM markets due to its unique expertise in the design, optimization, commissioning, and network operations of airborne Beyond Line of Sight solutions (BLoS). The company's technology agnostic approach, strategic partnerships and reseller agreements create the industry's largest SATCOM-focused ISR/COTM product portfolio.
UltiSat offers a wide range of solutions for the Airborne ISR and COTM markets and delivers comprehensive network management for manned and unmanned fixed wing + rotary wing platforms.
"UltiSat provides a diversified portfolio of complex services and solutions to the government sector. Awards similar to this most recent CTC will allow us to manage and support end-to-end satellite communications solutions for our government customers in the demanding market of airborne ISR," said Amy Gwinn, UltiSat's Senior Vice President of Government Solutions. "This will help advance the overall mission for the warfighter and provide cost-effectiveness in the long run."
---
US Marines Test Interoperability Skills During Field Exercise
To simulate services provided to requesting agencies, Company B with Marine Wing Communications Squadron 28 conducted a field exercise developing mission critical skills in support of potential requests from various agencies at Marine Corps Air Station Cherry Point.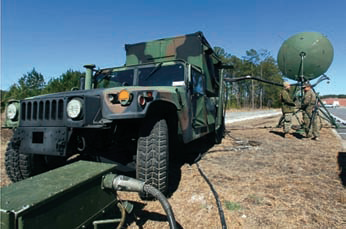 During the exercise, Bravo Company provided their own Tactical Air Operations Center, Tactical Air Command Center and simulated unmanned aerial vehicle squadron requests, giving the Marines a broader understanding on what roles requesting agencies play during operations within a communications squadron.
MWCS-28 incorporates numerous systems ranging from single-channel radios to systems with an emphasis on interoperability and beyond line-of-sight communications, for a broad spectrum of information services. These services include video, multimedia, data, and imagery which enable the Aviation Combat Element to function with reliable communications architecture.
"Everything that went into this training exercise was designed to be difficult, and we did a great job executing this," said Gunnery Sgt. John L. Fletcher, a data network systems chief with the squadron. "There was a lot of cross training going on, and through that cross training, we gained a better knowledge on how we integrate with our own sections and how the different services work together. Everyone learned a lot, and it's been a great opportunity to find those key troubleshooting figures."
According to Fletcher, the exercise sharpened the minds of the Marines who are becoming more effective at reacting to troubleshooting common issues that happen on deployments, while also better serving the wing to ensure communications are up and aircraft are in the air.
"A lot of the new Marines don't particularly know what the Marine Air Communications Squadron agencies do," said 1st Lt. Natasha Bentz, an air support control officer with Marine Air Support Squadron 1. "Working as our own agencies showed the Marines the structure of the MACS and what their exact role is in each of those agencies."
"The Marines are learning a lot from this training, to include simulating their jobs in the MACS agencies," said Bentz. "Living in a tactical field environment while maintaining their roles in the training, teaches the Marines how to be well-rounded communicators."
Story by Pfc. Nicholas Baird, Marine Corps Air Station Cherry Point, II Marine Expeditionary Force
---
Second CENTCOM Contract Awarded To Intelsat General
Intelsat General Corporation, a wholly owned subsidiary of Intelsat S.A., has been awarded a second contract to provide satellite services to the U.S. Central Command (CENTCOM).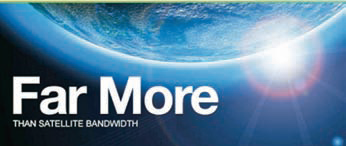 The one-year contract calls for 288 MHz of Ku-band service to support U.S. military operations in the CENTCOM Area of Responsibility (AOR), which extends from North Africa through the Middle East and into the Central Asian countries of Afghanistan and Pakistan.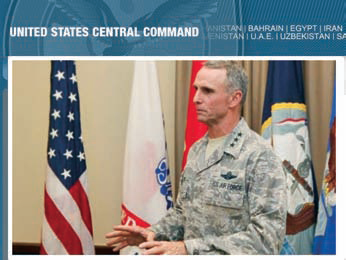 The service, which began in February 2016, has four, one-year renewal option periods and one six-month renewal option period.
The new contract follows a similar award made last September to support the United States Air Forces Central Command (AFCENT) operations with 144 MHz of Ku-band services.
This contract was previously disclosed in a February 22, 2016, financial statement by Intelsat, S.A.
"This capacity will provide the U.S. military's deployed command and control nodes with robust reliable communications in remote locations," said Skot Butler, Vice President, Satellite Networks and Space Services, at Intelsat General. "This will support vital C4ISR networks throughout the CENTCOM AOR."
intelsatgeneral.com/
---
New Remotes + Defense Line Cards From iDirect Government
iDirect Government (iDirectGov) has unveiled their next generation 9-Series portfolio of remotes and defense line cards that will bring greater spectral efficiencies and enhanced performance to the company's government customers.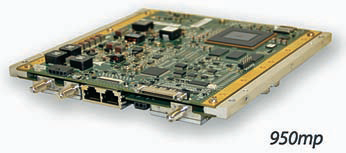 Riding on the 9-Series remotes is the Evolution 3.4 software that brings the products to life.
Each of the remotes within the new series features different form factors and capabilities to accommodate customer specific needs.
The entire series of remotes is capable of nearly double the in-route Msps of its predecessor the 8-Series and with almost 10 times the packets per second capability.
Featuring extended frequency ranges, which allow users to access the Wideband Global Satellite (WGS) constellation, as well as High Throughput Satellites (HTS), the 9-Series supports the ability to receive multiprotocol encapsulation (MPE) broadcasts.
For secure traffic, the 9-Series will support both one-way and two-way TRANSEC and be certified at FIPS140-2 Level 3.
The series consists of the 950mp, 900 and 9350. The 950mp features a reduced footprint of 33 percent, uses 55 percent less power and is 28 percent lighter than its predecessor the e850mp—all of which is critical in the use of man-portable terminals.
The 900 and 9350 remotes include dual demodulators, which allow the remotes to support two separate data streams. Combinations of data traffic can include both two-way and one-way traffic, with one way traffic consisting of multiprotocol encapsulation (MPE) broadcasts or one-way TRANSEC.
The 9350 also boasts the first LCD screen on an iDirect remote, allowing the user to view remote's configuration and statistics.
The next-generation defense line cards—the DLC-T and DLC-—enable secure voice, data and video communication links and enable the 9-series remotes to operate on the new HTS.
The DLC-T supports one-way TRANSEC and is DVB S2X ready. The DLC-R has an on-board TRANSEC module and will support as many as 16 channels and as much as a four times increase in composite Msps and a two times increase in per channel TDMA and Adaptive SCPC returns. DLC-Rs are capable of supporting MCD Adaptive Spread.
"The improved functionality of the 9-Series remotes and defense line cards will be a force multiplier for field operators who have long told us that they need a reduced footprint without having to sacrifice performance, agility and functionality," said John Ratigan, president of iDirect Government. "We innovated around speed and performance, bringing iDirect's fastest TDMA remotes into the marketplace. We're excited about what this means for the military missions ahead."
idirectgov.com
---
German Military SATCOM System Will Be Operated By Airbus Defence & Space For Next Seven Years.
Airbus Defence and Space has been awarded a 145 million euros contract by the procurement agency of German Armed Forces (BAAINBw) for the long term operation of the SATCOMBw secure satellite communications system.
Airbus Defence and Space has been operating the SATCOMBw system since 2006. This contract, which has been renewed for the next seven-and-a-half years, includes the on orbit operation of the military COMSATBw1 and COMSATBw 2 satellites as well as the operation of their teleport and associated networks in Weilheim, Germany, until 2022.
Image courtesy of Airbus Defence & Space.
The two military communication satellites COMSATBw-1 and COMSATBw-2 provide German armed forces (Bundeswehr) in operation with military UHF and X-band plus additional capacity in C- and Ku-band over a coverage area that stretches from the Americas to Eastern Asia.
In addition to the two satellites, the SATCOMBw program provides a secure ground communications network and control system. Command centers, vehicles, aircrafts and ships deployed around the world are linked directly into the base communications networks for voice, video, database access and IP (Internet Protocol) services.
Airbus Defence and Space has been responsible for the overall SATCOMBw system design, integration and delivery of a fully operational capability.
The company has also delivered more than 500 ground terminals with range of antenna diameters from 1.2 to 4.6 meters included maritime terminals.
airbusdefenceandspace.com/
---
Automatic Beam Switching For UAS Demo'd On Intelsat EpicNG
Intelsat General Corporation and L-3 Communication Systems-West (L-3 CS-West) announce the successful demonstration of new automatic beam switching technology that enables Unmanned Airborne Systems (UAS) fitted with L-3 CS-West satellite communications packages to operate on Intelsat's high-throughput satellite (HTS) platform, Intelsat EpicNG.
This software upgrade was funded and developed through a partnership between Intelsat General and L-3 CS-West to ensure that the existing unmanned aircraft systems (UAS) platforms can take advantage of the 3x–4x throughput improvement that Intelsat EpicNG enables. This demonstration was part of Intelsat's ongoing ecosystem work validating the compatibility of existing hardware with Intelsat's EpicNG high-throughput satellites.
This over-the-satellite demonstration was conducted on Intelsat's Horizons-1 satellite using three separate bandwidth segments and a navigation simulator representing a UAS flying through three separate high-throughput spot beams on a single Intelsat EpicNG-class satellite. Using an L-3 CS-West hub and terminal modems for the end-to-end test, engineers measured the performance of full-motion video and IP data between the UAS and the hub controller as the system automatically switched both frequency and polarization while the aircraft flew through the three separate beams.
The new Intelsat EpicNG satellites are designed to increase UAS data rate performance by 200 to 300 percent via their high-throughput spot beams and enable broadband performance to antennas with apertures smaller than 30 cm. This demonstration validated that the UAS could automatically switch between these beams without user intervention, thereby simplifying operations while fully leveraging this increased throughput.
Following this successful demonstration, Intelsat General and L-3 CS-West plan to conduct further tests with user platforms employing the recently launched Intelsat EpicNG IS-29 satellite.
A demo video is available at http://intelsatgeneral.us8.list-manage1.com/track
---
Reducing Satellite Lease Costs With Channel Sharing
The Army's predominate friendly-force tracking tool known as Blue Force Tracker (BFT), used by nearly every ground and aviation vehicle across the fleet, could soon be part of a satellite channel sharing initiative.
Currently, BFT-1 and BFT-2 systems use unique satellite channels to send and receive Position Location Information (PLI) and Command and Control (C2) data which allows commanders to visualize assets within the operational sphere. While this is operationally effective, it comes with significant costs. Validation from single beam testing offers a forward-thinking solution.
The Army has conducted a channel sharing aviation mobility operational test at the Communications-Electronics Research, Development and Engineering Center (CERDEC) Intelligence and Information Warfare Directorate (I2WD) Flight Activity, located at Joint Base McGuire-Dix-Lakehurst, N.J., where system engineers operating both BFT-1 and BFT-2 from ground and aviation vehicles assessed the performance data of each system under shared channel settings.
"The intent is that when combined, units won't be able to tell the difference," said Jason Parks, system engineer, Project Manager Mission Command (PM MC). "Same service, same data—lower cost."
The scope of the test examined the performance of transceivers in current operational conditions. BFT transceivers mounted on vehicles including a UH-60M (Blackhawk), an aircraft capable of producing the greatest rotor blockage, were used to evaluate data impact between platforms at different power ranges. Simulated data including PLI reports and C2 messages were successfully transmitted consistently between systems. Testing efforts to validate simultaneous operation of both systems onto a single beam represents an operational benefit that is seamless to the Soldier.
Along with validation from two separate assessments prior to the operational test conducted at the CERDEC facility, PM MC has evaluated channel sharing as technically and fiscally effective.
"Operating these two systems within the same satellite channel will provide PM MC the opportunity to significantly reduce commercial satellite lease costs," said Lt. Col. Michael Olmstead, product manager, Joint Battle Command-Platform (JBC-P) part of PM MC. "Additionally, success of this test shows how we continue to optimize the way we do things."
Operationally, both systems transmit data on respective satellite beams and ground stations. While BFT-2 comes as a system enhancement to BFT-1, which reduces network latency and processing time, the effort to combine the two currently disparate channels was the intent of an initial proof of concept set to look at reducing sustainment costs since both systems will be used operationally over the next ten years. Looking forward, the next version BFT 2.5 will incorporate the single channel technology and improve connectivity operations by increasing satellite opportunities to achieve full global coverage.
The BFT 2.5 modified installation is set to include an improved directional antenna design, processing boards with four-times the power and two full-duplex modems that can access additional waveforms.
"The added capability of multiple waveforms to the BFT hardware will ensure BFT's relevance as the lower tier communication network for the warfighter," said Andrew Stevens, SATCOM engineer.
Capability enhancements could allow for terrestrial connectivity with the use of the Soldier Radio Waveform (SRW), along with the addition of an enhanced antenna set to provide satellite based voice messaging. These improvements can increase anti-jamming capabilities and provide continued cost savings with redundancy in already purchased satellite bandwidth.
Story by Sgt. Devon Bistarkey, 444th Mobile Public Affairs Detachment, Program Executive Office Command, Control, Communications-Tactical
---