The newest Space ISAC founding member is... Northrop Grumman
The Space Information Sharing and Analysis Center (ISAC) and the National Cybersecurity Center (NCC) announced that Lockheed Martin (NYSE: LMT) has joined the Space ISAC as the newest founding member.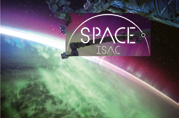 Lockheed Martin joins Kratos Defense & Security Solutions, Inc. (NASDAQ: KTOS), Booz Allen Hamilton (NYSE: BAH), MITRE, and SES as a founding member.
Clark VanBuskirk, Vice President of Advance Program Development for Lockheed Martin Space Mission Solutions, will serve on the Space ISAC board of directors.
The Space ISAC is the only space-dedicated ISAC and is made possible through the investment by its board and founding members. Lockheed Martin will contribute expertise managing space supply chain risk, threat intelligence across multiple domains and true end-to-end space-based cyber solutions, which serve a variety of customers and missions, to the Space ISAC.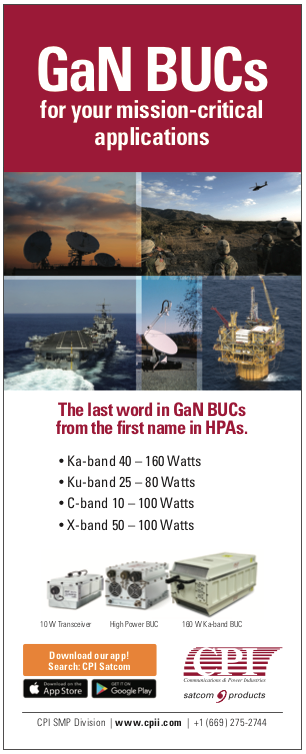 ISACs are sector-specific, member-driven organizations stood up by the commercial sector with support from the federal government to collect, analyze, and disseminate cyber and physical security threats and risk mitigation information to critical infrastructure owners, operators, and members to increase resiliency.
The Space ISAC is the only space-dedicated ISAC and is made possible through the investment by its board and founding members. Lockheed Martin will contribute expertise managing space supply chain risk, threat intelligence across multiple domains and true end-to-end space-based cyber solutions, which serve a variety of customers and missions, to the Space ISAC.
NCC is recognized as a leader in cybersecurity and brings together leaders from across the globe at its annual Cyber Symposium. Together, NCC and the Space ISAC serve cyber influencers from the commercial sector, academia, government, and military and empower people to secure commercial, international, and military space communications from attacks on our global space assets.
They are jointly building a research and development capability, cybersecurity training curriculum, and an analysis portal. With the addition of the Space ISAC, NCC is offering training on secure GPS and hosts a dialogue on the importance of international and commercial satellites on military communication at the annual Cyber Symposium.
The initial founders of Space ISAC serve as board members. Each board member has a role in fulfilling the mission of the ISAC: to facilitate collaboration across the global space industry to enhance our ability to prepare for and respond to vulnerabilities, incidents, and threats; to disseminate timely and actionable information among member firms; and to serve as the primary communications channel for the sector with respect to this information.
Lockheed Martin Space creates technologies that power exploration, connectivity, and security from space. Major programs include GPS III and secure communications, human and robotic exploration of deep space, strategic deterrence and missile defense, weather and remote sensing, and commercial communications. Space is a key enabler that must be protected end-to-end — that's why Lockheed Martin recently rolled out a new way to evaluate how hardened space systems are using the Cyber Resiliency Level model.
Erin Miller, VP of Operations for Space ISAC at the National Cybersecurity Center, said the Space ISAC builds on a legacy of government-industry threat sharing, including Lockheed Martin's participation as a founding member of the Defense ISAC. Focusing on the unique challenges in space is a logical next step for a company that has extensive experience building many of the satellites and ground systems our nation counts on.
Clark VanBuskirk, VP for Advanced Program Development for Lockheed Martin Space Mission Solutions, added that software now defines the bulk of mission-critical capabilities and it's under constant attack. The U.S.'s ability to track, defend, and fight adversaries increasingly depends on how well we can field the best secure software and hardware.
The Space ISAC builds on Lockheed Martin's legacy of partnership with government on cybersecurity, which is increasingly important with new commercial and international space operators; it's vital all work together to defend a strategic domain for the nation's national security.
The need for a Space ISAC was conceived by the Science & Technology Partnership Forum in 2017 in response to recognized information-sharing gaps within the cybersecurity and space community. The Forum's goal was to enhance the community's ability to prepare for and respond to vulnerabilities, incidents, and threats; disseminate timely information; and serve as the primary communications channel for the sector with respect to this information.
The Forum shared this vision at the 34th Space Symposium in April 2018. In April 2019, the Space ISAC was announced during a classified session at the 35th Space Symposium in Colorado Springs, Colorado.
White House National Security Council Spokesman Garrett Marquis said of the Space ISAC's formation that this Administration strongly supports the formation of private-sector driven information sharing and analysis centers. The new Space ISAC aims to help gather, analyze, and disseminate critical cyber threat information related to space among the Federal, commercial, and international community and advances the 2018 National Cyber Strategy's priority to enhance space cybersecurity.
The White House's National Cyber Strategy, published September 23, 2018, states that "the Administration will enhance efforts to protect our space assets and support infrastructure from evolving cyber threats," while working "with industry and international partners to strengthen the cyber resilience of existing and future space systems."
Locating the Space ISAC at the NCC means Space ISAC members will have access to Colorado's space and cybersecurity ecosystems within the commercial and defense sectors and to the talents of the premier higher education institutions developing cybersecurity engineers.
To facilitate the Space ISAC's origination and organization as the founding member, Kratos Defense & Security Solutions, Inc., coordinated the organizational planning and federal government charter, funded the ISAC startup costs, and developed the operational plan for the Space ISAC.
NCC is a member-driven national community of cyber influencers from government, academia, industry, and military conceived in 2016 and located in Colorado Springs, Colorado. The NCC provides cybersecurity leadership, services, training, and policy advisement and awareness for public officials, business executives, and the workforce.
NCC's support to the Space ISAC will create a public-private alliance to serve the commercial sector, academia, government, and military and empower people to secure commercial, international, and military space communications from attacks on our global space assets. NCC also leads a collaborative effort to use blockchain technology to develop a secure mobile voting app and offering blockchain training.
National Cybersecurity Center CEO Vance Brown reported that this intersection of space and cybersecurity represents a unique public-private partnership at the tip of the spear and is in perfect alignment with NCC's vision to secure the world. The greatest threat to the nation's space assets is cyber interference. The NCC is uniquely qualified to facilitate the mitigation of cyber risks.
s-isac.org
www.northropgrumman.com
---
National Guard disrupts cyberattacks across the U.S.
The National Guard is ready to mobilize its cyberdefenses in case of a potentially devastating domestic attack.
---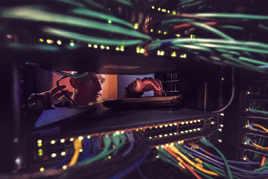 Air Force Airman 1st Class Thomas Schoening,
a cyber transport systems airman, stands in the server
room at the 153rd Airlift Wing, Wyoming Air National
Guard Base, Cheyenne, Wyoming, in November.
Photo by: Air Force Staff Sgt. Jonathon Alderman,
Wyoming Air National Guard.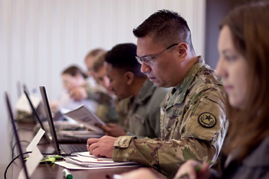 Texas Army National Guard Sgt. Michael Russel
analyzes network traffic during a Cyber Shield 19
training week class at Camp Atterbury, Indiana.
Photo by Army Staff Sgt. George B. Davis.
---
"When I first joined the National Guard, cyber was not part of our vocabulary, but certainly now it is one of our daily battlegrounds," said Air Force Gen. Joseph L. Lengyel. "Our adversaries and non-state actors use cyber activity to target personnel, commercial and government infrastructure and the effects can be devastating."
Lengyel, chief of the National Guard Bureau, talked about the Guard's cybermissions and capabilities during a media roundtable on Nov. 5 at the Pentagon. He said cyberattacks have occurred at both the federal and state levels.
Earlier this year, a number of school districts and agencies in Louisiana and Texas suffered ransomware attacks. Ransomware is a type of malicious software designed to block access to a computer system until a ransom is paid. With the help of the Guard, schools opened on time and agencies were able to get back to work, Lengyel said.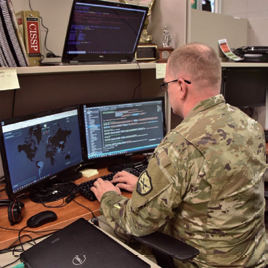 Army Chief Warrant Officer 3 James Honeycutt,
169th Cyber Protection Team cyber operations
technician, Maryland National Guard, reviews coding
software Oct. 24, 2019, at the Anderson and Murphy
Community Center, Laurel, Md., which serves as the
Laurel Armory. The 169th Cyber Protection Team is
a team of cyber professionals whose mission is to
defend Defense Department information networks
and assist in cyber defense outside of DOD when
called. Photo By: Air National Guard Senior
Airman Sarah McClanahan, Maryland Air
National Guard.
"[Ransomware] is obviously a new and emerging kind of enterprise. We are able to access superb civilians and skill sets, and they can bring capabilities that the military sometimes does not have," Lengyel noted.
In Texas, 22 counties were attacked with ransomware during June, disrupting local service, said Army Maj. Gen. Tracy R. Norris of the Texas National Guard.
Norris said Texas' department of emergency management called the Guard, and officials assessed the attacks with a team of Guard soldiers and airmen.
"It was a joint team that went out to assess [the damage]," she said. "From there, they picked different places to go [in] the counties for the recovery process. We thought it was bad in the beginning, and it couldn't have been much worse."
"We already had a team in place and sent them out to assess, and we then aligned the team [based on] what the assessment showed," Norris said.
Lengyel said the Illinois Guard is forming a cyber task force to assist the state of Illinois, as the need arises. The Illinois task force will involve Guard soldiers and airmen performing cyber, information technology and other military functions.
Indiana recently started a cyber battalion, and personnel will be trained to military standards for use in a domestic response capacity if they need to be, Lengyel said.
"So, this will be part of the cyber mission force that will be part of the Army mission that, if needed, can be federalized and mobilized to do cyber activity for the U.S. Army or the U.S. Cyber Command," Lengyel said. "And when they're not mobilized, we can do our homeland mission."
Lengyel said many of these Guard members have cyber-related civilian jobs. He said it's an example of how the varied skill sets of Guard members contribute to national defense.
"They can do things working in national defense they can't do in their civilian careers," he said of Guard members.
Other attendees included vice director of domestic operations, National Guard Bureau; National Guard adjutant generals from Washington and Illinois; and the National Guard advisor to the commander of U.S. Cyber Command.
Article by Terri Moon Cronk.
---
Satellite IoT tech tests completed by Thuraya and eSAT Global
Thuraya and eSAT Global have successfully completed tests that validate eSAT's Global LPWAN (Low Power Wide Area Network) communications technology over Thuraya's satellite system.
Thuraya offers an expanding range of voice, broadband data and M2M/IoT capabilities for land, maritime and aeronautical applications. These include cost-effective solutions, catering to a wide range of technical and commercial market requirements.
To date, only modest consideration has been given to the use of direct links to GEO MSS satellites for LPWAN connectivity for Internet of Things (IoT) applications.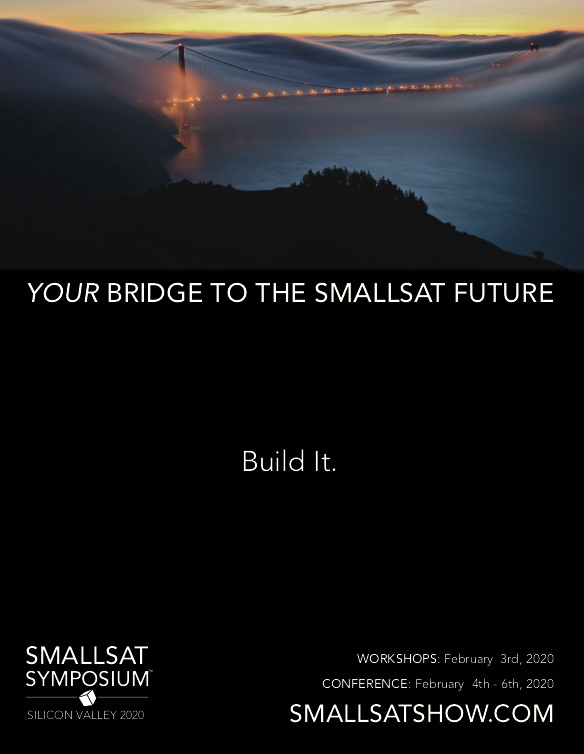 eSAT's tests of its breakthrough technology over Thuraya's robust GEO MSS system reveal that this approach is not only practical, but also highly advantageous, and that low latency, low-cost LPWAN connectivity is about to become a reality with the use of Thuraya's cutting-edge technology.
The functionality of the eSAT system is enabled by the advanced capabilities of Thuraya's GEO MSS system. eSAT's disruptive approach ensures much lower costs and much higher capacity than many other satellite-based LPWAN systems.
It is also cost-competitive when compared to ground-based solutions, which are by their very nature, limited in their range of coverage. The match between the Thuraya system and eSAT's services is now proven.
Michael Parr, eSAT's CTO, said the company is grateful to have worked with Thuraya to verify eSAT system's performance using Thuraya's system. The links operated just as the Thuraya team described, with the end-to-end, two-way connectivity being consistently achieved, directly from the first attempt.
Thuraya's Chief Strategy Officer, Jassem Nasser, added that Thuraya aims to be at the forefront of Satellite IoT and the company believes in its enormous potential to transform societies and industries worldwide.
He added that testing with eSAT is one of many steps the company is taking to address the Satellite IoT markets and looks forward to eSAT completing the development of their unique technology platform.
eSAT Global's Executive Chairman, David Lyon, noted, that eSAT looks forward to future success with Thuraya, bringing reliable, always available, Global LPWAN data connectivity to millions of IoT devices enabling practical applications such as environmental protection, public safety and fire prevention, asset and personnel tracking, and smart agriculture. This borderless mobility will also enable ongoing refinement of IoT applications through AI techniques applied to the massive data records that are to be continuously gathered over these GLPWAN communication links.
www.thuraya.com
esatglobal.com
---
COTM satellite solutions to U.S. Army by Paradigm and 4K Solutions
Paradigm and 4K Solutions have announced that their MANTA Comms-on-the-Move (COTM) satellite solution has been selected by multiple United States Army direct action units for deployed mobile operations.
The discreet, low-profile MANTA met the unit's specific requirements for a fully integrated system due to space restrictions on-board
the vehicles.
---

---
The MANTA's integrated PIM® technology also provides crucial connectivity situational awareness for the soldiers, allowing full control over satellite selection and operation of the terminal, simplifying satellite operations.
The MANTA is the premier, proven solution for COTM and Comms-on-the-Pause (COTP) applications, requiring no specific satellite skill set from the user and with the added benefit of no mechanical moving parts, instead using software beam forming and tracking technology.
Operational from both DC and AC power sources, users can be transmitting and receiving in minutes.
4K Solutions' unique skill set enabled the swift integration of the MANTA onto the customer vehicles and into on-board networking equipment, enabling the unit to field the MANTA satellite terminal and provide vital in-theater communications.
David Theriault, President of 4K Solutions, said the MANTA terminals have allowed the soldiers to free up much needed cargo space in their HMMWV's and their tactical Polaris side-by-sides.
He noted that the Communications Non-Commissioned Officers (NCO's) are extremely pleased with the ease of install, ease of use and data bandwidth.
Ulf Sandberg, Managing Director of Paradigm, added that it's very exciting to be adopted by a customer operating in truly demanding and challenging environments and it clearly demonstrates the operational simplicity and suitability of this simple to use high performance terminal for the military and government sectors.
Sandberg added that 4K Solutions has been a very professional partner and a pleasure to work with.
paracomm.co.uk
4ksolutions.com
---