The United States military is an early adopter and highly visible champion of unmanned aerial vehicles (UAVs) and all types of robotics, such as the portable and throwable robots used in Afghanistan and Iraq. Therefore, it's should come as no surprise that the U.S. military is also taking the lead in driverless vehicle testing. Recently, the U.S. Army added driverless trucks to its expanding robotic technologies.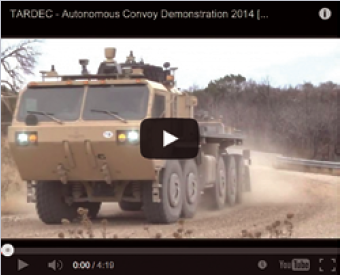 Earlier this year, the U.S. Army, in partnership with Lockheed Martin, demonstrated self-driving vehicle technology designed to help keep soldiers out of hostile environments.
The Autonomous Mobility Appliqué System (AMAS) gives just about any military vehicle the ability to autonomously navigate through urban and rural environments. In its demo, the AMAS system successfully negotiated around pedestrians, intersections, and oncoming traffic.
The demonstration was held at Fort Hood by the Tank-Automotive Research, Development and Engineering Center (TARDEC) and Lockheed Martin. You can view the video of this demonstration by clicking on the video screenshot at the top of the next column.
This latest development in lead/follow driverless tech began in 2012 when Lockheed Martin received the contract for the development, integration, and testing of the Autonomous Mobility Appliqué System (AMAS).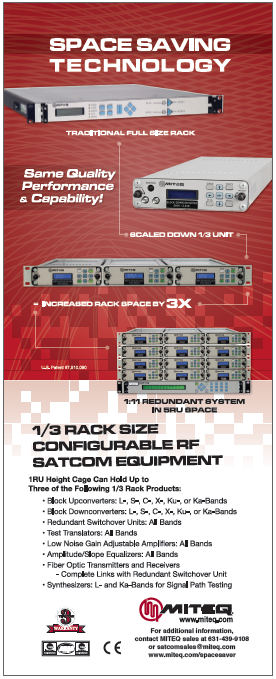 This multiplatform kit integrates low-cost sensors and control systems onto U.S. Army and Marine Corps tactical vehicles to assist drivers or enable autonomous operation in convoys. The kit was designed from the beginning to be low-cost and essentially platform-independent, with a simple, single-button activation. The system is designed so that it doesn't interfere with drivers who select to drive their vehicle manually.
The big idea behind AMAS is the development of a system capable of working on a large variety of military vehicles that can autonomously control convoy vehicles to significantly reduce crew fatigue, eliminate rear-end collisions, enhance operator situational awareness, and enable a more effective response to attack.
The AMAS system includes a LIDAR laser-ranging sensor and a GPS receiver, and can be installed on almost any tactical vehicle. For the Fort Hood demonstration, the AMAS kit was installed on M915 trucks and Palletized Loading System (PLS) vehicles.
According to Lockheed Martin, the AMAS passed its tests with flying colors, and involved the driverless tactical vehicles navigating hazards and obstacles such as road intersections, oncoming traffic, stalled and passing vehicles, pedestrians, and traffic circles in both urban and rural test areas.
Of course, Lockheed Martin isn't the only manufacturer getting into the leader/follower driverless system game as Volvo Trucks has already demonstrated their lead/follow system for commercial convoy deployment.
As is the case for any driverless application, vehicles in a lead/follow system must know everything about their surroundings and position, and use equipment and sensors such as radar, LIDAR, GPS, computer vision, and inertial technology.
Advanced control systems interpret sensory information to identify appropriate navigation paths. Sensors developed and manufactured by KVH, such as the DSP-1750 high performance fiber optic gyro (FOG), shown to the left, and the DSP-1760, shown to the right, below, single- or multi-axis FOGs, can monitor pitch, roll, and yaw, and depending upon the product integrated, may also be measuring changes in velocity, in turn providing vehicle navigation support.
Some platforms update their navigation solution in real time based on the inertial input from KVH sensors such as the 1750 inertial measurement unit (IMU), allowing the vehicles to keep track of their position even when conditions change or when they enter uncharted environments, or when GPS is jammed or otherwise not available.
Visit the KVH website for more information about inertial sensors and FOGs at
http://www.kvh.com/Military-and-Government/Gyros-and-Inertial-Systems-and-Compasses.aspx
About the author
Pam Cleveland is the Marketing Specialist + Proposal Editorfor KVH Industries, Inc.
* * * * * * * * *
ADVANCED AUTONOMOUS CONVOY DEMO
The U.S. Army Tank-Automotive Research, Development and Engineering Center (TARDEC) and Lockheed Martin [NYSE: LMT] have demonstrated the ability of fully autonomous convoys to operate in urban environments with multiple vehicles of different models.
The demonstration earlier this month at Fort Hood, Texas, was part of the Army and Marine Corps' Autonomous Mobility Appliqué System (AMAS) program, and marked the completion of the program's Capabilities Advancement Demonstration (CAD). The test involved driverless tactical vehicles navigating hazards and obstacles such as road intersections, oncoming traffic, stalled and passing vehicles, pedestrians and traffic circles in both urban and rural test areas.
"The AMAS CAD hardware and software performed exactly as designed, and dealt successfully with all of the real-world obstacles that a real-world convoy would encounter," said David Simon, AMAS program manager for Lockheed Martin Missiles and Fire Control.
The AMAS hardware and software are designed to automate the driving task on current tactical vehicles. The Unmanned Mission Module part of AMAS, which includes a high performance LIDAR sensor, a second GPS receiver and additional algorithms, is installed as a kit and can be used on virtually any military vehicle. In the CAD demonstration, the kit was integrated onto the Army's M915 trucks and the Palletized Loading System (PLS) vehicle.

"It was very important that we had representation from the technology, acquisition and user bases, along with our industry partners, here at the CAD," said TARDEC technical manager Bernard Theisen. "We are very pleased with the results of the demonstration, because it adds substantial weight to the Army's determination to get robotic systems into the hands of the warfighter."
Senior Army leaders representing the Army Materiel Command (AMC), the Army Capabilities Integration Center (ARCIC), the Combined Arms Support Command (CASCOM) and TARDEC were present to witness the demonstration. The AMAS CAD was jointly funded by ARCIC and Lockheed Martin. While the AMAS JCTD is aimed at augmenting the safety and security of human drivers in a convoy mission, the CAD was aimed at completely removing the Soldier from the cab.
ABOUT TARDEC
Headquartered at the U.S. Army Detroit Arsenal in Warren, Michigan, TARDEC is a major research, development and engineering center for the Army Materiel Command's Research, Development and Engineering Command and an enterprise partner in the TACOM Life Cycle Management Command. TARDEC is the Nation's laboratory for advanced military automotive technology and serves as the Ground Systems Integrator for all Department of Defense (DOD) manned and unmanned ground vehicle systems. With roots dating back to the World War II era, TARDEC is a full life-cycle, systems engineering support provider-of-first-choice for all DOD ground combat and combat support weapons, equipment and vehicle systems. TARDEC develops and integrates the right technology solutions to improve current force effectiveness and provides superior capabilities for future force integration.