OPIR GEO payload competition
Lockheed Martin (NYSE: LMT) has selected Raytheon and a Northrop Grumman/Ball Aerospace team to compete as potential mission payload providers for the U.S. Air Force's Next Generation Overhead Persistent Infrared (Next Gen OPIR) Geosynchronous (GEO) Block 0 missile warning satellite system.
This payload competition between Raytheon and Northrop Grumman/Ball Aerospace will be executed as part of the Phase 1 contract for the Air Force's Next Gen OPIR Block 0 GEO satellites. The competition includes development scope through the Critical Design Review (CDR) phase.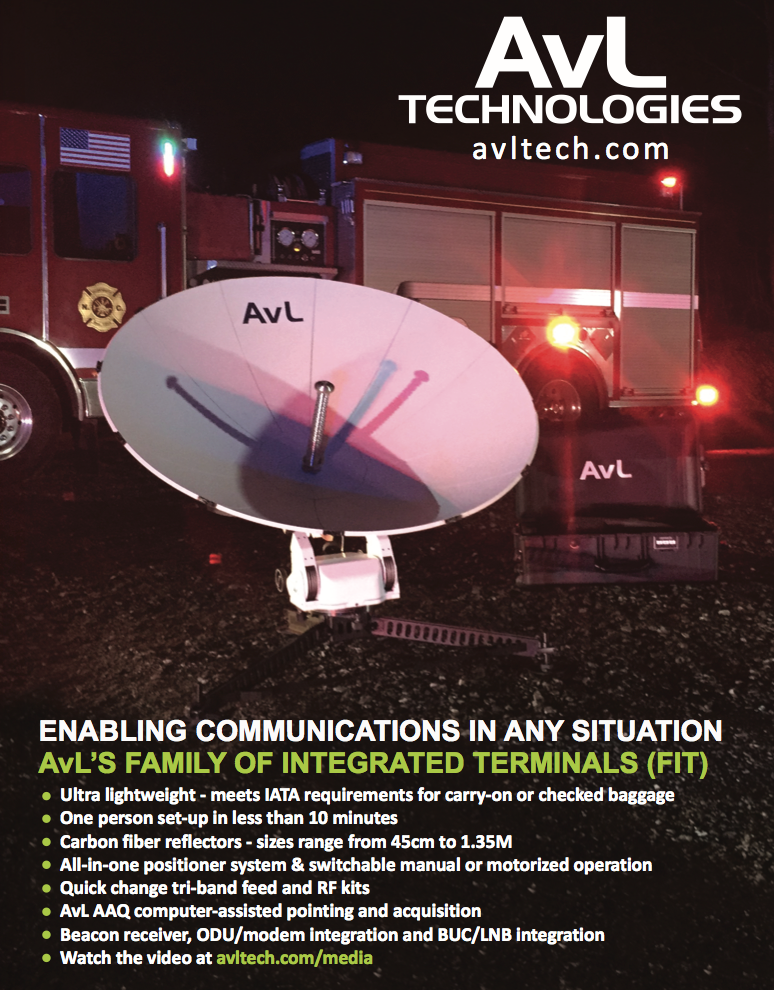 As part of a program heralded by the Air Force as a pacesetter for "Go Fast" acquisition, Lockheed Martin selected the two suppliers on September 28 — just 45 days after the company's own prime contractor award. The U.S. Air Force awarded Lockheed Martin the contract for rapid development of the Next Gen OPIR Block 0 GEO system on August 14. A final down-select is expected at the end of the CDR phase in 2020.
Next Gen OPIR is a new missile warning satellite system acquisition program that will deliver advanced capabilities to keep pace with adversary advancements. It will succeed the Space Based Infrared System by providing improved missile warning capabilities that are more survivable and resilient against emerging threats. The Air Force implemented Next Gen OPIR as a rapid acquisition program with Lockheed Martin targeting the first GEO satellite delivery in 60 months.
www.lockheedmartin.com
---
XTAR provides high data rates for SOTM, even when wet
XTAR, LLC's announced the results of a July demonstration at Fort A.P. Hill, Virginia, which was designed to provide a SATCOM on the move (SOTM) data link from a SOTM terminal to a hub Earth station at a data rate greater than 25 Mbps.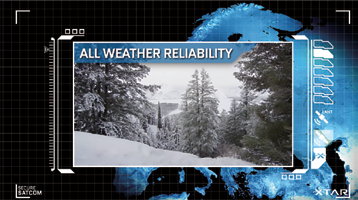 The goal was to show that high data rates can be achieved from small SOTM terminals without the use of High Throughput Satellites.
XTAR partnered with Honeywell, Leidos and Newtec to conduct this demonstration.
For the demonstration, XTAR used Honeywell's Wavestorm AS-X, which is a low profile slot array antenna, suitable for either airborne or ground-based applications.
The satellite used for this demo was the XTAR-LANT satellite located at 30 degrees West, which is an X-band satellite, compatible with WGS terminals, with global and spot beams.
A 26 Mbps satellite link was achieved between the terminal and a fixed 3.9m ground station.
A 2 Mbps data link was transmitted from the fixed ground terminal to the SOTM terminal.
The required space segment for the demonstration was 38.2 MHz with bandwidth efficiency of 0.73 bits/Hz, which is considered exceptionally high performance for a terminal of this size.
As heavy rain began to fall, the satellite link held strong.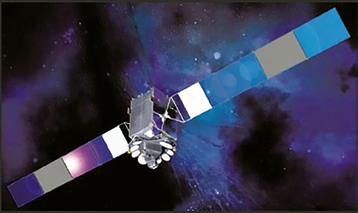 Jay Icard, President and Chief Executive Officer at XTAR, said that these results are yet another confirmation of the power of X-band. The frequency is efficient with small terminals, works well in mobile situations and remains strong in rain, wind or dust storms.
Results from this demonstration were similar to those conducted at Bridgewater, Virginia in October, of 2017 and strengthen the company's offering to its users.
As Kelly Nicklin, Vice President of Sales and Marketing explained, less bandwidth translates into lower costs and that is important for the company's customer.
XTAR only serves the government user that requires cost efficiency combined with resilient performance.
xtar.com
---
UK's MOD Signs Elbit Systems
The UK Ministry of Defence ("MoD") has signed on with Elbit Systems Ltd.'s (NASDAQ:ESLT and TASE: ESLT) subsidiary, Elbit Systems UK Ltd. ("Elbit Systems UK") which will provide the MORPHEUS Battlefield Management Application ("BMA").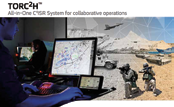 The contract will be performed over a three-year period and is valued as an initial contract of circa £10 million (approximately US$13 million) and a potential maximum value of £40 million.


Photo to the left: MORPHEUS
Contract signing. Right-Stephen
Woodger, UK MoD, Left-Martin
Fausset, Elbit Systems UK CEO.
Photo Credit: Elbit Systems UK
Under the contract Elbit Systems UK will provide the British Army with an operationally proven battle management application for both headquarters and tactical units, based on TORC2H™, Elbit Systems' command and control platform.
This application has been delivered to many customers worldwide, including to the Australian Defence Forces as part of its Land 200 Tranche 2 battle management system.
Martin Fausset, CEO of Elbit Systems UK, said that the company is proud to have been selected by the UK MoD to supply the MORPHEUS BMA providing a valuable capability for the British Army. In doing so, they will be bringing operationally proven capability and technological edge into the UK, adapting it for use and delivering it together with their
local partners.
elbitsystems.com/pdf/torc2h/
---
Viasat's Multi-Mission Terminal (MMT) proven battlefield ready
During the recent Saber Strike 2018 exercise, which was intended to build readiness across U.S. Army and NATO coalition forces, Viasat Inc. (NASDAQ: VSAT) proved the firm's Multi-Mission Terminal (MMT), known to the United States Department of Defense as the AN/TSC-241, is battlefield read and can help warfighters and first responders rapidly communicate during times of crisis.

With the Saber Strike field validation, Viasat's MMT is now battlefield-validated for immediate use and purchase across all U.S. and other Five Eyes (FVEY) military branches, including U.S. and international Special Operations Forces, the U.S. Army, U.S. Navy, and U.S. Marines.
Viasat's MMT delivers high-quality IP-based voice, video and data networking across multiple networks in both highly contested and benign environments around the globe. Using a portable terminal design, the MMT is an ideal networking solution for forward operating bases (FOBs) and emergency response operations, where warfighters and first responders can securely access networks and establish command post communications quickly and easily.

Set-up of the MMT proved simple during the field exercise, as field personnel were able to use the MMT's integrated smartphone app to establish communications in less than thirty minutes with minimal training—which also indicated potential costs savings for military customers.
The Saber Strike 2018 report detailed key performance advantages of Viasat's MMT, which included:
• Enhanced connectivity with a small footprint: Viasat's MMT provided Saber Strike forces with enhanced satellite connectivity with a very small logistical footprint. This enabled robust data to be sent to Beyond Line of Sight units, significantly enhancing situational awareness across the battlespace.
• Resilient, high-quality performance on multiple networks: The MMT produced robust throughput on high-capacity,
Ka- frequency bands throughout the duration of the Saber Strike exercise. In addition, Viasat's MMT also demonstrated proven satellite connectivity in the Ku-band with enhanced upload and download performance when compared to other legacy systems.
• Added flexibility: One of Viasat's MMTs operated entirely on batteries during the Saber Strike exercise, demonstrating its logistical flexibility in an austere environment.
• Ease of use: Viasat's MMT was set up three separate times over the course of the 22 hour maneuver, demonstrating its portability and ease of use for U.S. and international coalition forces. The Saber Strike report noted the improved set-up/take-down of the MMT when compared to legacy terminals.
The MMT is designed to integrate into Viasat's Hybrid Adaptive Network architecture, which allows users to seamlessly operate across different networks (both government and private sector), creating an end-to-end network that provides mitigation against congestion situations, intentional and unintentional interference sources and cyber threats through implementation of layered resiliency in highly contested environments. In addition, the MMT's Software Defined Modem (CBM-400) will allow customers to switch between multiple waveforms and upgrade to Viasat's next-generation Ka-band network in real-time.
Ken Peterman, President, Government Systems, Viasat, said that the innovative capabilities of the firm's MMT further illustrate Viasat's ability to quickly deliver cutting-edge technologies for warfighters today, while anticipating and addressing the mission needs of tomorrow. The Saber Strike 2018 exercise validates the performance advantages of this portable hybrid terminal across multiple satellite networks and ease of use for U.S. and international coalition forces.
www.viasat.com
www.eur.army.mil/SaberStrike
---
U.S.A.F. awards three EELV Launch Service Agreements
The U.S. Air Force (USAF) has awarded three Evolved Expendable Launch Vehicle (EELV) Launch Service Agreements to (in alphabetical order) Blue Origin, Northrop Grumman Innovation Systems and United Launch Alliance.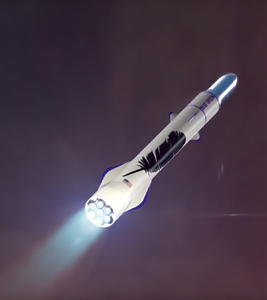 Artistic rendition of Blue Origin's New Glenn
rocket in flight.
The award to Blue Origin will be for development of the New Glenn Launch System.
The award to Northrop Grumman Innovation Systems is for development of the OmegA™ Launch System.
The award to United Launch Alliance will be for development of the Vulcan Centaur Launch System.
The Launch Service Agreements will facilitate the development of three domestic launch system prototypes and enable the future competitive selection of two National Security Space launch service providers for future procurements, planned for no earlier than fiscal year 2020.
Through public-private partnership agreements, the goal of the acquisition strategy is to satisfy federal law by ensuring that the U.S. maintains assured access to space, with at least two domestic launch service providers and without reliance on non-allied rocket propulsion systems.
With the Congressional mandate to transition away from reliance on foreign rocket propulsion systems, and the planned Delta IV retirement, the USAF developed an acquisition strategy to accelerate National Security Space launch requirements.
The EELV program has successfully launched 72 NSS missions, dating back to 2003, using the Atlas V and Delta IV launch vehicles.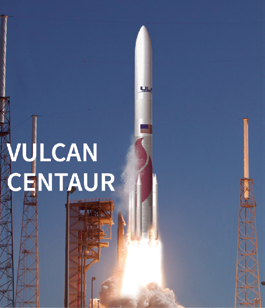 Artistic rendition of United Launch
Alliance's Vulcan Centaur rocket.
While the prototypes are being developed, the USAF will continue to competitively award commercial launch services contracts to providers who demonstrate the capability to design, produce, qualify and deliver launch systems and provide the mission assurance support required to deliver National Security Space satellites to orbit.
The USAF competitively awarded the Launch Service Agreements as other transaction (OT) agreements in accordance with the USAF's other transaction authority (OTA) for prototype projects.
OT agreements are nontraditional acquisition arrangements that allow for shared investment to encourage innovation and promote the maturation of capabilities.
The use of OTA is consistent with guidance in the National Space Transportation Policy to "cultivate increased technological innovation and entrepreneurship in the U.S. commercial space transportation sector through the use of incentives such as nontraditional acquisition arrangements, competition and prizes.
The awards will be contracted through Air Force Space Command's Space and Missile Systems Center (SMC), located at Los Angeles Air Force Base, California. SMC is the U.S. Air Force's center of acquisition excellence for acquiring and developing military
space systems.
SMC's portfolio includes the Global Positioning System, Military Satellite Communications, Defense Meteorological Satellites, Space Launch and Range Systems, Satellite Control Networks, Space Based Infrared Systems and Space Situational Awareness capabilities.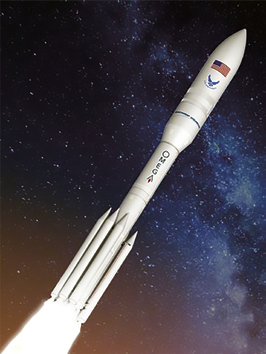 Artistic rendition of Northrop Grumman's OmegA
Rocket. Image is courtesy of the company.
Secretary of the U.S. Air Force Heather Wilson said that this launch program is a great example of how tomorrow's Air Force is being fielded faster and smarter. The USAF is making the most of the authorities Congress provided and reliance on Russian-built RD-180 rocket engines will no longer be necessary. Leveraging domestic commercial space launch systems is good for the Air Force and a revitalized commercial launch industry is good for the taxpayer.
U.S. Air Force Chief of Staff General David L. Goldfein noted that since the early days of the space program, the U.S. Air Force has been a world leader in space launch. As space becomes more contested and the nation's adversaries develop new capabilities to thwart U.S. advantages, the USAF is fielding enhanced space capabilities to ensure the organization remains the best in the business.
Dr. William Roper, Assistant Secretary of the Air Force for Acquisition, Technology, and Logistics, said that he's excited to announce these creative partnerships that directly support the Air Force's strategy to drive innovation and leverage commercial industry. These awards are a leap forward in space launch capabilities, ensuring continued U.S. dominance in space.
Lieutenant General John Thompson, the Air Force's Program Executive Officer for Space and SMC commander, added that hese awards are central to the Air Force goal of two domestic, commercially viable launch providers that meet National Security Space requirements. These innovative public-private partnerships with industry provide a path to develop launch vehicles to assure access to space, address the urgent need to transition away from strategic foreign reliance, and provide responsive launch capabilities to the warfighter.
www.losangeles.af.mil/About-Us/Fact-Sheets/Article/343702/space-and-missile-systems-center/
blueorigin.com/
www.northropgrumman.com
www.ulalaunch.com/
www.rocket.com
---
Viasat's connectivity demo is successful at AUSA Conference
Viasat Inc. (NASDAQ: VSAT) has announced the availability of secure cloud-enabled artificial intelligence (AI) and machine learning applications over Viasat's global satellite communications (SATCOM) architecture and line of sight (LOS) tactical network technologies for warfighters on the move.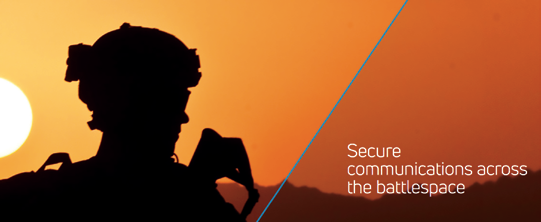 By offering a secure, integrated network of cloud-enabled solutions, Viasat can reduce warfighters' cognitive loads in order to make more accurate, informed, lifesaving decisions with accelerated speed across the battlespace.
At the recent Association of the United States Army (AUSA) conference in Washington, D.C., Viasat completed a successful connectivity demonstration focused on bringing access to advanced cloud capabilities to the tactical edge.
The demo, which was attended by a number of representatives from the U.S. Army, showed how Viasat's SATCOM architecture and LOS tactical network can provide a holistic communications solution by integrating Link 16, Mobile Ad-Hoc Networking, WiFi and LTE technologies to significantly enhance situational awareness at the tactical edge and fulfill emerging U.S. government concepts of operation.
Throughout the demonstration, Viasat's SATCOM network and LOS technologies provided a secure, high-speed, resilient backbone connection to link connected devices to media-rich AI and machine learning-based applications offered by a number of today's cloud technology providers.
Viasat will provide ubiquitous and secure SATCOM required to access cloud-enabled military applications via its Hybrid Adaptive Network (HAN) concept.
The HAN provides access to Viasat's end-to-end SATCOM innovations such as active cyber defense, layered resiliency and elite satellite capacity to support a range of operations requiring IoBT and cloud-based applications.
The HAN allows users to seamlessly operate across different networks (both government and private sector), creating an end-to-end layered, resilient network that is unique to Viasat and not offered by any other provider today.
Ken Peterman, President, Government Systems, Viasat, said that the company is partnering with global cloud computing leaders to bring advanced AI and machine learning-based operational capabilities to the warfighter — from predictive analytics and media rich intelligence, surveillance and reconnaissance data to prescriptive outputs.
Peterman added that through Viasat's modernized end-to-end communications network, the company will empower warfighters with advanced data-driven insights and operational capabilities that will allow them to make the most informed decisions possible — even in the fog of war. This demonstration shows the power of the Viasat SATCOM network and LOS innovations to deliver the next-generation internet of battlefield things (IoBT) to significantly improve military readiness and mission effectiveness.
www.viasat.com
---