Microchip Technology
By Ken O'Neill, Director of Marketing, Space and Aviation

As a leading supplier of radiation-hardened and radiation-tolerant electronic components for satellite systems, Microchip enjoys a unique vantage point to observe developments in the satellite industry.
This vantage point was further enhanced with Microchip's May 2018 acquisition of Microsemi Corporation, which combined Microchip's family of radiation-hardened and radiation-tolerant processors, memory products, custom ASICs and standard products with Microsemi's complementary portfolio of FPGAs, mixed-signal ICs, clocks, oscillators, discrete semiconductors and power converters. The past year has seen continued high levels of investment in new space programs, running the gamut of commercial revenue-generating programs, civilian and scientific programs, and national security programs.
Over the course of 2018, the company has seen continued divergence in the satellite industry, as some programs continue the tried-and-trusted approach of using highly qualified, highly screened components for high capability spacecraft, while other programs adopt a less conservative approach using components that are not specifically built and tested for space-flight use, in an effort to reduce cost and improve procurement and manufacturing cycle times. Supporting this divergence in requirements can be accomplished by continuing to invest in high-level qualifications for radiation-hardened and radiation-tolerant components, while at the same time taking a novel approach to enable developers of satellite constellations make use of products with established space-flight heritage without paying for expensive screening required by traditional space programs.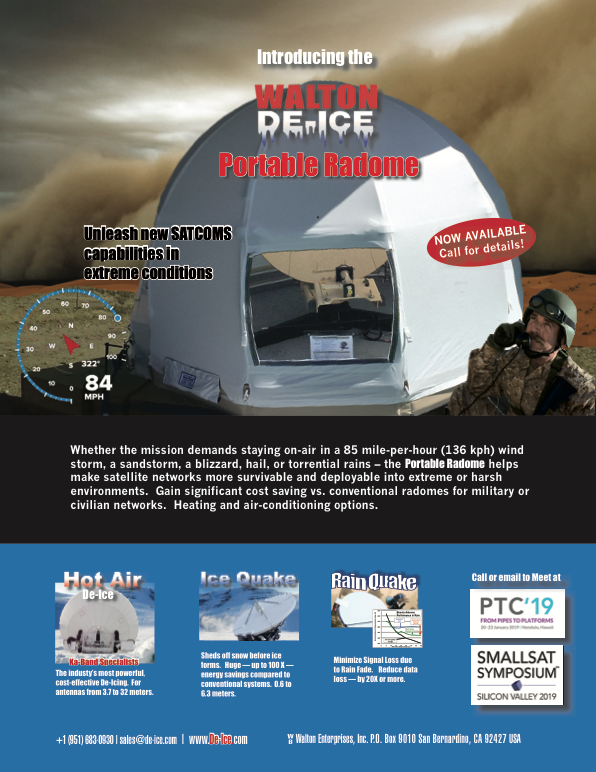 For many years, the development of national security space (NSS) programs has required the use of the highest levels of component qualification and screening. The security of our nation depends on the flawless, continuous operation of these satellite programs, which provide precise timing and navigation data, surveillance and reconnaissance information, ICBM early warning and secure communications for our military. These are missions which cannot tolerate any failure, requiring the use of components screened to QML (Qualified Manufacturers Listing, the prevailing U.S. Government (USG) standard for component qualification and screening) Class V, Class K and JANS standards.
Microchip has a long heritage of investing in the development of electronic components which meet the requirements of these QML standards — 2018 saw the culmination of many years of effort in the qualification of the RTG4 radiation-tolerant field programmable gate array (FPGA) family to the QML Class V standard, which is the ultimate in reliability assurance for monolithic microcircuits. In addition, Microchip shipped the first QML-screened versions of its LX7730 Telemetry Manager, a unique mixed-signal electronic component which simplifies the acquisition of critical telemetry data in space systems by integrating into a single small package many of the components required to gather dozens of telemetry channels measuring current, voltage, temperature, mechanical strain, magnetic field and other physical parameters required to assure the long-term health and operation of the satellite. The LX7730 does this while offering a dramatic reduction in board space, power consumption, heat dissipation and bill of materials cost.
In addition to the traditional missions using highly qualified and screened components, we have seen a growth in interest in satellite programs characteristic of the "responsive space" initiative first proposed by the U.S. Air Force around 10 years ago. The thinking behind the initiative is that not all national security space satellites need the highest qualified components, and in fact there are advantages in building satellites quickly and cheaply in order to provide the military consumers of satellite services access to mission-critical data sooner.
The availability of low-cost launch services has helped to make this vision a reality, and military satellite operators are reaping the benefit by having access to imaging data with much faster revisit rates, so that imagery is much more recent when the warfighter on the ground receives it. Programs are being implemented to examine the use of Commercial-Off-The-Shelf (COTS) electronic components in responsive space applications, however COTS components create some cost of ownership issues associated with lack of radiation and reliability data, lack of manufacturing lot traceability and decreased levels of technical support relative to QML components.
This past year Microchip launched two key initiatives to assist developers of responsive space programs solve these and other difficult cost and delivery challenges.
The first initiative, called the "Sub-QML" program, allows developers of low-cost satellite constellations to bridge the gap between commercial and QML Class V options by purchasing radiation-tolerant components with space flight heritage in cost-reduced packages, with screening reduced to levels less than QML components. The elimination of QML screening reduces the manufacturing cost of the components, and also improves the lead time, enabling components to be ordered closer to the critical need date for satellite manufacturing.The advantage of Sub-QML is that the components being offered have radiation and reliability data, which reduces the cost of ownership of the satellite developer, who would otherwise need to perform a large amount of component radiation testing and reliability up-screening if they were planning to use a commercial part without any space-flight heritage. Several Microchip radiation-tolerant (RT) components, including FPGAs and mixed signal standard products, are available in Sub-QML form.
The second initiative rolled out in 2018 is the COTS-To-RT initiative. This initiative takes reliable commercial products which have been qualified to the automotive AEC-Q standard, increases the radiation performance by process improvements and then characterizes their radiation performance. Flight risk is mitigated by starting with a proven design that has been qualified for a safety critical automotive application. Hardware prototyping and software development can be initiated early in the design cycle with commercial hardware while the RT part is being developed.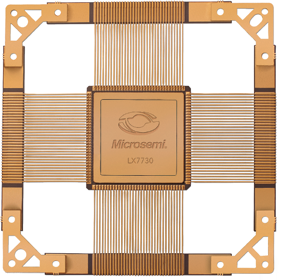 Microchip's LX7730 Radiation Tolerant
Telemetry Controller
By characterizing the response of the components to radiation with total ionizing dose (TID) and single event effect (SEE) tests, Microchip assures satellite developers that the components are suitable for Low Earth Orbit (LEO) missions and, in some cases, for Geosynchronous (GEO), Mid-Earth Orbit (MEO), and Highly Elliptical Orbit (HEO) missions. Microchip offers a variety of microprocessor and microcontroller products in the COTS-to-RT program.
Another theme in 2018 was the continued emergence and development of the RISC-V open instruction set architecture for microprocessors. This has brought designers greater freedom to adjust and optimize the processor microarchitecture so that it optimally meets the needs of their development program. It also allows designers full inspection of HDL code for the purposes of design assurance and trust, without incurring very large charges from intellectual property (IP) vendors. In collaboration with our IP partners, Microchip has made available multiple versions of RISC-V processor cores which have been ported and optimized to the RTG4 FPGA architecture.
This year also saw the introduction of an innovative solution for precision timekeeping on satellites. Atomic clocks have been used in satellites for precision navigation and timing purposes for more than 40 years; however they have been used only for the most critical applications, due to their size, mass and cost. Microchip introduced a highly miniaturized Chip Scale Atomic Clock (CSAC) for terrestrial and airborne applications in 2016, and in 2018, introduced a Space CSAC with improved radiation characteristics relative to the commercial product.
The Space CSAC allows satellite developers to create a GPS holdover capability so that the satellite can continue to function with highly accurate timekeeping in the event of a denial-of-service attack on the GPS constellation. The new Space CSAC product has extremely low power consumption of 120mW max, in a highly miniaturized form factor occupying less than 17 cubic centimeters. Characterization of radiation TID and SEE indicates suitability for most LEO applications, and potentially short-duration GEO and deep space missions. CSAC provides intrinsic frequency accuracy of 5x10-10, giving the Space CSAC greater stability than crystal oscillators with significant reductions in size weight and power. In addition, CSAC is capable of providing autonomous time to the system.
Governed by our DOC200103, Rev G, Microchip has also introduced a new family of Temperature Compensated Crystal Oscillators (TCXOs), which provides a wide frequency range combined with low power and an industry-leading small form factor. Heralded as the "smallest space-qualified TCXO in the world," the 2105/2205/2115/2215 platforms boast a 10 percent smaller surface area and
30 percent smaller volume than their next closest rival. This new flatpack enclosure is also available with optional lead-forming. Radiation performance is suitable for all Earth orbits and deep space applications requiring a tolerance up to 100krad (Si).
2018 has proven to be a robust year for the national security space market, and at the same time, it has been a period of change. We have seen funding released on many new programs as well as evolving requirements for component screening and qualification. We can be sure that 2019 will bring new challenges and opportunities. At Microchip we expect the debate and discussion on component screening levels to continue and intensify, and we are well-positioned to support program requirements on both ends of the component reliability assurance spectrum.
www.microchip.com
---
Modular Devices, Inc. (MDI)
By Chris Alfenito, Director of Sales and Marketing

Modular Devices Inc. (MDI), a small privately held U.S. Corporation, has established itself for 45 years as a global power engineering resource that designs and manufactures high reliability power solutions for demanding applications. The company concentrates on DC power systems and subsystems.
MDI measures success a bit differently than most companies. One of their most critical assessment factors is focused on how satisfied their clients are with MDI — not just the products, but across the spectra of the complete transaction.
The company's aim is to be responsive to their clients' needs before, during and after a sale. This is a collaborative approach with the firm's client partners, from the initial contact through in-depth engineering discussions and throughout the length of the program.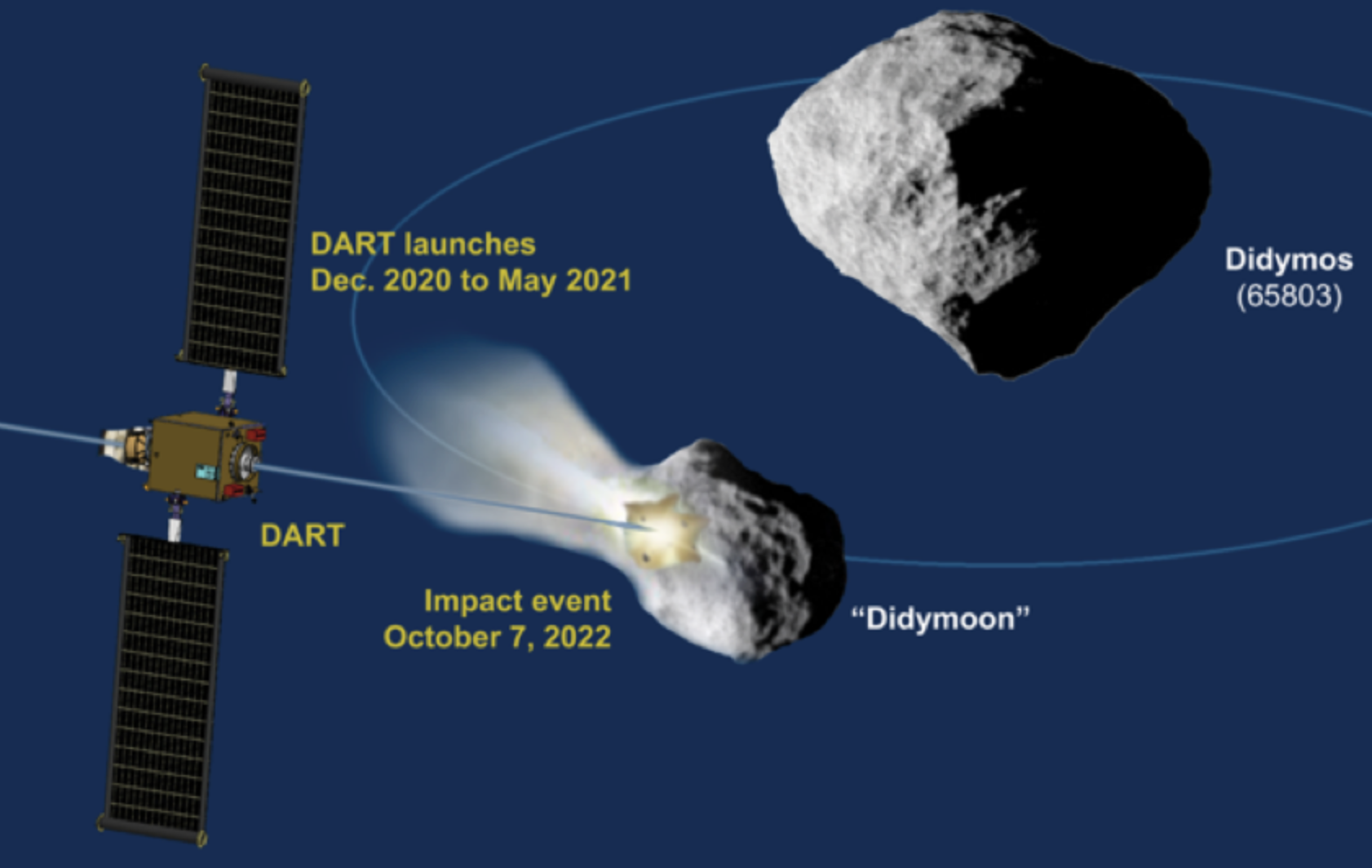 MDI offers lifetime support for their products. The company has yet to obsolete a product that is still required or requested by their customers.
One hundred percent of MDI products are designed, fabricated, tested and delivered from their facility on Long Island, New York. The staff has decades of experience in all key areas that allow them to comply with programmatic requirements that only larger scale organizations usually area able to offer.
More often than not, MDI provides clients with solutions for their power needs based on a custom or semi-custom requirement. The firm's clientele demand unique solutions for their programs and. MDI strives to ensure their mission success.
MDI products range from simple Point Of Load (POL) regulators to multi-output Rad Hard Fully isolated DC-DC converters, Solid State Relays (SSR), In Rush limiters, sequenced power switching modules, and EMI Filters.
MDI products are found in: Exo-planetary, GEO, & LEO space programs, military aerospace, Naval and ground systems, as well as nuclear power and high energy particle physics research activities.
2018 was a most exciting year for MDI. The company is extremely proud of the programs on which they were able to participate. In space, in the air, on land, and in the oceans, MDI products and designs find their place.
In Space
• NASA Planetary Defense Coordination Office, DART Mission (Dual Asteroid Redirect Test) is going to "nudge" a small asteroid, 11 million km away with a 500 kg spacecraft traveling at 6km/s (Mach 16) with an Ion Thrust Engine.
• Helping to develop systems for new astronaut space suits and health monitoring aboard the ISS.
• CMIS (Compact Midwave Imaging Sensor) for high spatial resolution stereo imaging of clouds so as to enable 3D wind and cloud height observations during both day and night.
• Continuing in the exploration of our universe through such programs as the AMS (Alpha Magnetic Spectrometer) aboard the ISS searching for dark matter and ongoing subatomic particle physics research at CERN at the Large Hadron Collider.
• Working on next generation of spacecraft subsystems including scientific military and commercial constellations. This has covered a range of programs including space borne telescopes, Space borne lasers, Exoplanetary robotic exploration, and LEO Constellations.
• MDI is especially proud of their clients' recent successful launches to further Earth Observation Science systems globally.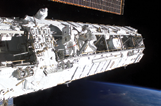 In Aerospace
• A Light Combat Aircraft pressure sensor power supply with a truly unique form factor.
• Continuing support of the warfighter on programs such as the AAGRM, SDB, LAIRCM, and Flight telemetry data systems through our defense contractor partners.
Undersea
• Working with one of the key domestic UUV developers to supply power systems for the unique requirements of the mission environment.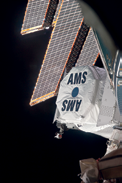 A more general overlook would be MDI's continuing advancement in product reliability and performance while undertaking significant reductions in cost to manufacture and lead time. The drive for lower cost spacecraft delivered in significantly less time than historically available has provided fertile ground for development in a number of areas including design, manufacturing, and qualification testing.
One such example is the 3700 Basic Building Block Series of DC-DC Converter. While a fully hermetic package is offered, MDI has found alternative manufacturing techniques that significantly reduce the cost to manufacture of the assembly while maintaining the performance and reliability the industry demands.
As a "build to order house," MDI is continually faced by challenges that most high-mix/low-volume manufactures encounter.
Continually evolving product specifications, development and design, supply chain management, and production flow are some of the impediments encountered and overcome regularly, by using their collective experience to the maximum extent possible.
MDI produces 30 to 50 new product designs every year.

The constant industry demand for higher power, smaller footprints, Rad Hard SSR's (Solid State Relays) in NO (Normally Open), NC (Normally Closed) and Form C configurations, GaN device implementation and optimization, higher efficiencies, better EMI performance — these are all key product development areas.
The Commercial Space market vs. Government/Military space market is going to witness some dynamic swings in the coming year. The drive for a balance between quicker delivery, lower cost yet proven reliable performance of commercially available components and subsystems will force the industry to consider new paths forward.
MDI looks forward to meeting these challenges with unique products and programmatic solutions during the year to come.
www.mdipower.com
Chris Alfenito is the Director of Sales and Marketing for Modular Devices, Inc., and is based in Shirley, New York.
---
Newtec
By Koen Willems, Head, International Government Satcom

In light of the increasing tensions in global military hot spots and the growing amount of natural disasters around the world due to global warming, the need for disruptive innovation is gaining more urgency in order to enable us to face the challenges of today and tomorrow.
The contributions to innovations that the satellite community brings evolve around 5G, the upcoming LEO, MEO and GEO High Throughput Satellite (HTS) constellations and agile, efficient and resilient communications to serve the needs of the dispersed and increasingly mobile military and humanitarian end-user.
The 5G revolution is more than simply marketing buzz. 5G is the fifth generation of cellular mobile communications, which promises higher data rates, reduced latency, energy saving, cost reduction and higher system capacity — all aspects of which are relevant in the military context. In fact, 5G serves as an aggregator technology that involves both satellite and terrestrial communications and encompasses a range of network types, applications and services including voice, data and video. The end-user remains connected to the 5G network across networks, devices and platforms such as vehicles, vessels and sensors. As such, there is a high degree of synergy between 5G and the Newtec Dialog® multi-service platform, a multi-application system that connects multiple platforms on land, air and sea.
Linked to 5G connectivity, there will be an increased need for high data throughput and low latency required by new, HTS constellations to cater for the bandwidth hungry sensors and mission critical communications. At the same time, the new LEO, MEO and GEO satellites and networks will need to address operations at sea, on land and in the air on a global scale.
To address the complexity of military operations the end-user demands, small and easy to use satellite terminals with global connectivity to provide high throughput across OTM, OTP and fixed platforms. As with the 5G network and smartphones, the ground segment technology, the space segment and the services they deliver need to go hand in hand in a satellite network. With the new satellite constellations, these can no longer be considered separate entities. The Newtec Dialog VSAT platform hosts a concerto of technologies such as efficient waveforms, adaptive coding and modulation, beam switching, roaming, beam forming and satellite hand-over technologies to provide the end-user with seamless and agile communications across government and defense satellite networks whether they are traditional wideband satellites or new HTS constellations.
European Protected Waveform
Innovations also focus on increasing security concerns. In today's military applications over satellite, security, information assurance and link efficiency technologies are inextricably linked. Different initiatives to make satellite communications more secure and reliable have not only been kicked off in the military context, but also increasingly in government and mission critical commercial applications. Individual nations (U.S., UK, France, etc.) are investing in the creation of their own protected satellite waveform to provide their homeland and peacekeeping operations with reliable, secure and consistent communications throughout a mission. These investments are entirely carried by large military nations for their own sovereign core tactical networks. Later, a trimmed down version of the protected waveform is sometimes shared with partner nations. Consequently, smaller nations do not always have the same access to protected waveforms.
The deteriorating security environment surrounding Europe, along with migration crisis and internal security threats, increases the need for Europe to invest in security and defense- related subjects. Brexit and the uncertainties created by the U.S. administration further complicate the global security landscape, calling for further European autonomy.
Against the backdrop of increased European focus on security, different initiatives such as PESCO (Permanent Structured Cooperation), EDAP (European Defence Action Plan), EDF (European Development Fund), EDIDP (European Defence Industrial Development Program) and GovSatcom (Governmental Satellite Communications) were launched to boost the cooperation between European nations and industries. Individual European nations are no longer capable of injecting large investments into the study and development of security and defense technology. Only through cooperation across European borders with the support of European-funded programs can both nations and industries obtain the latest innovative technology that can face the security challenges of today and tomorrow. In an increasingly digital world, secure satellite communications are at the core of the discussions to achieve a secure European environment.
Newtec supports the development of a European Protected Waveform (EPW) that can be shared among European nations for their military satellite networks to secure their communications in peacetime and during operations. A study should first check the end-user requirements and benchmark existing solutions in the market. In the end, the EPW should contribute to European autonomy and have the flexibility to be used for multiple applications and platforms (fixed, on-the-move and on-the-pause) based on Software Defined Radio (SDR) devices.
The EPW project should be ambitious and combine the individual strengths of different nations and different members of the European satellite industry. The EPW program must be innovative and investigate future capabilities to support future government and defense operations, programs and satellite network designs.
Planning the Next Operation
Thorough planning is an intrinsic element of any peacekeeping or humanitarian operation. Planning and managing a satellite network that covers multiple operations and theaters is not an easy exercise for network operators because a lot of elements need to be considered both on the space segment, ground segment and service side. Traditionally, such a satellite capacity planning exercise took a long time to prepare, required a diverse set of tools that were not centralized and even during the operation regular interventions were commonplace because extra capacity was needed, throughput requirements changed or operations were moving locations.
The good news is that, today, planning no longer needs to be tedious, time-consuming or absorb a lot of resources. As part of the toolkit that goes along with the Newtec Dialog VSAT platform and its Network Management System (NMS), Newtec introduces the Newtec Dialog Satellite Network Calculator. This tool provides instant insight into the performance and potential of the satellite network, replacing multiple planning and calculation tools with a single user interface and the efficiency of planning the next government and defense satellite network. In short, a real-time dashboard for the next operation.
The Newtec Dialog Satellite Network Calculator was conceived out of the increasing request from satellite network operators to merge the multitude of planning, link budget and calculating tools into a common, real-time dashboard connecting inputs and results from ground segment, satellite data and network capabilities. More efficient planning results in more effective operations. A free, trial version of the tool is available at the Newtec webpage (www.newtec.eu).
2018, Another Successful Year for Newtec
With the Newtec financial year closing at the end of September, the company already have a good idea of the overall 2018 results for the company. For the fifth year in a row, Newtec can present a double-digit percentage revenue growth.
The overall revenue for FY2018 increased close to 20 percent, while the government and defence revenue grew at a stunning 45 percent. You will need to look hard in the satellite communication industry to find such impressive results. The growth can be directly related to the success of the Newtec Dialog VSAT platform and the Newtec MDM9000 DVB-S2X modem in the Government and Defense market. We saw implementations of the Newtec Dialog solution in embassy networks, MoD networks, airborne ISR networks, welfare programs and humanitarian relief projects. Some of these are published at the Newtec webpage. Both the Newtec Dialog and the Newtec MDM9000 modem are WGS certification pending. The certification for the MDM9000 SCPC modem is expected by the end of 2018. As such, the MDM9000 is the DVB-S2X modem for military applications and the first DVB-S2X modem on WGS enabling high throughput and high efficiency for bandwidth hungry applications such as ISR.
The success formula of the WGS pending Newtec Dialog® VSAT platform for the government and defense market consists of nine main ingredients. The main ingredient (and the Newtec house specialty) is waveform efficiency, where Newtec, thanks to its DVB-S2X and Newtec Mx-DMA technologies, can provide double throughput at the highest service availability. The Newtec Dialog® platform will relay and exchange a mix of video, data and voice services (multiservice) coming from remote fixed, on-the-pause and on-the-move assets (mobility) in a seamless way. These assets are either part of a regional or global network (global connectivity). The size of the network can be scaled (scalability) depending on the increase of operations over time or when budgets become available.
As the Newtec Dialog system finds its origins in commercial networks, this Commercial-Off-The-Shelf (COTS) VSAT system is affordable and also combines OPEX and CAPEX savings. The platform embraces the growing complexity of satellite government and defense networks allowing to adapt infrastructure elements and services to the operations at hand (flexibility and agility). Furthermore, the platform is easy to operate, manage and install, as demonstrated in the above segment on planning the next operation.
Finally, security is high on the list of the Newtec Dialog® platform, avoiding revealing the location of the terminal by not exchanging any GPS coordinates and providing the capability to mute transmissions during operations. Interception can be avoided through the inherent Newtec Mx-DMA government-grade frequency hopping feature.
www.newtec.eu
Koen Willems started his career in 1998 with Lernout&Hauspie as a project manager in the Consulting & Services division. More recently, he joined Toshiba as a Product Marketing Manager for the Benelux and, later, for the European market. In a total of 6 years, Koen contributed to all of the major Toshiba Retail IT product releases. Mr. Willems is, currently the Market Director for Government and Defnese for Newtec, a Belgium-based specialist in satellite communications. Koen holds a degree in Germanic Languages (University Ghent, Belgium, 1997) and completed a Masters degree in Marketing Management program at the Vlekho Business School in Brussels (1998).
---
Norsat International, Inc.
By Dr. Amiee Chan, President and Chief Executive Officer

2018 has been a year of tremendous market success for Norsat International through a wave of new product development and diversification into new markets.
During the past year, fly-away satellite terminals witnessed significant growth, especially within applications such as military intelligence and broadbase disaster response. This proved to be beneficial for Norsat, as the satellite communications market is expected to register a CAGR of more than 8.46 percent during the forecast period of 2018 to 2023.
Through our constant industry interactions, customer requirements and R&D, Norsat is showing that products can be rugged, reliable, and cost effective.
In 2018, Norsat developed and introduced next-generation terminals and a new lineup of compact microwave components and systems for the commercial and military markets. Whether customers are flying at 40,000 feet, in the middle of a rescue operation in a cave or driving leisurely across the country, Norsat delivers the best products to enable seamless communication.
Success Starts the Year
Norsat's ATOM series of block upconverters are world-renowned for being one of the most powerful BUCs, with the best industry size, weight, power and efficiency.
With a strong focus on research and new product development, Norsat's ATOM 50 Watt Ka-band BUC and the industry's first 4- and 5-band Ka LNBs were launched, making the Norsat Ka-band satellite components offering one of the richest in the industry.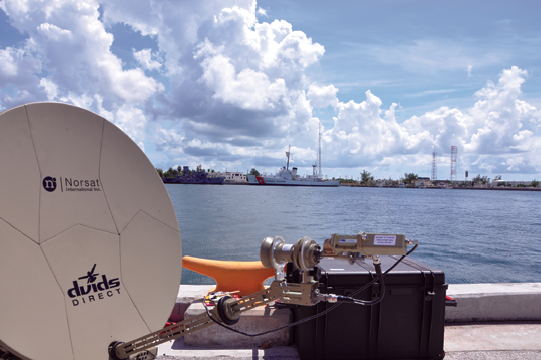 Norsat supports the United States Coast Guard.
New Markets Diversification
Commercial terminals have evolved over the years to become vital tools in the satellite industry. Norsat's market analysis revealed that light-weight, commercial terminals are becoming a mainstay for organizations that have to launch broadband connections in time-sensitive conditions. What originated as simple video or data uplink from a quick-deployable device has developed into an entire market segment.
Toward the end of 2017, there was an immediate and increasing customer demand for commercial satellite terminals in numerous designs, each slightly unique from each other, envisioned for specific applications. Keeping this in mind, customer-focused product development proved to be a key motivator for Norsat this year.
A further step in our market diversification was the launch of Norsat's WAYFARER™ series of ultra-portable commercial satellite terminals at the NAB Show in Las Vegas, in April. This was a strategic move to further meet the increasing needs of our non-military customers seeking high quality and high value solutions.
This series includes an easy-to-deploy drive-away, fly-away and fixed terminal solution. Products in this series are ideal for a variety of commercial applications including broadcast, oil and gas, mining, forestry, emergency response and remote enterprises, enabling us to reach out to new markets. Our commercial customers have praised the fast setup, tool-free installation and weather-proof construction.
Think Local, Act Global
With a history of more than 40 years of success, Norsat is well known locally in North America as the leading provider of innovative communication solutions for remote and challenging environments. This year, however, we have been witnessing significant orders from EMEA. This enabled Norsat to deliver its signature North American quality products overseas.
Europe holds one of the largest global market shares for the Satellite Services Market due to the presence of large integrators and operators and an increasing number of commercial customers using satellite communication as part of their overall communications plan.
Additionally, the joint venture of European Commission and European ICT industry to provide the 5G Infrastructure Public Private Partnership (5G PPP), will deliver solutions, architectures, technologies and standards for the ubiquitous next-generation communication infrastructures of the coming decade.
The company received a $3 million order from this region in mid-2018. Another set of products that witnessed significant growth and were a major success were the 4- and 5-band Ka LNBs. Our 1:1 and 1:2 redundant switch system witnessed a surge in growth, as well.
Moving Forward
Known globally as an organization with a unique ability to 'customize fast', customers expect Norsat to deliver extremely specialized products quickly.
Rather than a mass-market approach, the company treats every customer's business as our own by developing solutions that adapt quickly to their applications. What has helped us survive and excel in the long run, for over four decades — is Norsat's exceptional dedication to the LEAN Kaizen philosophy.
Every year, we witness changing macroeconomic conditions, new technology with increasing competition. LEAN, done correctly, helps us maintain quality, be more flexible and adaptable to change as it occurs, rather than having customers suffer because of delayed responses.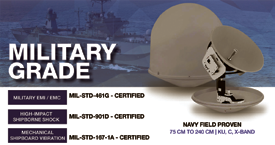 Every employee at Norsat believes that 'not a single process is exempt from improvement' — hence, striving for excellence is a continuous process. Norsat is one of the top organizations in Canada following LEAN, with every employee going through LEAN training, with six Green Belts, and three Black Belt certifications present in our current team. In 2019, our LEAN goal is ultimate customer delight. We are working toward achieving one of the shortest lead times in the industry with the highest quality products, by making our business processes more efficient.
As we move into 2019, the growth of the SATCOM market is anticipated to be driven by high demand for uninterrupted, customizable, energy-efficient communication systems with longer lifespans, greater functionalities and dependability — which is exactly what Norsat provides.
Norsat will continue to expand our international customer base, closing deals in Europe, Asia, and South America. Moreover, we have already pledged a heavy investment in R&D and to all that is possible to ease the customer journey through the launch of the company's ecommerce platform.
2019 will, indeed, be a promising year for Norsat with significant new projects already underway.
www.norsat.com
Dr. Amiee Chan, President and CEO has more than 20 years of experience in executive management and research & development in the telecommunications industry. Offering a rare blend of technical and corporate strength, Dr. Chan's strategic vision has driven Norsat's innovative product development program and resulted in consistent revenue growth since her appointment as CEO in 2006. Dr. Chan currently holds three U.S. patents in satellite technologies and has been involved in high level research teams such as the NASA ACTS Terminal Program.
Dr. Chan holds an Executive MBA from Simon Fraser University where she majored in Strategy & New Ventures, as well as an Electrical Engineering Ph. D. in Satellite Communications from the University of British Columbia. Dr. Chan currently serves on the Dean's External Advisory Board for the Beedie School of Business at SFU, the Science World Board of Directors and the UBC Engineering Advisory Council.
---