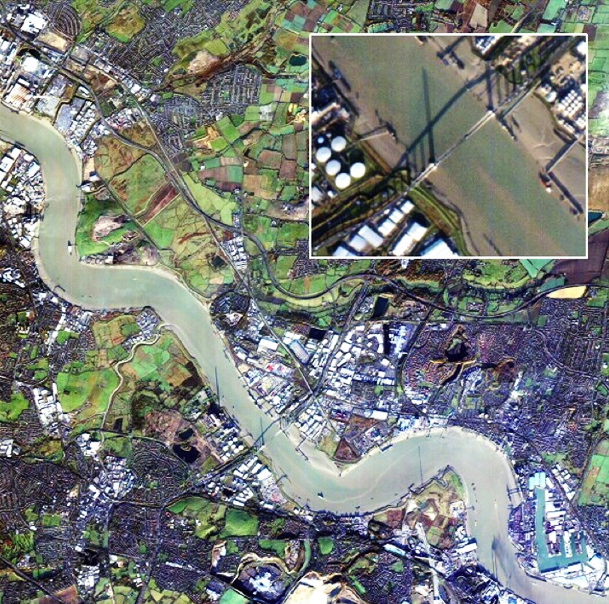 In an era of growing concerns about international terrorism and an uncertain global balance of power, the gathering of intelligence for defense and security purposes is of growing importance to governments worldwide. The development of a wide range of Earth observation (EO) technologies has led intelligence and defense agencies to focus increasingly on Image Intelligence (IMINT) and its derived geospatial information (GEOINT). While manned aerial solutions and proprietary defense systems have been the traditional sources of IMINT, continuing budget constraints on extensive reconnaissance satellite systems have led government defense agencies to explore other mechanisms to meet their IMINT requirements.
From 2000 to 2009, defense agencies in nine countries launched 57 satellites representing overall revenues of
$12.5 billion
for the satellite manufacturing industry globally. Over the coming decade the number of satellites launched for these purposes is set to grow significantly, while the average revenue per satellite is expected to grow slightly, generating $18.3 billion for the manufacturing market.
Although new government program announcements are likely, the high barriers to entry associated with launching a constellation of defense reconnaissance satellites will limit the number of countries that are capable of developing such extensive systems. This leaves the question of how a country can fulfill its IMINT requirements in a cost effective manner, without too many trade-offs.
One mechanism used to procure defense satellites is to spread costs and usage across multiple defense and civil government departments, so called "dual-use" systems. Italy's
COSMO-Skymed
constellation and the French
Pleiades
are examples of such systems. Offering data from these satellites in the commercial market, as is being done through e-GEOS (COSMO-Skymed) and will be done with
SPOT Image
(Pleiades), allows the government agencies to earn a return on their investments while still being able to use the imagery themselves.
Another option for government agencies is to develop bilateral and multilateral partnerships with other nations. Such arrangements are expected to increase as countries leverage their own assets in order to negotiate access to third-party systems. This is particularly attractive when a country lacks a specific data capacity and/or wants to add robustness to its data collection capacity. For example, France (which does not operate any defense radar satellites) will be able to access data from the German radar
SAR-Lupe
system beginning in 2010. In return, Germany will be able to access the French optical
Helios
system data under the two countries' respective contractual agreements. France has a similar agreement with Italy to access the radar COSMO-Skymed constellation.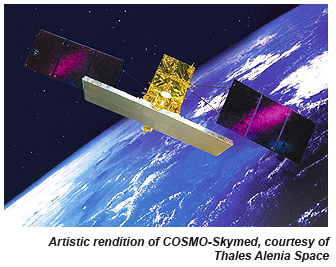 In Europe in particular, where an increasing number of countries have acquired defense/dual-use satellite systems, greater coordination and cooperation is called for.
As a starting point, six nations (Belgium, Germany, Greece, France, Italy and Spain) committed to the development of the
Multinational Space-based Imaging System
(
MUSIS
) in 2006. This will incorporate systems developed at a national level and related ground segments. Further missions may emerge through the MUSIS agreement at both a national and multi-national level.
Finally, with increasing technological advances in higher resolution datasets, improved image accuracy and reduced revisit times, commercial EO data is becoming a viable solution for certain defense and military agency IMINT requirements.
Prior to 1999, commercial data solutions simply weren't a suitable solution for key defense applications such as routine intelligence gathering and surveillance. This changed with the launch of
IKONOS
in that year, the world's first high-resolution commercial system. Since then, two U.S.-based commercial operators have launched satellites capable of high-resolution imaging that enabled them to increase their satellite capacity and service offerings. Through large service-level agreements for satellite data supply and because of a U.S. data policy of "buy commercial first," these companies have emerged as key partners for the
U.S. National Geospatial-Intelligence Agency
(
NGA
). Through these agreements, the NGA has emerged as the largest consumer of commercial remote sensing data globally.
In 2009, the market for commercial data for defense and security applications was valued at $735 million, representing 62 percent of the overall commercial data market. Of this amount, more than half was purchased by the U.S. government. The NGA is expected to remain the primary customer for commercial data for the foreseeable future because of both the new EnhancedView procurement contract expected to be agreed upon in 2010, and the establishment of contracts between the NGA and foreign commercial systems for commercial radar data supply over 2009/2010.
For the commercial EO satellite operator, particularly U.S.-based operators, a key challenge is how to expand their data offerings to other countries outside of the U.S. market where adoption has remained more modest.Other markets have been slow to embrace the commercial data solution for defense applications primarily because commercial data suitable for defense and security purposes has become available only relatively recently.
However, in the coming decade, the next generation of high-resolution, high-accuracy commercial solutions and development of data-reseller networks around the world will contribute to growing adoption in a number of other markets. As such, Euroconsult anticipates that revenues for the commercial data providers will reach $2.6 billion for government defense and security by 2019.
In a new report, "
Earth Observation: Defense & Security, World Prospects to 2019
," Euroconsult has examined government attitudes toward EO procurement, including customer requirements for IMINT/GEOINT; the use of satellites and UAVs to gather data; and the risks and challenges governments face in using commercial data.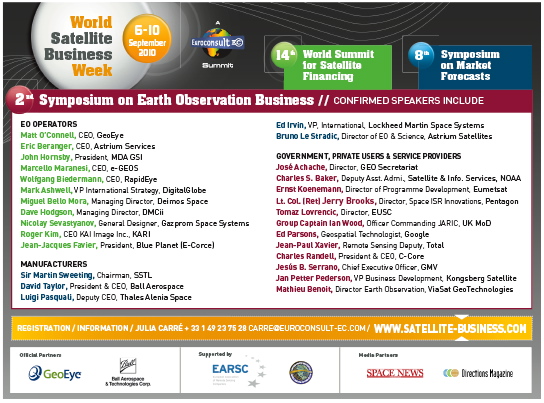 An emerging global trend is the establishment of government-centralized procurement bodies to consolidate the needs of defense departments and decide upon the best mechanisms for responding to their IMINT requirements, including building sole-defense proprietary systems; dual-use systems (implying civil and defense government usage); leveraging data through bi/multilateral cooperation agreements; expanding aerial and UAV capacity or purchasing commercial data; or, most likely, a combination of these factors.
About the author
Adam is principal author for the Satellite-Based Earth Observation, Market Prospects report and is a specialist in remote sensing. He contributes to several other Euroconsult reports. Prior to joining Euroconsult, Adam worked at the European Space Agency, within the Directorate of Earth Observation, primarily analyzing market and value chain development.
Opening image is courtesy of GeoEye... Last year, the National Geospatial-Intelligence Agency (NGA), a US Department of Defense combat support agency, awarded GeoEye (formerly Orbimage) in Dulles, VA a $214.2 million firm-fixed-price contract modification to supply satellite imagery to US government customers from the company's satellite constellation.