Five Eyes coalition forces select Viasat's network encryption products
Viasat (NASDAQ: VSAT) in London announced at Defence & Security Equipment International — DSEI 2019 — that their expansive line of network encryption products are available for use by all Five Eyes (FVEY) partner nations.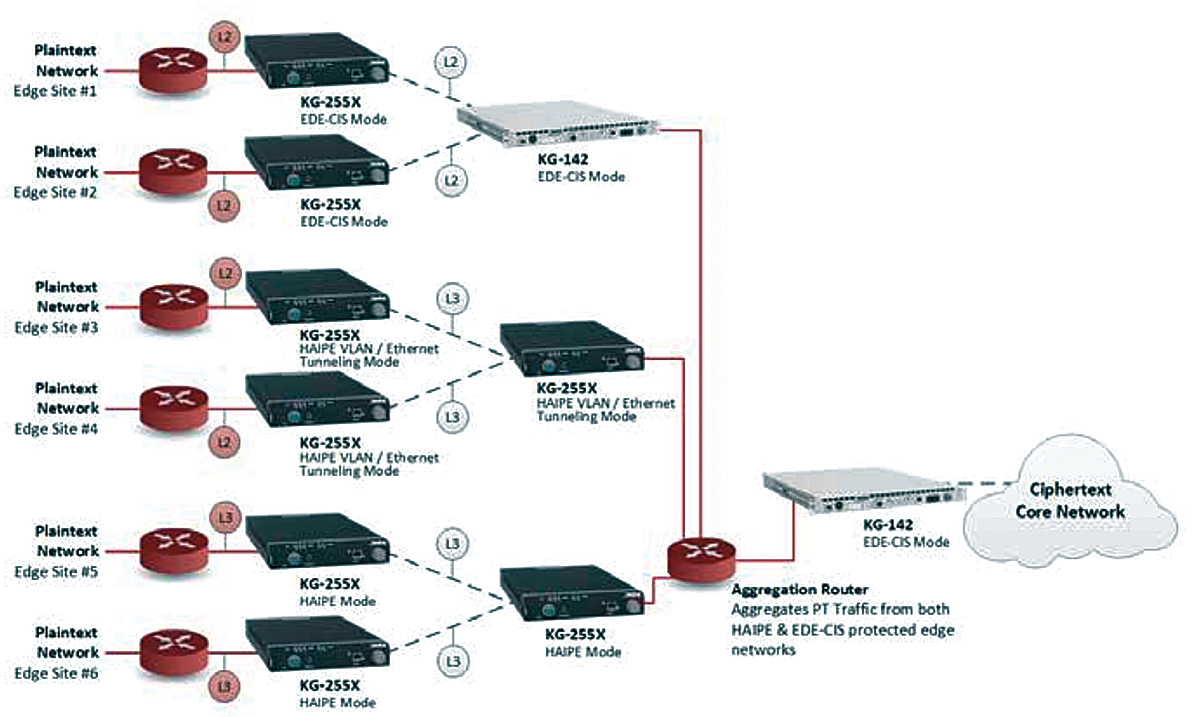 Viasat has more than two decades of experience protecting the integrity of governments' most sensitive information that include the Five Eyes (FVEY) partner nations that are Australia, Canada, New Zealand, United Kingdom and the United States.
Viasat's network encryption products use patented programmable cryptographic technology that is designed to safeguard sensitive information across today's battlespace — from the cloud to the tactical edge.
Viasat is also currently the only U.S. company to support Type 1 encryption for both Layer 2 EDE1 (Ethernet Data Encryption) and Layer 3 HAIPE® (High Assurance Internet Protocol Encryptor) network protocols.
Ken Peterman, President, Government Systems, Viasat commented that the explosion of connected devices, cloud-centric networks and today's rapidly evolving cyber-threats has put the need for enhanced, interoperable network encryption solutions center stage
He added that by offering support for different network topologies across our portfolio of encryption products, we are able to help FVEY government and military organizations secure their communications and sensitive data across next-generation network infrastructures and cloud-based systems.
Viasat stated that the company has a proven track record of first-to-market products in the information assurance and network encryption market, and cited as an example, Viasat was first to offer a 100-gigabit-per-second Type 1 network encryption device, known to the U.S. Government as the KG-142.
www.viasat.com
1Pending certification from the U.S. National Security Agency
---
iDirect Government acquires Glowlink
iDirect Government, a wholly owned subsidiary of ST Engineering iDirect, has acquired Glowlink Communications Technologies, Inc., a Mountain View, California, leader in innovative solutions for mitigating satellite interference and improving the quality of satellite communications.

As a result, Glowlink will add intellectual property, engineering personnel and proprietary technologies to iDirect Government's family and product portfolio including Communication Signal Interference Removal (CSIR™) anti-jam technology and associated products, which will benefit defense and government SATCOM customers globally.

Glowlink's Jeffrey Chu (left) and iDirect Government's
John Ratigan shake hands regarding the acquisition.
iDirect Government's bandwidth-efficient, scalable and highly secure satellite solutions are deployed throughout government and defense agencies worldwide. This enables critical intelligence, surveillance and reconnaissance (ISR), airborne, maritime and communications on the move (COTM) connectivity to support force protection, logistics, situational awareness, disaster recovery and emergency response.
Glowlink is an industry leader in innovative solutions for fighting satellite interference and improving the quality and integrity of satellite communications.
Products span carrier and spectrum monitoring, interference detection and mitigation, geolocation and satellite capacity planning which will directly complement the iDirect Government product line.
John Ratigan, President of iDirect Government, said adversaries have increasingly sophisticated capabilities to jam transmissions over any satellite or a digitally modulated carrier, and the CSIR signal excision anti-jam solution provides immediate benefits to the company's user community.
John added that the best-in-breed CSIR anti-jam technology does not require additional bandwidth compared to existing technologies. This saves customers costs while helping the military overcome threats. Additionally, the nation's military and government customers now will have the best engineering teams from both companies to accelerate innovation cycles, resulting in a fast time to market with anti-jam technology to support their critical connectivity needs whenever and wherever they may be located.
www.idirectgov.com
www.glowlink.com
---
Environment testing of USAF SMC's WFOV satellite completed by Millennium Space Systems
Boeing [NYSE:BA] subsidiary Millennium Space Systems recently completed environmental testing for the U.S. Air Force's Space and Missile Systems Center (SMC) Wide Field of View (WFOV) satellite at Boeing's Space Environment Test Facility in
El Segundo, offering new synergies to the customer.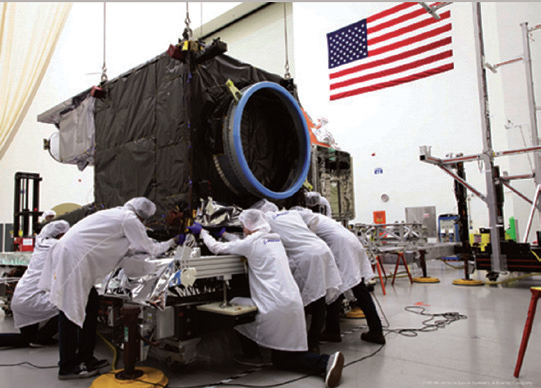 Testing being completed by Millennium Space Systems on the
U.S. Air Force's Space and Missile Systems Center (SMC)
Wide Field of View (WFOV) satellite at Boeing's Space
Environment Test Facility in El Segundo.
The geosynchronous satellite will support the next-generation overhead persistent infrared (OPIR) mission and provide critical risk reduction and mission data that will inform Air Force Space Command's next-generation missile warning system.
According to the WFOV program office, SMC is pleased with just how well the thermal vacuum (TVAC) campaign was conducted and the complete access to the test facility. The TVAC campaign went very smoothly and eliminated significant potential program risk.
The test teams subjected the satellite to a series of sound tests to simulate liftoff and ascent as well as to extreme temperature swings in the large thermal-vacuum chamber to simulate the space environment. The satellite's systems were also evaluated for potential electromagnetic interference in a highly specialized, noise-free anechoic chamber.
Sponsored by the Space and Missile Systems Center and managed by NASA's Ames Research Center, the mid-sized geosynchronous spacecraft is based on Millennium's AQUILA M8 affordable platform series and hosts a transformational OPIR six-degree staring sensor developed under a separate contract by L3Harris Technologies.
WFOV is manifested on a United Launch Alliance ATLAS V rocket currently targeted for launch in 2021.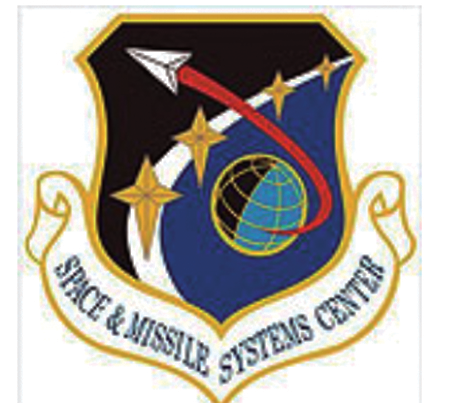 Major Brian Curd, Chief, OPIR Advanced Payloads and Demonstrations, said that one of the largest hurdles remaining for the WFOV program has now been passed. All primary phases of the environmental test campaign have been completed and all look forward to buttoning up the satellite and getting it on-orbit as soon as possible. It will be a great asset to national defense.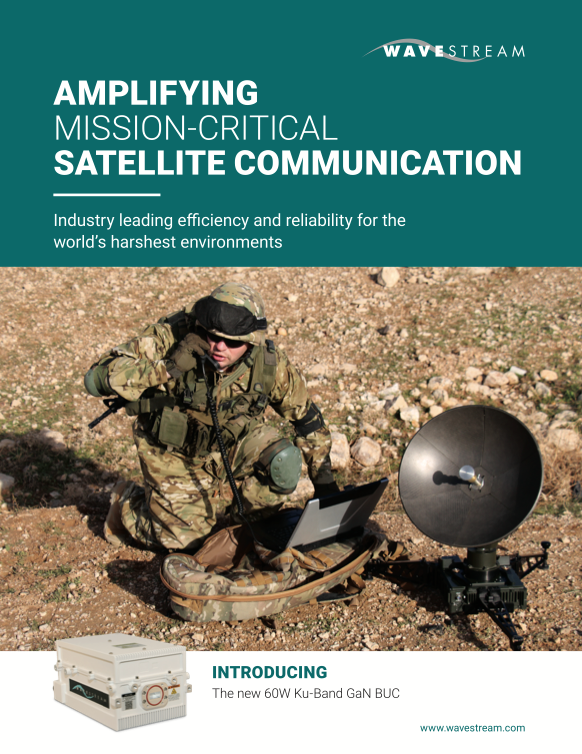 Duane Dier, Millennium's WFOV program manager, added that environmental test completion marks the end of the largest and most comprehensive set of space simulation tests in Millennium Space Systems' 18-year history. These successful tests further demonstrate Millennium's commitment to providing cost-effective and schedule-efficient solutions to the firm's U.S. government customers with flawless execution.
millennium-space.com
---
New power architecture developed for Phasor's ESA technology
Phasor has worked with Vicor to develop a power solution for the company's new system that provides connectivity speeds and bandwidth previously unachievable while on the move, thanks to the Factorized Power Architecture™ (FPA) from Vicor that delivers extremely high current at low voltage to ensure robust mobile communications.
While the technology represents a major breakthrough in delivering reliable satellite connectivity in aeronautical, maritime, land mobile and defense applications, it will also enable the end user traveling on any mode of transportation to enjoy true mobile broadband connectivity, and all the applications that this will enable.
Phasor's modular, flat or conformal, solid-state electronically steered antenna systems are less than 1.5 inches thick, presenting an extremely low profile, and matching the performance of traditional parabolic dish antennas from 40cm to 1m or larger.
Using low-profile components operating at high power density, Phasor's mobile communications systems rely on Vicor's FPA to provide extremely high current at very low voltage.
Vicor's FPA package consists of a Pre-Regulator Module (PRM) and a Voltage Transformation Module (VTM)/Current Multiplier which together deliver the full, regulated, isolated DC-DC converter function.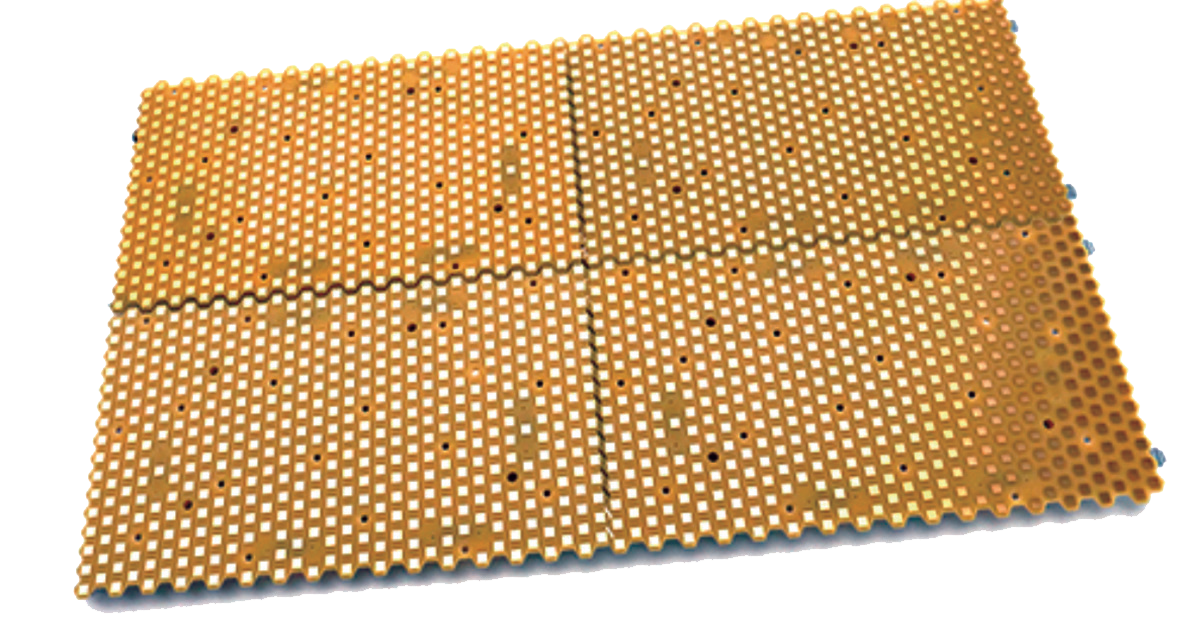 The Voltage Transformation Module (VTM) is a resonant converter and therefore also has very low noise when compared to a hard switched converter.
Vital to realizing performance targets in small and large aperture Phasor ESAs is the ability of Vicor's systems to transform a 48V supply into a 1.5V supply (1V in the next generation of antenna with even higher current).
Phasor's desire to make this transformation at 65A (or even 80A) represented a major design challenge for powering their application-specific integrated circuits (ASICs).
Offering far superior power delivery and efficiency than traditional DC/DC converters, Vicor's approach to transforming voltage eliminates the need for multiple hard-switching converters with several different phases to attain 65A.
Mike Warren, SVP, Operations at Phasor, said Vicor is a valued partner in supporting the technical innovation helping to differentiate Phasor's products. The FPA technology plays an integral role in the company's ESAs and Phasor looks forward to continuing this work with Vicor.
www.phasorsolutions.com
www.vicorpower.com
---
Air Force Space Command concludes wargames
The thirteenth in a series of Air Force Space Command Wargames concluded on September 13 — set in the year 2029, Schriever Wargame 2019 explored critical space and cyberspace issues in depth.
This particular iteration of the wargame was centered on the following objectives:
1) Inform people, processes, and technologies to advance USSPACECOM's joint/combined operational missions
2) Explore opportunities and challenges of national, commercial, and coalition architectures to synchronize effects that protect and defend the space enterprise
3) Examine unity of command/effort to seamlessly integrate space operations and authorities across multiple classification and organizational levels
4) Advance shared understanding of responsible behaviors in the space domain and impacts on national and coalition decision-making
5) Investigate whole-of-government(s) and coalition options to control escalation across all domains.
The SW 19 scenario depicts a notional peer competitor seeking to achieve strategic goals by exploiting multi-domain operations.
It included a global scenario with the focus of effort toward the U.S. European Command area of responsibility.
The scenario also included a full spectrum of threats across diverse, multi-domain operating environments to challenge civilian and military leaders, planners and space system operators, as well as the capabilities they employ.
The SW 19 team conducted this wargame on behalf of Air Force Space Command (AFSPC), headquartered in Colorado Springs, Colorado.
Approximately 350 military and civilian experts from more than 27 commands and agencies around the country, as well as international partners from Australia, Canada, New Zealand, the United Kingdom and the United States participated in the Wargame.
U.S. commands and agencies who participated in Schriever Wargame 2019 included: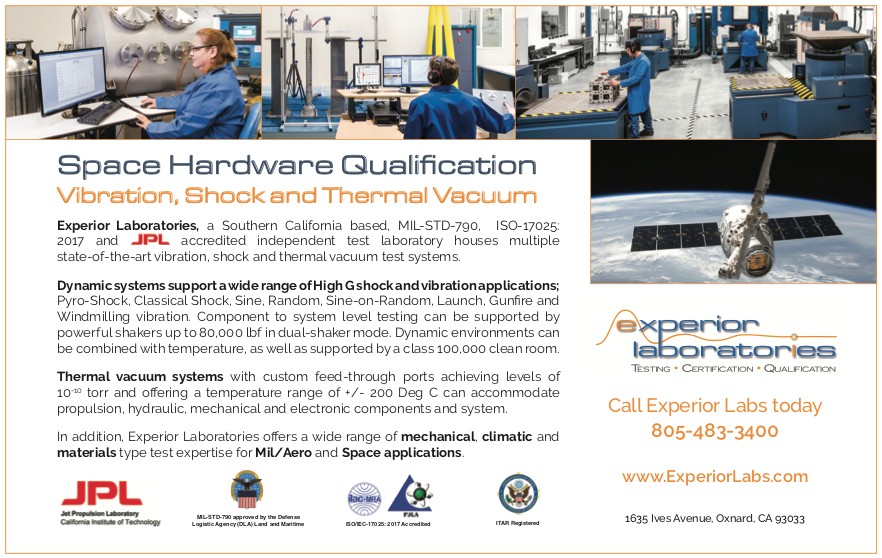 • Air Force Space Command
• Army Space and Missile Defense Command
• Naval Fleet Cyber Command
• National Reconnaissance Office
• Executive Agent for Space Staff, Air Combat Command
• Office of the Secretary of Defense
• U.S. Space Command
• U.S. European Command
• U.S. Strategic Command
• U.S. Special Operations Command
• North American Aerospace Defense Command
• U.S. Northern Command
• The Intelligence Community
• National Aeronautics and Space Administration
• Office of Homeland Security
• Department of Transportation
• Department of State
• Department of Commerce
---
ThinKom's ThinSat 300 Flat Panel Phased-Array Antenna to Indonesian Federal Police
ThinKom Solutions, Inc. has supplied their ThinSat 300 flat-panel phased-array antennas for Indonesian Federal Police command center vehicles to access satellite broadband on the move (SOTM).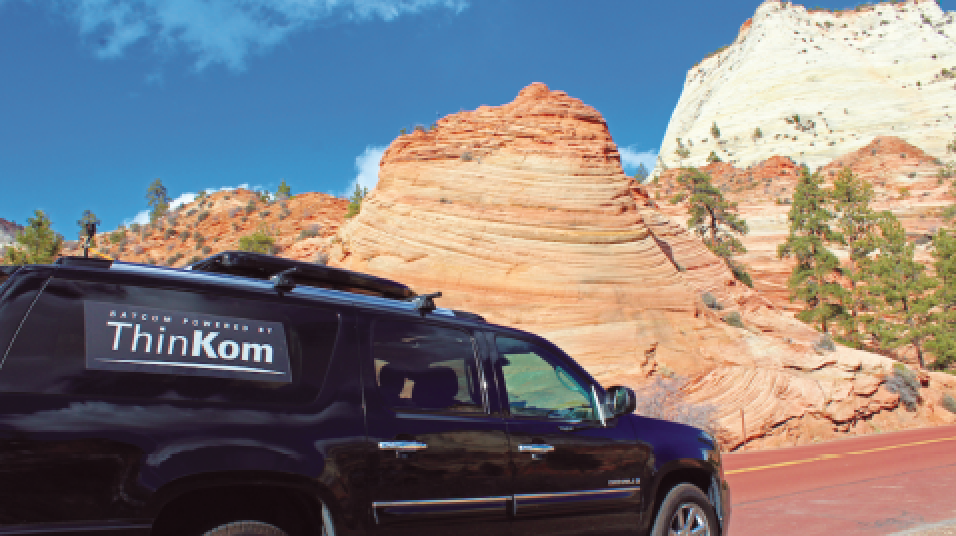 The low-profile ThinKom ThinSat 300 demonstrated consistent,
efficient highspeed SOTM during a coast-to-coast drive across
the United States. Photo is courtesy of the company.
The project is a collaboration of ThinKom, Skyreach, Heimdall Defence and Newtec. ThinKom supplied the antenna, integrated with the Newtec Dialog® Hub. Heimdall was responsible for system integration, installation user interface and operator training, and Skyreach is providing VSAT connectivity.
Initially, the systems have been deployed on two Indonesian Federal Police vehicles. Other installations are expected to follow in the coming months.
The field-proven ThinSat 300 antenna is just 4.3 inches high and mounts on a standard roof rack. Total weight, including the radome, is 120 pounds.
Based on ThinKom's patented phased-array technology, the vehicle-mounted antenna enables robust IP networks, streaming video and voice-over-IP applications without stopping to deploy a fixed satellite terminal or waiting for a blockage recovery.
Darin Anderson, director of international business development at ThinKom, said the ThinSat 300 mobile SATCOM antenna provides uninterrupted communication links for the command vehicles, even at highway speeds and off-road terrain conditions. The antenna's spectral efficiency of up to two bits per Hertz delivers high throughput on narrowband channels without spreading the signal, resulting
in a substantial savings in operational expenses.
Jo Rudy Haryoto, Founder and CEO of Skyreach, added that since the beginning, Skyreach, with its experience in mobile SATCOM technology, has responded to users' needs for high-quality video surveillance on the move, and the suitable choice has been identified as a combination of ThinSat 300 and Newtec MxDMA technology.

Haryoto added that SATCOM-on-the-Move is also useful in urban areas, especially at busy times when a mobile network will not be able to accommodate constant data transfer and cellular 4G bonding technology will fail to accommodate video-streaming.
Riana Ng, Heimdall regional account director, noted that this SATCOM-on-the-move capability will be a tremendous asset to the Indonesian Federal Police in sustaining mission-critical operations across the 6,000 inhabited islands in the Indonesian archipelago. Many of them have limited or no terrestrial mobile communications network coverage.
Andrew Faiola, head of mobility at Newtec, related that emergency services have to deal with life-threatening situations, often with little warning, and in areas where terrestrial connectivity has been degraded, or even destroyed. Yet, communications and coordination are mission critical.
Faiola also noted that the communications solution delivered to the Indonesian Federal Police is a winning combination from ThinKom, Heimdall Defence and Newtec that is cost-effective, easy to use, reliable and secure. It dramatically improves the capability of the police to do their jobs while reducing risk and uncertainty.
www.thinkom.com/
---
Airbus awarded UK MoD contract for development of SAR satellites
Airbus has won a design study from the UK's Defence Science and Technology Laboratory (Dstl) to develop the technologies for a cluster of ultra-high-resolution Synthetic Aperture Radar (SAR) satellites for the UK Ministry of Defence (MOD) — the satellites will also have the ability to collect radio frequency (RF) signals.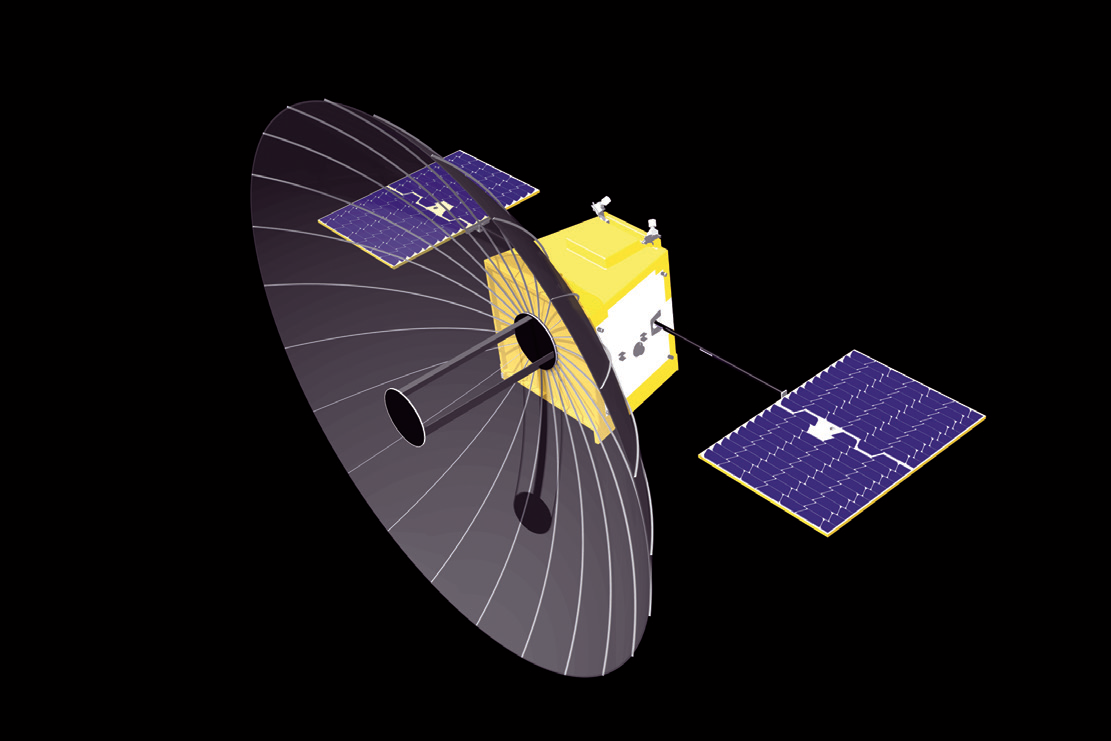 Artistic rendition of the Oberon spacecraft. Image is courtesy of Airbus.
Called "Oberon," the project will see Airbus develop the technologies that could lead to an on-orbit demonstration in 2022 and potentially an operational capability as early as 2025.
The innovative techniques and technologies developed within the project will allow the ground to be seen in outstanding detail regardless of darkness, or of cloudy weather conditions.
Oberon follows the success of the SAR satellite, NovaSAR, designed and developed by Airbus and SSTL, which was launched in September of 2018.
Since NovaSAR was conceived, Dstl and Airbus have made significant leaps in technology, allowing the Oberon system to achieve high performance from a small and compact satellite system.
Colin Paynter, Managing Director of Airbus Defence and Space UK, said Project Oberon builds on Airbus' expertise in space radar technology developed over 40 years. The company looks forward to seeing this study that will lead to a new world-class surveillance capability for the UK MOD, helping to protect the nation's armed forces across the world.
Gary Aitkenhead, Chief Executive of Dstl, added that this addition to the firm's capability is a valuable part of the future of Defence Space. Partnership between Dstl and Airbus on this project secures UK jobs as well as continuing to exploit advances in the UK space sector.
www.airbus.com
www.gov.uk/government/organisations/defence-science-and-technology-laboratory
---