Globecomm
By Paul Scardino, Senior Vice President of Sales Engineering, Operations and Marketing

My first day of work as a systems engineer, fresh out of college, is easy day to remember. It was 8-8-88: August 8, 1988. A great deal has changed since then, but one thing has been constant. Innovation. My company, Globecomm, began life as a systems integration company building satellite Earth stations.
Today, Globecomm integrates complete satellite networks and provide sophisticated terminals to high-demand users in both government and commercial markets. But that is just the tip of the iceberg. The company develops and operates data and media centers, cellular and maritime networks, software platforms, global fiber-satellite networks, and much more. Technology innovation across multiple markets has become our business, and the end of the year provides a chance to assess where those technologies have taken us and will take us in the future.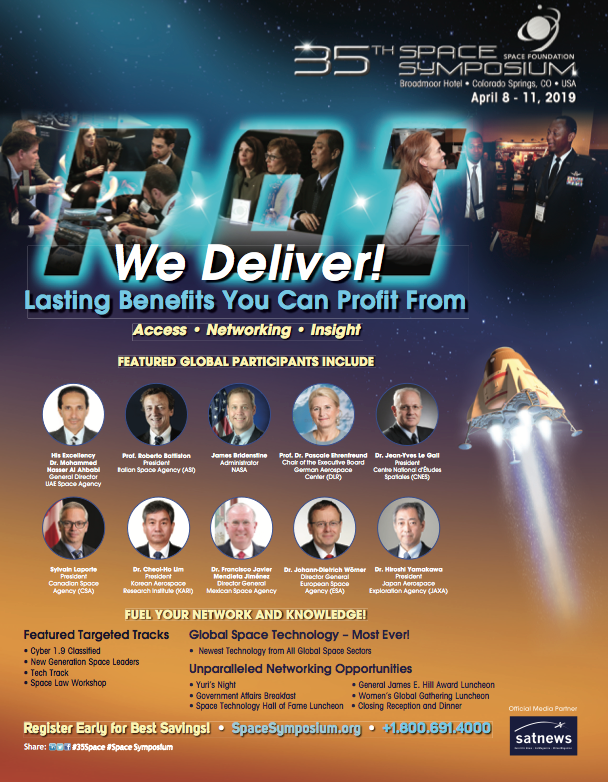 Why We Must Do More with Less
Working with our government customers around the globe, Globecomm continues to hear the mantra that they have to do more with less. Budgets have shrunk while most new starts and even existing programs that have been ongoing for years are being assessed by government decision-makers for value and appropriate return on investment (ROI). While some begrudge this, we believe this makes our entire industry stronger. We serve a combination of government and commercial customers, and continual customer assessment of their ROI is the norm with the enterprises we serve. Customers require more because the battlefield is becoming more and more connected. This brings great advantages; however, the amount of data to be processed is staggering.
Developing how a battle element — whether that be a soldier or battalion, a sailor or battle group — ingests, processes and analyzes all the data that is being made available into an actionable offense or defense is the Department of Defense's (DoD's) greatest task. Furthermore, this actionable data needs to be disseminated across organizations, agencies and units in a timely, non-political manner to maximize its usefulness. This requires the elimination of stovepipes and parochial organizational boundaries. Globecomm and its telecom industry peers are focused on facilitating data collection, transport, aggregation, storage and application development to assist the DoD in the broad context of the C4ISR (Command, Control, Communications, Computer, Intelligence, Surveillance and Reconnaissance) mission.
For the company's government customers, Globecomm provides integrated communications infrastructure, managed global network services, and life-cycle support engineering services. As the world becomes more and more connected, we look to leverage commercial innovation and RF and IP-centric technologies to help our customers implement enterprise-level solutions. This is particularly true for military forces that may be deployed anywhere from large cities to the most remote locations. Deployments may be small teams to enterprise-level divisions numbering into the thousands.
One of the drivers from government is the need to deliver media content to troops around the world. Satellite network technologies can provide the services, capabilities and infrastructures to furnish U.S. Government (USG) customers with connectivity services anywhere in the world in a highly secure and resilient manner. The global demand for broadband connectivity is increasing every day. Communication systems have taken the most formidable leaps in attempting to keep up with the demands that new use cases are placing on the network.
Government regulatory commissions and standards groups are working to provision communication spectrum that will support the traffic. The challenge is to support new connectivity requirements and uses of spectrum, while at the same time not diminishing the capacities or services that are currently in place (e.g., video, voice, and Internet Protocol (IP) data).
Video Delivery Platforms
Globecomm's new projects for the USG include wireless services, SATCOM engineering solutions and IPTV system integration and services based on Vector, our state-of-the-art content delivery platform. For the USS Gerald R. Ford, the first-in-its-class aircraft carrier, Globecomm provided pioneering broadcast, IP video and satellite communications systems, and we continue to work on future program applications.
Vector simplifies video content delivery by using a scalable, cloud-based solution aggregating multiple functions of the video workflow to create an end-to-end solution. A virtualized solution allows the system to scale quickly and inexpensively with the government's needs, providing a lower cost of entry into the market to meet the ROI requirements of today's programs.
Disaster Recovery
Globecomm also supported the USG in its response to international disasters through the Office of US Foreign Disaster Assistance (OFDA), part of USAID. OFDA responds to an average of 65 disasters in more than 50 countries every year, helping to save lives, alleviate suffering and reduce the social and economic impact of disasters worldwide. Devastating natural and human disasters including floods in Peru, an earthquake in Mexico City, outbreaks of violence in Nigeria and the double-whammy of Hurricanes Irma and Maria in the Caribbean witnessed the USG respond with support from Globecomm.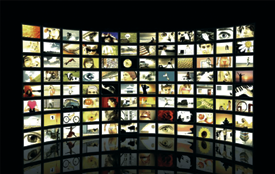 Smallsats, Non-GEO Constellations, 5G + EO
An important element for first responder efforts is the ultra-high definition Earth imaging provided by the newer technology smallsats and non-GEO constellations. This is one example of how the government is using the Internet of Things (IoT) to obtain data for increased efficiency and effectiveness both on the battlefield and humanitarian response.
Of course, this ultra-high definition imaging comes with an increase in throughput which the newer generations of satellites easily provide. Including 5G technology in the mix allows governments to obtain higher broadband connectivity with extremely low latency. These are the early days for these technologies — especially 5G, which will not be fully defined until 2020 — and Globecomm continues to analyze their potential to enhance government applications.
Software Defined Networks and Edge Computing
Of all the trends of the past year, the most interesting is the battle to manage the increasing complexity of applications and the networks they run on — more and more, we're noting the need for instantaneous, automated decision-making, supported by network resources — whether it is for autonomous vehicles, security applications, entertainment or e-commerce.
This challenge screams for computing at the edge which, in turn, demands a mix of transmission technologies, of which satellite will always be a major consideration. The success of future satellite communications will require cooperation and interoperability between GEO, MEO, LEO constellations, terrestrial 5G and the multiple near-field technologies in use today and to come.
Software-Defined Networking (SDN) is dynamic, manageable, cost-effective, and adaptable, making it ideal for the high-bandwidth, dynamic nature of today's applications. This architecture enables the network control to become directly programmable and the underlying infrastructure to be abstracted for applications and network services – meaning that it fulfills the need to run across just about any kind of network.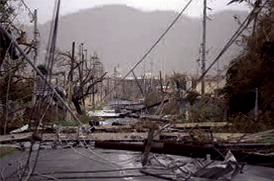 Cyber Everywhere
The future will be intensely networked, software-defined and edged-computed – and that offers the perfect environment for cyberthreats. The more services connected to the internet, the greater the threat to end-point operations, and from potentially degraded speed and service quality.
Think of it as pollution. The world rushed to industrialize, and then it discovered that unchecked industry leads to unbreathable air, undrinkable water and ruined farmland. We have rushed to network everything that can be networked, and our appetite continues to expand. Only if we manage the cyber-pollution this creates will any of our dreams for a digital future be realized.
At Globecomm, we are designing cybersecurity into every network and the configuration of every end-point device, and we help our customers develop the plans and management systems needed to adapt to the changing threat environment.
Consolidation
Recently completed was a blockbuster merger in the government vertical with Harris and L3 agreeing to terms. As the service-provider industry for business and government customers continues grow, consolidation has been the natural result.
Globecomm is no exception. In August, Speedcast International announced agreement to acquire Globecomm, with the deal expected to close by the end of 2018. The opportunities this acquisition represents are exciting, as Globecomm sees the combination of the two companies to be highly synergistic. Globecomm complements Speedcast's global network of satellite and fiber connectivity — the company's trusted technological expertise and diversification of markets make the combination of the two companies tough to beat.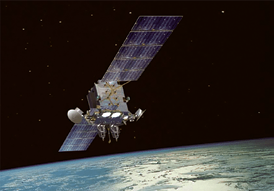 More important than technology, however, are relationships, old and new. Our missions converge in the importance that customers receive, which allows the firms to address the goals and expectations of clients and to provide the solutions that will meet those requirements.
Earlier in my career, I was nervous for our industry. There was talk of fiber reaching every populated area on the planet and cellular technology filling in the rest. Surely the demise of satellite communications was at hand. Today, I'm upbeat, as I see the industry evolving and expanding to meet new opportunities. With the ever-increasing demand for broadband connectivity, linked to the cost-performance benefits expected from the next generation, high-throughput GEO and non-GEO satellites, we can expect wider deployments of satellite as a communication medium.
I'm looking forward to the new future of our industry it continues to evolve and grow and, of course, deploy continuous innovation.
I wish you all a blessed holiday season and all the best in 2019.
www.globecomm.com
Paul Scardino is Senior Vice President of Globecomm's Sales Engineering, Operations and Marketing. He is responsible for the overall recruitment, leadership and development of the sales and marketing personnel, including the global sales executives, corporate technical subject matter experts and the marketing team. He oversees the sales, marketing and strategic direction of Globecomm's new and emerging products and services. He has been involved in the satellite communications field since 1988 and has been a key to Globecomm Systems' success since February of 1997.
---
iDirect Government
By John Ratigan, President

iDirect Government (iDirectGov) takes great pride in hiring remarkable people who care deeply about our customer base and the company's mission to support the U.S. military and government.
We build exceptional, high-performance products that withstand the most excruciating circumstances in the harshest of environments, where our customers fully expect them to work flawlessly when conducting their missions.
iDirectGov employs a strong team. We read the market and adapt accordingly.

The company understands and foresees where the market might go, and plans and executes tasks to create products to fulfill those needs and get them in the appropriate hands.
Major Releases, Major Growth
iDirectGov attained several important milestones that made 2018 an excellent year for the firm.
Our most powerful major, defense-based software release — Evolution 4.2 – launched into the market and has proven to be a true game changer.
This release unleashed the full capabilities of iDirectGov's 9-Series satellite routers, particularly the airborne products, boasting faster speeds and more secure communications across the entire product line.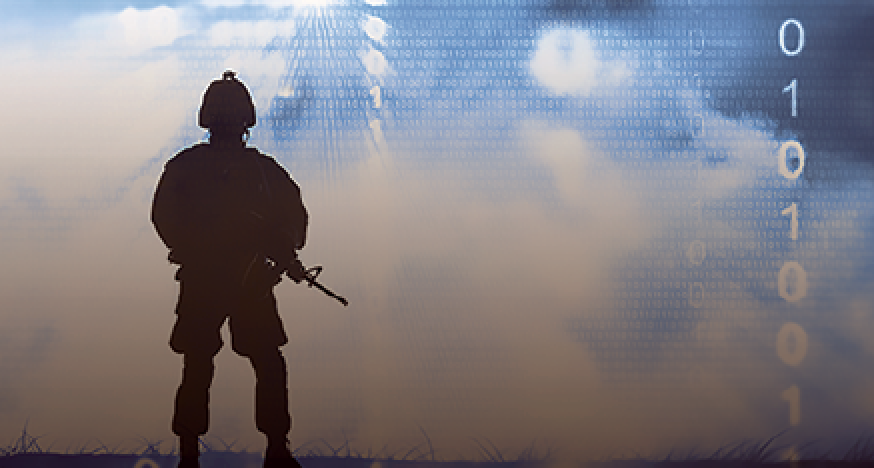 Taking Flight and Going Rugged
Our keystone product of 2018 was undoubtedly Evolution 4.2. This new software lets our 9-Series airborne satellite routers, including the 980, 9800 AR and 9800 AE take flight.
This software boasts speeds up to 29 Msps single carrier and features both one-way and two-way TRANSEC (Transmission Security), making MILSATCOM faster and more secure than ever before. With these enhanced capabilities, our team can now deliver more innovative and powerful products to the market.
One of those products is the company's first, fully ruggedized terminal designed to withstand the elements: the 9050 OM. Engineered to support the GBS program, our 9050 OM passed many harsh environmental tests, including a simulated High Altitude Low Opening (HALO) parachute jump as well as being submerged in water for 30 minutes. The 9050 OM passed all of these challenges with flying colors and continued to flawlessly operate through all of the tests.
SWaP-ing Size for Security
The industry continues to face two big challenges each year: Adversarial interference and finding ways to shrink satellite terminal sizes without sacrificing power.
As a manufacturer, iDirectGov continuously seeks ways to develop and build equipment and networks more secure while continually improving the size, weight and power (SWaP).
---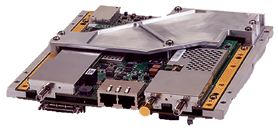 iDirectGov's 950mp satellite router board.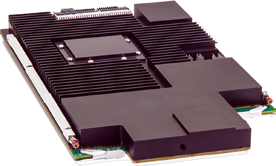 iDirectGov's 980 satellite router board.
---
Both of these challenges were addressed with the 950mp, our smallest man-portable board to date. This product is half of the size of its predecessor, the e850mp, more powerful and more secure, thanks to Evolution 4.2.
However, iDirectGov hasn't stopped there — we're always looking for more ways to make product smaller and more secure. The company is currently developing our anti-jam strategy and working on a newer, smaller board that keeps SWaP in mind.
New Launches and Approval
Our greatest achievement, completing Evolution 4.2, was also the company's most formidable challenge. Like all great challenges, they always pay off in the end when those challenges have been addressed and conquered.
Moving Evolution 4.2 out the door has had a massive impact on the company's year. By doing so, iDirectGov has been able to give our customers the reassurance that they're operating on the fastest and most secure software available in the industry.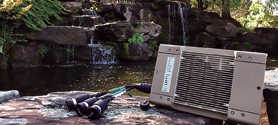 iDirectGov's 9050 OM ruggedized terminal.
We also gained ARSTRAT approval and certification on our Evolution 3.4 software and hardware — an enormous win for us and another impactful success for the company. This significant milestone gives customers the knowledge and security that the firm's products are backed by the U.S. Army Forces Strategic Command, making it easier for customers to purchase our equipment.
The most significant challenge now faced is how to strategically move forward into 2019, deciding which products need to be developed and to determine what hardware and software features needs the company's concentrated focus.
Half the battle has already been achieved — we've determined what the company's next products will be, and we're working with customers to refine how those products will be best used in the field.
Convergence
As iDirectGov's platform options continue to increase with GEO, MEO and LEO satellites, the industry needs to decide which of these spatial technologies will be the most productive to use, how they will work and how interference can be reduced, from both a physical perspective and a bandwidth perspective.
Simultaneously, this a paradigm shift. This moment is an exciting one — these crucial challenges make iDirectGov's participation in this industry extremely exciting.

The industry will note the convergence of satellite and cellular networks during the next five to 10 years. Eventually, 5G networks will be aligned with satellite networks, spurring a possible convergence at the highest level, where major cell phone service providers will use satellites as part of their core platforms, not just as an ancillary channel.
As this convergence occurs and questions are raised, iDirectGov will continue to play a pivotal role in creating the new technologies that are so pertinent to that consolidation as the company continues to move forward with our customer base.
Forward
As we progress into 2019, iDirectGov will bring new technologies into the fold while focusing on cutting-edge products for the MILSATCOM and SATCOM industries.
The company has exciting new software features that we hope to share during the new year, as well as innovative hardware that's certain to impact the markets. New ideas will grow as the firm looks ahead to industry-changing effects of cellular-satellite consolidation.
During 2019, iDirectGov will continue to dedicate resources to perfecting the company's family of products as we keep an eye on the horizon to ensure iDirectGov remains at the forefront of technology and customer acceptance.
www.idirectgov.com
Ratigan started the Federal Group for iDirect Technologies in 2003 and then established iDirect Government as a wholly owned subsidiary in 2007. He brings more than 20 years of experience in the satellite communications arena. Prior to joining iDirect Government, Ratigan ran the East Coast operations for Fairchild Data and EFDATA and eventually partnered in his own company that helped EFDATA grow from $20 million to $120 million in revenue and as many as 700 employees in 2000. EFDATA became the pre-eminent leader in SCPC satellite technology in the late 1990s and provided the baseline knowledge and expertise that would later benefit Ratigan's role with iDirect Government and the migration of technology into TDMA.
In addition to starting his own company, Ratigan was senior vice president of North and South American sales for the start-up, Broadlogic, as companies started to run IP directly over satellite. Ratigan has a bachelor of science degree in marketing from the University of Maryland, College Park.
---
KenCast, Inc.
By William Steele, Chairman and Chief Executive Officer

The potential of the new Non Geo-Synchronous Orbiting Satellite (NGOS) constellations are well recognized by the military. The lower orbit of both LEO, and even MEO, satellite constellations, compared to GEO satellite, provides valuable low-latency operation in critical military situations.
This has drawn strong attention, and now investment, by the Defense Information System Agency (DISA) and other branches of the military. Also, these new polar orbiting satellites are very complementary to the GEO satellites in equatorial orbit, which in combination, provide a broader global footprint that U.S. military operations often require.
DISA, in addition to its own GEO Global Broadcast System, frequently acquires complementary commercial satellite networking to respond to fast developing situations around the world. The NGOS constellations provide a whole new set of strategic and tactical possibilities when responding to conflicts and threats.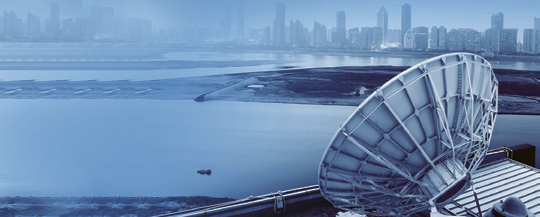 Because of this long-term experience in quickly integrating/adapting military networks with commercial network, the military is better positioned than most commercial entities, at least in the short-term, to take advantage of the possibilities provided by the new HTS NGOS and GEO capabilities.
There is a vast range of traditional and innovative ways in these new networks can be used in support of military operations enabled by these new satellites. In many cases, it will be most valuable if Military networks can be quickly combined as hybrid networks with the LEO, MEO, and GEO constellations and with 5G LTE-Broadcast (eMBMS) networks.
However, the military will be faced with the same issue the commercial market faces with the inevitable failures and consolidations going forward with these new satellites. Because of shifting technical and price leadership among constellations, antennas, and Earth station vendors, it behooves early application owners to implement with flexibility to take advantage of, or recover from, these shifts — that is, to launch and go forward with Open Architecture
where feasible.
Constellations
These pending satellite constellations bring much higher throughput than the current generation. In addition, speeds on satellite can now match or even exceed fiber by using laser/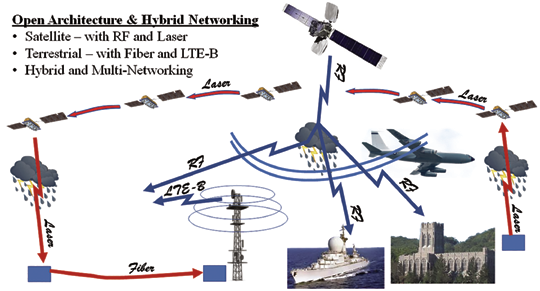 Several constellations intend to offer laser interconnectivity between satellites. Combined with laser uplink at the source and downlink to local sites or local broadband networks, this effectively can provide fiber-speeds end-to-end globally.
Fiber offers great speed but has limits: it is not suitable for multicast of the same large content directly to a multitude of sites or vehicles, even when in line-of-sight; plus, laser has a serious vulnerability to atmospheric disturbances. This also argues for the implementation of hybrid networks.
Antennas
Delivery of files and live streams from orbiting satellites to moving vehicles is an enticing possibility with these global markets in the offing. However, early testing has exposed the difficulties of transmitting from orbiting satellites to vehicles on the move. Vehicles may intermittently lose signal because they are randomly visible to satellites, on a difficult incline when in sight, traversing tunnels, under overpasses, in urban building canyons, or turned on/off.
Success requires an antenna with a flat profile, low power consumption, and reliability in delivery, often of encrypted/DRM content, as well as strategies for dealing with the inevitable intermittent lost signal issue. Open Architecture strategies — that include forward error correction algorithms and availability simultaneously of multiple wireless network paths via MEO, LEO, LTE, with one or more antennas — provide approaches to achieve reliable delivery.
The best offerings on the market will likely change over time and between market applications. Applications built with open architecture will better move between networks and antenna and terminal offerings, as reliability and price new opportunities over time.
Strategies for Establishing Smallsat Open Architecture
Content for smallsat applications will, in many cases, come from Cloud Storage, where Open Architecture is more established by the archival community, for example, in the reference model for cloud storage, Open Archival Information System (OAIS)**. Strategies from OAIS (Refreshing, Migration, Replication, Emulation, and more) can also be adapted to smallsat network delivery.
For example, some of the weaknesses of laser networking can be overcome by routing around bad weather, employing forward error correction schemes and/or switching to terrestrial wire/wireless network alternatives whenever necessary. Satellite carriers are currently experimenting with lasers and LTE and other RF networks for these reasons.
Hybrid network offers the immediate alternative path option as well as the opportunity to more quickly take advantage of breakthroughs that will certainly happen from time to time with flat plate antennas, laser terminals, next generation LTE, satellite modems, and the satellites themselves.
Elements in an Open Architecture
KenCast's Fazzt platform for content delivery is designed to provide the tools content owners, teleports, and integrators need to realize Open Architecture on new HTS Smallsat and GEO constellations.
To achieve flexibility in technically and economically shifting markets, the foundation software and hardware delivery platform for operation may usefully include:
• Hybrid use of GEO, MEO, LEO, LTE, WiFi, Fiber, and/or other networking
• Dynamic alternate network routing — alternate routing to avoid weather, network congestion/network-outages
• Replicating and Refreshing content in diverse cloud storage locations to shorten delivery time, provide content backup, and alternate sources for network path disruption
• Hybrid use of diverse antennas — FPA, parabolic, laser terminals, LTE-B, WiFi...
• Multicast, unicast — on wire & wireless media
• Multiple, diverse Forward Error Correction schemes/algorithms to ensure recovery
• Application & Network-specific security for delivery of encrypted/DRM content (files and streams)
• Migration-Prepared – be able to readily move to newer/better/less-expensive networks, antennas, clouds, CDNs... as technology and pricing shift.
William Steele is Chairman & CEO of KenCast, Inc. Prior to founding the company, he spent fourteen years with GTE Corporation; the last five of those years as General Manager of the GTE ImageSpan company within GTE Spacenet. His experience in the satellite and telecommunications industry includes a position as Vice President of Marketing at the Microband subsidiary of McDonnell- Douglas, and Sales Manager at the American Satellite Corporation division of Fairchild. He was an Assistant Professor of Economics at Villanova University and holds a Ph.D. in Economics from New York University.
---
Keysight Technologies
By Mark Lombardi, Satellite and New Space Test Solution Manager, Aerospace and Defense Solutions

Keysight Technologies, Inc. (NYSE: KEYS) is a leading technology company that helps enterprises, service providers, and governments accelerate innovation to connect and secure the world.
This year, Keysight worked with the satellite and space industry to enable the rollout of multiple, new, emerging technologies that included phased array antennas, software defined satellites, and volume manufacturing.
The accelerated rate of change in the satellite industry has made it imperative to embrace process-based design and test strategies. To help the firm's customers respond to these new challenges, Keysight moved to provide solutions that are optimized with the needs of the space industry in mind.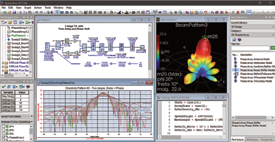 Simulation
Satellite product life cycle is challenging at every stage, from concept to deployment readiness.
In the early concept and design stages, the selection and optimization of aspects, such as the satellite orbit, frequencies, and modulation formats, are key to avoid costly redesigns in later stages of the life cycle. The hardware design stage involves difficult decisions to meet the requirements set forth for the entire system.
The system engineering teams and the hardware and software design teams must collaborate with each other to maximize system performance for economic success.
This year, the SystemVue software platform has added new tools for the system designer with capabilities such as: RF cascaded analyses, phased array antenna beamforming and complex modulation scheme creation and analysis.
vLinks from SystemVue to industry tools for scenario emulation, such as System Tool Kit (STK) from Analytical Graphics, Inc. (AGI), are key enablers for early system validation in the presence of fading, atmospheric absorption, Doppler effect, and satellite mission kinematics effects.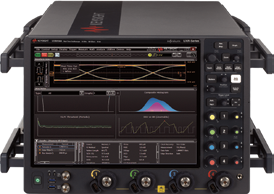 SystemVue's unique connectivity to test equipment allows for sophisticated HIL (Hardware-In-The-Loop) analysis. This capability allows the designer to evaluate the complete system with available parts of the hardware while the remaining hardware resides virtually in software until the parts become available.
Payload and Component Test
Innovation continued into communication payloads, with new approaches to high data rates, flexibility and networking.
Engineers are using custom OFDM, high order modulations for increased resiliency. There are also efforts to better integrate with 5G and IoT. Increasing digital content in satellites are bringing new challenges of working with high speed ADCs (Analog-to-Digital Converter), FPGAs (Field Programmable Gate Array) and DACs (Digital-to-Analog Converter).
As innovation in technology allows, and the worldwide regulatory bodies permit the use of bandwidth at higher frequencies for satellite communications, there is uncertainty about how much capability in test equipment is necessary. Keysight's introduction of the Infiniium UXR-Series of oscilloscopes provide models ranging from 13 to 110 GHz of true analog bandwidth. It offers industry leading signal integrity and provides investment protection that meets the needs of technology advancements today and tomorrow.
The Infiniium UXR-Series, coupled with Vector Signal Analysis (VSA) software, enables modulation measurements at W-band and 10 GHz wide or more. The low noise floor and high vertical resolution provides unprecedented, in-band RF measurements such as EVM.
This year, Keysight also collaborated with Ball Aerospace and Anokiwave to validate the first commercial active array antenna product designs in the Ka-band.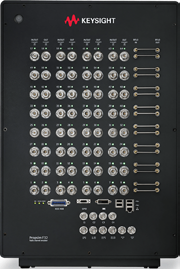 The use of phased arrays at mmWave frequencies requires Over-The-Air (OTA) testing, as well as spatial beam measurements. Keysight metrology-grade test equipment offers the sensitivity that base station designers need to overcome these challenges and to go beyond simple RF parametric performance. New spatial measurement requirements include sidelobe levels, dynamic beam characteristics, and spatial variations of EVM and ACPR.
The Ball Aerospace-built, 256-element array uses Anokiwave integrated circuits and was designed to deliver modulation in GHz-wide bandwidths in either a single-beam mode or in MIMO applications for as many as four concurrent beams with up to +60 dBm EIRP.
In support of the new LEO constellations, Keysight also introduced PROPSIM MANET Channel Emulation Solution. This new solution secures end-to-end performance and interoperability of Mobile Ad-Hoc Networks (MANET) and mesh radio systems (a self-forming and self-healing reliable network that eliminates single points of failure) for tactical mission critical wireless communications.
To ensure the robust inter-operation of satellite systems for mission critical wireless communications, manufacturers and military forces require the ability to test mixed networks that combine tactical and avionics radios with satellite links. Increased complexity and technological advancements, such as MIMO and beamforming in wireless military communication systems, has accelerated the need to test large mesh-network topologies with dynamically changing radio channel and interference conditions.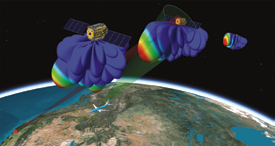 Artistic rendition of Keysight's STK Satellite Constellation
and Space Simulator. Image is courtesy of the company.
To address this need, Keysight has launched a high-performing, network level channel emulation solution that enables users to easily replicate field-testing conditions in a repeatable way. The PROPSIM MANET Channel Emulation Solution is a highly scalable and flexible solution that supports full mesh configurations of up to 64 radios using 4032 independent fading channels in a single unit for testing large SISO (Single-Input Single-Output system) and MIMO (Multiple-Input Multiple-Output) mesh-network topologies.
Satellite Ground Station Installation and Maintenance
The ground infrastructure is also undergoing major changes. Keysight's FieldFox handheld multi-function test includes coverage to V-band and provides a precise and comprehensive solution for satellite ground station maintenance.
As satellite ground stations have long-range communication links, they must provide high uplink transmit power, receive a very low signal level on the downlink, and compensate for link variation due to weather and satellite/ground antenna changes. The ground stations contain many sensitive components and subsystems (e.g., antenna subsystems, waveguides, coaxial cables, filters, LNAs, LNBs, BUCs, HPAs and TWTAs) that must be verified during installation and maintenance. As high throughput satellites (HTS) push the technical limits, the spectrum performance of the whole system must be monitored at ever more precise levels. Such tasks become even more challenging when the ground stations are in remote areas.
In response, noise figure measurements were added onto the FieldFox this year, building on the existing, all-in-one capabilities (e.g., spectrum analyzer, full 2-port vector network analyzer, cable and antenna tester, real-time spectrum analyzer, power meter and more) allowing engineers and technicians to perform a range of benchtop-quality measurements in difficult test environments.
www.keysight.com
Mark Lombardi has 25 years of test and measurement experience. Most recently, his focus is on identifying and developing Keysight's Satellite and NewSpace test solutions. Past responsibilities have included development and management of RT Logic's RF Satellite Link Emulator along with a wide range of Hewlett-Packard/Agilent product lines covering applications from DC to millimeter waves, digital, RF, and mixed signal. Mark's work is featured in a variety of electronics industry publications and trade shows presentations.
---