Taken as a whole, space-related actions in 2018 have signified the promise of a sea change in the way the U.S. government acquires critical satellite communication capabilities. Overall, we should be greatly encouraged by the achievements and ideas set forth by military and industry leaders over the past year. Expectations all around are high, and it is time to deliver on the path forward in which a lasting, productive U.S. government-commercial partnership prevails.

Indeed, in reflecting upon the building momentum established so far, General Jay Raymond, Commander of both the Air Force Space Command and Joint Force Space Component stated, "I am convinced that when historians look back at 2017 and 2018, they will look back on this as one of the most critical times in our national security space history. It will be seen, in my opinion, as a strategic inflection point for national security space and a bold shift towards warfighting and space superiority."
Specifically, I believe the following developments speak to what we all, government and commercial SATCOM operators alike, ultimately hope will be viewed as major steps toward realizing a fully integrated, capable, resilient and global SATCOM architecture:
The signing of the National Defense Authorization Act (NDAA) for Fiscal Year (FY) 2018. With the NDAA, the U.S. government is recognizing the criticality of space resilience and the importance of consistent, consolidated and strategic leadership in space through the support of commercial SATCOM (COMSATCOM).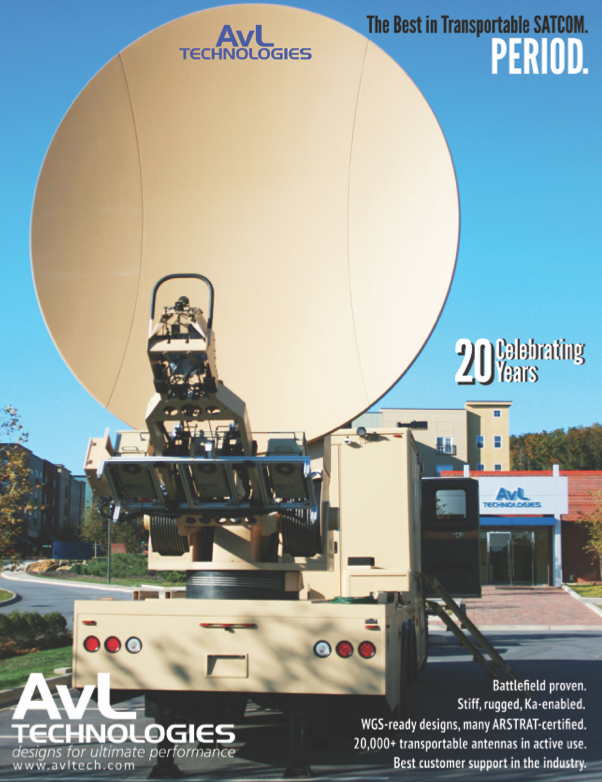 Among the key provisions for national security space programs are changes in the space organization and management to include the establishment of a separate combatant command responsible for the national security space activities of the Department of Defense (DoD). This is a clear recognition that SATCOM has emerged as an area requiring extremely senior-level strength and focus.
With the space environment growing increasingly contested and operationally challenged, the NDAA provides a framework for, and marks the first step toward, the crucial reorganization and consolidation of space capabilities. It presents a clear opportunity for COMSATCOM to become an integral part of the SATCOM architecture.
The National Defense Strategy. Published in January, the strategy highlights the need to build up space-based threat awareness and safeguard military and commercial space assets from adversaries. Announcing a prioritization of investments in resilience, reconstitution and operations to assure space capabilities, it articulates a strategy to "…compete, deter, and win in this environment. The reemergence of long-term strategic competition, rapid dispersion of technologies, and new concepts of warfare and competition that span the entire spectrum of conflict require a Joint Force structured to match this reality."
This new strategy shifts focus onto highly mobile mission sets to support advancements in intelligence, surveillance and reconnaissance, demanding resilient SATCOM, inclusive of COMSATCOM. Consequently, the space industry's focus must be on the broadest areas of support for Command, Control, Communications, Computer, Intelligence, Surveillance and Reconnaissance (C4ISR), for both military and commercially-supplied SATCOM.
This means continued investment into wideband and additional tactical protected communications, network diversification, backhaul performance, overhead persistent infrared technologies and enhanced augmentation for Global Positioning System (GPS).
The transition of the Joint Space Operations Center (JSpOC) to the Combined Space Operations Center (CSpOC). This initiative further integrates critical allied and U.S. capabilities. An industry consortium is driving a key component, the open architecture Enterprise Space Battle Management Command and Control system. "The progress on this system to date has been nothing short of remarkable and I am extremely excited for the transformational capabilities it will deliver," General Raymond said.
The establishment of the Commercial Integration Cell within the CSpOC has enabled the government to explore ways of sharing technology and information, as well as an increase in integration, space situational awareness and collaborative operations with commercial partners.
From the Pentagon's release of some of its conclusions from the AoA in June, we learned that there are opportunities to expand the use of commercial communications satellites. However, there was also a major perceived obstacle revealed – that some 17,000 military satellite terminals are not currently compatible with modern SATCOM technology. And yet, this is not an insurmountable challenge given the wide commercially available of modular and adaptive terminals, which should immediately be considered to replace vertically-integrated systems, enabling the expected integrated architecture.
Rather than view the sunk cost as an inhibitor to modern capabilities, following the commercial model of embedding terminals in the service, modifying existing terminals and intentionally planning for multi-mode and multi-band is the right path to take. It is time to "go fast" toward modernizing this critical infrastructure so essential to mission success.
The U.S. Air Force's now "final" Wideband Communication System Analysis of Alternatives (AoA) enlisted unprecedented industry and allied participation to offer seemingly limitless possibilities for new space, air and ground layer communications. This effort underscores the urgency for a strong, forward-looking partnership between government and the satellite industry, to ensure that available COMSATCOM solutions are fully considered as part of any recapitalization process.
The establishment of a "Program of Record." Also in June, the Congress appropriated $49.5 million in funding for FY 2019 U.S. Air Force budget to create a new program of record for commercial satellite communications. The program is intended to pursue a wideband and narrowband communication architecture and acquisition strategy that include both government and commercial space systems. The Committee and DoD officials have indicated that they are seeking a better long-term plan to buy COMSATCOM via a more seamless, integrated network structure, and that meaningful changes in SATCOM procurement are required to make this happen.
Through this and the other significant steps, the government is recognizing the importance of consistent, consolidated and strategic leadership in space where COMSATCOM is an integral part of a unified architecture.
The Final Report on Organizational and Management Structure for the National Security Space Components of the Department of Defense. In August, this report extended the vision of the National Defense Strategy, while elaborating upon key action details. In its powerfully worded "DoD Space Vision" statement, the report reveals that the DoD will "usher in a new age of space technology and field new multi-domain systems in order to deter and if necessary degrade, deny, disrupt, destroy, and manipulate adversary capabilities to protect U.S. interests, assets, and way of life.
This new age will unlock growth in the U.S. industrial base, expand the commercial space economy, and strengthen cooperation with our allies and partners. To accomplish these goals, the Department will harness a blend of commercial and government technology, rapid prototyping, experimentation, collaboration with key allies and partners, and enhanced government-commercial relationships."
Then, to further accelerate warfighting capabilities, the President's administration announced a plan to usher in a new "Space Force" as the sixth branch of the military by 2020.
These enhanced government-commercial relationships will help open the door to enriched technology innovation. From aspirational proposals to well-established resilient global networks, new, flexible and affordable sophisticated technologies and business models — such as SATCOM as a Service — overshadow the legacy technology and greatly enhance efficiencies and responsiveness to meet DoD and other national security and federal government requirements.
Throughout the year, government and industry leaders have constantly emphasized the need to make greater use of available commercial expertise and resources. As General Hyten noted, the DoD must "go fast" and take risks to accomplish advancements more swiftly than our adversaries.
To illustrate the point, General Hyten said that if a commercial company was unable to build and deliver a large wideband commercial satellite in less than three years, it would be out of business. "Why are we [DoD] even buying wideband satellites?" he asked. "Why don't we have the commercial side that already built them in three years go ahead and buy them for us, and we'll just lease it back or come up with some other arrangement in order to do that?"
Similar remarks were echoed by other government/DoD leaders at a number of public speaking events, and in interviews: Deputy Assistant Secretary of Defense for Space Policy, Stephen Kitay, described an immediate focus at the DoD to improve space asset resiliency and said, "When we talk about resilience, we're talking about the ability of an architecture to support the functions necessary for mission success with a higher probability, shorter periods of reduced capability, and across a wider range of scenarios, conditions, and threats, in spite of hostile actions or adverse conditions."
These statements – along with the overarching, approved policies and proposals of the past year, as summarized here – are encouraging and demonstrate a path forward to innovative, impactful, complementary SATCOM capabilities that our servicemen and women must have to operate where ever their mission takes them.
Yes, there is much more work to do, and some of it will be difficult. However, as President John F. Kennedy famously and eloquently spoke about the moon mission in 1962, we choose to do these things "not because they are easy, but because they are hard."
While there are diverse perspectives about how to proceed, we all know where we need to go and that bodes very well for SATCOM in 2019 and the indefinite future.
www.inmarsatgov.com
Rebecca M. Cowen-Hirsch is Senior Vice President for Government Strategy and Policy of Inmarsat's Government Business Unit and she is also a leading Senior Contributor to MilsatMagazine.
---