U.S. Customs and Border Protection Officers are seizing $14 million of hard drugs and weapons in Arizona, while also rescuing 40 illegal migrants lost in freezing conditions south of Texas. Meanwhile, the Indian Border Security Force has detected a second tunnel instigated in Pakistan purported to facilitate the infiltration of terrorists. Plus, a huge cache of arms and ammunition is seized in Kashmir.
---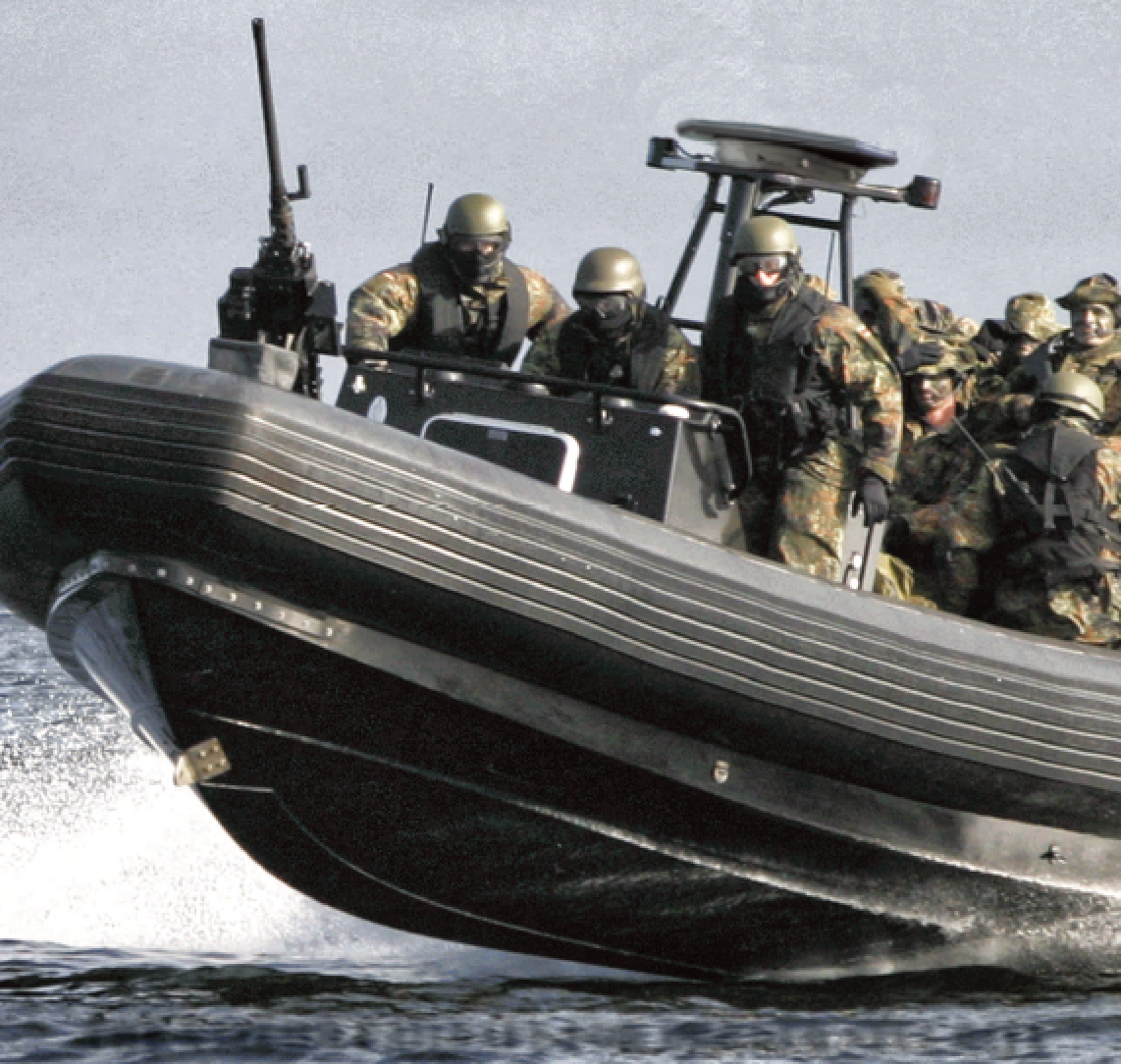 Paradigm's MANTA in use on a Fast Attack Craft.
Image is courtesy of the company.
---
The resources that support this breadth and complexity of border security operations all over the world, vary wildly. From people-power to logistics capability the only factor that's quite as diverse is the respective environments. Terrain, weather and political sensitivities all contribute to an ecosystem in which one size will never 'fit-all'.
These circumstances do, however, have something in common: they're all critical. If one part of the communications infrastructure in any one of these instances fails, the consequences are serious. In many instances, they could prove to be fatal.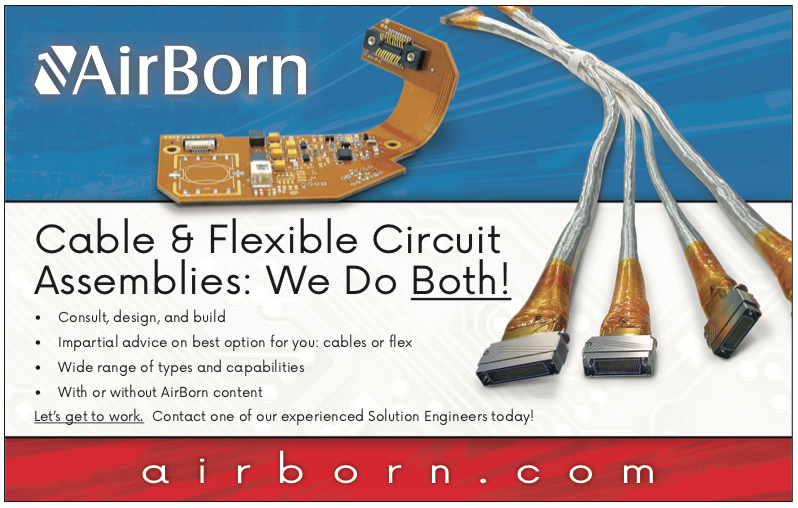 In order to understand how critical communications infrastructures should best evolve, it's important to understand the context in which they came to be as they are. As technology has evolved, supporting infrastructures tend to have been pieced together through a combination of VHF and mobile networks.
There are huge benefits to both but what happen, for example, when relying on mobile in an area so vast and terrain so harsh that coverage becomes unpredictable?
What happens when the large amounts of data handled by a multi-channel mesh network, needs to be communicated to a central base that's located hundreds of miles away or on the other side of a mountain range?
Isn't that where fiber plays a role? Possibly, but, the introduction of fiber is subject to very high initial capital expenditure and, as such, needs justifying as a permanent solution. That can be a process that will take a very long time to complete and it will never reach everywhere that comms are not just wished for, but absoluteluy required.
While existing telecommunications networks such as 3G, 4G and even LTE are the obvious choice for primary communication networks, they simply aren't always available across the vast areas covered by border security operations. Even where the infrastructure does exist, large-scale fixed equipment may prove a tempting target for those who seek to threaten the border's communications capability.
---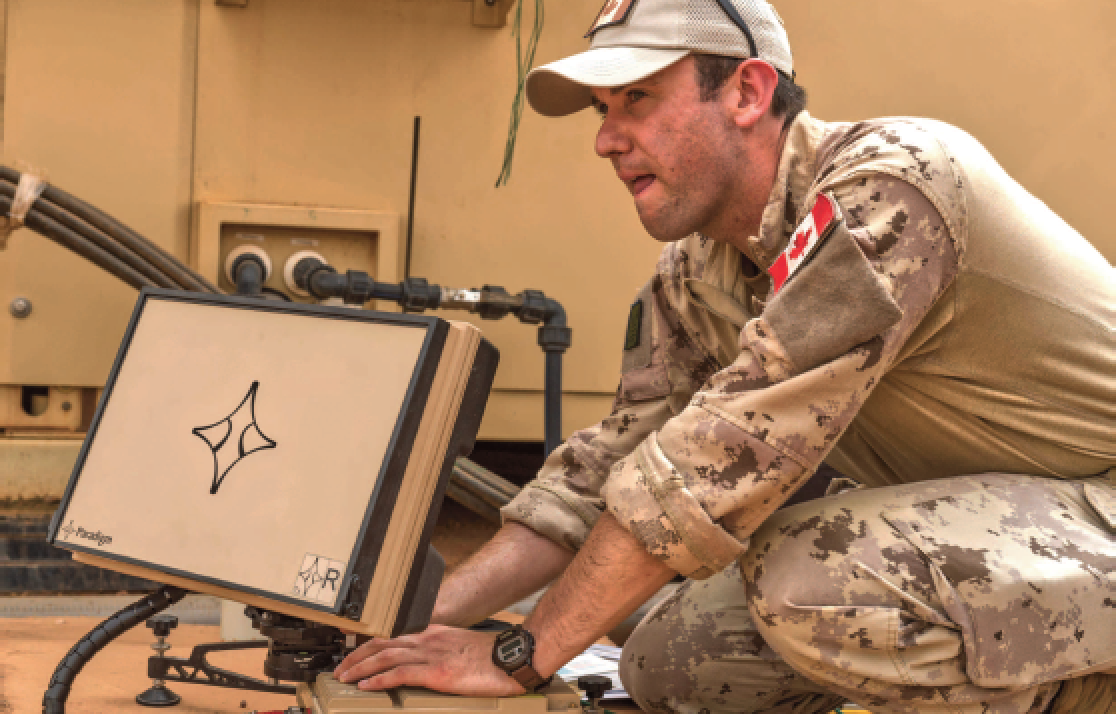 Figure 1. Paradigm's SWARM in use by a combat camera team.
---
This is where satellite communications found its place in support of critical communications.
Satellite communications, in particular VSATs (very small aperture terminals), offer a complementary option. In circumstances where there can be no downtime and in many remote areas that would otherwise remain unconnected, the adoption of satellite communications is crucial to the safeguarding effort.
How does it achieve this? Often the supporting satellite network is run as a back-up to the primary network: while available, the backhaul data connection of the surveillance unit is provided by the local infrastructure.
In the background, the satellite terminal connects to the satellite network in preparation to provide a fall-back connection. The checks and balances performed by the terminal continue to monitor both connections, automatically switching to satellite when terrestrial or cellular services become unreliable, or don't exist.
---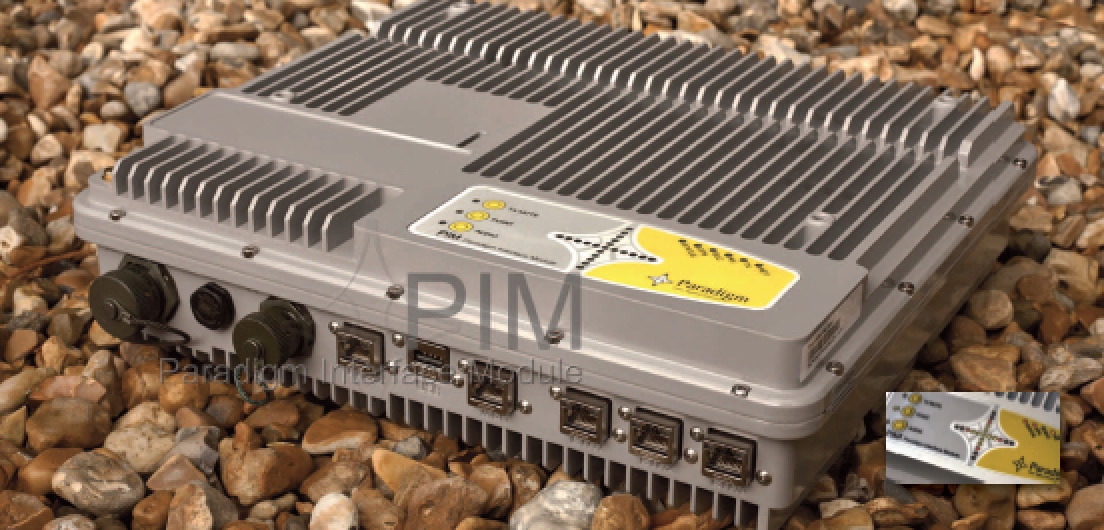 Figure 2. The Paradigm Interface Module
---
Users barely notice any changeover because, with state-of-the-art automatic switching, there is barely any time delay. High-quality, high-throughput service is maintained throughout the operation.
One of the most exciting developments in this capability, is the ease with which it can now be managed. Doubling the reliability of your network no longer means doubling a unit's technical expertise. In fact, it's become remarkably easy for field operatives.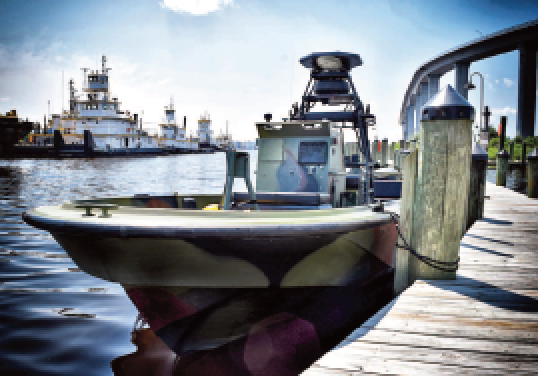 Figure 3. Paradigm's MANTA in marine use.
The introduction of simple user interfaces such as PIM® (Paradigm Interface Module — see Figure 2 above), means that the process of deploying a satellite terminal has become quick and easy, even for those with no technical knowledge. PIM integrates the router, spectrum analyser, modem, terminal management and GPS function into a small, ruggedized module. A clear palette of LEDs and three buttons makes operation intuitive and easy.
The ability to have this common interface across all terminal types significantly reduces the need for training. Field operatives' familiarity with the single, easy-to-use interface could also save valuable time in a critical situation. What else makes SATCOM an effective failsafe for border security?
Portability is an important factor. With large expanses of land to cover, it is not uncommon for border security operations to expand far and wide, often moving with the threat. Transport can be by land vehicle or by air and of course, by boat in coastal areas.
This variety means that end-user requirements are very subjective. Where land vehicles are used, being able to load and unload your solution in a single box presents clear benefits.
When in the air, space is often limited and requires the ability to 'carry on' an entire terminal to an aircraft, avoiding baggage check-in procedures.
When travelling by helicopter, requirements can be more extreme; Paradigm's ultra-portable SWARM terminal (see Figure 1 on previous page) is designed to be carried as an IATA compliant hand carry solution, or even in a backpack, where the operators need to ensure their hands are free, to disembark or to trek to the final boarder deployment location.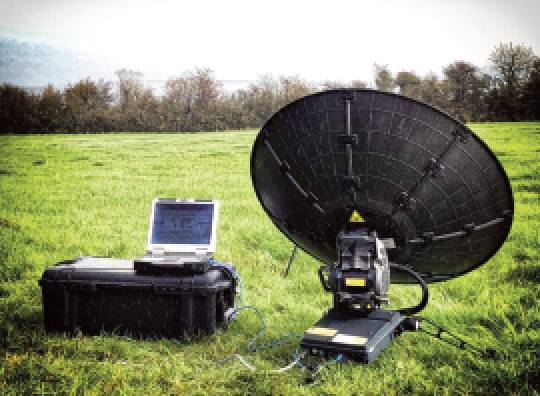 Figure 4. Paradigm's HORNET during field testing.
Once in the correct location, the equipment needs to operate in what can be extreme conditions. The term 'rugged' is often used to describe capability but, what exactly does that mean and why is it relevant to border security?
Because borders span the globe, naturally they extend through desserts, mountains and everything in between. VSAT equipment that is truly rugged will operate in these extremes, coping with the temperatures that are experienced in the Sahara and the Antarctic. Thoase are two locations you will find Paradigm products today.
Water penetration, frost and fierce gusts of wind present further practical challenges. Of course, there's the occasional bump. Underpinning this is the need for users to have confidence that the equipment will work, which is only achieved through solutions that are field proven and, consistently demonstrate low failure rates.
When dealing with border protection at sea or in rivers, securing and maintaining Communications-On-The-Move (COTM) is critical. Paradigm's MANTA terminal (see Figure 3 above) has experienced particular interest from operatives who require high speed data throughputs but have to deploy with small craft. A terminal that weighs five times less than some equivalently capable alternatives makes a significant difference to maneuverability and practicality; easy to use on the craft and simply removed for tactical land operations.
Flexibility is also becoming increasingly important. As well as VSAT manufacturers needing to offer compatibility with the particular satellite network service to which a border security agency chooses to subscribe, there may be a need to, for example, change frequency bands.
Terminals, such as Paradigm's HORNET (see Figure 4 below), offer the ability to switch between frequency bands in the field, to meet operational requirements. Developing the terminal and related modular components in such a way as to offer this ease of interchangeability, has become a focus in the design and engineering process, led very much by end-user requirements.

The challenges presented to border security operations will continue to evolve in size and complexity and so too will the communications infrastructure on which they depend. Despite this, there are ways to simplify the end-user experience.
The technical and environmental capabilities VSAT must demonstrate are tough. Through the correct investment and a track-record of successful field use, the industry has proven its suitability.
Satellite communications will continue to offer a high degree of certainty and adaptability in critical communications networks. The challenge in the 21st century is tailoring solutions to end-user environments, all the while maintaining familiarity and an exceptional ease of use.
www.paracomm.co.uk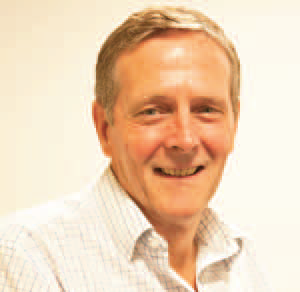 Warren Ackerley is Business Development Director of Paradigm. Warren's 40 years in the global satellite communications industry began with the Skynet and NATO communication systems in the Royal Air Force. A variety of subsequent senior roles with satellite service providers, manufacturers and integrators across continents, prepared him to co-found Paradigm in 1997. Warren's focus on business development has positioned Paradigm as the go-to for government and military clients who need simple, rugged, portable solutions designed to meet their particular needs.
Paradigm provides state of the art satcom solutions, making satellite communication simple for everyone. Paradigm's range of portable, rapidly deployable terminals are complemented by the PIM® user interface, a rugged, easy to use platform that's compatible with all major modems and terminals. Paradigm's response time and flexibility, have satisfied the most demanding of end user requirements across military, government, NGO, commercial and enterprise clients for 25 years. Exceptional levels of reliability and adaptability make Paradigm the natural SATCOM partner for those operating in critical conditions.
---