Tom Wilson is the Sector Vice President, Business Development of Northrop Grumman's Innovation Systems sector. Mr. Wilson also holds the title of President of Space Logistics LLC. Prior to the acquisition of Orbital ATK by Northrop Grumman, Wilson served as Orbital ATK's Vice President, Strategy & Business Development of the Space Systems Group.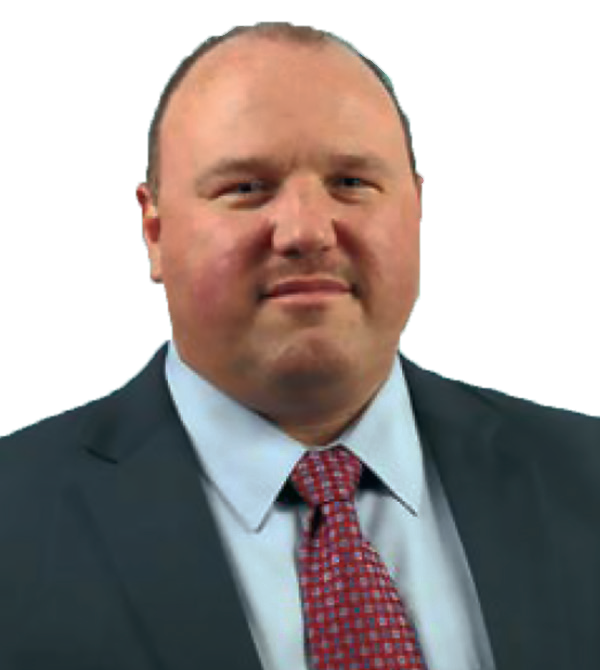 Mr. Wilson is responsible for the business development performance of the company's Innovation Systems sector. Mr. Wilson also leads a wholly owned subsidiary, Space Logistics LLC, which is chartered with developing the on-orbit satellite servicing market including the development of a first of a kind autonomous robotic servicing vehicle. Mr. Wilson is responsible for all aspects of P&L execution and customer engagement.
After the merger between ATK and Orbital Sciences, Mr. Wilson also served as the Vice President and General Manager of the Civil and Defense Division of the Orbital ATK Space Systems Group. He also served as Vice President and General Manager of the Space Systems Division at ATK Aerospace Group. In this capacity, he was responsible for the overall management of a team of over 500 employees in Maryland, California, Virginia and Texas.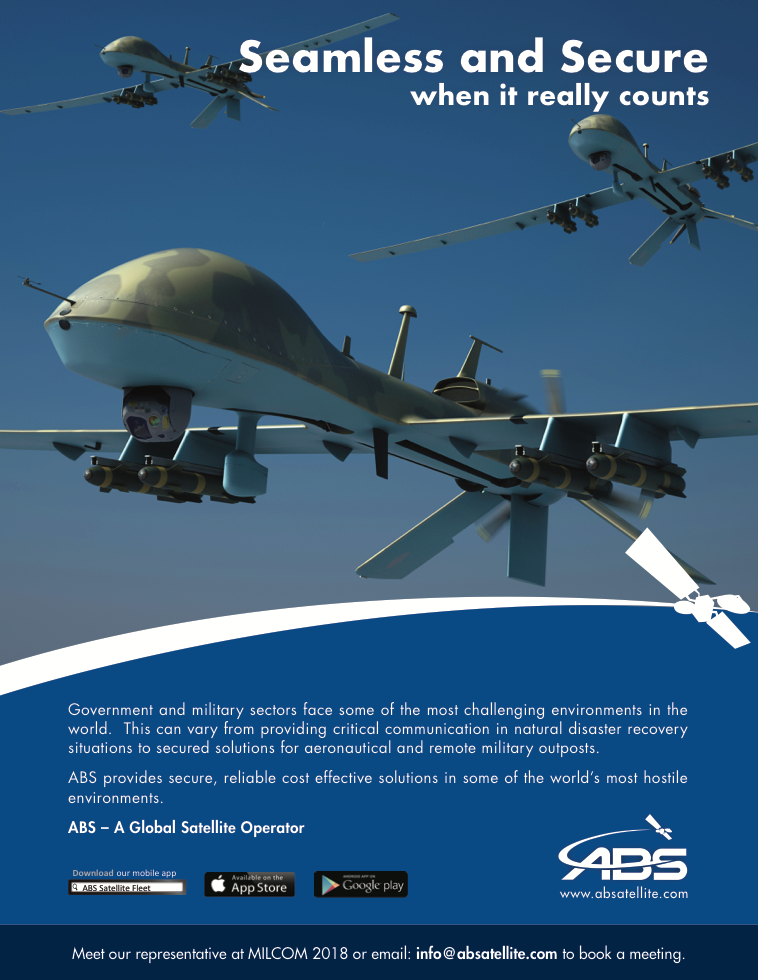 Previously, Mr. Wilson served as Vice President of Strategy, Business Development and Advanced Systems for the Space Systems Group at ATK. He was responsible for managing and coordinating business development and acquisition strategies, and aligning group capabilities with customer requirements. Mr. Wilson also held key management positions at Swales Aerospace, including Vice President, Corporate Development and Vice President, Space Systems Programs. He has over 15 years of government experience with the Department of Defense, where he was the Staff Director for the Congressional Commission to Assess U.S. National Security Space Management and Organization, held several positions within the Office of the Secretary of Defense, and with the Naval Center for Space Technology at the Naval Research Laboratory.
Mr. Wilson holds a Bachelor's degree in Aerospace Engineering from the University of Maryland.
Good day, Mr. Wilson. MilsatMagazine last chatted with you in the March 2011 edition… much has occurred between then and now, especially in regard to Orbital ATK's acquisition by Northrop Grumman. From the VP and GM of the then ATK Spacecraft Systems and Services to today as the Sector Vice President of Business Development for Northrop Grumman Innovation Systems as well as President of Space Logistics LLC. Would you please tell us how that transition has been for you and for the company and what do you see as the benefits to this melding of personnel and technologies?
Tom Wilson (TW)
The transition has gone extremely well and we haven't missed a beat in developing and promoting our innovative satellite servicing products.
I am proud to report that Space Logistics is now a wholly owned subsidiary of Northrop Grumman and company leadership has been supportive of our approach to this market. As we saw in the merger between ATK and Orbital Sciences, the combined capabilities of both companies resulted in our ability to open a new market in space. As a result, we are preparing to launch the market's first in-space satellite servicing system next year.

I look for continued synergies and momentum within Northrop Grumman going forward as we grow and expand our presence in the emerging space logistics market.
What is the mission of Space Logistics and what can the industry expect from your company during the next several months from your team? Will you be focused on commercial, military/agency/government solutions or a combination of both?
TW
Our MEV-1 team is busy completing the assembly and testing of the MEV-1 for launch next spring.
This satellite will rendezvous and dock with the Intelsat 901 satellite to extend its life for five years. In parallel with this, we are busy designing and contracting customers for our next generation life extension system we call Mission Extension Pods which will be installed by our Mission Robotic Vehicle.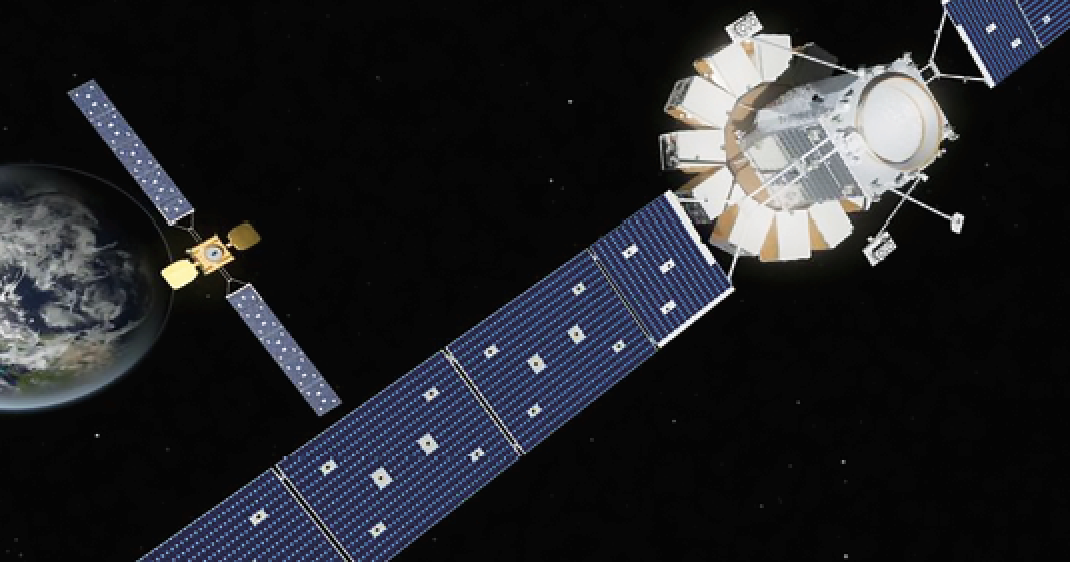 Artistic rendition of the MRV/MEP spacecraft. Image is courtesy of
Northrop Grumman.
Currently, our customers are commercial satellite operators. This technology has many applications in the government, civil and national security markets, so, as of this writing, we are in discussion with our government customers.
What's the latest on the MEV-1 launch?
TW
Our MEV-1 vehicle is now in what we call single line flow.
This means all the components of the satellite have been integrated and the vehicle is undergoing environmental and integrated testing. This testing includes thermal vacuum testing that simulates the space environment, vibration, shock and acoustic testing that simulates the launch environment, and other forms of testing to ensure the workmanship and performance of the spacecraft as built.
Once this testing is completed, it will be delivered to the Baikonur Cosmodrome in Kazakhstan where it will be integrated with our launch co-passenger and then integrated with the Proton launch vehicle. The launch is expected to occur in the 1st half of 2019.
You've already sold another MEV product. What is the status of the MEV-2 mission?
TW
Yes, last January we announced a second life extension contract with Intelsat to extend the life of another satellite in their fleet for five years.
This contract allowed Space Logistics to order our second MEV (MEV-2) from our sister business at Northrop Grumman. The MEV-2 is a build to print of MEV-1 which allows us to reduce our build schedule to just 26 months or less.

This program is progressing on schedule with much of the equipment already arriving at the satellite manufacturing facility in Dulles, Virginia.
The launch of MEV-2 is scheduled for the 1st quarter of 2020 on an Ariane launch.
When discussing the hot topic of on orbit servicing, the competition for this market segment certainly is increasing across the globe. Why should operators consider the Space Logistic solutions as the one they should consider for their satellites? What makes your firm's technological solution so commanding?
TW
What differentiates the Space Logistics solution is our keep-it-simple approach and the level of heritage.
These two factors combine to enable us to offer the lowest risk solution to meeting our customers' needs. Our initial MEV solution uses a simple docked life extension approach that is based on our heritage GEO comsat satellite bus informed by our Cygnus spacecraft that rendezvous with the ISS.
Our next generation MEP/MRV system incrementally builds on these capabilities introducing very simple robotics and propulsion augmentation that does not require interruption of service or any complicated robotic surgery of the satellite to access fueling system.
Is Space Logistics working with external partners and, if so, what can you discuss regarding their complimentary technologies in supporting your firm's efforts?
TW
For both the MEV and MEP life extension services, Space Logistics is working closely with our clients spacecraft manufacturer to ensure that the MEV is compatible with the clients satellites to meet the objectives of our mutual customer.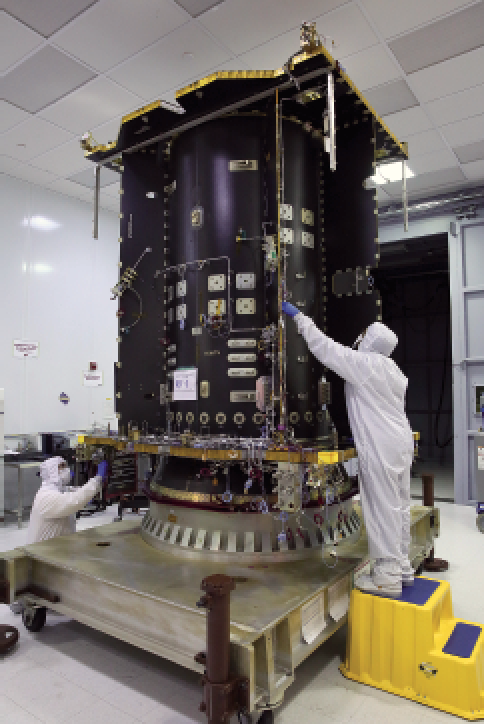 The MEV and core. Image is courtesy of Northrop Grumman.
The MRV includes an incremental introduction of new technology for Northrop Grumman, space robotics. We are currently evaluating several candidate partners that wish to work with us to supply this capability. However, at this time, our partner has not yet been selected.
Have you received all of your regulatory licensing and insurance for your products? If so, what message do you think that sends to the industry in terms of risk mitigation for these products?
TW
Our MEV is truly demonstrating the fundamentals of satellite servicing, not just from a technical and business case perspective, but also a regulatory and insurance perspective.
The U.S. government's heritage approach to meeting the requirements of the Outer Space Treaty (OST) Article 6 has been through the FCC for communications satellites and NOAA for remote sensing (earth observation) satellites. Our MEV's are truly the first of a new breed of "non-typical" commercial satellites that do not fit directly into either of these categories of heritage satellites.
However, after years of working with the U.S. State Department and the various satellite regulatory agencies, we have been able to establish a licensing approach that is accepted as meeting their obligations to the OST. This approach includes licenses from both the FCC and NOAA where in the FCC is regulating our radio transmission and GEO locations while NOAA is regulating our remote sensing capabilities which are used to perform our rendezvous and docking with client satellites.
We are now fully licensed to perform our launch and first rendezvous and docking! Another ground breaking business development for this program has been insuring our MEV. With significant help from our broker, Willis Towers Watson, we have successfully procured our launch plus one-year of in orbit operations insurance with the satellite insurance underwriters. This insurance covers our initial rendezvous and docking with the Intelsat 901 satellite.
With our licenses, insurance, launch service, and the continued progress of MEV production, we have everything in place to begin this exciting new chapter in commercial space.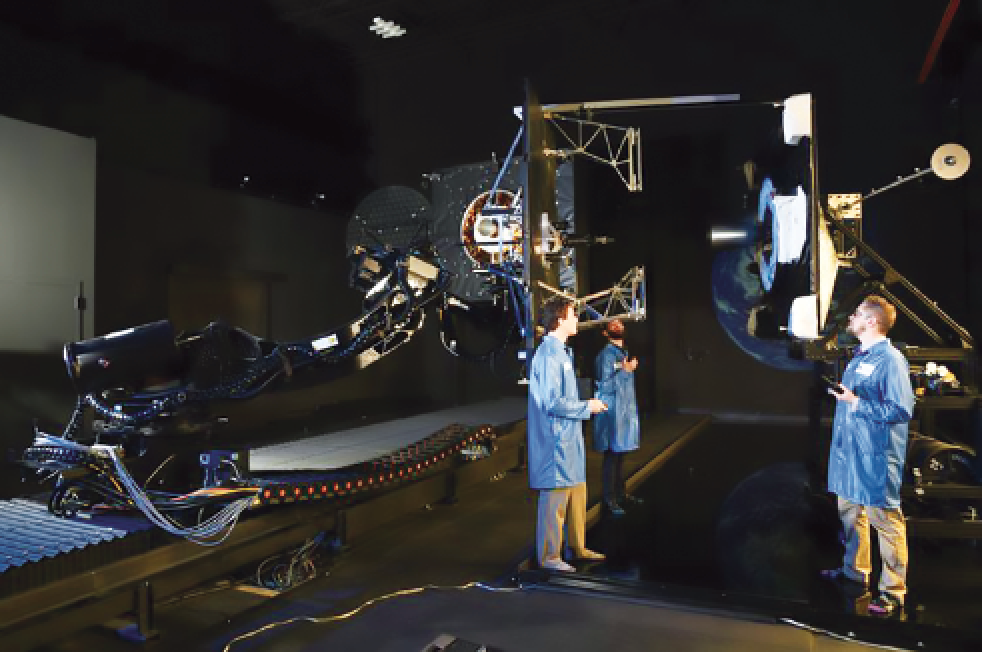 An MEV docking test. Image is courtesy of Northrop Grumman.
Innovation is driving new ideas and the technology is proving to be a breath of fresh air for companies and leaders, alike. What do you believe will be the result of such implementations over the next several months for Space Logistics and what new pathways will be opened for the space and satellite industry due to innovative research and advanced manufacturing, such as 3D printing?
TW
On orbit assembly is an important future capability that Northrop Grumman is developing and an important service offering for the future of Space Logistics beyond basic life extension.
Northrop Grumman is just concluding two important NASA contracts which conducted ground demonstrations of technologies we believe are central to in-orbit assembly and manufacturing.
The next phase that we are awaiting award from NASA is to conduct an in-orbit demonstration of several of these technologies. One of these key technologies includes our partner Made in Space which has been making excellent advances in their capabilities to manufacture parts in space.
Earlier this year, you introduced other satellite servicing products — MEPs and MRVs. Please explain the capabilities for these products, how they differ from the MEV and what customer feedback you've received.
TW
We are very excited to introduce our next generation life extension product which incrementally builds on the fundamentals of satellite servicing that our MEVs will demonstrate.
This next generation system uses a Mission Robotic Vehicle (MRV) to deliver and deploy Mission Extension Pods (MEPs) onto GEO spacecraft. The MEP's are a small and simple propulsion augmentation device which, once installed, the owner of the client vehicle can operate to supplement the propulsion system of their vehicle and thereby extend its life by 3-10 years depending on the mass of the client vehicle.
Additionally, a MEP can be relocated, by the MRV, from one client vehicle to another should the operator wish. This feature creates considerable flexibility for our customers fleet management plans.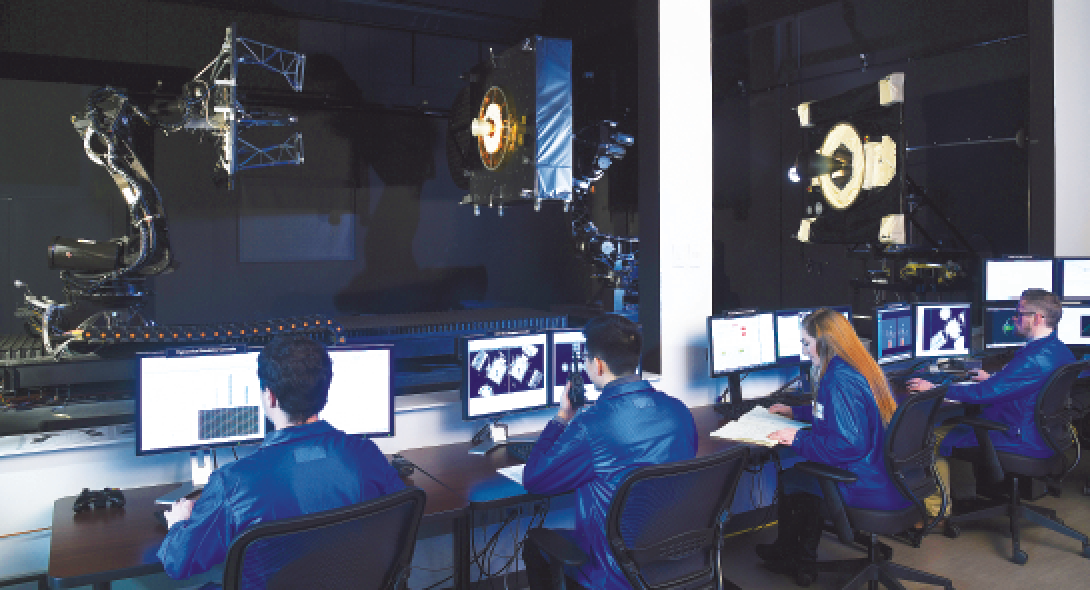 The MRV is an MEV which has been extended to carry the robotic arm and 10 MEPs. Both vehicles derive significant heritage from our MEV. Once the MEPs have been installed, the MRV will be available to perform MEV type services and relatively simple robotic inspection and repair missions.
We have been speaking with many customers about our MEP's and have received very positive feedback and interest. In fact customers have come to us and in total have identified 15 specific spacecraft of interest for this service in the 2021-2023 timeframe. Our objective is to be on orbit delivering our first MEPs in 2022.
What's next on the technology roadmap for Space Logistics?
TW
When Orbital ATK began the MEV program in 2016, we were very careful to choose the name of our new company that would provide the service.
While our initial service offering is focused on life extension, we decided to call the company Space Logistics because we envision deploying new capabilities as the technological risks are burned down and the commercial demands mature. The MEV is demonstrating the fundamentals of satellite servicing and the MRV/MEPs will demonstrate fundamentals of in-orbit assembly and repair; both while providing a valuable commercial service.
In line with these commercial endeavors, we have already begun burning down the risks of the next generations of capabilities to expand further into in-orbit repair and augmentation, in-orbit assembly of large space structures, and efficient "through space" transportation using next generation solar electric propulsion systems.
As one example, just this month we completed a NASA public-private-partnership we called the Commercial Infrastructure for Robotic Assembly Services (CIRAS), to develop key technologies that are needed to manufacture and assemble large space structures on orbit.
What, now, brings a true sense of accomplishment to you as you review your career challenges and success? This question was also asked of you five years ago and perhaps your thoughts concerning your career have now changed.
TW
My true sense of accomplishment lies in the mission success our team has had over the past two decades.
There is nothing better than when we deliver value for our customers and enable their success, especially when other lives stand in the balance with missions that focus on U.S. National Security.
www.northropgrumman.com
www.northropgrumman.com/Capabilities/SpaceLogistics
---