Space and Missile Systems Center (SMC) officials say digital engineering is the key to a faster, more agile and more innovative acquisition system.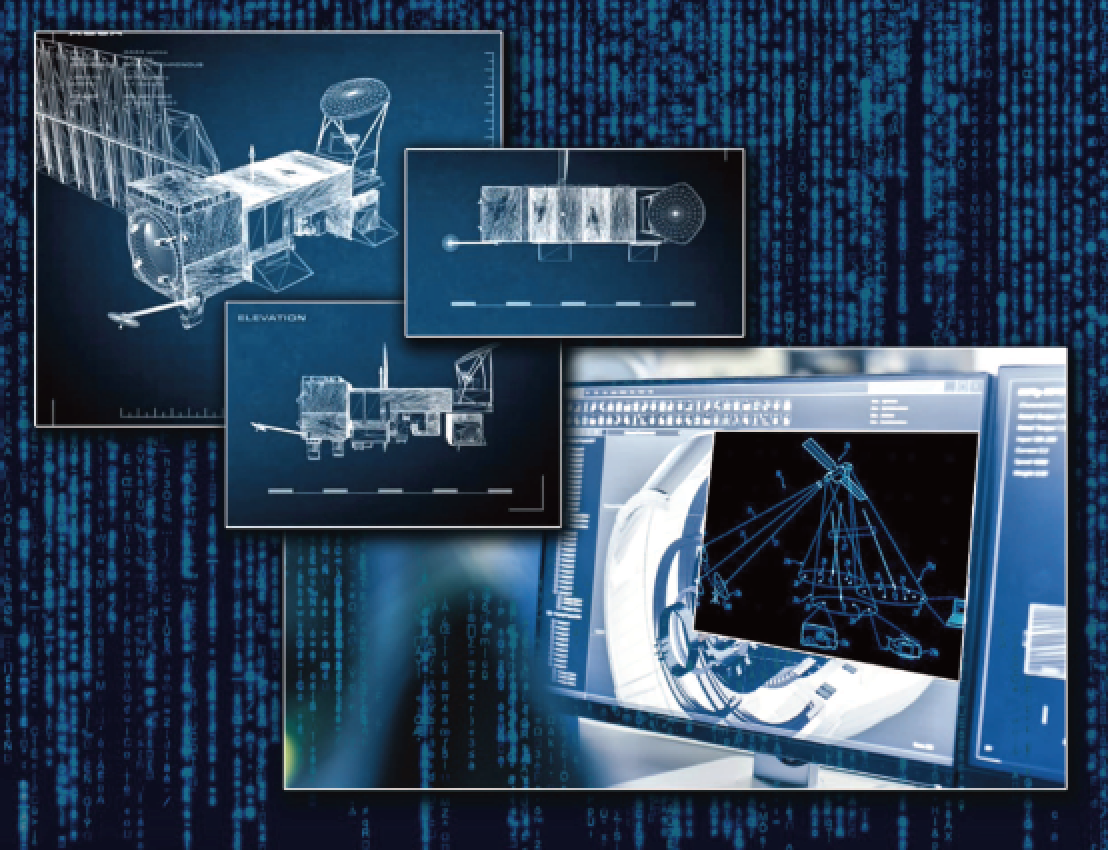 Digital engineering will go beyond individual computer models to use shared data to create a digital thread that can represent all aspects of complex systems; if a change is made in one segment, the ripple effects of that change are reflected in the rest of the system.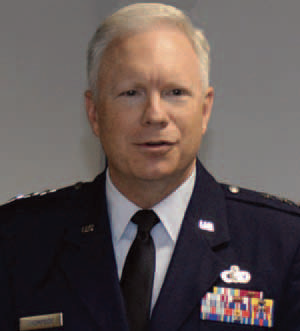 Lt. Gen. John F.
Thompson
"Digital engineering isn't just drawing something on an iPad and calling it digital - it's a change in the way we execute acquisition processes," said Lt. Gen. John F. Thompson, Commander of the Space Missile Systems Center and USAF Program Executive Officer for Space. "SMC is moving away from the old way of doing things via paper-based documentation requirements and engineering reviews. Our software development teams are creating digital dashboards, tools and metrics that assess and measure whether systems are ready for milestone review."
SMC's Portfolio Architect Directorate is responsible for establishing the system-of-systems engineering architecture and the investment strategy and framework for the $10 billion space portfolio that informs and prioritizes what SMC acquires and rapidly delivers to the warfighter.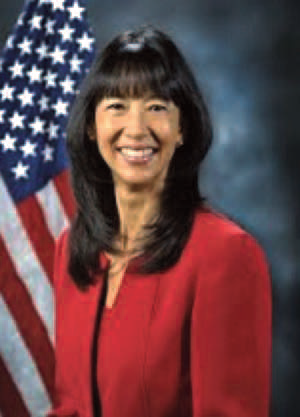 Deidra Eberhardt
"Digital engineering probably means different things to different people, but for Portfolio Architect, it's going to be a critical enabler for us in the U.S. Space Force to get more bang for the buck as we talk about greater efficiencies and affordability," said Ms. Deidra Eberhardt, deputy director for the Portfolio Architect Directorate. "This capability will help us to uncover those efficiencies, find those alternative architectures through trade space, and ensure that our superior contribution to the warfighter."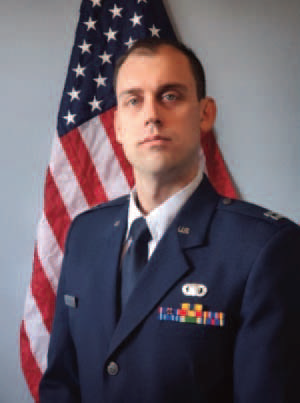 Captain Jeff Choate
"It's about getting more value from the integration of data," said Capt. Jeff Choate, lead, cross mission data with Portfolio Architect. "We have lots of data – what we're trying to do is get the data to 'play well together' – get it out of the contractor stovepipes and the individual team stovepipes."
"While portions of the technology aren't exactly new, combining them is, and is at the heart of a digital engineering ecosystem," Choate said. "If we have a modeling and simulation tool, a lot of these teams might post it on local servers and not share it. We're trying to create enterprise-wide workflows and get the visibility of the data and all these digital artifacts, digital twins, digital government reference architectures. We're working towards digital standards for what contractors actually give us when bidding for a new contract.
"It's about 'How can we create a workflow that accepts digital artifacts from a contractor so we can quickly feed that impact of a contractor delivery or a contractor's proposal and speed up that analysis, and see the impacts on the entire state architecture. And if a milestone is delayed for one of our key systems, throw red flags immediately and develop solutions'," Choate added.
One of SMC's digital engineering flagship programs is the Protected Anti-Jam Tactical SATCOM program, or PATS. The program provides worldwide, Beyond-Line-Of-Sight (BLOS), Anti-Jam, Low Probability of Intercept (LPI) communications to tactical warfighters in both benign and contested environments. The PATS System Integration Team integrates and synchronizes capabilities from space, ground and end-user modem equipment programs to realize the PATS capability.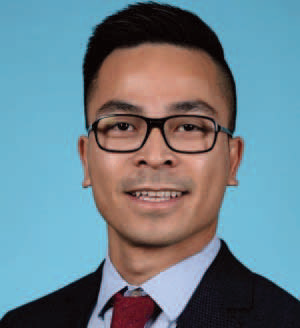 Phil Tran
"I view digital engineering as a way for us to do traditional systems engineering, but find ways to digitize it and find efficiencies," said Phil Tran, PATS technical director.
In PATS, digital engineering is helping the program increase speed and agility by helping transform its robust PATS digital product suite to a more modernized and integrated USSF digital engineering ecosystem. Digital engineering also allows multiple teams and vendors to build out architecture simultaneously using government reference models.
Just as going from paper-based technical requirements to diagrams can more quickly show how components fit together, being able to digitize that information allows engineers to rapidly model how one change will affect other components in a system — a process that previously might have taken months or weeks — in a matter of days or hours, Tran said.
---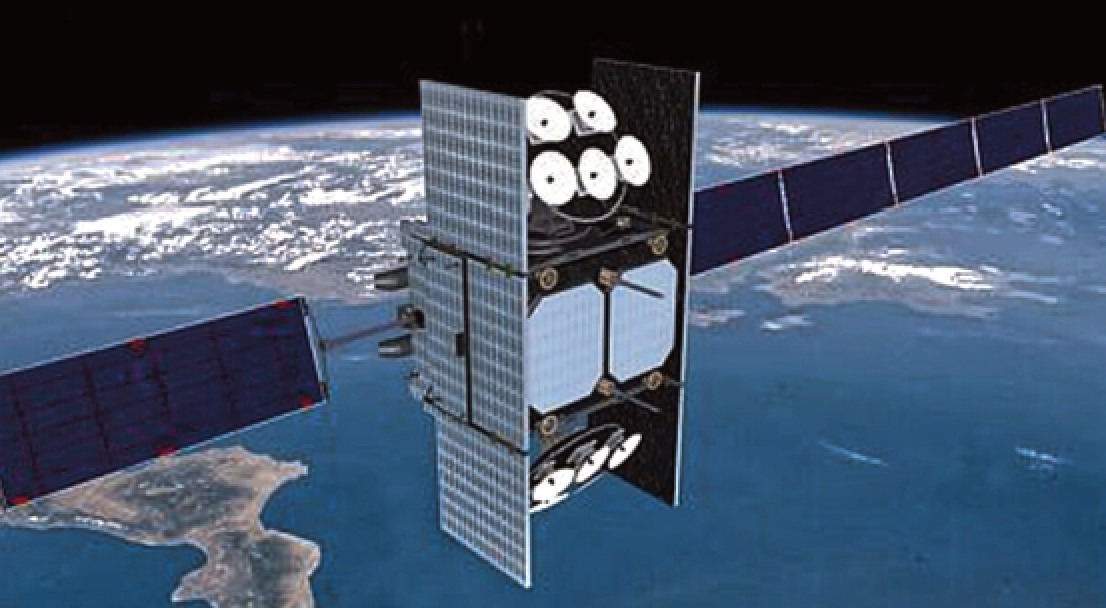 To provide antijamming MILSATCOM for warfighers across the world, the U.S. Space Force incorporates a protected tactical waveform — known as the protected AntiJam Tactical SATCOM aboard WGS satellites. Artistic rendition is courtesy of U.S. Space Command.
---
A digital twin contains the necessary information and capabilities of a real system in a digital environment to allow engineers to understand gaps before building the hardware, and see how changes in one component of the design will affect the rest of the system, Tran explained, "Though we certainly don't have all aspects of the complete digital twin done at this stage in the lifecycle, we develop iteratively maturing 'risk reduction' elements of the digital twin to help programs model future capabilities, and to see if certain investments are worth pursuing further.
"Components of our risk reduction digital twin could be a CAD (Computer-Aided Design) model, an MBSE (model based systems engineering) model, or a video game simulation," Tran said. "Our risk reduction digital twin provides useful system component representations for end users early in development to give them an early 'look and feel' of the eventual fielded system and enables them to have early relevant input they traditionally have had to make by wading through documentation."
For example, what if a particular type of satellite system launches to a GEO orbit, but SMC wanted to see how the system would perform in a different orbit? By creating an appropriate digital model, engineers could experiment at a much lower cost than launching a physical prototype, and potentially discover and prevent fatal design flaws while still working digitally. Being able to do this quickly — without taking time away from other mission priorities — also means more opportunities for innovation.
Another digital engineering challenge for the USSF and SMC will be to "own the tech stack."
That means making sure all the technological platforms are USSF-owned and all the data is accessible – while still allowing access to trusted space industry partners, Choate explained.
With a USSF digital engineering ecosystem, those industry partners will be able to submit digital models in their proposals that USSF can then use to decide how to get the best capability and value for its investment, Eberhardt said. Having that conversation digitally will be so much more informative for both sides and enable a quicker, more rapid return on the architecture.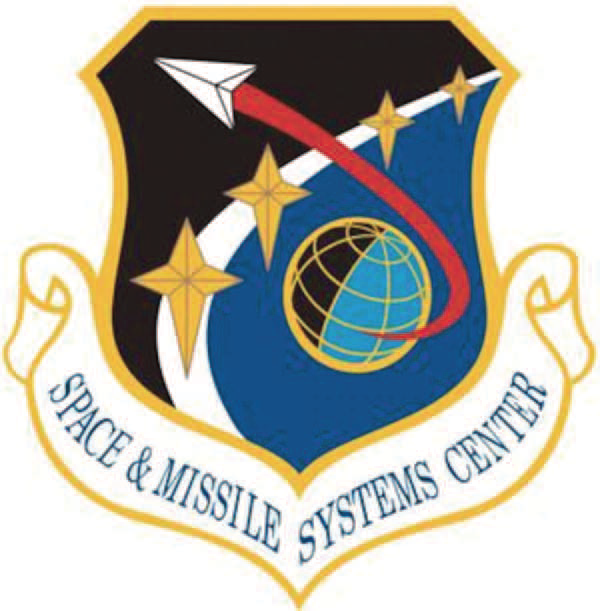 That's why SMC has identified a few programs, such as PATS, to serve as pathfinders for the new digital engineering revolution.
"There's a lot of innovation going on to create these digital environments, and we're choosing them to be the early adopters to figure out workloads, processes, and how to make this work across the entire enterprise," Choate said.
"Machine learning will allow development teams to begin automating processes, allowing engineers to focus on other, less tedious tasks, and speed up the design process," General Thompson said. "In addition, access to these simulations and digital representations will be available not only to government personnel, but trusted industry partners for collaboration."
Just in.. SMC has successfully tested their Protected Tactical Waveform (PTW) over SES's O3b Medium Earth Orbit (MEO) satellite communications constellation late last year.
PTW, a United States Government-owned, frequency-agnostic waveform capable of providing flexible, adaptive, anti-jam communications, is used by the Protected Anti-jam Tactical SATCOM (PATS) family of programs.
This recent test, complemented by previous testing of PTW over DoD and commercial Geosynchronous Earth Orbit (GEO) satellites, demonstrates the viability of increasing overall PATS resilience by using both commercial and government satellite constellations across multiple orbits.
The test used Digital Engineering PTW modem prototypes developed by MIT Lincoln Laboratory as well as terminal antenna equipment and satellite resources provided by the SES Company. The test team successfully established the PTW link on each O3b satellite during its pass. Potential follow-on testing, in coordination with SES and the Luxembourg Ministry of Defence notionally planned for this summer, features modem upgrades to support a more seamless, reliable PTW service over O3b and guide future implementation by industry partners.
Planning has also begun to expand PTW testing to include O3b mPOWER, SES's next-generation MEO constellation, which will offer significant enhancements beyond the existing system including an innovative planning system that allows dynamic allocation of bandwidth and power in near-real-time.
The USSF's Space and Missile Systems Center, located at the Los Angeles Air Force Base in El Segundo, California, is the center of excellence for acquiring and developing military space systems. SMC's portfolio includes space launch, global positioning systems, military satellite communications, a defense meteorological satellite control network, range systems, space-based infrared systems, and space situational awareness capabilities.
Contact Space & Missile Systems Center at SMC@Spaceforce.mil
---
SMC 2nd Lt. Space Acquisition Immersion Pilot (SAIP) Program Acclimates New Officers to USSF, Acquisitions
Despite restrictions from the COVID-19 pandemic, newly commissioned USSF Second Lieutenants continue to get a comprehensive introduction to the world of space acquisitions and the USSF through a special immersion course offered at the Space and Missile Systems Center at the Los Angeles Air Force Base.
At the direction of the Chief of Space Operations, Gen. John W. "Jay" Raymond, and under the leadership of Lt. Col. Laila Barasha, SMC ran the first USSF 2Lt. Immersion Course in July of 2020 for more than 40, newly commissioned officers. The four-week course — conducted entirely virtually — was designed by SMC's Commander's Action Group to help prepare new accessions for their first USSF assignments.
The immersion program focused on a wide range of space-related topics, presented via briefings from subject matter experts and senior leaders, assigned readings from selected books, and video presentations. Following the four-week course, the officers began an 8 to 16 week-long industry immersion opportunity and conclude with their entry into formal Undergraduate Space Training (UST.)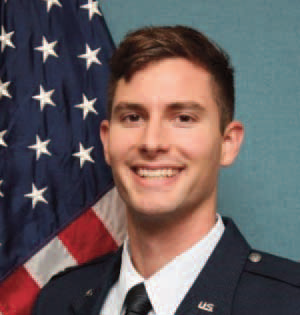 Major Gregoy
Hartman
The second course in November was three weeks long and included both new officers and civilians. The summer course included more participants, due to a large number of officers receiving commissions through the U.S. Air Force Academy and ROTC programs, said Maj. Gregory Hartman, who became the Space Acquisition Immersion Pilot Program (SAIP) manager after Barasha.
"This course is their first introduction to space and is meant to kick-start their Space Force experience," Hartman said. "It's a challenge to conduct the program virtually; however, it's my job to make them feel welcome and connected no matter the method of interaction. We're showing them some of the cool and exciting things that the USSF is doing and prevalent in their everyday lives.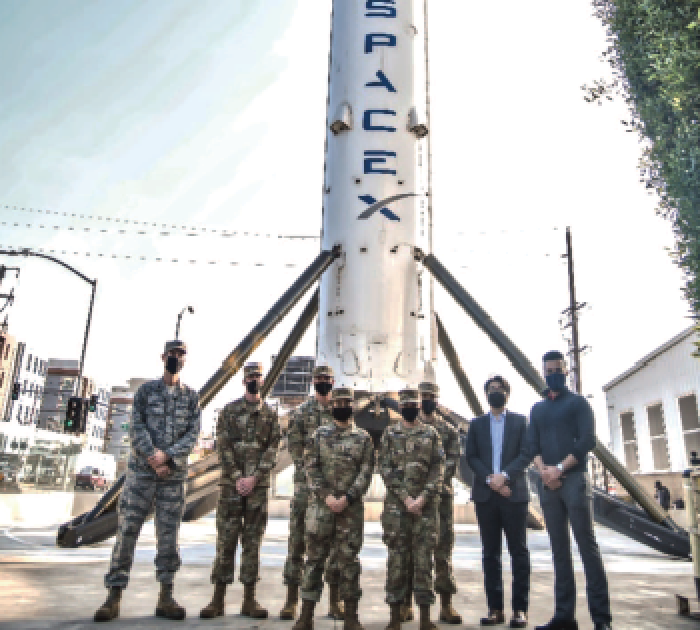 Ms. Joy White, executive director of SMC, said, "We're building a new military service, a new warfighting culture from the ground up, and this immersion program — in addition to the other trainings these officers receive — is an important part of that process."
In addition to senior leader speakers and virtual space acquisition immersion, the second class of new officers got to experience virtual briefings of space industry partners including Amazon Web Services, Boeing, Northrop Grumman, Raytheon and Virgin Orbit's VOX Space, in-person, socially distanced tours with United Launch Alliance (ULA), Space Exploration Technologies Corp. (SpaceX) and VOX were also part of the opportunities. Hartman said.
The new officers also were mentored by SMC Colonels and learned from SMC subject matter experts from across the acquisition enterprise on the technology being acquired and relevance to the USSF mission. After the course concluded, some went on to be embedded with space industry partners and others started working in various positions at SMC.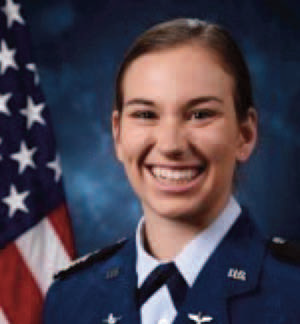 2Lt. Kristy Eslinger
2Lt Kristy Eslinger, 22, came to Vandenberg Air Force Base after graduating from the U.S. Air Force Academy. With a six-month delay until her UST start date, she was able to participate in the immersion program. She said the best part of the program was experiencing first-hand how the space industry works with USSF.
"Just having that exposure to what they do is so important," Eslinger said. "Working with contractors is half of the business, and until you work with them, you have no idea how they work with the USSF. I interviewed and received a role on the Dragon Mission Management Team, where I worked on NASA's crewed mission program. I worked with NASA and engineers at SpaceX to ensure that all parts of the Falcon 9 rocket and Dragon capsule are certified and ready for launch during the Crew-1 and Crew-2 missions."
A Second Lieutenant is the entry-level commissioned officer rank in the USSF. While they wait to take their UST classes, these officers may be assigned to a variety of duties on base. The SAIP program is meant to prepare this incoming cadre of USSF professionals as future space leaders and acquirers by exposing them to the world of space acquisitions, Hartman said.
Because the USSF is designed to be a flatter, leaner and agile military branch, these new officers must be capable of understanding the threats and requirements of space while translating them into meaningful solutions, Hartman added.
The new officers gain exposure to space acquisitions from both a government and an industry perspective, develop a blended acquirer/operator mindset and learn to understand the senior space leadership perspective for developing, managing and fielding space warfighter capabilities, Hartman said.
A third session of the SAIP Program is planned for summer 2021, Hartman said. Eventually, the program will transition to the USSF Space Training and Readiness Command (STARCOM.)
---