C-COM debuts their latest, auto-pointing antenna
During the recent IBC2019 event in Amsterdam, many companies shared their latest and greatest — among those presenting their newest technologies was C-COM and the firm's new, auto-pointing antenna and steerable phased array antenna.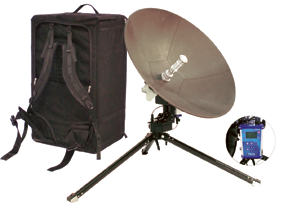 C-COM's iNetVu® MP-80-MOT
Highlighting the latest in C-COM design is the iNetVu® MP-80-MOT, a fully motorized, auto-acquire, 80 cm. carbon fiber one-case backpack antenna.
This sturdy and lightweight system will point to any programmed satellite with just the push of a button on the NEW iNetVu® 8020 Controller.
Highly portable, the multi-segment manpack can be easily hand-carried by one person and assembled in less than 10 minutes without tools.


C-COM's iNetVu® Ka-75V Driveaway.
Also presented at the show was the company's iNetVu® Ka-75V Driveaway, the 75cm, auto-deploy, vehicle-mounted antenna, authorized for use on ViaSat Exede® Enterprise, and on KA-SAT NEWSSPOTTER NEWSGATHERING service by Eutelsat.
The system is fully motorized and configured with the iNetVu® 7024 Controller to provide fast satellite acquisition within minutes, anytime anywhere.
The iNetVu® FLY-981 Flyaway was also on display at the C-COM booth. Paired with the iNetVu®7710 Controller, the fully automatic and transportable 98cm Ku-band flyaway antenna system comes in three robust cases and can be field converted to Ka-band.
www.c-comsat.com
---
Viasat completes NATO SATCOM control stations upgrades
Viasat Inc. (NASDAQ: VSAT has successfully upgraded the North Atlantic Treaty Organization's (NATO) Ultra High Frequency (UHF) satellite communications (SATCOM) control stations to comply with the new Integrated Waveform (IW) baseline.
Using Viasat's Visual Integrated Satellite communications Information, Operation and Networking (VISION) software platform, NATO gains greater communications interoperability, scalability and flexibility across legacy and next-generation platforms, which it expects will significantly enhance warfighters' situational awareness and operational insights on the battlespace.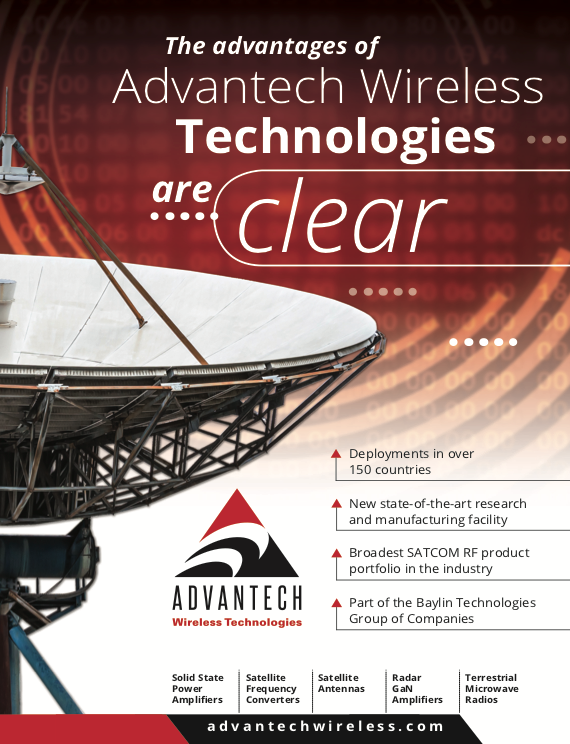 Viasat's VISION platform is the first commercially-available software package to simultaneously support all 25-kHz legacy Demand-Assigned Multiple-Access (DAMA) and next-generation IW networks and services. The VISION platform has enabled the following benefits for NATO:
• Faster communications: VISION reduced time to access software from 90 seconds to 4 seconds
• Better reliability: VISION offered greater reliability when compared to previous waveforms
• Improved functionality: VISION doubled NATO's channel efficiency
• Enhanced bandwidth: VISION gave network operators real-time capabilities to reconfigure UHF satellite networks to meet new mission profiles on-the-fly.
The Viasat VISION platform (select this direct link to view an informative video) provides a single, user-friendly network management interface for legacy DAMA and IW services, inclusive of the ability to locally or remotely manage and control ground station networks, monitor status and system performance, track event/alarm management situations and add/remove services when missions change. By enabling interoperability between DAMA and IW platforms, NATO can double its channel efficiency without additional investment in the UHF space segment. This optimization doubles the number of users, giving more warfighters access to reliable, high-quality, resilient voice and data communications.
Ken Peterman, President, Government Systems, Viasat, added that this NATO upgrade was fielded on time and under budget — further demonstrating the value of Viasat's agile business models and deep customer knowledge.
Peterman added that by working closely to understand NATO's most urgent needs, Viasat was able to deliver a cost-effective, scalable and interoperable technology capability needed to support emerging mission demands and help NATO warfighters maintain communications at the tactical edge.
www.viasat.com
www.nato.int
---
Get SAT and GRC forge a strategic, cooperation relationship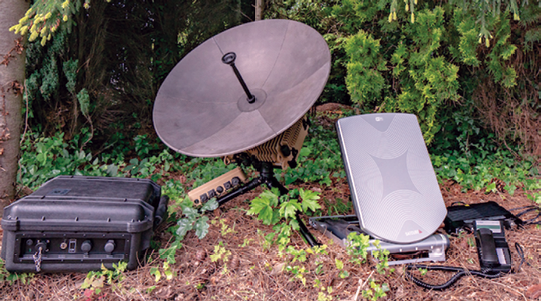 A collaboration of talents has been finalized between Get SAT, a developer of small, lightweight satellite communication terminals for airborne, ground, and maritime applications, and GRC (Global RadioData Communication Ltd.), who specialize in the design and development of mission critical communication and situational awareness systems.
The companies have created a strategic relationship that will target U.K. security, defense and government markets with Communications-On-The-Move (CoTM) broadband platforms based on Get SAT's terminals.
The companies participated in the DSRI (Defence & Security Equipment International) in London and ushered in a new era of COTM, powered by direct, high bandwidth, real-time video, audio and data communication.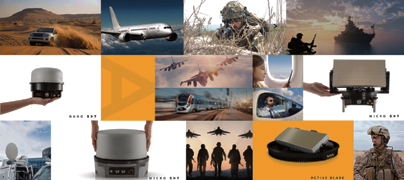 Iain Pope, GRC Chairman, reported that their customers have been consistently impressed by Get SAT terminals and their ability to deliver high-bandwidth communication on-the-move, with relatively low size, weight and power demands.
Pope noted that this has allowed GRC to offer solutions that would previously have proved impossible due to unique vehicle requirements and even lead to them developing their own magnetic mount, for easy walk on fit, allowing terminals to be installed and removed within minutes. The high-level of terminal efficiency also means they're able to offer their customers great value, effectively delivering more 'bandwidth for your buck' than they're able to offer with other terminals.
Kfir Benjamin, CEO of Get SAT, stated that uniting Get SAT's CoTM systems with GRC's mission critical solutions provide the ultimate, flexible and seamless on-the-move answers for a wide range of applications required by U.K. clients such as search and rescue, military and other security assignments. With Get SAT systems already deployed in various missions around the world, we look forward to growth in the U.K.
www.getsat.com
grcltd.net
---
USSPACOM Commands
U.S. Space Command Commander General John W. "Jay" Raymond, in his first official directives, established two subordinate commands that will jointly provide support to the new Unified Combatant Command.

Combined Force Space Component Command and Joint Task Force Space Defense will focus the planning and execution of global space operations, activities and missions into two areas:
• Protection and defense from threats to U.S. space capabilities/forces
• Maintaining and growing our national security space programs, combat-relevant space capabilities, and space cadre talent to increase warfighter lethality
General Raymond said that to ensure USSPACECOM can conduct its mission decisively, he is establishing two subordinate commands with distinct and defined mission areas to ensure the command is postured to protect and defend, while also increasing joint warfighter lethality and strengthening partnerships.
The establishment of the Department of Defense's 11th COCOM dedicated to space operations reflects the value of space contributions to national security, the evolution of the threats to U.S. space systems, and the importance of deterring potential adversaries from challenging or attacking U.S. space systems. These subordinate commands will have a direct impact on that mission.
The JTF-SD will be commanded by Brigadier General Thomas L. James, with a mission to conduct space superiority operations in unified action with mission partners to deter aggression, defend space capability, and when directed, defeat adversaries throughout the continuum of conflict. The JTF-SD will execute its protect and defend mission through various operations centers, including National Space Defense Center at Schriever Air Force Base, Colorado; Space Situational Awareness Units; and Emerging Space Defense Units.
The CFSCC will be commanded by Major General Stephen Whiting with a mission to plan, integrate, conduct, and assess global space operations in order to deliver combat relevant space capabilities to Combatant Commanders, Coalition partners, the Joint Force, and the Nation. CFSCC plans and executes space operations through four distinct and geographically dispersed operations centers, including: Combined Space Operations Center at Vandenberg AFB, California; Missile Warning Center at Cheyenne Mountain Air Force Station, Colorado; Joint Overhead Persistent Infrared Center at Buckley AFB, Colorado; and Joint Navigation Warfare Center located at Kirtland AFB, New Mexico. Additionally, CFSCC executes tactical control over a number of Air Force, Army, and Navy space units.
General Raymond added that over the past decade, the great power competitors have developed technologies that threaten this nation's critical national assets in space. The U.S. has no desire to see a conflict in space and the nation is working hard to ensure no country believes they can gain a terrestrial advantage by extending a conflict to space. It's important to understand that, like all nations, the U.S. has the inherent right of self-defense, so purposeful interference with space assets vital to U.S. national security will be met by leveraging the nation's multi-domain capabilities across air, land, sea, cyber and space, and all instruments of national power.
---
GPS III SV 2 launches successfully
The U.S. Air Force and its mission partners successfully launched the second Global Positioning Systems (GPS) III satellite at 9:06 a.m. EDT, August 22 from Space Launch Complex-37 at Cape Canaveral Air Force Station, Florida.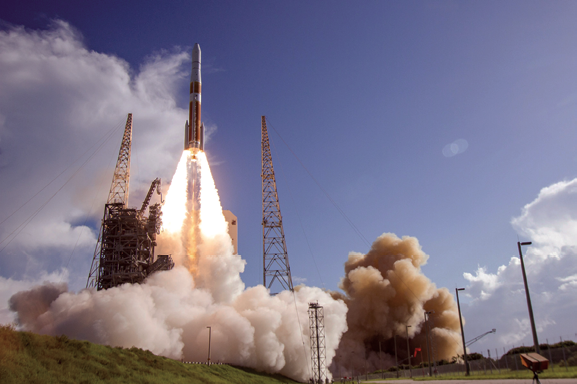 A Delta IV carrying the GPS III SV2 satellite lifts off from
Cape Canaveral Air Force Station's SLC-37, August 22.
Photo is courtesy of ULA — photo by Jeff Spotts)
The Lockheed Martin-built satellite, known as "Magellan" (in honor of Ferdinand Magellan, the Portuguese navigator who led the first expedition to circumnavigate the globe), was carried to orbit aboard a United Launch Alliance Delta IV (4,2) launch vehicle, the final flight for the Delta IV medium launch vehicle.
The USAF Space and Missile Systems Center (SMC was responsible for Magellan's rigorous Mission Assurance certifications and testing leading to full launch- and mission-readiness. SMC also conducted a rigorous source selection to ensure the ULA Delta IV rocket met all mission requirements, which included examining every single piece of hardware that built the rocket. This due diligence enabled the satellite to be reliably placed on orbit to meet civilian and warfighter communications needs.
"A successful launch such as this is always a proud moment for the team and its many members. I can't reiterate how important this second GPS III launch is as we progress toward a modernized fleet and maintain U.S. superiority in space," said Lt. Gen. John F. Thompson, SMC commander and Air Force program executive officer for Space.
"The launch of Magellan epitomizes the constant collaborative efforts which exemplify the continual improvements our teams at SMC are making in getting these satellites built and launched at EPIC Speed. With a third GPS launch planned for the end of the year, we continue to provide the "Gold Standard" in positioning, navigation and timing services for our military and for the world."
GPS III's Magellan separated from its upper stage approximately 1 hour and 56 minutes after launch. Engineers and operators at Lockheed Martin's Waterton facility started on-orbit checkout and tests, which are estimated to be completed within one month. Operational use is expected to start within a year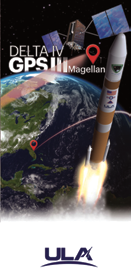 "This launch was 7 months in the making. As soon as we launched Vespucci last December, the team got to work on the SV02 campaign to get Magellan into orbit," stated said Col. Edward Byrne, Medium Earth Orbit (MEO) Spacecraft Production Division chief. "This isn't the end of our job with Magellan. We now have to carry out on-orbit checkouts, in parallel with preparations to launch SV03; not to mention the continual production effort of SV04. That is why the Production Corps space vehicles division is known as the 'A-Team'."
Magellan will join the current GPS constellation comprised of 31 operational spacecraft, and will be the 21st M-Code-capable satellite added to the fleet. GPS satellites operate in MEO at an altitude of approximately 20,200 km (12,550 miles) in six planes.
Each satellite circles the Earth twice per day, providing the "Gold Standard" of position, navigation and timing services for billions of users worldwide. GPS III, the newest generation of GPS satellites, brings new capabilities to users, including three times greater accuracy and up to eight times improved anti-jamming capabilities.
"Having launched a GPS III satellite in December 2018 aboard a Falcon 9 and now today on a Delta IV, the team demonstrated again their commitment and capability to achieve 100 percent mission success," said Col. Robert Bongiovi, Launch Enterprise director.
SMC's Production Corps, located at Los Angeles Air Force Base in El Segundo, California, leads the GPS III Magellan team. SMC's Launch Enterprise led the launch, which took place at Cape Canaveral Air Force Station.
Lockheed Martin Space Systems Corporation is the prime satellite vehicle contractor. Air Force Space Command's 50th Space Wing and 2nd Space Operations Squadron operate the GPS constellation from Schriever Air Force Base, Colorado.

SMC is the U.S. Air Force's Center of Acquisition Excellence for acquiring and developing military space systems. Its portfolio includes GPS, military satellite communications, defense meteorological satellites, space launch and range systems, satellite control networks, space-based infrared systems and space situational awareness capabilities.
This second successful GPS III launch is an exemplary case of SMC's ongoing transition to the "SMC 2.0" initiatives, as even more satellites await their ride to orbit.
The U.S. is entering a new era with space as a Warfighting domain, and SMC is leading the way with more significant U.S. acquisition agility initiatives that will birth innovation within the space enterprise and speed the delivery of crucial new capabilities to Warfighters.
SMC 2.0 encompasses the collaborative nature of the space enterprise and embraces the agility of production driving forward.
Another launch of GPS III is planned for later this year.
---