Space technology and spacecraft innovation are hot topics of discussion among America's venture capital investors, Silicon Valley firms, and Department of Defense (DoD) planners.
Over the past couple of years, new space companies have sought hundreds of millions of dollars in financing for projects as diverse as taking high-resolution images of every spot on earth every day; circling the Earth with hundreds of broadband satellite hotspots; landing on asteroids to mine them for precious metals; and measuring the atmospheric deflection of GPS signals for weather forecasting.
Getting the latest hot technology into space, whether it is a higher resolution camera or a better propulsion system, is an exciting challenge. The DoD is beginning to take a larger role in seeking out commercial technology and innovation that could be used in space. The Pentagon is also working to change its acquisition approach to better take advantage of new technologies as they become available. This is especially important given the increasing threat landscape.
Last year, the Pentagon opened an office in Silicon Valley called the Defense Innovation Unit—Experimental to scout promising technologies. In a recent speech during a visit to Silicon Valley's high-tech hub, Defense Secretary Ashton Carter said the DoD was going to spend $22 billion on space projects in 2017. He also announced the formation of a DoD Innovation Advisory Board to be headed by Eric Schmidt, executive chairman of Alphabet, Google's parent company. Google has made a major investment in SpaceX, which plans to augment its launch business with a new satellite constellation in Low Earth Orbit (LEO).
The upcoming DoD study of the Analysis of Alternatives (AoA) for wideband communications gives the Pentagon another opportunity to look to commercial companies for the best ways to support the warfighter with the latest in space technology. By involving commercial companies in this study, the DoD will be able to see how advances in commercial satellites can help the United States maintain its superiority in space.
Intelsat has long been a leader in launching and operating continuously improved spacecraft, the latest example of which is our new Intelsat EpicNG platform. Our first EpicNG satellite, Intelsat 29e, reached orbit in January and a second EpicNG will be launched later this year. A key feature of the EpicNG spacecraft is the digital payload technology, first developed by The Boeing Company for use on the DoD's WGS satellites. This is the most advanced digital payload commercially available.
Intelsat's next generation EpicNG satellite fleet combines wide beams and spot beams with frequency reuse technology to meet the growing demand for broadband connectivity worldwide. Benefits include:
• Inherent Anti-jamming—Intelsat EpicNG beams are significantly smaller than wide beams covering a broad geographic area, thereby limiting the region from which a jammer can be effective. With the onboard digital switch, jammers can be detected and stopped at the satellite, thus preventing them from polluting the satellite's downlink. In addition, desired carriers can be re-tuned to avoid the jammer and the onboard digital payload re-configured so the desired carrier still arrives at its destination at the original downlink frequency.
• Additional Layer of Protection—IGC has participated in tests led by the U.S. Air Force that validated the protected tactical waveform (PTW) modem performance over the Intelsat EpicNG platform. PTW will provide cost effective, protected communications in multiple frequency bands. On the Intelsat EpicNG satellites PTW will deliver broader protection, more resiliency, more throughput and more efficient utilization of satellite bandwidth
• Smaller Ground Terminals—The higher power due to the smaller, more focused spot beams of the Intelsat EpicNG platform, will allow for much smaller and more affordable antennas on the ground. This lower cost has unleashed a wave of innovation in the market, with a prime example being much smaller antennas that are flat and automatically lock onto satellites. These are much cheaper and easier to operate than traditional dish antennas that require manual orientation. Intelsat has partnered with two flat-panel antenna developers, Kymeta and Phasor, to design and manufacture these types of terminals.
The initial Intelsat EpicNG satellites are a first step towards software-defined satellites, which will deliver immense benefits for customers. The move to fully reconfigurable—on orbit—satellite payloads offers the revolutionary possibility that satellite design and launch can be standardized and streamlined. When the beam coverages can be done via software, market drivers shift dramatically.
This will result in increased flexibility and substantial cost savings. Satellites are typically designed and built for a specific orbital location and beam coverage. Each such satellite is, by definition, custom-built with dedicated, one-time, hardware design and engineering costs. Software-defined satellites, on the other hand, can all be built the same and configured on orbit. Manufacturing costs are significantly lower. In addition, spares can be built and put in space for quick deployment and configuration as needed.
Other features we expect to see in later HTS spacecraft include:
• Flexible Power Allocation -- For each high power amplifier on the satellite, Intelsat will be able to direct portions of the amplifier's power to different beams, as needed. For each high power amplifier on an HTS satellite, the digital payload can change the output to different beams based on the amount of signal traffic. At the same time, lower-volume beams would not have dedicated yet underutilized, amplifiers.
• Beam Forming— On orbit, operators on the ground will be able to define and implement customized satellite coverage beams to provide more capacity to a specific area as operational needs or conditions change. This will be particularly important in military operations where an area that is calm one day might become a battleground the next.
Another major technology development involves Intelsat's partnership with OneWeb, which is developing a constellation of up to 720 satellites in Low Earth Orbit (LEO) using the Ku-band. OneWeb satellites would provide global connections to ground antennas that would serve as local hotspots for 3G and 4G cellular service. The constellation is scheduled to be operational by 2019.
OneWeb LEO satellites will be interoperable with the Intelsat GEO constellation and will enable us to extend our broadband mobility offerings to the polar regions, an important service for our government and commercial customers. These LEO satellites will also complement our highly efficient GEO broadcast capabilities with LEO high elevation angles for select situations where GEO signals may be blocked, such as urban landscapes or mountainous terrain. Terminals are being developed that will be able to switch between our EpicNG satellites and the OneWeb network, depending on type of use and coverage needed.
Once operational, the OneWeb service will open up a number of new applications for our military customers. For example, when troops deploy today to an area without a terrestrial network connection, they have to set up network servers in the combat area and create their own small network and connect back to a command center via satellite.
With the OneWeb terminal to set up a hotspot connection, troops will be able to use their iPhones, laptops and other portable devices to connect to the military network or call loved ones back home at 4G LTE speeds.
Our fleet and capabilities are evolving with the kinds of features and functionality that the U.S. military needs to maintain American superiority in space. By including commercial companies in the AoA process for wideband communications, the DoD will be able to better define how the satellite ecosystem can best serve war fighter needs.
The Pentagon can also take advantage of the speed with which commercial companies can get new technologies into space. Through the AoA process, government planners will better understand how to improve communications resiliency by spreading SATCOM across a range of commercial spacecraft in LEO and GEO offering pole-to-pole coverage.
www.intelsatgeneral.com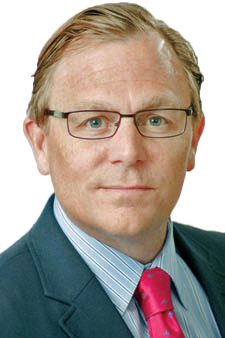 Mr. Butler brings to the position two decades of experience in the commercial satellite communications and telecom industries. He joined IGC in 2006 as Director of Hosted Payload Business Development and was most recently Director of Solutions Development. Preceding IGC, Mr. Butler held sales, business development and strategy roles at satellite services companies DRS, Spacelink and Verestar.
Mr. Butler holds an MBA at the Smith School of Business, University of Maryland, College Park. He stays active in the industry, serving as the President of the Mid-Atlantic Chapter of SSPI in 2012. He has also represented IGC on the Commercial​ Space Engagement Forum (CSEF), the Satellite Industry Association Comsatcom Operations Working Group and other assignments.
---