Grand plans such as the Department of Defense move to a more unified and effective Global Information Grid (GIG) of military networks often run headlong into reality. The DOD played a key role in the creation of the Internet Protocol, so it certainly makes sense that the U.S. military should maximize the advantages of today's commercially available and increasingly sophisticated IP technologies. In an "everything over IP" (EOIP) environment, the communications needs of a mission can be met with a fraction of the equipment and support personnel required to deploy separate data, phone, and video conferencing networks. EOIP communications systems result in higher mission effectiveness with lower implementation costs.
On the other hand, unique military requirements make it impractical to simply adopt off-the-shelf products and run the GIG as if keeping the world safe for democracy were no steeper a challenge than keeping the shelves stocked at Wal-Mart. Fulfilling the complete GIG vision includes solving computer sciences challenges such as implementing a cyphertext "black core" to the global network capable of protecting and separating traffic according to varied classification and ownership rules. The GIG must reach over satellite links and function in austere environments with limited bandwidth.
Figuring out the best way of achieving these goals is a puzzle that won't be solved overnight. The good news is that it doesn't need to be. As with many problems that seem overwhelming when considered in their entirety, the transition to unified communications over IP is far less intimidating when considered on a mission-by-mission basis. And by solving the problem in phases, we can build the expertise needed to solve it on a grander scale.
Traditionally, the military has relied on a wide variety of radio, satellite, and wired network technologies designed to meet different communications and security requirements. The
Defense Information Systems Agency
(
DISA
) acts as a wholesale provider of wide-area network services to the armed forces, but that includes separate networks for data, phone service (over the
TDM
, or
Time Division Multiplexing
, protocol) and video conferencing. In addition, each service and many agencies operate their own data, voice, and video networks or purchase these services from commercial providers. The divisions between all these networks tend to be relatively fixed, so that every effort to combine them for joint operations spawns at least a minor systems integration project.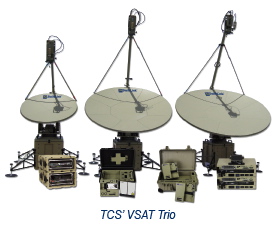 IP has the potential to be a great unifier. The reason the TCP/IP protocol suite was invented in the first place was to provide common ground between multiple operating systems and local area networking technologies. Eventually, it became so successful that many of the protocol gateways faded away, and IP protocols came to be used on both local and wide-area connections. Technologies and techniques for integrating voice and video and ensuring the quality of their transmission came much later, but really just represent an extension to the goal of inter-networking around common standards.
In the corporate world, multimedia convergence mostly is happening around VoIP routing of phone calls and, for some organizations, IP video conferencing. Broadcasting and cable networks have also begun to make selected programming available to the masses over the Internet. In a military setting, IP networks can extend to video feeds from unmanned aircraft and ground vehicles, as well as other sensor and surveillance data feeds. Convergence around IP standards also makes it more practical to support multi-mode communications, such as using presence detection based on logins to computers or wireless devices to help soldiers figure out the most efficient way to communicate with each other by phone, mobile phone, instant message, or a rich collaboration session combining voice or video and applications such as desktop sharing and white boarding.
If implemented intelligently, these technologies can be more than gimmicks. They can be tools for creating a more agile fighting force, where the commander faced with an immediate crisis can more quickly connect with superiors and subordinates, intelligence sources and other experts, and communicate with them more effectively. We can do a better job of making sure to get the right information to the right people at the right time for the right mission. One early proof point is the Joint Network Node, a unified system for data and voice communications that was designed for rapid deployment to a war zone or disaster response situation. With JNN, a unit can go into the field with a single satellite communications system and a single operator to address all its communications needs. JNN is based on a fixed (albeit portable) satellite node, but other efforts such as the Army's
Warfighter Information Network-Tactical
(
WIN-T
) and the
Joint Tactical Radio System
(
JTRS
) initiative are extending IP to mobile network nodes mounted on a truck or carried by a soldier.
At
TeleCommunication Systems Inc.
(
TCS
), headquartered in Annapolis, Maryland, we have particularly focused on integrating the various components of an EOIP network to provide secure access to voice, video, and data applications using a field-upgradable multi-band, multi-aperture flexible VSAT system to agile, forward-deployed units in the field. These IP-enablers deliver the operational flexibility to accommodate both on-the-ground conditions and hybrid network constraints dynamically. Engineered to ensure maximum flexibility, each VSAT terminal is field-upgradeable in less than two minutes with a simple swap of the pre-configured feed-boom assembly. Warfighters may not only operate in their choice of frequency bands (Ku, Ka and X) but also easily migrate between bands as the situation requires. TCS aims to design its products so minimal training and ease of field use is paramount.
Even before the arrival of all the proposed WIN-T increments in-theater, the warfighter has already been provided plug-and-play options through an expansive choice in terminal apertures sizes, L-band modems and baseband packages. In fact, baseband
SIPR/NIPR
(classified/non-classified) network platforms are built on COTS architecture to deliver scale and performance as required. Each baseband package consists of an integrated system of best-in-class IP routers, WAN accelerators and crypto units with EoIP support for converged voice, video, and data applications. TCS is playing an active role in the military's transition from JNN to WIN-T and the attendant EOIP implications that this transition implies.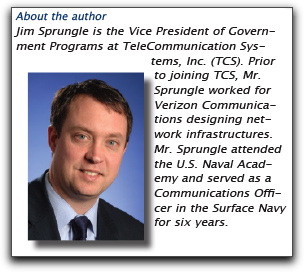 Does this mean you can believe every claim about the glories of unified IP communications? Of course not. But if you approach the challenges with eyes wide open and do the necessary planning for success, you too can take advantage of the benefits that are already available today. What are you waiting for?