To respond effectively to conflicts and humanitarian missions cross the globe, troops have depended upon satellite communications (SATCOM).
For years, the Defense Satellite Communications System Phase III (DSCS III) and UHF SATCOM programs—with augmentation from commercial SATCOM (COMSATCOM)—supported this function. However, 9/11 changed everything and ushered in a new era of asymmetrical, global conflict, while creating greater demand for data with maximum capacity, connectivity, reliability, interoperability and flexibility requirements.
As a result, the Wideband Global SATCOM (WGS) satellite system began replacing DSCS III in 2007, with each WGS satellite producing ten times the predecessor's capacity. Through WGS, the Department of Defense (DoD) has built a worldwide system to accommodate intensive data rate usage and long-haul communications for the military community, as well as the White House, the US Department of State, international partners and special users.
Each WGS satellite establishes service in X- and Ka-band frequencies. For the first time, military users can cross-band between the two frequencies onboard the satellites.
"These characteristics provide a quantum leap in communications capacity, connectivity and flexibility for US military forces and international partners while seamlessly integrating with current and future X- and Ka-band terminals," according to an official WGS factsheet posted by the Air Force Space Command (AFSPC). "Just one WGS satellite provides more SATCOM capacity than the entire legacy (DSCS) constellation."
While the X-band frequencies deliver critical tactical communication, Ka-band adds an enhanced capability of increased data rates and spectrum for wideband mission flexibility. WGS Ka-band is clearly emerging as government users' top choice for strategic planning.
Government users are increasingly seeking Ka-band from commercial owner/operators, as the DoD has developed a high dependency on COMSATCOM to fill "significant" capability gaps within WGS, according to the Government Accountability Office (GAO). "According to DoD officials, some combatant commands and military services believe they can acquire commercial SATCOM faster, better, and cheaper" than through military satellite communications (MILSATCOM), according to the GAO's recent report, titled Defense Satellite Communications: DoD Needs Additional Information to Improve Procurements.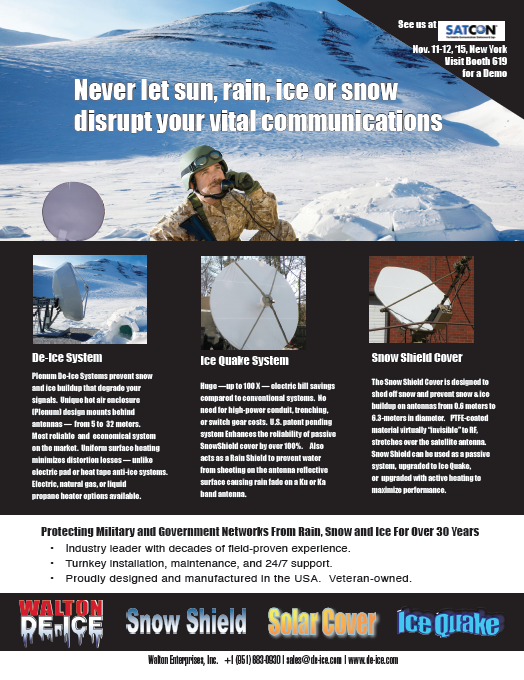 Historically, government users have turned to commercial providers of Ku-band to supply wideband requirements. But Ku-band is a commercial fixed satellite service that is predominantly designed for television network broadcasting and is typically designed and ideally suited for fixed locations using large dishes. Military broadcasting can be adequately supported, but not the wide range of mobile communications which are needed in the current and coming age of military operations.
In addition, Ku-band is now a saturated spectrum, a commodity even, with congested orbital and frequency slots at full capacity due to the tremendous demand for broadcast access among land-based commercial users. While there are new generation Ku-band satellites in the pipeline, they are not expected to be operational until around 2018. Future Ku-band systems, as well as any replacement or added capacity, will be only for regional coverage.
In contrast, a single satellite service provider can field global coverage via the comparatively greater number of available orbital slots designated for Ka-band. There's an added advantage here—commercial and military Ka-band frequencies are adjacent, and the development of advanced hybrid terminals is underway to cover an extended Ka-band range.
Where MILSATCOM Ka-band service is not available, users can modify existing military terminals with minimal effort to access commercial Ka-band on those terminals that are already available. This saves on costs by streamlining the use of equipment, while allowing military users to readily switch between government systems and private-sector infrastructure on the same hardware, opting for what is best suited for their mission.
In addition, many new Ka-band systems are built with smaller, steerable beams for high capacity density, which adds some enhanced jam resistance for platforms while supporting significant uplink data rates for programs such as military Intelligence, Surveillance, and Reconnaissance (ISR) and other data-rich applications.
The military community now considers such performance critical for mission assurance. To further elaborate, the following is a detailed breakdown of the aforementioned and other driving factors which differentiate Ka-band as the preferred frequency for today's mobile and global satellite communications that augment existing MILSATCOM services with maximum reliability, capacity, flexibility and capability:
Reliability
Alternatives to Ka-band simply are unable to deliver the seamless and ubiquitous coverage that is essential for the military use. Only through a patchwork of satellites and systems, other system users encounter inconsistent power throughout the footprint that results in an unpredictable and varying quality of service between the middle and outer edges of the beam. This results in unreliable data transmission as distributed over "hot" and "cold" spots. In a cold spot, platform bandwidth can drop significantly. Global Xpress Ka-band, conversely, is composed of many "spot" beams that are seamlessly "stitched" together, which results in optimal and consistent coverage across the entire field of view of the satellite.
Resiliency
On orbit testing has proven Ka-band systems can transfer high-speed data without degradation, even in adverse weather conditions as well as on terminals measuring as small as 8 by 8 inches. Tests also demonstrated Ka-band high-speed data and video can be transferred securely with anti-jam protections from a protected tactical waveform (PTW) in adverse environmental and weather circumstances, shielding signals from interferences on the part of adversaries and cyber terrorists.
Size
The Ka-band antenna is one-fourth the size of those engineered for alternative frequencies. This is particularly crucial for airborne platforms, as smaller antennas can fit on smaller airframes while blending into aerodynamic surfaces better—this extends fuel efficiency and range. Land expeditionary teams benefit as well, using lightweight, easy-to-use terminals to support Communications-On-The Move (COTM) and Communications-On-The-Pause (COTP). With the military increasingly focused upon SWOP (size, weight and power), this advantage cannot be overstated.
Flexibility
The government is recognizing what Inmarsat calls "SATCOM as a service" as the standard-setter for satellite acquisition. This robust and global approach integrates complex solutions within an end-to-end managed services architecture and provides uniform Ka-band coverage. With SATCOM as a service, troops access satellite on-demand with round-the-clock availability of transponders, equipment terminals, backhaul, capacity and features. As Ka-band is uniformly global, the bandwidth is custom-ready for SATCOM as a service as well as being fully portable and available to users no matter where they travel. Unlike their experience with heterogeneous transponder leases across a myriad of operators—they do not have to estimate and pre-order bandwidth in advance of a pending mission. That historical piecemeal process costs time and money, which results in a loss of mission effectiveness. Through Ka-band, commanders no longer "guess" about how much bandwidth they will need, much less where, and thereby reduce expense and risk while increasing mission effects.

Innovation is all about continuous improvement—satellite technology is no exception. Engineering and design teams are constantly introducing systems that more immediately connect to high-throughput capabilities for any and all voice, video and data functions.
Ka-band has demonstrated its superiority as a readily available, dependable, flexible and affordable SATCOM option, a position well established through the government's own investment in Ka-band on WGS. The time has now arrived for the military and commercial industry providers to work together to create the best Ka-band environment possible for all concerned parties.
Rebecca M. Cowen-Hirsch is Inmarsat's Senior Vice President for Government Strategy and Policy in the United States Government Business Unit, based in Washington, D.C.
---