To maintain warfighter overmatch, the US military must deploy advanced technologies for situational awareness to the edge of the battlefield.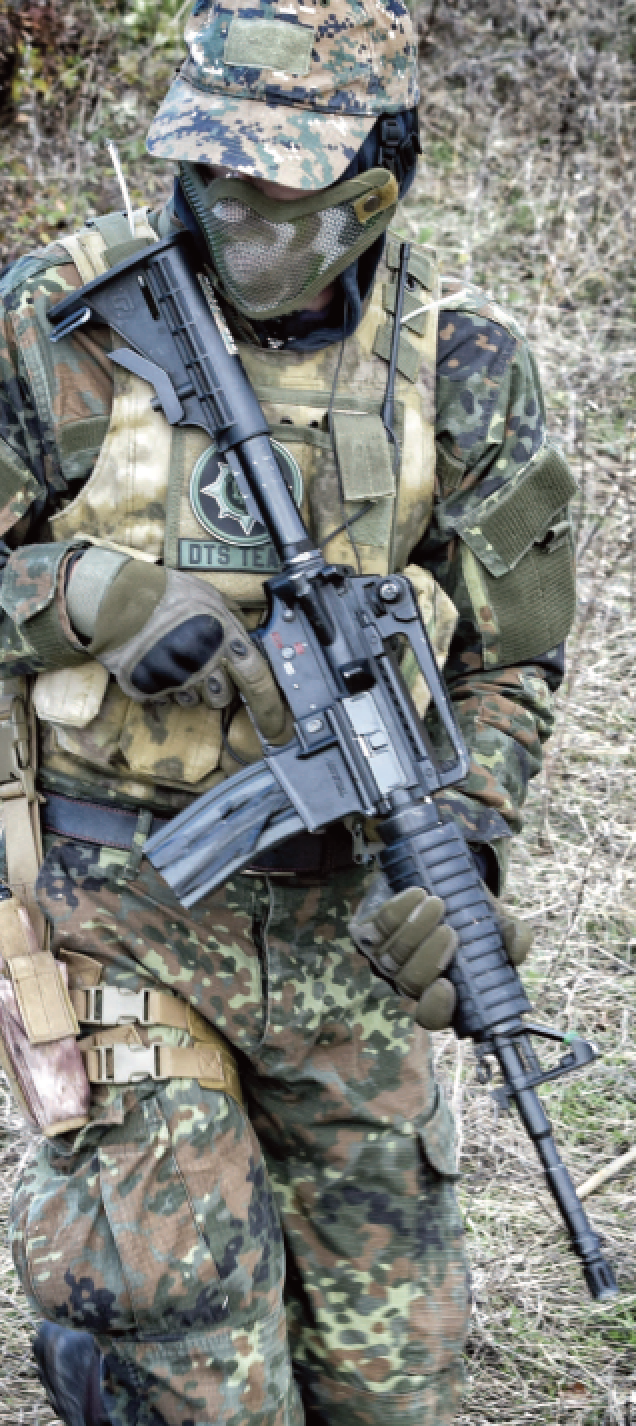 In order to better coordinate deployed forces and enable new capabilities, the US Army, Air Force, and Navy are actively looking to new programs to ensure warfighters have maximum agility and situational awareness.
These programs will deliver a variety of compute and bandwidth intensive technologies, increasing the use of video, big data analytics, artificial intelligence and machine learning, for example, to deliver the command and control information that warfighters need to coordinate their activities.
The software needed to run these new capabilities is increasingly being developed to run in the cloud, which itself might reside in range of data centers, ranging from the large commercial services such as Amazon Web Services (AWS) GovCloud and Microsoft Azure Government, or the Department of Defense's (DoD) Regional Hub Nodes (RHN), located in five separate strategic regions and used by deployed U.S. Marine Corps and U.S. Army units to access transport information from theater tactical networks around the world.
As forces develop greater dependence on cloud-based services, what happens when wide area access to the cloud becomes denied due to contested communications through electronic warfare (EW), or diminished due to reduced bandwidth?
The key to delivering advanced new tactical capabilities and ensuring their continued availability if there's no access to the cloud is to vastly increase the capability, speed and mobility of networking and compute at the edge of the battlefield. That will make possible the replication of critical data and services in mobile clouds.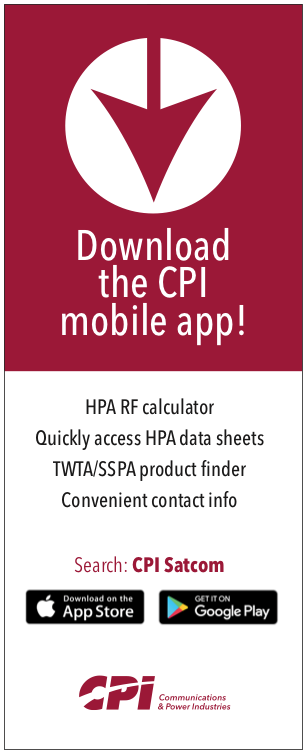 As compute and bandwidth hungry applications, such as video and AI/ML, proliferate to support battlefield operations, processing needs to happen locally at maximum speeds. To enable the next generation of situational awareness capabilities the DoD is looking to deploy cloud replication between remote computing nodes to provide continuity of operations in the case of network outages or low bandwidth.
Examples of these programs include the US Army Cross Functional Team's CPI-2 which is currently developing prototypes of its Command Post Support Vehicle (CPSV), essentially a mobile data center that in future iterations could support local cloud. CPSV is a rugged truck that carries a small data center's worth of servers. Likewise, the Army Future Command has published a roadmap that specifies requirements for robust cloud capabilities.
The US Air Force is developing the Advanced Battle Management System (ABMS), a federated cloud system that will provide secure processing from a security cloud it refers to as CloudONE, already running in Amazon AWS and Microsoft Azure government clouds. It also defines a local cloud, EdgeONE, to provide continued security in case communications with CloudONE are disconnected.
The Navy recently issued an RFP to industry to support Manned-Unmanned Air Vehicle Team Tactical Cloud analysis, including an approach for providing remotely deployed cloud or processing services in case the tactical unit becomes temporarily disconnected from the tactical network.
A key requirement for realizing the promise of mobile data centers at the battlefield edge that can support the firehose of data associated with cutting edge applications, such as augmented reality and AI/ML based network cybersecurity, is the availability of a small form factor high-speed network switch.
The good news is that recent technology breakthroughs now make it possible to deploy rugged, small factor 10 Gigabit Ethernet (GigE) solutions that deliver the increased network speeds and data security required by next generation compute and network hungry applications. This also means that the replication of server data becomes a practical reality, enabling the warfighter to have access to a copy of the cloud, hosted on mobile data centers, in the event that the main cloud becomes inaccessible.
Previous, network switch offerings lacked either the speed, being limited to 1 GbE performance, lacked the ruggedization needed for deployed environments, or were too large and heavy to optimize their fielding. All of that changed recently with the introduction by Cisco of their new ten-port 10 Gigabit Ethernet switch designed for onboard mission-critical tactical mobile communications.
---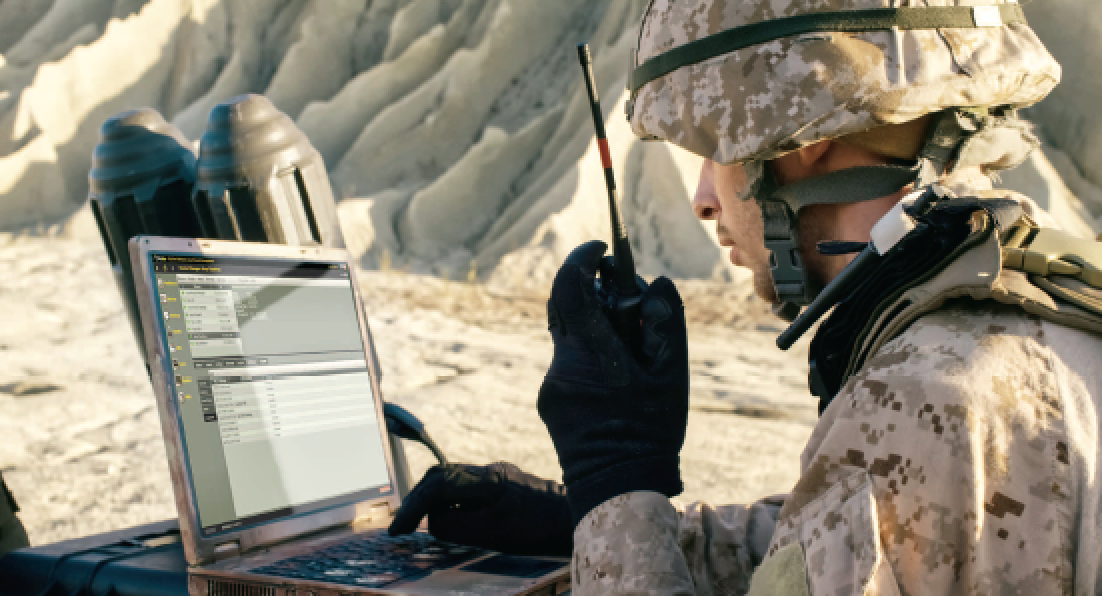 ---
This hardened switch module, based on Cisco's latest ESS 9300 technology, has a -40-85 C operating temperature that delivers optimal performance in extreme harsh environments. Measuring 110mm x 85mm, the compact module requires only 35W of power.
Additionally, Cisco's proven track record delivering COTS solutions that meet extensive DoD cybersecurity requirements continues with this new switch. Security features include Cisco's TrustSec, Secure Boot and authentication, authorization and accounting features to identify and restrict users, all the while measuring their usage while accessing resources — and like all Cisco products offered to US DoD, Cisco plans to fully certify the solution's cryptographic implementations and capabilities conforming to standards such as FIPS-140 and Common Criteria.
An example of a DoD-ready solution based on the new Cisco 10 GbE switch is Curtiss-Wright's recently introduced PacStar 448 module. Housed in a fully rugged casing, the PacStar 448 adds the military interconnects and features, such as support for running on military standard batteries, that make it ideal for deployment in mobile data centers.
Curtiss-Wright was closely involved in the development of the solution from the early stages of its design, and collaborated on early engineering samples to ensure that military performance requirements were successfully met.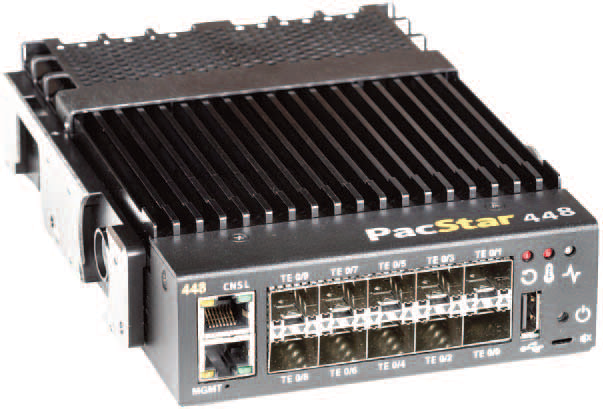 PacStar 448
The PacStar 448 plugs directly into the widely deployed PacStar Modular Data Center, a tactical and expeditionary rugged data center capable of hosting mission command, cloud/storage, sensor fusion, AI and analytics applications. PacStar MDC supports hyper-converged infrastructure, cloud replication and high-speed network-based tactical communications at the edge of the battlefield — using PacStar 448 as the network infrastructure enabling high speed data replication.
The advent of rugged size, weight and power optimized 10 GigE networking hardware packaged for deployment in harsh environments will deliver the secure, high-speed data replication capability needed to realize the DoD's vision of mobile cloud computing.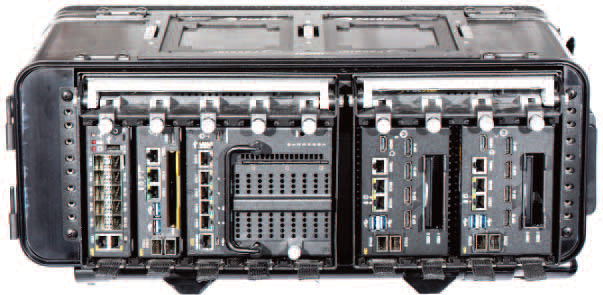 PacStar MDC
When radio links to the RHN, Command Post or Tactical Operations Centers become severed or diminished, warfighters will maintain their access to the critical new situational awareness technologies and capabilities that provide them with force multiplier superiority.
Now, the tactical cloud can go where the warfighter goes.
www.curtisswrightds.com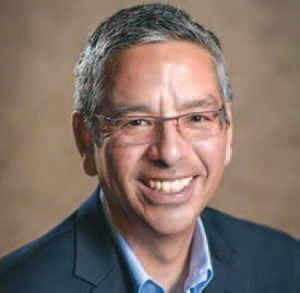 Charlie Kawasaki joined PacStar, now a Curtiss-Wright subsidiary, in early 2005 to lead the company's technology strategy and future product roadmap for its proprietary product lines. Charlie currently leads PacStar strategic initiatives – investigating and developing new integrated solutions and technologies to meet customer needs, in particular, focused on areas such as Commercial Solutions for Classified (CSfC), Cybersecurity, and Edge Computing. Charlie works closely with technology and product teams from our largest partners to create joint solutions, leveraging PacStar core technologies to create optimal tactical and expeditionary solutions. Charlie also serves as a technical and product evangelist raising awareness for PacStar solutions in the company's target markets and customers.
Charlie has extensive experience in product development, software engineering, technology licensing, patent development, business development, product marketing, general management and M&A. Charlie has more than 35 years experience in early stage technology companies, creating dozens of software products for Internet infrastructure, cybersecurity, PC management, and relational databases.

Charlie served as CEO of RuleSpace, Inc., which created AI-based Internet parental controls applications used by companies such as AOL, Yahoo and Microsoft. Before RuleSpace, he held product development and engineering management roles at companies including The Palace, Inc., Creative Multimedia Corp., Central Point Software, Inc., Asymetrix Corp. and Microrim, Inc. In 2019, he was named Outstanding Industry Collaborator by Oregon State University.
Opening image is courtesy of Daniel Balaure@danielbalaure
---