IBETOR S.L.—Extreme Driving Conditions Are No Deterrent
IBETOR S.L. is currently delivering to the Spanish Military Emergencies Unit (UME) and Ministry of Defense (MOD) Land Forces groups a quantity of 55, X-band Satellite-On-The-Move (SOTM) systems.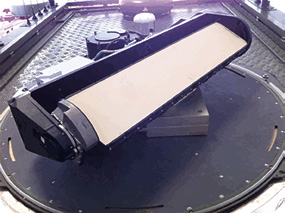 The product, named Ib-SOTM, is designed and manufactured by IBETOR using ThinKom Solution's planar phased array antenna technology called Continuous Transverse Stub (CTS).
The Ib-SOTM system uses an IBETOR developed, high performance, closed-loop antenna control and positioning system.
The Antenna Control Unit (ACU) in conjunction with a dual GPS antenna and an Inertial Navigation System (INS) that samples the attitude of the vehicle at 1KHz supports operation on-the-move, maintaining miss-pointing losses of less than 0.5dB.
Operational advantages of the IBETOR SOTM system ensure X-band communications on-the-move in the most extreme driving conditions (Churville B compatible).
The low profile (<7 inches) ThinKom CTS antenna minimizes the visible signature and vehicle vulnerability, a key feature in military operations. The antenna radiation patterns are well behaved, compliant with 47 CFR 25.138 and allow for very high operating spectral efficiency.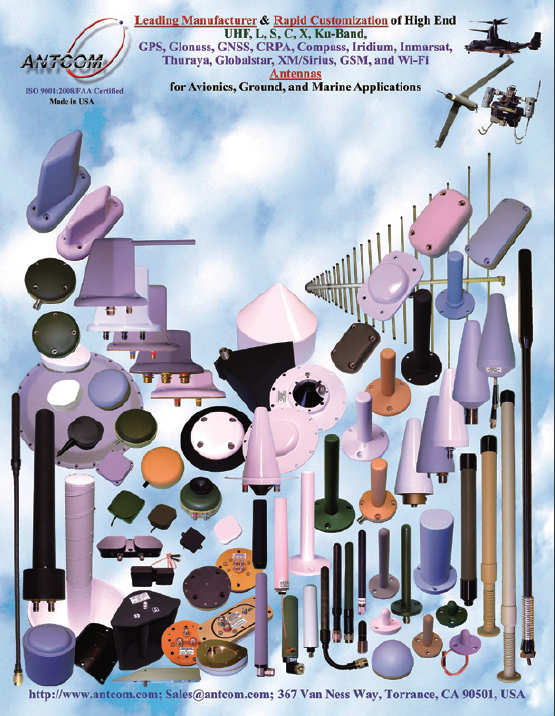 The IBETOR system has been tested under extreme environmental conditions (MIL-STD-810F) and has successfully uplinked (return link) data rates of 8Mbps. Ib-SOTM has been certified by the Spanish satellite government operator (HISDESAT) and is currently in the process of certification for other military constellations.
* * * * * * * * *​
CJTF-HoA—Kenyan Defense Forces Obtain Weather System
A team from Combined Joint Task Force – Horn of Africa recently installed a new weather system at the Kenyan Military Airport in Nairobi.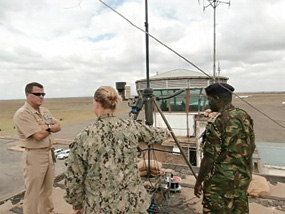 The team included U.S. service members from, J3 Meteorological and Oceanographic Office, J3 Special Operations Command and Control Element Weather System and Support Cadre and the 411th Civil Affairs Battalion.
Before the new system was installed, the Kenyan Defense Forces relied on data from a civilian weather system which can be very time consuming.
The system, officially called the TMQ-53 Tactical Meteorological Observing System, assists war planners and combat weather teams through a collection of weather sensors connected to a computer.
The system uses low-earth orbiting satellites to collect data, enabling the transmission of mission-critical weather data within an hour after receiving it.
The new system provides current weather conditions to the Kenyan Defense Forces, which will enhance the safety of future missions.
"Enhancing safety and effectiveness of the Kenyan Defense Forces ground and air operations was one of many positive results of the mil-to-mil engagement," said U.S. Navy Lt. Cmdr. Rachel Martin, Combined Joint Task Force-Horn of Africa Joint Meteorological and Oceanographic Officer.
Joining the mission with METOC were J3 WSSC technicians to help install and provide working knowledge of the system to KDF personnel.
"As subject matter experts, we went there to ensure the location was right for the system and properly installed," said U.S. Air Force Master Sgt. Harlan Rogers, noncommissioned officer in charge of the cadre. "The Kenyans we were working with were very sharp, fast learners, and their attention to detail was amazing."
Senior Airman Michael Becker, the cadre's lead technician, explained how the TMQ-53 system worked.
"The event in Kenya was a unique experience and very rewarding," Becker said. "Going to Kenya to install the TMQ-53 while communicating to the Kenyan Defense Force how proper maintenance and handling the equipment helps it last longer builds that trust in our relationship with them."
Becker also noted that he enjoyed learning some of their language and culture, and liked trying their cuisine. He said it was an experience he will never forget and would love to go there again.
CJTF-HOA supports partner nations such as Kenya in military to military engagements in order to defeat violent extremist organizations in East Africa.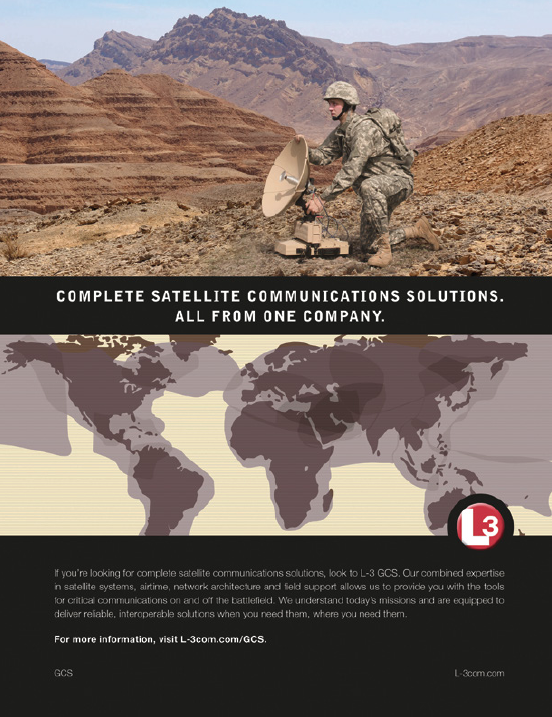 Story by U.S. Navy Petty Officer 1st Class Rafael Martie, combined Joint Task Force—Horn of Africa Public Affairs.
* * * * * * * * *
China + Brazil—Awry
All looked well at the Taiyuan space center in China's Shanxi province when the Long March 4B rocket pushed the CBERS 3 satellite away from Earth.

The China/Brazil developed, $250 million, 2.3 ton satellite packed infrared and thermal imagers and was intended to capture black and white imagery at a top resolution of 5m (16 feet) to discover sources of water, examine urban development, assist with identifying deforestation and land use cycles in Brazil.
However, something went amiss... the Chinese Xinhua news agency as well as the Folha de S. Paulo newspaper both indicated that the CBERS 3 did not attain its orbital slot and is believed to have unceremoniously returned to Earth.
An otherwise stellar record for the Long March B rocket—which had 20 previous, successful lift-offs—now appears to be undone. This event, according to reports, indicates the launch vehicle encountered an unspecified difficulty during its ascent, resulting in the satellite failing to reach its orbital slot.
Brazil's INPE (National Institute for Space Research) and China are developing the next CBERS 4 satellite in tandem, with an expected launch sometime in 2015.
* * * * * * * * *
Prioria Robotics—Company Level Tactical Asset
The U.S. Army recently purchased 36 Maveric unmanned aerial systems as a result of an urgent request from soldiers in combat.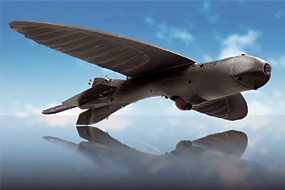 The request was made to the Rapid Equipping Force, or REF, at Fort Belvoir, Virginia, in March, and Soldiers will receive them by December.
The 36 Maverics, which are not in the Army's current unmanned aerial system, or UAS, inventory, cost $4.5 million and are made by Prioria Robotics Inc., a technology firm in Gainesville, Florida.
The Maveric is classified in the micro-UAS category as it is smaller than the Army's Raven and Puma systems, according to Tami Johnson, project manager, REF. Maveric will support Soldiers at the squad level, she added, while Raven and Puma are company-level tactical assets.
Another difference, she pointed out, is Maveric's wings are flexible and enable the system to naturally blend into the environment.
"Puma and Raven are both dependable systems," she said. "However, this requirement called for a small, subtle capability that could be employed by a single Soldier. Maveric meets this unique requirement."
Johnson said Maveric can be flown for 60 minutes before it needs to be refueled. It also contains sensors for day, night or obscured hazy environmental reconnaissance work.
The Maveric cruises at 26 knots and dashes up to 55 knots, but more importantly, it can fly in sustained winds of 20 knots and up to 30-knot gusts.
At this time, the REF has no plans to purchase more Maverics, but that could change pending Soldier feedback or additional requirements from theater, Johnson said. She added the REF will continue to work closely with the program manager for Army UAS, informing them of any Soldier assessments or requirements as they come in.
"We anticipate that the systems will be equipped in late 2013 and we are eagerly awaiting Soldier feedback on performance," she said.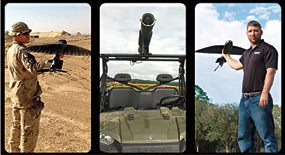 Maveric did undergo testing earlier this year at Yuma Test Center in Arizona by the Army Testing and Evaluation Command, which published a Safety Release for Soldier Training, Safety Confirmation and Capabilities and Limitation report.
Johnson explained the role REF plays in acquiring new technologies, "As the REF procures emerging capabilities to meet urgent Soldier requirements, we are often inserting technologies for the first time and assessing operational performance," Johnson explained. "Maveric UAS is a good news story for the REF. It demonstrates our ability to validate a unique requirement, canvass emerging commercial-off-the-shelf and government-off-the-shelf technologies, and partner with other Army organizations to quickly place capabilities into the hands of Soldiers."
* * * * * * * * *
GVF—Unprecedented SATCOM Efforts For Philippines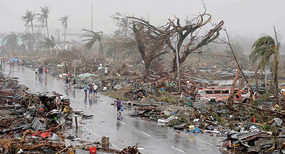 In the devastating aftermath of Typhoon Haiyan, the international satellite sector has implemented an unprecedented collaborative effort through GVF, the satellite industry's non-profit association, to provide communications solutions optimized for support of the disaster-response efforts underway in the Philippines.
In the hours immediately before and after Typhoon Haiyan's landfall, Steve Birnbaum, GVF's Disaster Response Director, issued an emergency notification calling upon Members of the association to provide closely co-ordinated support for disaster-relief efforts conducted by the humanitarian community.
"With relief efforts underway in the Philippines—and recognizing the severity of the nation's crisis—the satellite industry responded with invaluable offers of communications services and bandwidth to facilitate immediate delivery of mission-critical satellite communications," said Mr. Birnbaum.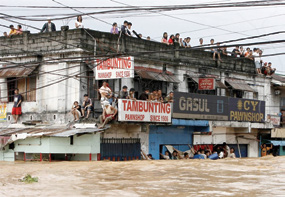 With coordination from GVF Members, the Initiative collaborated to create a new, premium VSAT service exclusively for the humanitarian response effort in the Philippines.
This level of industry collaboration is unprecedented, and provided the humanitarian response community with an optimal common platform from which to operate.
The collaboration minimized the duplication of effort and resources often criticized in past humanitarian responses, achieving a key objective of the GVF's Humanitarian Assistance & Disaster Response programs.
The GVF Disaster Response Initiative included co-ordination with a host of key emergency-management stakeholders, which have been mobilizing communications, personnel and other vital assets to the affected area.
"The importance of satellite communications has long been recognized as effective for use in disaster relief and mitigation," said David Hartshorn, Secretary General of the GVF. "But the scale of the Philippine disaster has required the fullest measure of support and co-ordination for the delivery of rapidly-deployable communications."
As the Initiative's focal point, Mr. Birnbaum coordinated an international effort to identify satellite communications assets that could be applied to the ongoing relief efforts. They include a wide range of satellite solutions, including provision of three vital services: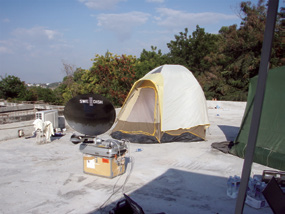 • Rapid Access to State-of-the-Art Services: GVF posted emergency notices to the
global industry for disaster-recovery requirements.
• In addition, direct and immediate access to the world's leading suppliers of satellite-based emergency-management systems and services was provided.
• The GVF Members, which include approximately 200 companies from throughout the world, offered an extensive range of satellite solutions: Bandwidth, mobile systems, VSAT networks and equipment, fly-aways, ruggedized terminals, integration and installation, consulting, legal services, and more.
• Provision of GVF-Certified Technicians: Contact details for GVF-Certified VSAT Installers are available to first responders via http://www.gvf.org/. These technicians, all of whom have completed the GVF's Certification Program, include personnel from the UN, NGOs, government, and industry.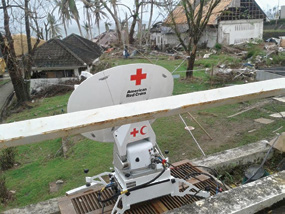 • Implementation of Effective Regulation: Regulations often inhibit or prevent the industry's ability to rapidly provide satellite communications during and after disasters. To address this issue, GVF has co-ordinated closely with the Philippines' government and contributed to the initiation of emergency licensing procedures.
"The relevance of satellite communications to emergency managers and the humanitarian & aid sectors has never been higher... nor has there ever been greater recognition that the industry has a vital role to play in saving lives," said Mr. Birnbaum. "The GVF's Disaster Response Programs continue to represent an important opportunity for everyone involved in the satellite industry to help save lives when disasters strike anywhere I the world. If your company has assets that can be used in support of future disasters—please contact me directly at steve.birnbaum@gvf.org to be registered with the GVF's Humanitarian Assistance & Disaster Response programs."
* * * * * * * * *
US Army + DoD—Increasing Pacific Military Satellite Access
By building a "slice" of its larger Network-Centric Teleport system at the Army's Regional Hub Node in Guam, the Department of Defense can access an additional military satellite that was previously out of its reach and improve its support in the Asia-Pacific region.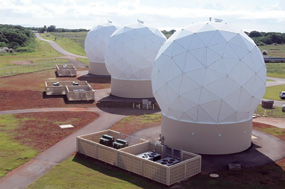 "The DoD Teleport program has gained a whole new venue to support its customer base, which includes the Air Force, Marine Corps, and Navy," said Joe Vano, Regional Hub Node, or RHN, project lead for the Army's Project Manager, Warfighter Information Network-Tactical, which manages the RHNs. "It's going to enable DoD customers across the board to be much more functional in the Pacific theater."
The joint project began in July, and following testing, recently began supporting new users. The endeavor is another win for the DoD in its continued push to veer away from expensive commercial satellite use toward the more efficient utilization of its own military Wideband Global SATCOM, known as WGS, satellites, Vano said.
The extensive SATCOM capabilities of RHNs enable regionalized reach-back to the Army's global network. WIN-T is the backbone of the Army's tactical communications network, which provides Soldiers with high-speed, high-capacity voice, data and video communications.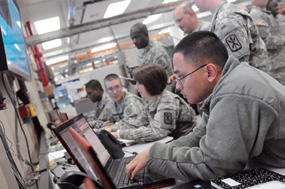 The five RHNs strategically located around the globe reside at the upper-most level of the WIN-T network architecture and support Army and Marine Corps users.
"Without the RHN, the DoD would have to invest millions in new SATCOM terminals to make this happen," said Mike McClelland, Pacific Region PM for the DoD Teleport Program Office.
Managed by the Defense Information Systems Agency, the DoD Teleport System is a SATCOM gateway that links the deployed Warfighter to Defense Information System Network services, the DoD's enterprise network, through a variety of DoD Teleport sites strategically located around the world. Its role is similar to the Army's RHNs, but it supports a different customer base that includes the Air Force, Marine Corps, and Navy.
The new joint Teleport effort is unique in that it relies on the transport capabilities of an Army RHN to deliver voice, video and data to the Ka-band (military satellite radio frequency) DoD Teleport user, and for the first time leverages the WGS-4 spacecraft, McClelland said.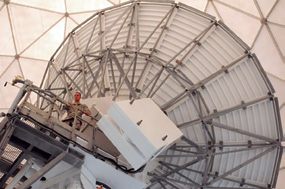 The DoD's WGS system, a constellation of highly capable military communications satellites, leverages cost-effective methods and technological advances to provide worldwide, high data rate and long-haul communications for U.S. forces and international partners.
WGS satellites are positioned above the equator at different locations to provide global coverage. Prior to the effort, DoD Teleport only had one Ka-band terminal operating in the Pacific region—its Teleport in Hawaii. However, there are two WGS satellites on station in the Pacific. The Defense Information Systems Agency could only conduct missions on the WGS-1 satellite through the Hawaii Teleport; it didn't have the capability to conduct missions on WGS-4.
In order to utilize WGS-4, it needed a ground satellite dish pointed directly at the WGS-4 satellite in space, and it didn't have that large, very expensive infrastructure in the required location.
"WGS-4 is positioned further west than WGS-1, which is very attractive for the DoD Teleport user base because of current operational requirements that require a better 'view' of the Pacific region," Vano said.
Project Manager, Warfighter Information Network-Tactical and the DoD Teleport Program Office developed a cooperative work-around to satisfy these requirements.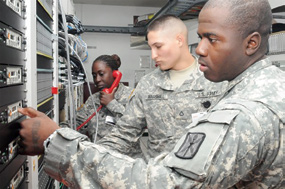 By installing an interconnecting circuit and a small Teleport contingency package at the Guam RHN, DoD Teleport will now be able to use up to 30 percent of the RHN Guam WGS-4 antenna radio frequency capability. In addition, DoD Teleport assets at the Guam RHN can be managed from its Hawaii Teleport site, eliminating the need for DoD Teleport personnel at the Army's site.
"This cooperative effort allows DoD Teleport to come into the Army's 'house' and leverage its assets in a very cost effective manner," Vano said. "And given the current fiscal environment, this kind of joint teamwork is not only a big win for our forces, but for the taxpayer as well. It works out great for all parties involved."
Story by Amy Walker, PEO C3T