ULA's AEHF-6 Launch Success for USSF
The United Launch Alliance Atlas V 551 rocket lifted off at 4:18 p.m. EDT (2018 UTC) carrying the sixth Advanced Extremely High Frequency (AEHF-6) communications satellite for the U.S. Space Force's Space and Missile Systems Center from Cape Canaveral Air Force Station, Florida.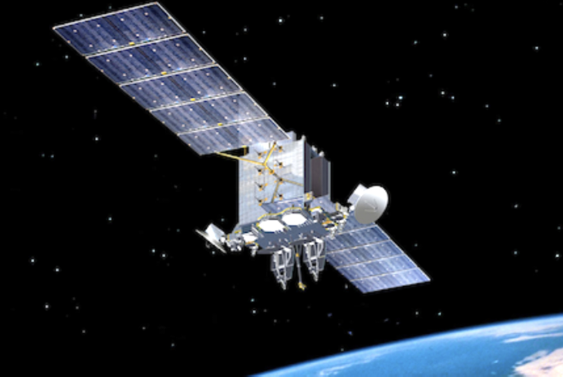 Following the first stage of flight, the Centaur upper stage performed an initial burn that achieved a parking orbit. A second burn then injected the rocket and payload into a standard GEO orbit. The cubesat rideshare payload was then deployed.
Five-hours later, the Atlas rocket coasted away from Earth to reach apogee, or the high point, of the orbit and Centaur performed a third and final burn and raised perigee, or the low point, of the orbit and reduced inclination, relative to the equator.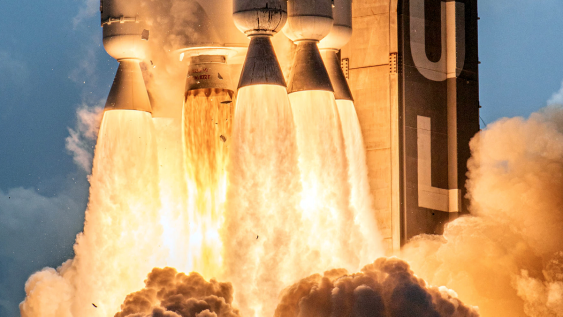 The seven hour countdown started at 8:07 a.m. EDT under the guidance of ULA Launch Conductor Scott Barney. The rocket was powered up and underwent standard day-of-launch testing while crews finished configuring the launch pad. The "go" for fueling was given by ULA Launch Director Tom Heter III at 12:39 p.m. Tanking operations were successfully performed as 66,000 gallons of liquid oxygen and liquid hydrogen were placed into the rocket's tanks. The clear to launch was given at 4:12 p.m. EDT by Space Force Mission Director Col. Robert Bongiovi.
The AEHF system, developed by Lockheed Martin, provides vastly improved global, survivable, protected communications capabilities for strategic command and tactical warfighters. This jam-resistant system also serves international partners including Canada, the Netherlands, the United Kingdom and Australia. AEHF-6 will be a protected communications relay to provide the highest levels of information protection to the nation's most critical users.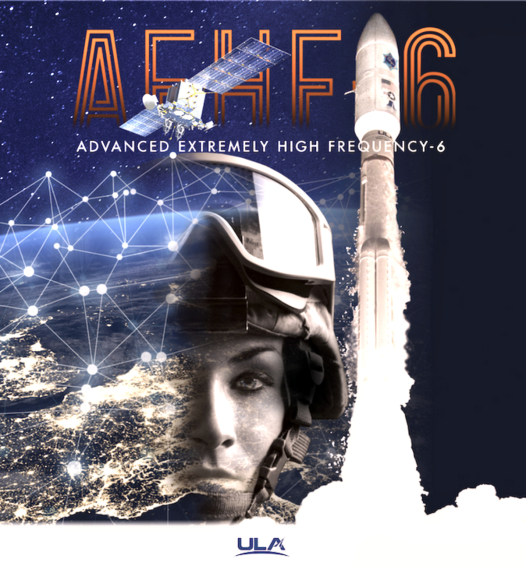 The Lockheed Martin A2100 satellite gives senior leadership a survivable line of communications to military forces in all levels of conflict, including nuclear war. The system features encryption, low probability of intercept and detection, jammer resistance and the ability to penetrate the electro-magnetic interference caused by nuclear weapons to route communications to users on land, at sea or in the air.
The Atlas V 551 rocket will deliver AEHF-6 into an optimized, high-energy geosynchronous transfer orbit. ULA and the AEHF program produced this ascent profile to maximize mission flexibility over the satellite's lifetime.
Atlas V rockets successfully launched the first five AEHF satellites in 2010, 2012, 2013, 2018 and 2019. These satellites were placed in geosynchronous orbit 35,888 km (22,300 miles) above Earth to augment and eventually replace the legacy MILSTAR communications satellite fleet. One AEHF satellite has greater capacity than the entire five-satellite MILSTAR constellation.
ulalaunch.com
---
Viasat Working to Top Their Record Breaking 2019 Performance
In the defense sector, Viasat aims to top a record-breaking 2019 by improving their Defense and Government Communications technology for warfighters, all of which will drive the company's efforts in 2020 to improve crucial communications for warfighters.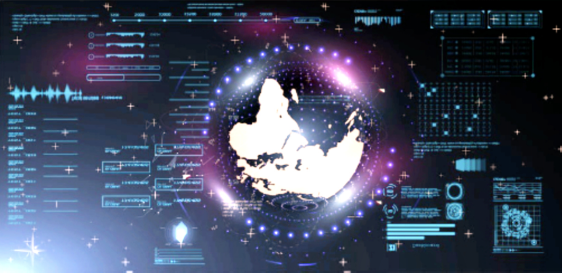 Having achieved a series of key milestones over the course of the last year, 2020 may prove to be another record-breaking period for Viasat as the company continues to enhance its market-leading technology and thoughtful leadership throughout the defense sector.
Highlights in 2019 saw Viasat's Government Systems business exceeding $1 billion in annual revenue for the first time in the company's history.
Viasat was also prominently featured across a series of industry-leading government rankings. These saw the company climbing from 82nd to 46th in the "2019 Washington Technology Top 100" as well as jumping 90 spots in the "Bloomberg Government (BGOV) 2019 Federal Industry Leaders List". Viasat also demonstrated differentiated progress in the 2019 "Defense News Top 100".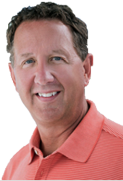 Ken Peterman
According to Viasat's President for Government Systems, Ken Peterman, this ongoing success presents an exciting future for the company as it continues to support warfighters and military forces operating around the world.
He said that Viasat is one of the fastest movers in terms of growth trajectory in the defense market today. The company's unique culture of innovation, technology leadership, agile development processes and flexible business models are seeing enormous demand from warfighters and the firm's military customers.
Peterman highlighted the company's mix of veterans, engineers and technologists as key to the company's ability to maneuver in a more entrepreneurial fashion throughout the defense market. He noted that this agility enables Viasat to accelerate the delivery of cutting-edge mobile networking, cybersecurity, information assurance, satellite communications and cloud-enabled capabilities to support today's warfighter.
Peterman continued by stating that most of these technologies were invented by the defense community, but over the past 15 years, leadership has firmly transitioned into commercial hands. That enables companies such as Viasat to continue to accelerate the delivery of turnkey capabilities at unprecedented levels.
Today's private sector technology is moving faster than the current acquisition systems and processes can move. Viasat, in large part, is moving beyond traditional acquisition process and policies to get much needed technology to the warfighter, faster and more effectively than ever before. A close understanding of the customer by Viasat's team is instrumental to this success.
A specific technology area of interest completed by Viasat in 2019 included ongoing development and growth of the company's next generation tactical data link (NGTDL) business
Key NGTDL milestones achieved throughout the year included the delivery of the 1,500th KOR-24A Small Tactical Terminal (STT)
Delivery of almost the 2,500th AN/PRC-161 Battlefield Awareness and Targeting System-Dismounted (BATS-D) handheld Link 16 radio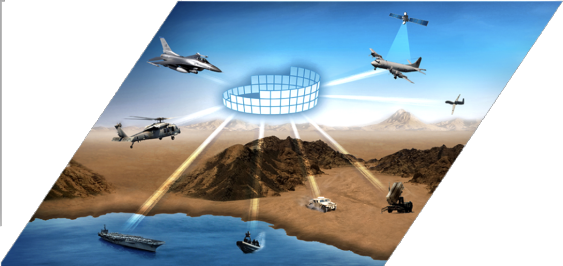 A clearer battlefield picture in the fog of war
with Link 16. Image is courtesy of Viasat.
Successful integration of Advanced Concurrent Multiple Reception (CMR) technology capabilities across Viasat's extensive line of next generation link 16 products
New advancements for the company's Move out / Jump off (MOJO) expeditionary tactical gateway system, which is designed to blend air and ground situation awareness pictures.
In 2019, Viasat also won a development contract to design the first Link 16 satellite that will be launched into LEO. This enables the future possibility of the company extending Link 16 capabilities to Beyond Line of Sight (BLOS) operations as well as networking the LEO satellite to the ViaSat-3 geostationary (GEO) constellation for a truly global solution.
Viasat also continued to further develop its Hybrid Adaptive Network (HAN) concept, which will be designed to maximize warfighter connectivity, security and resilience by providing simultaneous access to multiple commercial and military networks. With more than 100 HAN demonstrations completed over just the last 120 days of 2019, Viasat successfully proved its ability to assure resilience, advance security and deliver significantly improved levels of connectivity at the tactical edge, Peterman confirmed.
Work included a demonstration to the U.S. Air Force's AFWERX program as part of the Multi-Domain Operations Challenge in July, which saw Viasat supporting connectivity in integrated operations in the air, space, land, sea, cyber and across the electromagnetic spectrum.
Expected to be capable of meshing together LEO, MEO and GEO satellites offering Ku-, Ka- and Mil-Ka frequency bands; multiple ground infrastructure support systems; and multiple, external networks, the HAN is expected to support Line of Sight and BLOS communications as well as real-time network management; visualization and control; real-time active cyber security; cloud-enabled technologies; and real-time situational awareness across multiple end user devices.
The HAN's end-to-end communications network will be designed to provide government customers with more rapid sensor-to-shooter targeting cycles; reductions in cognitive burdens; as well as predictive analytics to support intelligence, surveillance, target acquisition and reconnaissance (ISTAR) missions, force protection; and battlefield medicine.
Peterman added that the HAN will also be supported by the ViaSat-3 constellation. He then said that, ultimately, this all comes down to the warfighter. When the nation's young men and women put on a uniform and go into the service, the company has an obligation to give them the same kind of technological capabilities that they have grown up dependingd upon — Viasat's employees are committed to working toward finding a better way for the men and women in uniform everyday — and we don't plan to slow down anytime soon.
www.viasat.com
---
Good News for Military Satellite & Space Sectors
As the Satellite & Space sectors face the same challenges as the rest of the economy, one market seems particularly robust in the face of COVID-19 – Government & Military Satellite Communications services.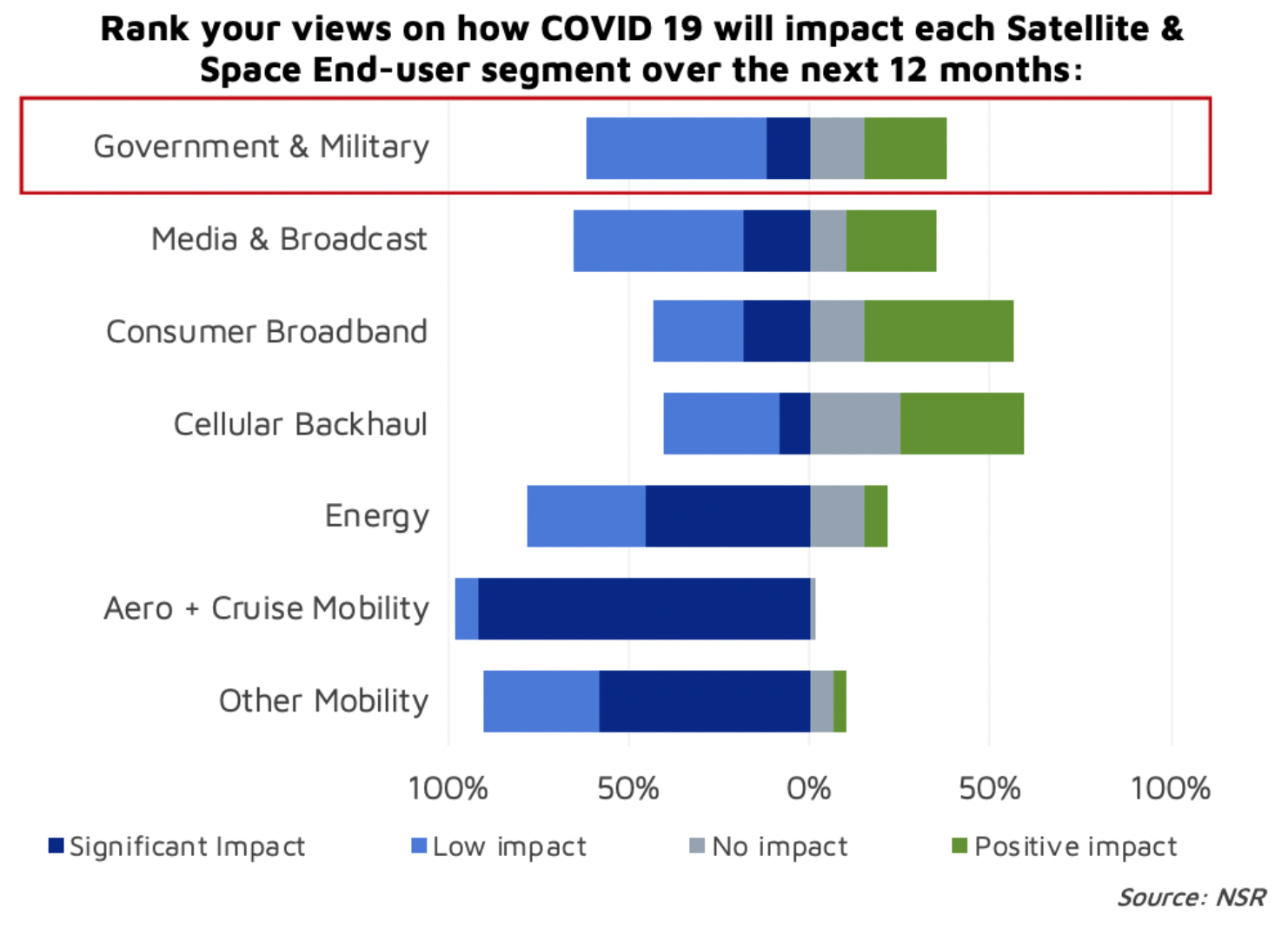 With ongoing procurement for next-gen MILSATCOM technologies from U.S. Space Force, the commercial opportunities continue. While the future remains uncertain, compared to other mobility-centric satellite end-user markets, Gov & Mil appears to remain insulated from larger world events.
According to a recent survey conducted by NSR across a wide variety of the Satellite & Space sector value-chain, Gov & Mil markets was identified as one end-user vertical that is expected to see some of the lowest levels of significant impact, and some of the few markets with an expected positive impact from COVID-19 to the Satellite & Space value-chain.
Just as armed conflicts generally boost consumption of satellite services by Gov & Mil end-users (think the 2008 troop surge for Global War on Terror), this different fight appears no different. Facing a multi-faceted challenge of the immediate requirements for connectivity to enable telemedicine and response coordination, continuing procurement activities appear to be a key pillar of the economic response for governments around the world.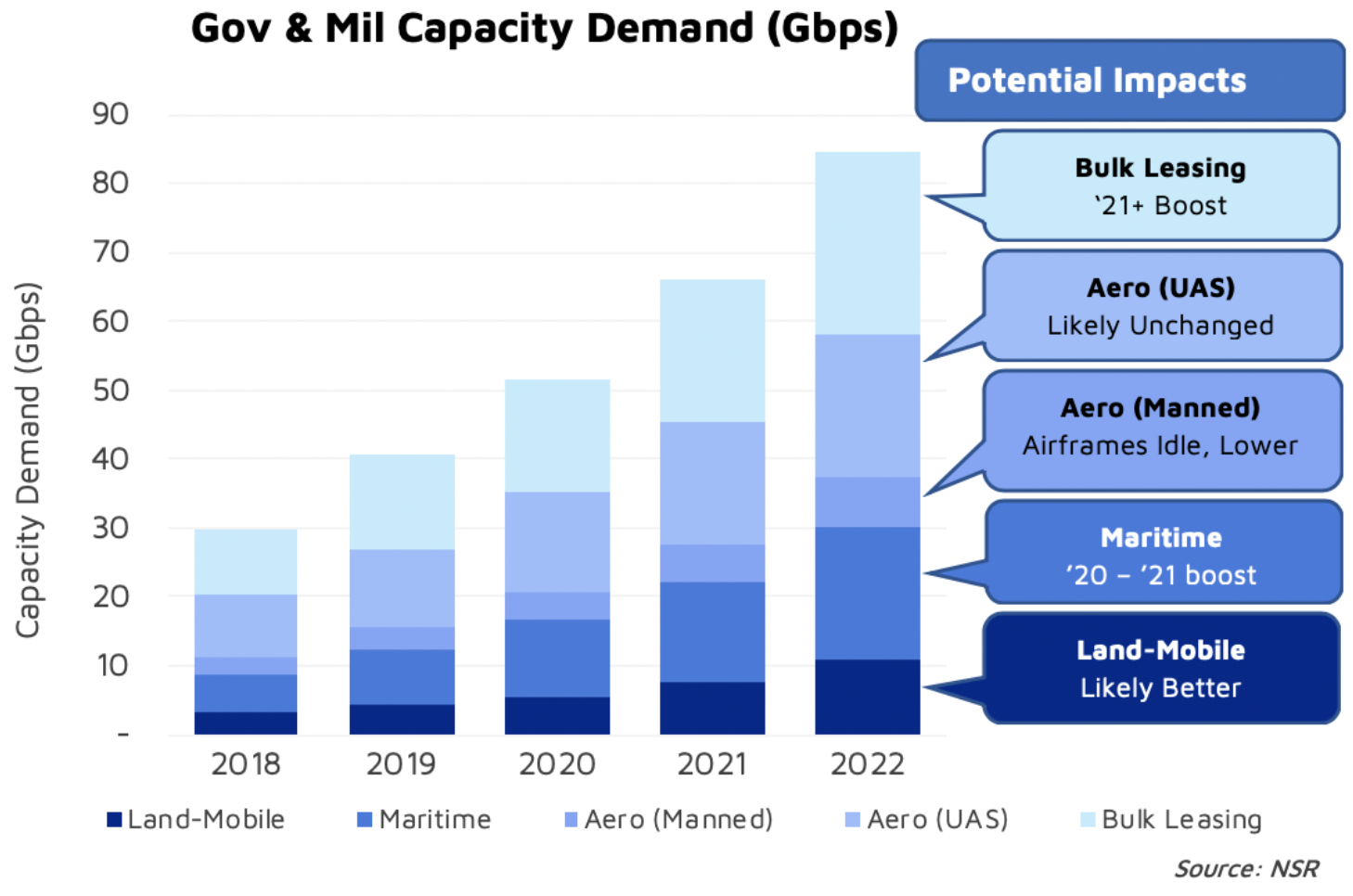 Moreover, as NSR continues to evaluate how rapidly changing world events are impacting markets today, and long-term ramifications – NSR's Government & Military Satellite Communications, 16th Edition report appears to remain largely unimpacted right now. There are segments of the market that are naturally feeling pressures – world leaders are not traveling as much and thus their fleet of highly connected vehicles are idle now – yet, that capacity is quickly getting reallocated towards other missions or applications.
As we have seen with the reallocation of capacity for the USNS Mercy and, more recently, USNS Comfort, quickly reallocating capacity can occur, yet at the expense of the current users of MILSATCOM capacity from systems such as WGS.
If there are any long-term trends to emerge from the COVID-19 response so far, robust communication networks are a must-have. More than ability to deploy engineers onsite and quickly reallocate resources from one platform to another – multi-band and multi-network ground infrastructure will become a key enabling technology to meet the multi-domain requirements of Gov & Military operations.
What is unclear is the balance between Gov-owned and Gov-Leased capacity.


Article author: Brad
Grady, NSR Analyst
With the Space Development Agency moving forward with Industry Days for their proliferated LEO "Transport Layer" and an RFP release slated for May 1st, the market is waiting to see if the U.S. DoD can provide another lifeline to the LEO Space Market. As with early-days of Iridium, can SDA's Transport Layer provide the much-needed 'steady consumer' on either the spacecraft hardware or connectivity business models required to bring these dreams to reality? Bottom Line
In these uncertain times, Governments are taking significant economic action to boost domestic industries – from increased or ongoing procurement to direct stimulus. With all that was happening in the Satellite & Space sector before COVID-19, the near-term outlook for this market continues to be one of the few positive spots across the value-chain. From potential spacecraft sales in the post-OneWeb world to spending on enhanced ground infrastructure to more bandwidth demand – there remain reasons to be optimistic on the growth opportunity for Government and Military players.
www.nsr.com
---
An Enhanced Hornet SatCom Terminal Debuts from Paradigm
Paradigm has released an enhanced version of the firm's field-proven, HORNET SATCOM terminal.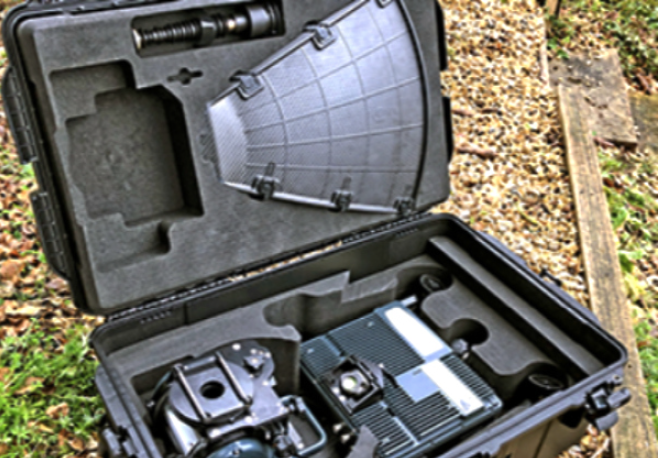 The HORNET is a modular solution, allowing the user to interchange between different sized antennas, RF head and modem modules. This provides a single SATCOM solution for many different operational requirements. The terminal is environmentally rugged yet still lightweight and crucially can now be packed into an airline-friendly case.
The HORNET integrates the easy-to-use and field-proven PIM (Paradigm Interface Module) which allows any non-skilled user to point the antenna in just a few minutes.
Available modules for the HORNET currently include a choice of 60, 80 and 100 cm. antennas with RF modules between 5 and 80W; frequency bands cover Ka-, Ku- and X-band over both extended commercial and military ranges. The terminal is also modem agnostic, supporting all the main high performance modems.
The PIM is a rugged, field-proven, terminal controller operating in many different market sectors across 5 continents. It provides the 'brains' of a SATCOM solution and can work with any air interface to provide a common pointing experience across a whole range of manufacturers' terminals. Operators simply point the terminal using easy to follow onboard audio and visual cues.
The PIM integrates into all the major satellite networks as well as a wide range of modems, supporting the major types including iDirect, Newtec, UHP, Comtech and Teledyne Paradise among others.
Ulf Sandberg, Managing Director of Paradigm, added that by developing the firm's HORNET terminal into this incredibly versatile solution, customers can now purchase one system that will meet just about every SATCOM requirement. In the Paradigm demos, everyone has been extremely impressed with its simplicity, its ruggedness and its single-case portability.
paracomm.co.uk
---