Special Ops Recruits A Special Falcon
"Widely deployed across all branches of the U.S. Department of Defense...meets emerging mission requirements by providing unprecedented situational awareness for dismounted and vehicular warfighters."
Harris Corporation received $7 million in orders to supply the U.S. Special Operations Command (USSOCOM) with additional Falcon multiband manpack radios and accessories.
The combat-proven Falcon III
®
AN/PRC-117G allows operators to communicate by Type-1 secure voice, video, and wideband data and supports a growing number of network-enabled missions, including intelligence reporting and analysis, collaborative chat, e-mail, biometric enrollments and more.
"The AN/PRC-117G's software-defined and upgradeable platform enables Special Operations Forces to use high-speed data, voice and real-time video to address its command and control and intelligence, surveillance and reconnaissance requirements," said George Helm, president, Department of Defense business, Harris RF Communications. "Widely deployed across all branches of the U.S. Department of Defense, the AN/PRC-117G meets emerging mission requirements by providing unprecedented situational awareness for dismounted and vehicular warfighters."
The Falcon III AN/PRC-117G is the world's most widely fielded next-generation radio, combining line-of-sight, beyond-line-of-sight and wideband communications capabilities in a single lightweight package. The radio provides enhanced battlefield situational awareness by connecting warfighters to the tactical Internet.
Harris has shipped more than 25,000 AN/PRC-117G radios to all branches of the U.S. military as well as more than a dozen allies including Canada, France, the United Kingdom, Germany, Italy, Australia, Poland and several other countries.
The radio is combat proven and exhaustively tested in field exercises and laboratory environments, and has been employed as a secure wideband tactical networking radio in Operation Enduring Freedom since 2009.
* * * * * * * * *

Sealing The Deal With MDA
Christian Paradis, the Canadian Minister of Industry who is also responsible for the country's RADARSAT mission, has launched the next and final stage of the project.

Christian Paradis is the Minister of Industry and Minister responsible for the Canadian Space Agency (CSA).
"Our Government is ensuring we have the tools to assert our sovereignty, monitor and manage our resources, and keep watch over our vast territory and coastal areas," said Paradis. "The world-class RADARSAT Constellation Mission keeps Canada at the forefront of the design and operation of radar satellites."
The RADARSAT Constellation Mission will provide complete coverage of Canada's vast land mass, oceans and coastal approaches, at least once per day, and up to four times daily in the high Arctic.
Data produced by the Constellation will support key priorities of the Canadian Government related to: the Northern Strategy, especially in the Arctic; Defence; Safety, Sovereignty and Security; the Environment; Natural Resources; and Agriculture.
"Canada has a hard-won reputation for expertise in a highly competitive global environment. Through strategic investments in R&D and space, our Government is fostering industrial innovation, promoting commercialization, creating high-quality jobs, and positioning our industry for continued growth in the global economy," the Minister added.
In the federal budget of 2010, the federal government allocated funds to complete the design and begin construction.
MacDonald, Dettwiler and Associates Ltd. (MDA), signed a $706-million deal with the Canadian Space Agency for the Radarsat Constellation Mission to build, launch and provide initial operations for what is planned to be a constellation of three satellites.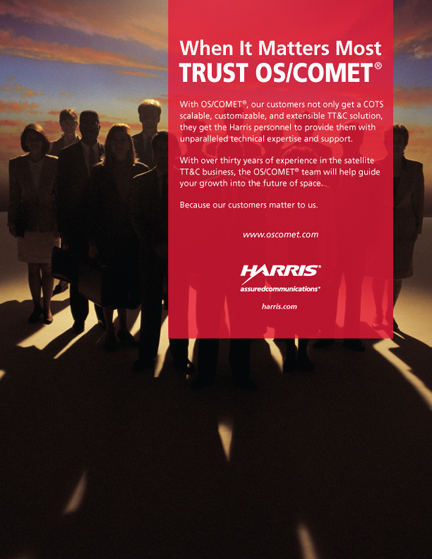 The new program will build on technology that MDA has developed through the Radarsat-1 and Radarsat-2 missions. The space agency's website says the satellites will provide complete coverage of Canada's land and oceans with launches planned for 2016 and 2017.
The satellites would be used for maritime surveillance, disaster management and monitoring of environmental change. MDA has developed space and satellite technology for many missions, including the Canadarm on the International Space Station. The contract with MacDonald Dettwiler and Associates, announced today, will lead to the completion of construction; the launch of the three satellites, planned for 2018; and the first year of operation of the mission.
The RADARSAT Constellation Mission project is led by the CSA and supported by its principal users: the Department of National Defence, Fisheries and Oceans Canada, Agriculture and Agri-Food Canada, Environment Canada, Natural Resources Canada and Public Safety Canada.
It will support the ecosystem monitoring requirements of Natural Resources Canada, Environment Canada, Parks Canada and Agriculture and Agri-Food Canada by enabling wide area change detection, supporting water quantity monitoring, as well as wetlands mapping and coastal change monitoring.
* * * * * * * * *

A Commanding Investigation
ATK has also just been awarded a contract from the U.S. Air Force Space and Missile Systems Center (SMC) Defense Weather Systems Directorate to execute a study of Network-Centric Small Satellites as an element of SMC's Weather Satellite Follow-On Activities.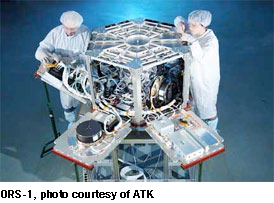 This study will provide comprehensive insight into the capabilities and characteristics of a 21st century weather data service that can systematically augment the legacy Defense Meteorological Satellite Program (DMSP).
The study will focus on two aspects of such a mission system: 1) net-centric architectures, and; 2) small, agile, cost-effective heritage spacecraft buses that can be used to support a variety of future weather payloads.
Net-centric architectures can enable an orderly transition from historically stove-piped systems to a true 21st century system that provides for rapid processing and dissemination of key weather data directly to the warfighter.
Systems engineering trade studies will define a distributed ground system that uses commercial infrastructure to the greatest extent possible to enable cost-effective, robust, faster data distribution for weather and other missions.
Small and agile spacecraft concepts based on the heritage ATK A200 spacecraft bus (previously used for the TacSat-3 and ORS-1 spacecraft) will be developed to demonstrate ATK's ability to host candidate Weather Satellite Follow-on (WSF) instruments and to provide a path to affordable and reliable spacecraft.
ATK has, through the success of NASA's EO-1 and THEMIS, and the military's TacSat-3 and ORS-1 programs, proven itself as a leader in the design, fabrication, integration, and test of innovative and cost-effective spacecraft systems.
"ATK is delighted to have this opportunity to play a key role with Space and Missile Systems Center in an early exploration of disaggregated, affordable, resilient architectures," said Tom Wilson, ATK Space Systems vice president and general manager. "We support the U.S. Air Force Space Command and SMC Space Modernization Initiative that could change the future of military space systems."
* * * * * * * * *

PUMA Power
"Our tremendous success rate is a record we are proud of."
ATK's Space Components Division in Goleta, California, signed a contract with Israel Aerospace Industries (IAI) to provide the solar array to power the AMOS-6 (Affordable Modular Optimized Satellite).
The solar array is ATK's heritage Planar Unfolding Modular Array (PUMA), which has demonstrated low non-recurring engineering cost (NRE), low risk, ease of satellite implementation, and 100-percent flight success performance on more than 50 solar array wings on-orbit.
With variants having been in continuous production for more than 10 years for programs like Boeing's GPS-IIF satellites and Orbital's STAR2 geosynchronous (GEO) satellites, ATK's PUMA array platform was a natural fit for IAI's high-power commercial needs.
"We are pleased with this award for our modular PUMA solar array platform, which was adapted to meet the required 10.3 kW end-of-life power for the AMOS-6 communication satellite," said David Shanahan, vice president and general manager, ATK Space Components Division. "Our tremendous success rate is a record we are proud of." The contract calls for delivery of ATK's solar array in 18 months, with the option to perform work on the AMOS-7 solar array should IAI receive the follow-on contract from Spacecom in Israel.
ATK is an aerospace, defense, and commercial products company with operations in 21 states as well as Puerto Rico and internationally.
* * * * * * * * *

Joining Forces
A conference is soon to be held in an area of the world that has garnered much attention.
Milsatcom Middle East is a two day conference developed specifically to meet the satellite communications needs of the Middle East military, government and security agencies. The most efficient business platform for the regional milsatcom industry is now co-located with the Global Space and Satellite Forum. Milsatcom offers new business contacts, networking opportunities and first-hand information about regional and global milsatcom projects. The new and improved program for 2013 will feature:
• Pre-arranged closed door meetings

• Invited defence delegations from GCC and Greater Middle East, Afghanistan, India and Pakistan

• Mini expo area
Learn more here
.
* * * * * * * * *

GIS Facilitates Military Response To Hurricane Sandy
Federal response experts supporting relief efforts in New York and New Jersey following last month's Hurricane Sandy landfall are using interactive maps to plot key data and provide emergency responders and military commanders on-the-ground with real time information to identify areas of need or interest.
The geographic information systems (GIS) instantly provides the commander and other decision makers with information that they need to know, such as critical infrastructure damage or, as displayed in the above graphic, a satellite image and associated map overlay detailing damaged residential areas
During the emergency, federal and state responders for the Hurricane Sandy relief operation used state-of-the-art computer-based technology to provide help where it is needed most.
Response experts from Joint Task Force Civil Support—which was designated as the Joint Forces Land Component Command Coordination Element—are assisting federal, state and local responders coordinate a variety of federal military support to aid the Hurricane Sandy relief efforts in New York and New Jersey. They're using GIS to graphically display affected area information which allows the commander to make decisions.
GIS is an interactive mapping system that, in the wake of a disaster, instantly provides the commander and other decision makers with information that they need to know. GIS analysts plot locations of electrical outages and fuel shortages which assist planners on where their teams need to be dispatched.
The decision makers at response agencies, like JTF-CS and the Federal Emergency Management Agency, rely on vital, real-time information in order to direct response teams to locations where they can provide assistance. During disaster responses, the commander needs more than just a standard paper map to maintain real-time situational awareness to conduct life-saving and life-sustaining operations, according to GIS experts.
"We're not restricted to one source to pull information from," said Harold "Ritchie" Richardson, Jr. JTF-CS GIS program manager. "By taking information from all of the different agencies and using it in one place we enhance situational awareness for the commander."
Richardson is working with GIS experts from other military units to streamline information to direct military aid in support of on-going FEMA relief efforts after Hurricane Sandy devastated the region last month. Richardson has worked in the GIS field for more than 10 years and believes the software's only limitation is the creative reach of the analyst using it.
U.S. Army Chief Warrant Officer 4 Jason Feser, U.S. Army North GIS coordinator and U.S. Army Chief Warrant Officer 2 Julio Toala, U.S.Army South GIS coordinator, are working hand-in-hand to plot destroyed houses in Breezy Point and other locations along the Jersey coast.
With the information provided by Feser and Toala, Sailors and Marines with the 26th Marine Expeditionary Unit deployed aboard the USS Wasp (LHD-1), were able to use the plotted GIS information to locate areas of destruction in Breezy Point, N.J. and assist in clean-up, dewatering and supply delivery missions to help those in need.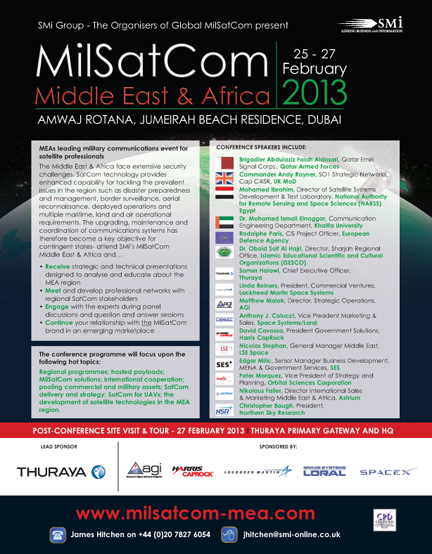 Multiple agencies can use the same GIS map, connected through the world wide web, and add layers that provide agency-specific information. For example, a power company can add the locations and status of electrical plants while gas companies can see where fuel stations are located and their status.
"If you have a large cluster of gas stations without power, that's probably a good fuel distribution point," said Richardson. "From a planning perspective, the commander can gain all of this information and he is no longer guessing."
GIS analysts use that information to plug into a graphical display that allows the commander to see those gas stations in the affected area that have–or don't have-fuel, experiencing power outages, as well as hours of operation.
JTF-CS, along with GIS experts from Army North and Army South, use GIS to discover isolated areas of need in New York and New Jersey. They are able to observe NASA's live satellite feed of New York and New Jersey to show the commander where response units need to be deployed to.
GIS team help commanders see and understand critical pieces of information so they can act immediately to support federal, state and local responders provide de-watering, debris removal and temporary power, according to Feser.
"We give commanders a lay down of critical infrastructure," said Feser. "GIS shows what's going on and who's out there. The commander can see everything in one picture.
Feser and Toala both agreed that GIS is the best way of getting all of the essential information to the on-the-ground responders who need it without having to actually be on scene.
But this is not a new technology used only during disaster response operations. Ever get your grocery store membership card scanned at checkout line or inquire about the location of a package? GIS is the technology used to build customer shopping statistics and track parcel. Likewise, GIS allows a military commander or emergency operations director to obtain instant situational awareness through a real-time graphical display of on-going response operations and areas of need.
"Have you ever heard the saying that a picture tells a thousand words," asked Richardson. "Well, GIS tells an entire story."
JTF-CS, serving as the JFLCC Coordination Element, has overseen more than 1,400 federal military responders who have delivered critical supplies such as fuel, water, and food; cleared debris; pumped more than 90,000 gallons of water from flooded buildings, and helped establish temporary housing units for nearly two weeks in New York and New Jersey.
As of this writing, U.S. Northern Command—the combatant command responsible for defense support of civil authorities' missions within the U.S.—has nearly 4,000 personnel supporting the Hurricane Sandy relief, according to the Department of Defense. JTF-CS is a subordinate unit to U.S. Northern Command, the combatant command responsible for overseeing defense support to civil authorities in the U.S., and operationally controlled by U.S. Army North.
Story by Petty Officer 1st Class Brian Dietrick