As an entry-level engineer with the Air Force's Advanced Range Instrumentation Aircraft (ARIA) mission, Rebecca M. Cowen-Hirsch developed technologies for ARIA planes to support some of the most critical space missions in the U.S. National Security enterprise. These programs opened her eyes to even greater opportunities and engendered a passion to explore innovative ways to support the missions, becoming an experimental flight test engineer.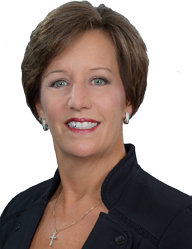 Following this passion and after a year of intensive training, Ms. Cowen-Hirsch became the first-ever female civilian Mission Commander for ARIA, leading aircrews in support of shuttle missions and satellite launches – including the positioning of the initial GPS installments. "I felt the best way to contribute," she says, "was to take our technology from concept to integration to in-flight deployment. It was an incredibly exciting job, and the flight test experiences made me a better engineer."
Today, Ms. Cowen-Hirsch brings this sense of internal drive and mission-focused passion to her current position as Inmarsat's Senior Vice President for Government Strategy and Policy in the United States Government Business Unit. Previously, as a decorated member of the Senior Executive Service (SES) in the U.S. Department of Defense (DoD), she served as the Program Executive Officer for SATCOM, Teleport and Services at the Defense Information Systems Agency (DISA). This was one of several key SES executive posts, including the first-ever Vice Component Acquisition Executive for DISA, with executive management responsibility for the acquisition oversight and horizontal integration of DISA's products, services and programs.
Among her notable achievements, Ms. Cowen-Hirsch established the Defense Spectrum Office as its first Director, where her responsibilities included the development of national security spectrum strategic plans and policies, and the national and international negotiation of defense spectrum issues. Her broad defense career ranged from systems engineering, experimental flight test, program management, spectrum management and a wide range of executive leadership positions. After years of selfless dedication to the DoD, Ms. Cowen-Hirsch received an Exemplary Service Medal.
Academically, she earned a Bachelor of Science Degree in Electrical Engineering at the University of Kentucky, and conducted post-graduate studies in Engineering Management. She is a graduate of the University of Tennessee Space Institute Experimental Flight Test Program, the DoD's Acquisition Management Program and the Cambridge Senior Executive Leadership Program. Mrs. Cowen-Hirsch was inducted into the University of Kentucky College of Engineering's Alumni Hall of Distinction, which recognizes alumni who have demonstrated distinguished engineering professional accomplishments, outstanding character and commitment to community service.
MilsatMagazine (MSM)
Good day, Ms. Cowen-Hirsch. Would you afford our readers some insight into your background and expertise, and why you eventually decided to leave the DoD to pursue your career at Inmarsat and its U.S. Government Business Unit?
Rebecca M. Cowen-Hirsch (RMCH)
I was familiar with Inmarsat during my time in the DoD and was impressed with the company's technology and approach to their government business. The leadership team and the exceptional professional ethos of the company was compelling as well, so it was a natural fit for me.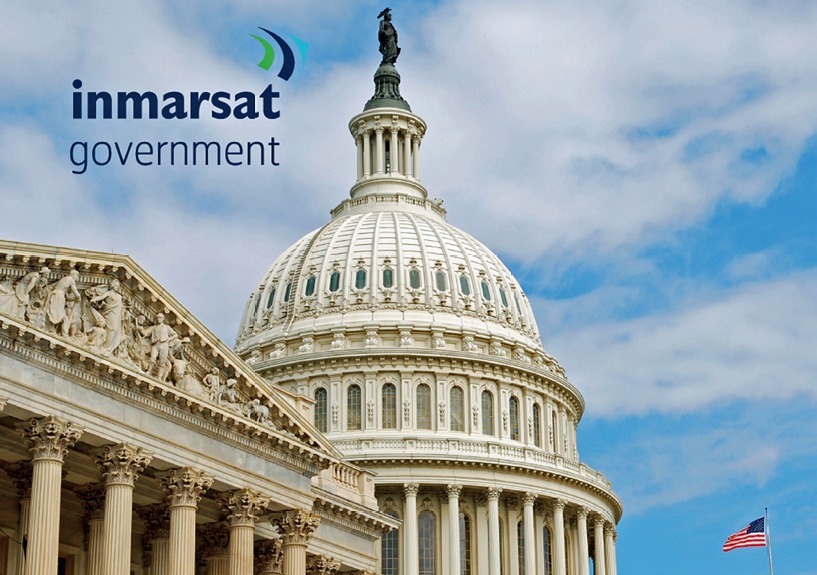 In joining Inmarsat, I was intrigued by the opportunity to act as what I call a "chief translator" between industry and government. The experience and insights I bring to the company on how the U.S. government operates -- its strategic imperatives, governing statues and policies as well as restrictions, advantages and opportunities – allow me to help shape our company's thinking and direction for the government market.
I am able to translate national security requirements and operational scenarios and deficiencies into viable business cases and commercial solutions that improve the effectiveness of government operations and successful mission outcomes.
My background also allows me to communicate with the government in a language and manner that they understand within their own policy framework. I can champion new innovative methodologies for both operational and acquisition functions.
It was a privilege to serve within the DoD for more than 20 years working on a number of different programs and across several disciplines and with a great variety of responsibilities. Now, I am able to continue to support that customer from an industry perspective, identifying and solving missionimperative challenges. Serving our nation remains a core component of my career. This is a driving motivation for me, and it compels me to do my best for government customers every day.
MSM
What are your responsibilities as a Senior Vice President for your company?
RMCH
It all comes back to customers—how can we best support their missions affordably and with agility? With my engineering background, fundamentally my overarching aim is to solve problems. This certainly is exemplified in my work with Global Xpress. From as early as the concept phase, I was involved in shaping the direction of the program as it relates to our government customers.
Anticipating the growing demand for secure globally portable and flexible wideband SATCOM to interoperate and augment legacy MILSATCOM, I translated these demand signals into the purpose built government focused capabilities within the core program. Those early efforts supported the business case that allowed Inmarsat to invest $1.8B into Global Xpress, which is now fully globally deployed and is the first and only commercial Ka-band satellite communication system built for worldwide mobility, which was also designed in part to satisfy military users' persistent demand for diverse and robust SATCOM.
Inmarsat is also about trust. We are here in Washington. We routinely share insights and ideas with federal leaders and users. We relentlessly strive to come up with new satellite advancements that will best serve the military community – to help to position them for mission success by enabling seamless, reliable, interoperable and costeffective connectivity. This is what the Inmarsat culture is all about, and we make sure our distribution and manufacturer partners reflect our culture as well.
MSM
To elaborate on what you said earlier, we'd like to know how your experience at the DoD brought new methodologies into play for Inmarsat's U.S. Government Business Unit to confer with the federal government and military agencies in regard to their acknowledgement and acquisition of commercial satellite communications (SATCOM)?
RMCH
Because I have a generation of experience within the DoD, I understand the government's challenges, philosophies and operational imperatives. Since I came out of the acquisition arena, I am able to inform our company and channel partners on the federal acquisition strategy, governance and policy so that we can understand their considerations and reflect our capabilities in a manner that will resonate to the government.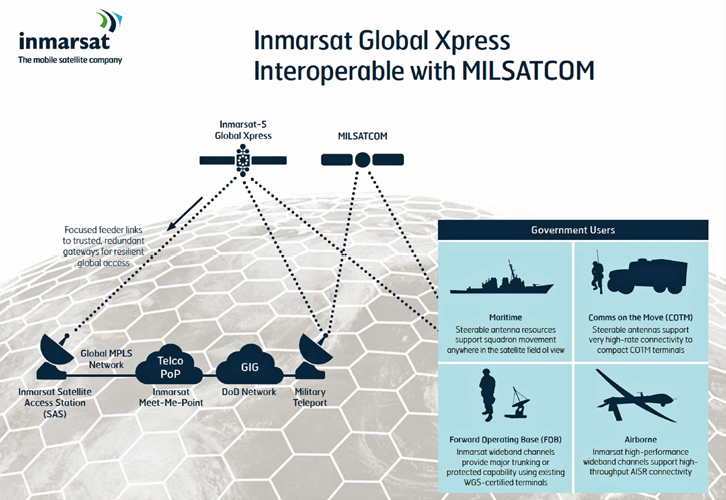 My spectrum expertise allows me to understand the imperatives and challenges in the government's utilization of space and how that enables coordination with industry. All of this contributes to our company's advocacy for a strong partnership with the government that hopefully will lead to an integrated, robust SATCOM architecture where commercial SATCOM is fully interoperable with military satellite systems and which empowers users with the most flexible and immediate of trusted and secure technologies.
I seek to build a bridge that enables improved connections between industry and government, in a more relevant manner than both sides have seen in the past. It is all a matter of understanding the critical requirement and syncing the availability of our services so agencies can actually acquire them flexibly and affordably and within a timeframe which best fulfills their needs.
MSM
What do you believe are some of the biggest challenges and opportunities facing the U.S. government today regarding satellite operations? How can the government and satellite industry overcome those challenges and best serve the needs of today's servicemen and women?
RMCH
There has to be a cultural paradigm shift, one which transforms how we think about space challenges and opportunities moving forward. Specifically, we have to commit to the recapitalization of federal SATCOM capabilities. Our military leaders face intense competition for capital to fulfill modernization strategies while still dealing with the limitations of the Budget Control Act (BCA) of 2011. This has become increasingly difficult for initiatives in space which are critical and where new threats are driving changes in the US operating posture.
The good news is that, with advancements made in commercial satellite communications (COMSATCOM), we can incorporate innovation from the private sector into the baseline of DoD architectures to 'ease the pain' of an overstretched budget. This will enhance our relationship with government, elevating it to that of a fully realized partnership. Such a public-private partnership will enable the military community to augment their legacy SATCOM capabilities while ensuring resilience in space through diversity, distribution, and disaggregated protected tactical SATCOM. It will support seamless connectivity and functionality, allowing users to operate anywhere the mission takes them.
However, the current procurement model has become too fragmented and dysfunctional to meet current demands, which are more complex than ever. In an era of globalized and an agile threat environment, key acquisition responsibilities are still assigned in a disjointed pattern across military services and some agencies without a cohesive advocate to harmonize and provide overarching strategic direction for the space enterprise.
Subsequently, agencies acquire terminals through military services and embed them into programs of record with no direct correlation to space system timelines. Furthermore, these programs of record have frequently suffered from delays and/or budget overruns, which occasionally qualify as Nunn-McCurdy cost
breaches, resulting in the re-baselining of spending estimates. How did we reach this level of piecemeal procurement that is in the way of effectiveness and space resilience? A justification that 'it is the way we have always done it' will not hold to the needs of the modern-day military environment. It is clear that this status quo is shortchanging missions, creating inefficiencies and introducing unnecessary risk. With world conflicts now driving a military response that depends upon mobile, asymmetrical engagement, we must do better.
The government should no longer follow a procurement model in which lowest price, rather than best operational value, is the winning element. This creates an abundance of ad hoc networks and solutions – with little thought given to affordability or efficiency and, even more important, interoperability and sustainability. In light of many of these challenges, one of my key roles with Inmarsat is to act as a strong advocate for a longer-term strategic vision of integration and full life-cycle management, in the interest of delivering a sustainable SATCOM architecture that contributes to mission success.
MSM
As you've discussed, Inmarsat has been an advocate for a strong, forward-looking partnership between the government and satellite industry for quite some time. We have seen a number of examples of the government and industry strengthening their partnerships. What would you say are some of the biggest successes of these partnerships? Where is additional work needed?
RMCH
The permanent creation of a private sector presence within the Joint Space Operations Center (JSpOC) under the Commercial Integration Cell construct stands out as a tremendous example of a successful partnership. Inmarsat is proud to take part in this Commercial Integration Cell (CIC) program with five other satellite services companies working under the governance of Cooperative Research and Development Agreements managed by the Air Force Research Laboratory.
We have liaison personnel representing the six companies working on the JSpOC floor every day. We are sharing technology and information on a no-cost basis within proprietary constraints. We are helping the government obtain greater space situational awareness while enhancing the command and control capacity of the Joint Functional Component Command for Space (JFCC Space).
MSM
What are some of the current challenges facing today's servicemen and women that are pushing the limits of the current military satellite communications (MILSATCOM) capabilities? RMCH Troops depend upon mobile, data-intensive applications. They must be able to prosecute their mission "anytime, anywhere". At the mission execution level, military members are focused on results, and their ability to leverage SATCOM capability flexibly and reliably even in a contested environment is essential. Resilience is far more important in operations than who "owns" what part of the SATCOM solution. Unfortunately, the current budget and procurement approaches sub-optimize SATCOM provisioning and perpetuate stove-piped solutions.
This is an area that demands a new approach, as military leadership is starting to acknowledge. Our hope is that through the Analysis of Alternatives process the leadership in the Air Force and the DoD will leverage modern commercial satellite systems and technology flexibility to meet mission requirements and will explore how the satellite communication industry provides innovative solutions to real-world operational challenges.
MSM
We are starting to hear the term "SATCOM as a Service" more frequently. Can you explain what SATCOM as a Service is and the benefits it offers?
RMCH
Much like the information technology sector has been revolutionized by the "as a Service" model, SATCOM also is now also available "as a Service". This capability enables the user, in the case the military, to benefit from a fully integrated, complex commercial solution designed within an end-to-end managed service architecture.
Our approach to SATCOM as a Service is to provide consistent uniform Ka-band service at a committed information rate with an assured service level agreement on a worldwide basis. If you draw a comparison with Uber, SATCOM as a Service allows military units to have access to satellite on-demand with round-the-clock availability of reliable global Ka-band SATCOM capability that "follows" users wherever they go. And, contrary to what they currently deal with through other frequencies, they do not have to guestimate and pre-order bandwidth in advance of a pending mission. This practice has turned to be unnecessarily costly and time-consuming way to do business.
Through SATCOM as a Service, users travel from one part of the world to another, and just "plug in" to get what they need, when they need it. What is more, they benefit from the continued investment and innovation of the commercial operator network.
This approach allows the military to focus on critical mission-essential functions rather than network management and tech refresh. Thus the risk is transferred from the government to industry allowing the military to benefit from the best that commercial SATCOM has to offer to enhance their resiliency profile. We see this as the proverbial "win-win."
MSM
Over the past year, we have witnessed Inmarsat launch the first and only end-to-end high-throughput commercial Ka-band network, Global Xpress. We have also noted the company's continuous investments in their worldwide constellation and services. What is next on the horizon for Inmarsat? What can Inmarsat's current and future government users expect from the company over the next few months and years?
RMCH
Inmarsat's history of commitment to safety services and highly reliable and available networks drives our global mobility-centric strategy, unique in the market. Users can benefit from uniform, global coverage using Inmarsat's systems. This is our core now and in the future.
Global Xpress represents a crowning achievement. It is the first-ever worldwide end-to-end commercial Ka-band satellite system, from a single operator. Soon, we will launch our fourth I-5 satellite for Global Xpress, to complement its seamless, global capabilities to maritime, land and aero users, with complete military Ka-band interoperability.
Additionally we continue to innovate on our core competencies in L-band leveraging our existing Inmarsat-4 constellation and further enhancing military satellite systems. Example of such innovation is L-TAC (L-band Tactical Satellite) —a highly resilient communication capability that provides robust, low-cost, beyond-line-of-sight mobile capability in the L-band using in-service UHF and Very High Frequency (VHF) tactical radios. Just recently, we announced a record-breaking data rates as high as 10 Mbps x 10 Mbps using the Inmarsat-4 satellite constellation, supporting small-aperture aero capability for global C4ISR.
MSM
What are some of the other forward-looking investments that Inmarsat is making to address the current and future needs of its U.S. government and military customers?
RMCH
Currently, we are working on the development of our Inmarsat-6 (I-6)— the sixth-generation constellation—as our next significant investment. We are committed to the pioneering of more advanced L-band and Ka-band services, and we are fully funding I-6 as our first dualfrequency satellites. A single I-6 will carry more processing power than the entire Inmarsat-4 fleet (excluding Alphasat), and the Ka-band payload on each I-6 will deliverer per beam speeds up to three times that of the current Global Xpress fleet. The I-6's will fully integrate into our existing constellations, providing full-backwards compatibility and the most technologically advanced capabilities to enhance our support to the military and our commercial customers well into the next decades.
As always, we continue to explore how to expand interoperability with our terminals and ground segment. We innovate to capitalize on the long lifespan of our satellites in orbit, while offering a great operational advantage of maximum flexibility for the military and well as commercial community.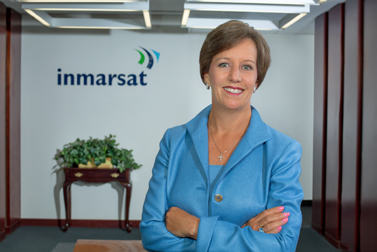 MSM
Areas that are currently under concentrated examination by the military include the partnerships with the commercial community in regard to satellite manufacture and launch, the use of smallsats to expand support C4ISR, laser communications, hosted payloads and more. How viable are these areas for Inmarsat's U.S. Government Business Unit, in your opinion, and is the company engaged in assisting the military in any of these areas of SATCOM endeavor? Can you tell us more regarding such efforts?
RMCH
We are always supportive of innovative solutions, which solve our customers' challenges. As such, we constantly look for solutions with payloads and capabilities that are relevant and specific to this market, that are reliable and accessible in addressing operational needs. Smallsats and other orbital regimes are in this mix, where the business case makes sense and is consistent with our approach to complement and enhance military satellite communications.
We are an established and strong business with a solid financial record, so we can invest in new technologies and capabilities that are relevant and future proof our networks. Yet, we do so only when the business case makes sense. We view new endeavors in our industry as exciting opportunities that warrant investigation to determine viability for our market. As a technology company, we maintain the flexibility to experiment, and bring the results into the operational fleet when they are mature and relevant to our customers.
MSM
There are many industry concerns regarding the lack of STEM educated students who can fill the technical areas of need. Is Inmarsat involved in promoting STEM-based training and, even more specifically, assisting in the development of excitement for SATCOM and MILSATCOM careers?
RMCH
We are absolutely committed to filling the STEM gap. We want to ensure that there is a strong "next generation" of science and technical leaders who are even more excited and knowledgeable about space than we are. Inmarsat supports the United Nations-backed World Space Week, which is an annual celebration of science and technology for schools, museums and astronomy clubs. In addition, during the summer, students attend six-week workshops led by our internal experts to learn about topics such as satellite data and fuel efficiency engineering.
On a personal level, I am highly active in promoting STEM careers as an option for young women. Toward this end, I founded WIN-Women in NOVA, a standing committee of The Armed Forces Communications and Electronics Association (AFCEA), which helps IT/communications women professionals expand their networks and professional development. All of its profits directly fund STEM scholarships. I also support STEM education by connecting women mentors to participate in NOVA's Adopt-a-School program, providing role models for girls from elementary to high school levels.
MSM
With your experience in this industry on both the federal government agency and commercial sides, what projects truly bring a smile of satisfaction to you as you review your career?
RMCH
I cannot help but cheer when thinking about our Global Xpress program. Although I have had the privilege to work on a wide variety of exciting and innovative programs while in the government, with Global Xpress, for the first time in my career, I have been able to work on the program from the initial concept all the way through to global deployment and also to see the impact of its use on critical missions.
This has been immensely exciting and rewarding. To witness the sheer speed involved in reaching this point in the program is extremely gratifying too. It is thrilling to see how much more we can do—faster and more affordably—to solve real operational and technological challenges. I am looking forward to doing more of the same, for many years to come.
inmarsat.com
---