---
Defense Logistics Agency Awards BAE Systems with A Million$$$ Contract Option
The Defense Logistics Axgency (DLA) has executed a $316 million contract option for BAE Systems' advanced M-Code Global Positioning System (GPS) modules, raising the contract funding to $641 million.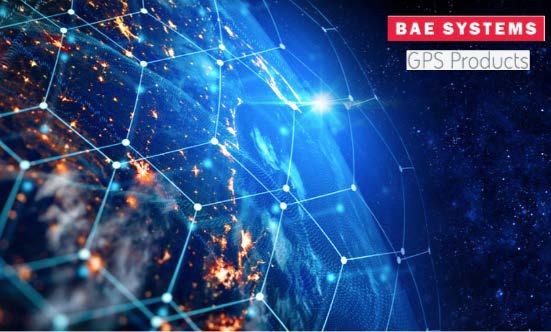 The modules provide dependable positioning, navigation, and timing for ground troops, vehicles, aircraft, and precision munitions. The contract will ensure the availability of Common GPS Modules (CGM) for advanced military GPS receivers with anti-jamming and anti-spoofing capabilities that enable operation in contested environments.
Under the contract option executed in November, BAE Systems will manufacture CGMs for future ground, airborne, and weapon GPS receivers for the U.S. Department of Defense (DoD) and its allies. The award builds on a May, 2021, $325 million contract and enables BAE Systems to continue to meet domestic and international demand for Military GPS User Equipment (MGUE) Increment 1 M-Code modules in GPS receivers through the end of the decade.

BAE Systems is currently delivering two advanced M-Code GPS receivers — the Miniature Precision Lightweight GPS Receiver Engine —– M-Code (MPE™-M) and NavStrike™-M GPS receiver. Deliveries of the ultra-small MicroGRAM™-M are expected in 2022 and deliveries of the Strategic Anti-jam Beamforming Receiver – M-Code (SABR-M) are expected in 2024.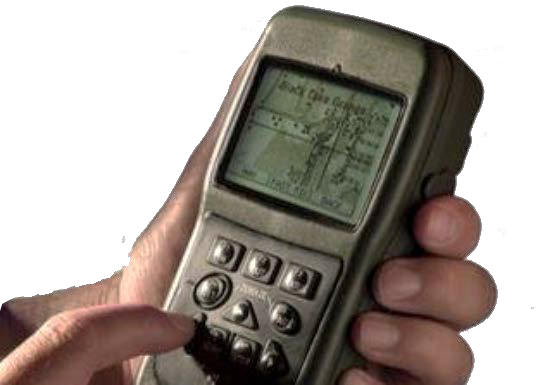 M-code enabled global positioning system
receiver.Photo is courtesy of BAE Systems.
"Military operations require assured positioning, navigation, and timing and our customers are shifting to M-Code to harden their GPS systems against jamming and spoofing," said Frank Zane, Navigation and Sensor Systems business development director at BAE Systems. "We're ready to meet this need today with secure, reliable M-Code GPS solutions, and we're developing the next-generation of solutions to stay ahead of the threat."
BAE Systems' Precision Strike business has 45 years of military GPS experience, with over 1.5 million GPS devices on more than 280 platforms globally, and is developing next-generation military GPS technology. A state-of-the-art facility under construction in Cedar Rapids will provide the company's local workforce with a modern workspace – improving collaboration and optimizing production.
---
DARPA + NGA Develop Novel Optics To Field Military + Government Imaging Systems Prototypes To Support Warfighters
EXTREME, a basic research program in DARPA's Defense Sciences Office, has successfully developed new optical components, devices, systems, architectures, and design tools using engineered optical materials, or metamaterials.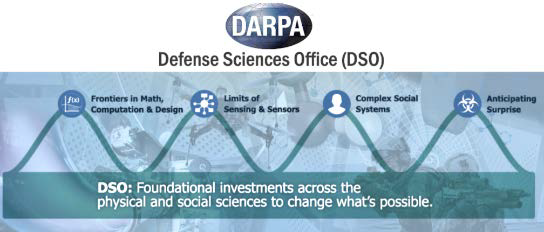 DARPA's EXTREME program developed optical materials technologies that the Air Force Research Laboratory is implementing on the U.S. Air Force's XQ-58 Valkyrie program (above image, left) and the Air Launched Off- Board Operations (ALOBO) program, a tube-launched unmanned aerial system (above image, middle) and a close-up (above image, right) shows a small gimbal housing new EXTREME technologies.
Metamaterials are composed of unit cells that are much smaller than the operating wavelength, allowing for greater manipulation of light.
Early examples of metamaterials were used to design and build multifunctional elements that seemingly defied standard "laws" of reflection and refraction. These were limited in efficiencies and in sizes less than a millimeter, prohibiting their integration into optical systems.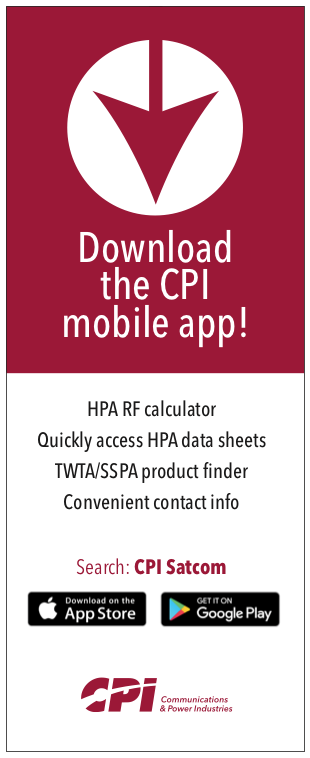 EXTREME addressed these challenges by improving efficiencies of lenses based on metamaterials, expanded their apertures to centimeter-scale, developed methods to reduce the effect of optical aberrations, and explored new optical design space and associated tradeoffs in size, weight, and power (SWaP) afforded by such metalenses.
The program kicked off in 2016 with multiple performers developing centimeter-scale metamaterials-based optics (metaoptics) and tools to design them.
The program was soon able to enable revolutionary improvement in SWaP characteristics of traditional optical systems as well as allow for multiple imaging applications from a single lens.
In 2018, DARPA partnered with the National Geospatial Intelligence Agency's (NGIA) Research Directorate to transition meta-optics concepts to unmanned aerial systems' (UAS) optical systems.
This NGA Metalenses program funded the Air Force Research Laboratory (AFRL) for multi-centimeter, meta- optics development and characterization, the Naval Research Laboratory for volumetric 3D metamaterial imaging capabilities, and Sandia National Laboratories for large-scale metalens modeling and optimization.
The above-mentioned EXTREME technologies are now transitioning from NGA to AFRL under its Seedlings for Disruptive Capabilities Program (SDCP).
Through SDCP, AFRL directorates partner with industry to answer critical needs of the Air Force Futures Strategy.

EXTREME technologies are being employed in several SDCP projects: Integrated Compact Electro-Optic (EO) / Infrared (IR) Systems (ICES); the XQ-58 Valkyrie experimental stealthy unmanned combat aerial vehicle; and the Air Launched Off-Board Operations (ALOBO) program, a tube-launched UAS.
ICES is exploiting discoveries made under EXTREME to enable mounting multifunction sensors on low-cost platforms, such as UAS, to be deployed in contested environments. These smaller platforms have more stringent volume constraints and weight restrictions than legacy platforms, so adding a new sensor usually requires removing an existing one.
The introduction of compact metalenses and planar optics for EO/IR capabilities disrupts the trade space, potentially enabling multiple sensors on a single platform, thus increasing capability.
AFRL is relying on EXTREME technology to modify the EO/IR systems on two developmental platforms: the XQ-58 and ALOBO. For the XQ-58, AFRL is looking to reduce the volume of existing sensors to make room for additional sensors.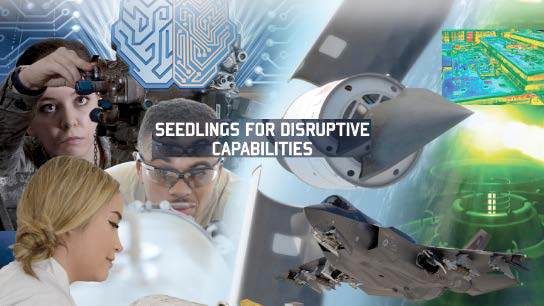 For ALOBO, AFRL is modifying the tube-launch compatible gimbal system. Advances in optics by DARPA and NGA allow AFRL to realize new trade space for the gimbal with either 10x reduction in SWaP while maintaining current performance or 4x improvement in resolution at current SWaP requirements.
"Through the NGA effort, AFRL developed unique capabilities using EXTREME technologies to characterize the optical performance of novel meta-optics and developed new insights into how they could be integrated into a full imaging system," said Rohith Chandrasekar, program manager in DARPA's Defense Sciences Office.
He continued, "This work was also supported by Sandia's MIRAGE tool, which is a first-of-its-kind capability developed under DARPA EXTREME and NGA Metalenses programs, that exploits symmetries to enable large-scale metalens design and optimization to meet performance metrics."
"Our close partnership with DARPA and the performers on the EXTREME program has enabled us to rapidly mature and demonstrate new technology for optical systems, which increases imaging system performance to address future system needs where conventional optics cannot meet performance or cost requirements," said Paul Fleitz, ALOBO team lead in AFRL's Aerospace Systems Directorate. "Transitioning this technology and design tools developed under the EXTREME program to AFRL SDCP programs has dramatically accelerated the development and demonstration of this technology and increased the impact of the development program."
EXTREME is a critical example of a successful partnership between DARPA, NGA, and AFRL to provide rapid transition from basic research to fieldable next- generation technology to support the warfighter.
---
iDirect Government Evolves Evolution To v.4.4 With Enhanced MILSATCOM Protection
iDirect Government (iDirectGov) has announced their newest software release, Evolution® Defense 4.4, for enhanced military satellite communications (MILSATCOM) protection.
Evolution Defense 4.4 technology advancements are targeted at the Defense Receive Line (DLC-R) cards, enabling Communication Signal Interference Removal (CSIR™) on the DLC-R line cards, and other security improvements. CSIR represents a real-time streaming technology to mitigate interference, and the introduction of Evolution Defense 4.4 now applies to both iDirectGov's remote and line cards. This release complements the previous Evolution Defense 4.2.2.0 software release, which provided CSIR protection on the 9-Series, establishing a complete end-to-end interference mitigation solution.
The DLC-R and 9-Series remote interference reporting work in the company's iMonitor network management software, which provides in-depth views into both real- time and historical network performance. This includes the health status of remotes, graphical displays, network probes and detailed bandwidth usage. The DLC-R-measured interference alerts and warnings thresholds are user configurable, as are the satellite remote alerts and warnings.
With security a highest priority for iDirectGov, the Evolution Defense platform is continuously tested and evaluated to ensure mission critical data is protected. To reinforce this security posture, the deployment of the Evolution Defense 4.4 software will have the protection of the Federal Information Processing Standards (FIPS) 140-2 Level 1 enabled, along with the backing of the security enhancements in Red Hat Enterprise Linux 8 (RHEL8). This implementation is applicable to all the servers associated with the platform beginning with Evolution Defense 4.4.
These security enhancements help to combat adversaries who are increasing their implementations of signal intelligence (SIGINT) to attack military and government spectrum use, as enemies seek to jam transmissions intended for radio communications, radar and various operations.
"Enhanced security solutions in Evolution Defense 4.4 create a multi-layered approach to MILSATCOM protection," said John Ratigan, president of iDirect Government. "Evolution Defense 4.4 meets military communications requirements worldwide. Our security solution offers a Defense-in-Depth approach for reliable and secure communications."
---
Royal Australian Navy Awards ScanEagle Contract Extension to Insitu Pacific
Insitu Pacific has been awarded a three-year contract extension by the Royal Australian Navy (RAN) for the sustainment of its ScanEagle Remotely Piloted Aircraft System (RPAS).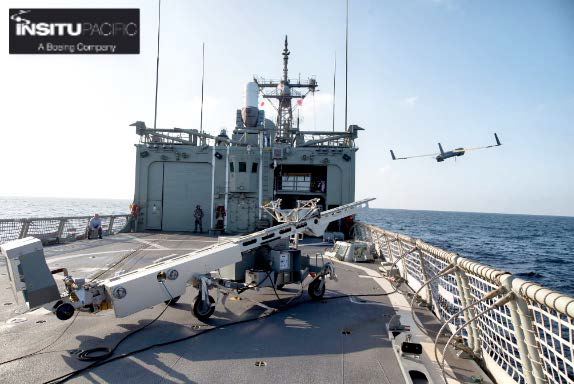 The extension allows the RAN to continue to experiment and develop knowledge using the ScanEagle Maritime Unmanned Aircraft System (MUAS), leveraging the foundation capability developed during embarked operations on HMAS Newcastle in the Gulf of Oman in 2017. ScanEagle has been in service with the RAN for experimentation and testing since 2014.
The RAN operates several ScanEagle systems at 822X Squadron in Nowra, and the contract extension enables continuation of MUAS training, tactics development and payload evaluation activities.
Insitu Pacific has supported and developed local capability for the RAN over the last seven years, including multiple training programs and the provision of deeper maintenance and support out of its Brisbane headquarters.
The comprehensive pilot and maintenance training courses delivered for defence personnel continue to be key success factors in delivering effective RPAS support. The most recent of these courses trialled virtual training, with RAN operators at Nowra being instructed by Insitu Pacific Instructors in Brisbane. ScanEagle, along with the family of system platforms including Integrator, hold an impressive track record in supporting naval customers, with more than 66,000 embarked flight hours on over 24 classes of ship globally in the last 16 years.
---
ETL Systems' Million$ Contract From U.S. Government And Defense Contractor
ETL Systems, a UK specialist in designing and manufacturing RF equipment, recently received an order valued at $1.33 million from a large U.S. Government and Defense contractor.

Having worked with ETL previously, the customer knew it was able to consult with ETL's engineering team to deliver a custom 3U Test Matrix design; the product needed to simultaneously fulfill their RF performance requirements and eliminate their problem of limited rack space.
The total order included 20 Test Matrices which can cover frequencies from 0 to 6 GHz.
ETL delivered the order to a high standard, successfully meeting the customer's strict technical compliances and their short delivery time frame.
The entire process, including the design, manufacture, and delivery, was completed within five months. Bill Pryle, Government RF Consultant at ETL Systems, said, "We worked closely with the RF engineering team to design a custom 3U Test Matrix. I am delighted they chose to work with ETL Systems and look forward to further projects with them in the future."
---