---
Elbit Systems Demos Heterogeneous Swarm Capability

Elbit Systems has demonstrated to the RAS Concept Development & Experimentation Program of the Royal Netherlands Army the company's Robotic Autonomous Systems (RAS) capabilities for Intelligence Surveillance and Reconnaissance (ISR) missions using heterogeneous autonomous swarms.

Taking place in northern Israel, the demonstration deployed swarms comprising of the PROBOT Unmanned Ground Vehicle and two types of Vertical Takeoff and Landing mini Unmanned Aircraft System (VTOL mini- UAS) including the THOR, all powered by the TORCH-X RAS software suite (Command and Control application, Autonomy Kits, Planning tools).
During the capability demonstration, different robotic pairings operated as swarms autonomously performing three types of operational missions. The missions included planning, navigating to predefined points, allocating sectors and the performance of various ISR tasks.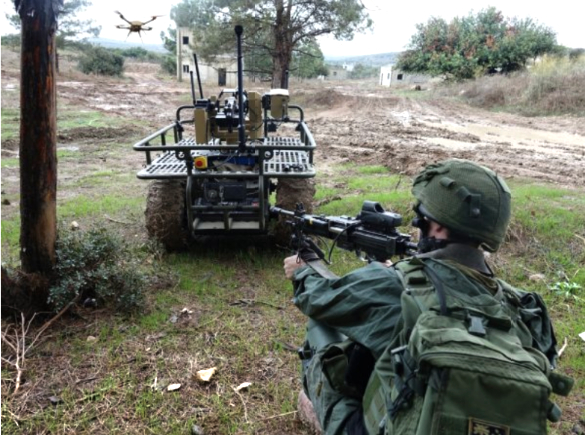 Torch-X™ RAS is an advanced solution
that maximizes the effectiveness of
Manned/ Unmanned Teaming (MUM-T),
enabling synchronized autonomous
operations involving ground and aerial
unmanned platforms of heterogenic fleets.
Torch-X™ RAS is a platform agnostic
solution that provides automated mission
management aided by AI / ML, as well
as full autonomy solutions for the
platform level.
Equipped with Autonomy Kits and Electro-Optical payloads, a swarm of three THOR VTOL mini-UASs and PROBOT UGV performed a "point of interest" reconnaissance mission. The TORCH-X RAS Command and Control application used the THOR VTOL mini-UAS swarm to dominate the area of interest and deployed the PROBOT UGV to complete the intelligence picture.
Real-time video feeds were transmitted by all four platforms, while Artificial Intelligence (AI) powered Automatic Target Recognition (ATR) and designation capabilities enabled effective target acquisition.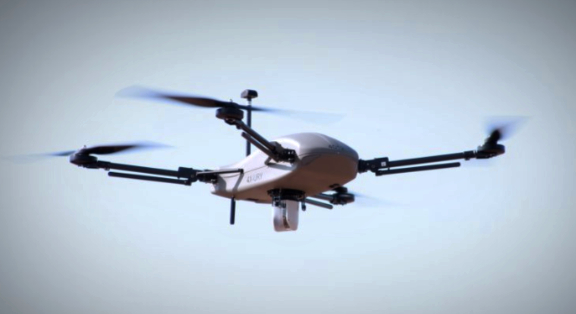 The THOR vertical takeoff and landing
(VTOL) Mini - Unmanned Aircraft
Systems (UAS) is a low altitude
multi-rotor platform, designed for a wide
range of surveillance and
reconnaissance missions.
In a second mission scenario, two VTOL mini-UASs were dispatched to resupply front line forces. Taking-off from different destinations, the two platforms navigated to predefined locations conducted accurate landing and autonomously returned to their home bases upon mission completion.
The third mission was an airborne deployment of Unattended Ground Sensors (UGS) using two THOR VTOL mini-UASs quipped with sensor dispensers. Operating as a swarm, the two THORs arrived at pre-defined points accurately off-loading the miniature Lonely Rider UGS enabling data collection from ground sensors designed to enhance the ISR combat picture.
The demonstration highlighted the capability of the TORCH-X RAS powered solution to enable heterogeneous formations of unmanned platforms, of different makers, equipped with both proprietary and third party payloads, to act as a cohesive unit conducting synchronized autonomous multi-domain operations.
---
Lockheed Martin + Keysight Test 5G Solutions For Aerospace + Defense Comms
Lockheed Martin (NYSE: LMT) and Keysight Technologies, Inc. (NYSE: KEYS) are collaborating to advance 5G in support of mission-critical communications for aerospace and defense applications.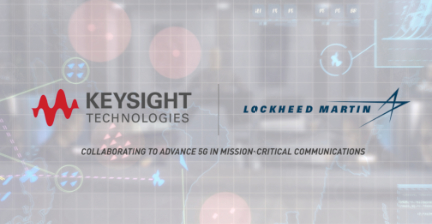 The companies are actively collaborating on a 5G.MIL™ testbed that Lockheed Martin teams will use to advance 5G capabilities for multiple applications.
5G brings high-speed data rates, connection density, trustworthiness and low latencies to wireless communications networks. The collaboration advances Lockheed Martin's 5G.MIL vision to support secure and resilient connectivity for defense and national security applications. It also aims to adapt commercial 5G technology to meet tactical communications needs in terrestrial and non-terrestrial networks operated by the Department of Defense.
Working with Keysight on automated test cases to evaluate cyber security and vulnerabilities across all 5G components and interfaces, Lockheed Martin is also able to determine the cyber resiliency of its 5G-enabled solutions across the lifecycle — from development through operations.
The testbed, which reached initial operational capability in July, will help Lockheed Martin's 5G.MIL teams quickly verify interoperability and performance with a wide range of 5G assets and simulate reliable and secure communications. Since that time, both companies have worked together to emulate, test and validate 5G Open Radio Access Network and Non- Terrestrial Network communications.
Through a strategic MoU, the companies will incorporate additional capabilities to support emerging research and development needs and to remain current with the latest 5G advancements and beyond.
---
Lockheed Martin Contracted To Build Three GPS III Follow On Satellites By USSF
The U.S. Space Force (USSF) has exercised their second contract option, valued at approximately $737 million, for the procurement of three additional GPS III Follow On (GPS IIIF) space vehicles (SVs) from Lockheed Martin. This contract option is for GPS IIIF space vehicles 15, 16 and 17 (SV15-17).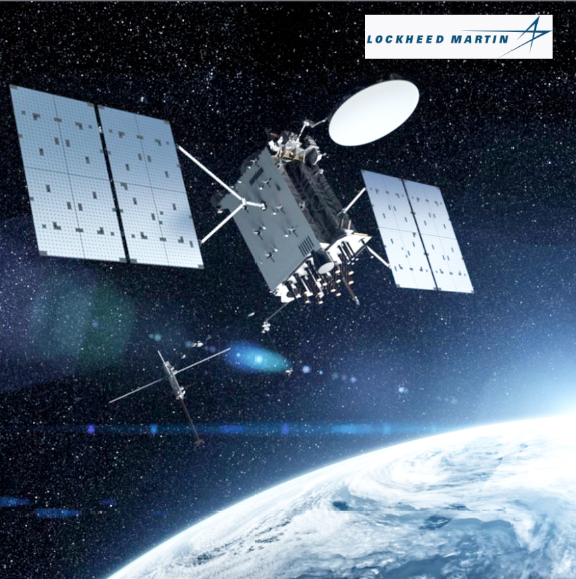 Artistic rendition of a GPS IIIF satellite. Image
is courtesy of Lockheed Martin.
GPS IIIF satellites build off the innovative design of Lockheed Martin's next generation GPS III satellites (SV 01-10), which provide three times greater accuracy, up to eight times improved anti-jamming capability and increased resiliency, in addition to modernization, compared to legacy GPS satellites in today's constellation. GPS III also adds a new L1C civil signal that is compatible with other global navigation satellite systems, such as Galileo.
GPS III/IIIF support a USSF effort to modernize the current GPS satellite constellation.
The GPS IIIF SV11-12 satellites were included in the original September 2018 GPS IIIF contract award to Lockheed Martin to build up to 22 GPS IIIF satellites. Under that contract, the government exercised the first GPS IIIF production option for SV13-14 in October 2020.
GPS IIIF SV13 and beyond will incorporate the company's LM2100 Combat Bus™, an enhanced space vehicle that provides even greater resiliency and cyber-hardening against growing threats, as well as improved spacecraft power, propulsion and electronics. This evolved bus incorporates many common components and procedures to streamline manufacturing.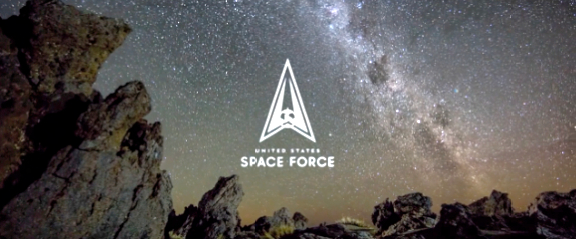 LM2100 Combat Bus vehicles are also capable of hosting Lockheed Martin's Augmentation System Port Interface (ASPIN), which would allow for future, on-orbit servicing and upgrade opportunities.
As of this writing, Lockheed Martin is close to finishing production on the original GPS III SV1-10 contract. GPS III SV01-05 have been launched and handed over to the USSF for on-orbit operations.
GPS III SV06-08 have been completed and placed in storage at the company's facility waiting for the USSF to call them up for launch. SV09 is a fully integrated space vehicle now going through final testing.
On October 26, 2021, the final GPS III satellite of the original GPS III contract — GPS III SV10 — completed an operation known as "core mate" to assemble it into a full space vehicle at Lockheed Martin's GPS III Processing Facility. It will proceed into the vehicle testing campaign before the yea's end.
"GPS IIIF satellites will add new capabilities and advanced technology to the GPS constellation, including Regional Military Protection (RMP); an upgraded Nuclear Detection Detonation System (NDS) payload; a safety-improving Search and Rescue payload; and an accuracy-enhancing Laser Retroreflector Array (LRA)," said Dave Hatch, Lockheed Martin's GPS IIIF program management director. "The RMP capability further reinforces GPS III/IIIF as a warfighting system, providing up to 60x greater anti-jamming for our warfighters operating in contested environments."
---
U.S. Space Force Recognizes Georgia Tech As A New Strategic Partner
United States military agencies often look to the Georgia Institute of Technology to recruit highly skilled workers, drawing from the Institute's expertise in fields such as aerospace engineering and cybersecurity. Today, with modern warfare increasingly fought via satellite control networks, a new branch of the U.S. military has taken notice of Georgia Tech.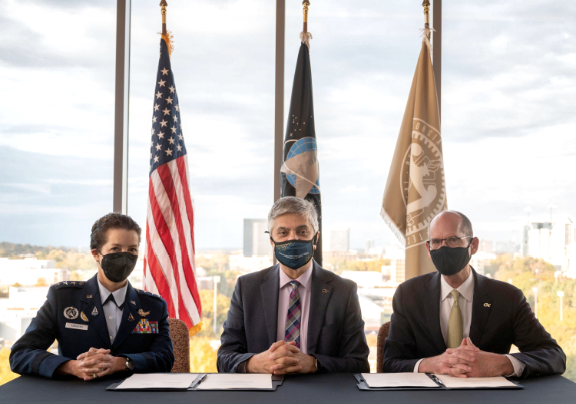 Lt. General Nina M. Armagno, U.S. Space Force director
of staff, with Georgia Tech Executive Vice President for
Research Chaouki T. Abdallah and Provost Steven W.
McLaughlin (L to R).
On November 11, Georgia Tech and the U.S. Space Force launched a strategic partnership to develop a high-caliber aerospace workforce and collaborate on advanced aerospace research. As part of a comprehensive agreement, the two parties signed a memorandum of understanding, making Georgia Tech the newest member of the U.S. Space Force's University Partnership Program.
Lt. General Nina M. Armagno, U.S. Space Force director of staff, joined Georgia Tech Provost Steven W. McLaughlin and Executive Vice President for Research Chaouki T. Abdallah to sign the agreement. The signing ceremony, on Veterans Day, occurred on the Georgia Tech's campus.
The U.S. Space Force established the University Partnership Program to identify, develop, and retain a diverse, STEM-capable workforce to further its mission to protect U.S. and allied interests in space. Through the partnership, the Space Force will seek to recruit new members and also create educational and leadership development programs for existing Space Force employees. Georgia Tech was selected for its outstanding aerospace engineering research, its expertise in national defense and security, the diversity of its students, and its robust ROTC program.
Georgia Tech joins 11 universities selected for the U.S. Space Force University Partnership Program in fiscal year 2021. They include Howard University, Massachusetts Institute of Technology, North Carolina Agricultural and Technical State University, Purdue University, University of Colorado Boulder, University of Colorado Colorado Springs, University of North Dakota, University of Southern California, University of Texas at Austin, and University of Texas at El Paso.
The institutions were selected based on four criteria: the quality of STEM degree offerings and space-related research laboratories and initiatives; ROTC program strength; diversity of student population; and degrees and programming designed to support military, veterans, and their families in pursuing higher education.
The signing ceremony was the culmination of a daylong campus visit for Lt. General Armagno and the Space Force delegation. In the morning, she met with Air Force ROTC students and gave a public talk at the Sam Nunn School of International Affairs about the Space Force's integration into the U.S. military. In the afternoon, she held a discussion with aerospace engineering students, toured the Space Systems Design Lab, and received an overview of the Georgia Space Grant Consortium and Aerospace Engineering Outreach.
As a next step, Georgia Tech and the Space Force will outline specific implementation milestones to meet the program's objectives. This initial work will include establishing educational programs such as scholarships, internships, and mentorship opportunities, and identifying specific research areas of mutual benefit to the Space Force and Georgia Tech.
"At the heart of the Space Force's University Partnership Program is the need to advance our science and technology to build the next generation of space capabilities, while developing the workforce of the future," Armagno said. "With its reputation as a leader in cutting-edge aerospace research, we are confident that Georgia Tech will be an outstanding partner."
"Georgia Tech is proud of its longstanding collaborations with NASA and the Department of Defense to help achieve strategic national objectives," Abdallah said. "We look forward to charting bold new areas of research with the Space Force and leveraging our expertise in aerospace engineering and national security to address today's most complex space-based military challenges."
---