Airbus Defence & Space (Airbus D&S)—Indian Ocean Maritime Coverage Improved
An improved Ku-band footprint will also enhance security and anti-piracy efforts in the region, thanks
to new maritime VSAT coverage over the Indian Ocean Region (IOR).
Airbus D&S' Ku-band coverage has been boosted with a Seychelles region extension that delivers high-speed data through the use of the Intelsat IS-702 S2 satellite.
The new coverage enables improved availability of Pharostar, Sealink and WaveCall VSAT voice and data services for vessels transiting or operating primarily in the Seychelles area, north to Ethiopia and south to Madagascar.
Several diverse maritime groups will make use of more available high speed VSAT, including commercial fishing, government, naval, shipping and yachting vessels.
An improved Ku-band footprint will also enhance security and anti-piracy efforts in the region.
"By bringing up this network, we enhance our market leading global VSAT coverage to support service providers serving customers in the IOR.
The new coverage enables delivery of reliable connectivity up to 3.8Mbps," said Ghani Behloul, Head of Product Marketing, Maritime, Airbus Defence and Space.
"The IOR coverage extension is part of our commitment to maintaining the most extensive maritime VSAT coverage for global users."
Airbus Defence and Space is a division of Airbus Group formed by combining the business activities of Cassidian, Astrium and Airbus Military.
The new division is Europe's number one defense and space enterprise, the second largest space business worldwide and among the top 10 global defense enterprises.
The company employs approximately 40,000 employees around the globe, generating revenues in the neighborhood of 14 billion euros per year.
The Airbus Defence & Space infosite is located at http://airbusdefenceandspace.com
* * * * * * * * *
Northrop Grumman + DTSO—An Alliance
Northrop Grumman Corporation and the Australian Defence Science and Technology Organisation (DSTO) have signed a strategic alliance to conduct collaborative research in a range of advanced defence technologies.
The agreement was signed in Canberra by Northrop Grumman Australia Chief Executive Mr. Ian Irving and Chief Defence Scientist Dr. Alex Zelinsky.
Under the agreement Northrop Grumman and DSTO will collaborate on projects of mutual interest and DSTO will have access to Northrop Grumman's specialized defense knowledge.
"This agreement is a further demonstration of Northrop Grumman's commitment to Australia and to the defence organization," Irving said.
"Northrop Grumman has significant experience in C4ISR, electronic warfare and unmanned systems. We've seen significant developments in these areas in recent years and they will continue to transform defence forces around the world. Northrop Grumman looks forward to working with DSTO to keep Australia at the forefront of these advanced technologies."
DSTO also welcomed the agreement. "We look forward to collaborating with Northrop Grumman," Zelinsky said. "DSTO and Northrop Grumman have strong levels of expertise in cutting-edge technology and working together will increase our ability to find the right technological solutions for the future of the Australian Defence Force."
Northrop Grumman is a leading global security company providing innovative systems, products and solutions in unmanned systems, cyber, C4ISR, and logistics and modernization to government and commercial customers worldwide.
Please visit http://www.northropgrumman.com/ for more information.
* * * * * * * * *
U.S. Army—A Great Deal Of Intelligence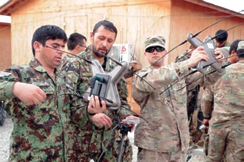 U.S. Army Sgt. John Leslie, of Sierra Vista, Arizona, demonstrates how to calibrate a direction finding antenna to a satellite in space for Afghan soldiers during the Wolfhound fielding and training class at Forward Operating Base Gamberi.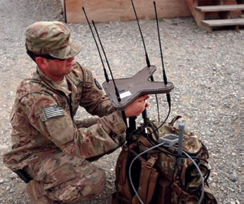 Leslie serves as a low-level voice intercept trainer with the 303rd Military Intelligence Battalion deployed in support of Task Force Patriot. The Wolfhound capability will allow the Afghan National Army to locate enemy radio transmission sources.
U.S. Army Sgt. John Leslie, of Sierra Vista, Arizona, completes system setup for the Wolfhound intelligence gathering system during the fielding and training class at Forward Operating Base Gamberi.
This is the ANA's first Wolfhound training and fielding class.
U.S. Army Photos by Sgt. 1st Class E. L. Craig, Task Force Patriot PAO
* * * * * * * * *
Lockheed Martin—Plying The Polar Regions With WCDMA + MUOS
Lockheed Martin recently demonstrated that the U.S. Navy's Mobile User Objective System (MUOS) satellites may help solve communication challenges in the arctic.
During company-funded tests, MUOS voice and data signals reached much farther north than previously thought, just 30 miles and 0.5 degrees of latitude shy of the North Pole.
A team demonstrated Wideband Code Division Multiple Access (WCDMA) capability using three different radios as far north as 89.5 degrees, under peak orbit conditions.
This inherent voice and data access is well beyond the 65-degree system requirement. The additional coverage comes at a time when demand is surging for dependable polar communications. As the arctic becomes more accessible, the U.S. and its allies need reliable communications to maintain a safe and secure presence," said Paul Scearce, director of Military Space Advanced Programs at Lockheed Martin.
"Demand for consistent voice and data services will only increase. The area is experiencing more shipping, tourism and natural resource exploration, which will also likely increase demands for search and rescue."
The demonstrations show MUOS has an advantage over legacy satellite communications.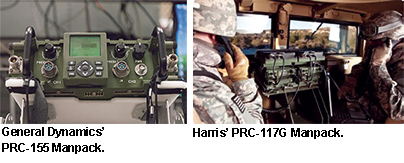 "This joint testing gave us important system operation data at extreme conditions," said Dr. Amy Sun, Narrowband Advanced Programs lead at Lockheed Martin. "We did these evaluations to explore growing arctic communication demand, yet it also highlighted the dramatic capability improvements the WCDMA architecture will provide. Using MUOS, we were able communicate from the aircraft at high latitudes, which wasn't the case for the legacy Ultra High Frequency signal."
Lockheed Martin performed two rounds of testing late last year aboard an L-100 aircraft, the commercial variant of the C-130 Hercules. Multi-hour flights set out from Barrow, Alaska to test transmit and receive capabilities.

Three terminal providers developing MUOS-compatible radios were on board, including the General Dynamics PRC-155 Manpack, the Harris PRC-117G Manpack and the Rockwell Collins ARC-210 V5 airborne terminal.
Anticipated shipping lanes will see full coverage 24 hours a day, with signal gradually dropping off farther north to 89.5 degrees, which can be achieved at peak orbit conditions. Airborne terminals can connect further north than sea level terminals, but at reduced durations. The Antarctic should see similar performance results. Lockheed Martin plans on evaluating MUOS signal strength there, as well.
* * * * * * * * *
U.S.M.C.—New SATCOM equipment for Battalion
Marines from Marine Corps Systems Command and 8th Communications Battalion, tested new communications equipment aboard Marine Corps Base Camp Lejeune.

The Rapid Response Kit consists of two main subsystems that provide high rate data communications and can be deployed in a matter of minutes.
"The equipment is going to help out our unit a lot, it is different than anything we have worked with and is much more high speed and reliable," said Cpl. Brandon Ikenberry, a satellite operator with 8th Comm.
The battalion received new communications equipment after a week long equipment test, allowing Marines to get hands-on experience with new gear.
"We are trying to standardize the Marine Corps right now," explained Maj. David Arjona, the Expeditionary Command and Control Suite project officer.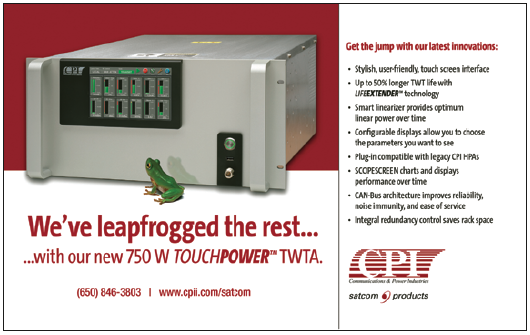 "Each unit has their own funding to purchase equipment, so units don't always get the same equipment. This is the Marine Corps standardized acquisition process of standardizing equipment to all the Marine Corps at one time," he added.
The new equipment test was the first of three within the Marine Corps to take place at units receiving the Expeditionary Command and Control Suite Family of Systems and Rapid Response Kits. Ten Marines from 8th Comm participated in the training. The Marines will be taking four Rapid Response Kits back to their units where they will put the new equipment to work.
With new communications equipment distributed throughout the Marine Corps, Marines are able to efficiently and effectively use global satellite coverage.
The rapid response kit team is now preparing for their next fielding at the 7th Communications Battalion, III Marine Expeditionary Force, aboard Marine Corps Base Camp Hansen, Okinawa, Japan.
Story by Lance Cpl. Jared Lingafelt, Marine Corps. Base Lejeune
* * * * * * * * *
Department of Defense—Thoughts On Spectrum Sharing
The Department of Defense has announced its electromagnetic spectrum strategy for sharing
with the commercial wireless industry.

The electromagnetic spectrum is a range of frequencies of electromagnetic radiation. Electromagnetic radiation has many uses, including radio and satellite communications, radar, and GPS.
"Through its plan, DoD recognizes that meeting its own requirements amidst the growing commercial and consumer demand will require cooperation, compatibility and flexibility," said Karl Nebbia, the associate administrator of the Office of Spectrum Management at the electromagnetic spectrum strategy press briefing, Feb. 20. "Indeed, a key focus of its plan is to establish goals and objectives to develop systems that are efficient, flexible and adaptable in their use of the spectrum."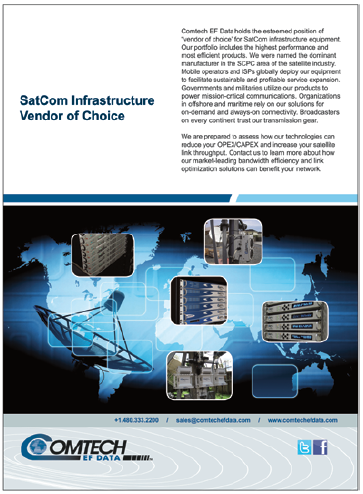 The focus in sharing the spectrum is balancing the needs of the military and the needs of the commercial wireless industry, both of which have growing demand.
"We cannot shift in a short time frame; we just have too much equipment and too much capability that really has to be transitioned in a very thoughtful way so as not to impose a major burden on budgets and a major burden on the taxpayers," said Teri Takai, chief information officer for the Department of Defense.
In the 1990s, 12,000 troops used an average of 90 megahertz of bandwidth. Now, 3,500 troops use over three times that amount of bandwidth on average.
"The longer term spectrum needs for government agencies and industry alike can only be met through spectrum sharing. And we are looking for a top-to-bottom commitment from all stakeholders to make it happen," said Nebbia.
There are three main goals embedded in the strategy: continue improving DoD spectrum-dependent technology, increase the agility of spectrum operations, and improving participation in policy, said Takai.
"By becoming more efficient, flexible and adaptable, our systems will be better prepared to meet the demands of modern warfighting," said Takai. "This creates opportunities to utilize spectrum that is less congested, adopt commercial services and technologies where suitable, and implement spectrum-sharing technologies where feasible.
"So with all of that, again, our objective is to really work collaboratively, but always with a mind towards our mission, which is really to protect all of our citizens and all of our partners and make sure that all of our men and women in uniform are really ... have the capability that they need, but are also protected from harm's way," she said.
Story by Cpl. Sarah Cherry, Marine Corps Air Station Beaufort
* * * * * * * * *
Inmarsat + Hughes Network Systems—A Discreet Move
Inmarsat has signed a contract with Hughes Network Systems, LLC to manufacture the new Low Profile BGAN terminal, which will equip police forces and other government departments around the world with a discreet communications terminal.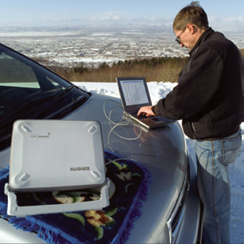 Combining the proven reliability of Inmarsat's globally available BGAN service with a lay-flat, rapidly deployable antenna, the new terminal delivers an innovative, remote capability that allows unmanned, concealed surveillance.
"A system that can be mounted discreetly is of great interest to Government departments. From police forces and similar agencies that need to leave unattended equipment or maintain a low profile, to overseas agencies whose SATCOM equipment become a target for malicious damage, this terminal with its lay-flat antenna opens a wealth of new opportunities,"said Peter Dingley, VP Offer Development, Inmarsat Global Government.
Power and connectivity capabilities are key features in the government market. The Low Profile BGAN offers a viable solution to both of these hurdles when operating in remote areas and, in this regard, provides a unique product offering.
"When you add to this the ability to be buried or camouflaged to avoid detection, the Low Profile BGAN is expected to become the staple SATCOM backbone of future discreet operations," continued Peter Dingley.
Graham Avis, vice president of Hughes San Diego, said, "I can see the low profile BGAN terminal being deployed in a variety of commercial and government applications where a conspicuous installation cannot be tolerated."
The LPB is a rapid-to-deploy, lay-flat, coverable, covert terminal, which allows the user to mount the device outdoors, on flat surfaces or buried under a layer of material, while maintaining high-speed data rate connectivity for applications including the streaming of real-time video, audio and data to a variety of end-users throughout the world.
The solution is compatible with a wide range of currently available and future planned surveillance hardware. When fitted to these triggers, the LPB can lay dormant until awakened by a network command from the command center or triggered into action by an event in the field The multi-phased array antenna negates the need for complex pointing and meets government-level environmental and ingress protection.
The LPB is scheduled for end user testing later this year and the first 100 terminals are due for release from Quarter 3, 2014. Customer commitments have already been secured for a large proportion of this first production run with pre-production orders currently being taken for the remainder.
The Hughes Network Systems infosite is accessible at http://www.hughes.com/
The Inmarsat BGAN infosite is located at http://www.inmarsat.com/service/bgan/
* * * * * * * * *
Boeing + Smithsonian—Financial Gift
Boeing is making a $30 million donation to the Smithsonian's National Air and Space Museum to support educational work, new exhibits and the first renovation of the "Milestones of Flight" hall since the museum opened.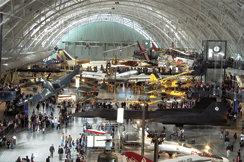 The renovation and new exhibits will be completed in 2016, the same year that Boeing celebrates its centennial anniversary.
Including this gift, Boeing has donated nearly $60 million to National Air and Space Museum.
Boeing and the aerospace industry are at the forefront of innovation, with ideas that have changed the world in ways that could never have imagined 100 years ago.
Not only does the Smithsonian National Air and Space Museum celebrate and commemorate aerospace milestones, but the institution also represents the aspiration to inspire future generations, test the limits and challenge the impossible.
The renovated Boeing Milestones of Flight Hall will showcase one of the world's largest collections of aerospace objects and feature new exhibits to excite the imagination of all ages about the future of flight.
The Boeing infosite is located at http://www.boeing.com/
The Smithsonian Air & Space Museum infosite is located at http://airandspace.si.edu/
* * * * * * * * *
Kratos—Drone Delivery
Kratos Defense & Security Solutions, Inc. has announced that its Advanced Drones & Target Systems (ADTS) Division was recently awarded a $3 million contract to provide high performance unmanned aerial drone aircraft and related support equipment.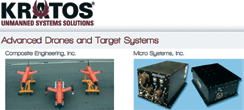 The unmanned aerial drone systems ADTS will be providing will be manufactured in a secure Kratos manufacturing facility.
Due to customer specific and other considerations, no additional information is being provided related to this contract award.
Kratos ADTS Division information is available at http://www.kratosuss.com/page/unmanned-systems-solutions