Mr. Richard White is President of SSL Government Systems, where is he is responsible for leveraging SSL and Maxar Technologies capabilities to serve the U.S. Government. He has served in senior management roles across multiple companies and mission areas, including intelligence, surveillance and reconnaissance, satellite antennas and payloads, and cyber security.

Mr. White brings deep knowledge and access across numerous U.S. Department of Defense (DoD), intelligence, and civilian agencies to SSL.
In late 2017, MDA and DigitalGlobe combined to create Maxar Technologies. The newly combined company, which includes SSL, DigitalGlobe, Radiant Solutions, and MDA, offers a broader set of space-based solutions, increased scale, and a more diversified revenue base. Together with Maxar, SSL continues to gain momentum in growing its pipeline for U.S. government, Department of Defense, and civil space programs and celebrated a number of key wins over the year. Richard White offered his thoughts regarding 2018...
What are some of SSL's highlights from 2018?
Richard White (RW)
On the U.S. Government (USG) business side of SSL, we were awarded multiple contracts over the course of the year.
In October, we won the SSPEDI (Small Spacecraft Prototyping Engineering Development ) contract to provide small to medium satellite solutions to the DoD. Under the contract, SSL is eligible to compete for multiple awards over five years, for up to a cumulative value of $750 million.
For SSPEDI, we're providing end-to-end mission systems that harness the collective power of Maxar Technologies and our close partnership with Maxar's Radiant Solutions, which provides innovative products and services that source, enrich, and analyze massive amounts of geospatial data to reveal insights where and when it matters.
In August, SSL announced that NASA had selected the company to provide the main onboard computer for the Psyche mission to explore what is believed to be an asteroid made of metal rather than rock or ice. In addition to the onboard computer, SSL is also providing a high power, solar electric propulsion spacecraft chassis based on our SSL 1300 platform.
We're also building critical equipment for NASA's Europa Clipper spacecraft, which will explore Europa, an icy moon of Jupiter.
The company continues to work across DoD, civil, and commercial space communities on several leading-edge programs and studies that aim to help USG agencies define next-generation space technologies, including advanced space architectures for the U.S. Air Force's Strategic Enterprise Vision, missile defense concepts for the Missile Defense Agency and technologies for on orbit assembly, manufacturing,
and refueling.
On orbit servicing and assembly are emerging as a critical technology for next-generation space ecosystems. How is SSL involved?
RW
We believe that in-space robotic operations are the gateway to an entirely new infrastructure for Earth Observation (EO), communications, space exploration, space travel, and habitats, and they are an integral part of Maxar's purpose to "Build a Better World."
While billions of people depend on satellites for everyday needs like telecommunications, GPS, and internet, they are the only element of our essential daily infrastructure that cannot be serviced. Maxar has evolved the technologies for on orbit satellite servicing and assembly for more than three decades. The company has participated in over 200 successful robotic space missions, including those on the Space Shuttles, the International Space Station and every Mars Rover and Lander vehicle — including NASA's InSight Lander, which touched down on Mars in late November. Our robotic arms have been used to assemble the International Space Station while on orbit and are routinely used to service the Station, capture and dock unpiloted spacecraft, and even move astronauts.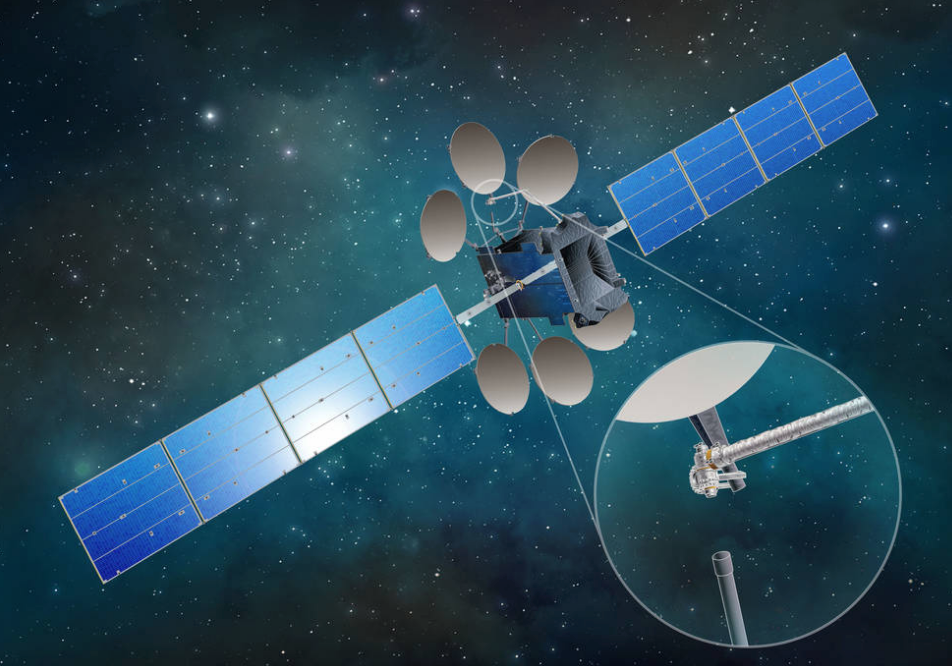 Leveraging this experience, SSL is working on three separate and complementary satellite servicing and assembly programs. In a public-private partnership with DARPA, we're building the spacecraft and robotic arms for the Robotic Servicing of Geosynchronous Satellites (RSGS) program. RSGS will enable unprecedented flexibility and resilience for GEO satellite operators through on orbit inspection, repair, and upgrade. We're also adding refueling capabilities.
SSL is also pleased to be working together with NASA on a separate servicing mission, called Restore-L. Similar to RSGS, the company is building both the spacecraft and robotic arms for Restore-L, which will refuel a government-owned satellite in Low Earth Orbit (LEO) and demonstrate fundamental capabilities for future NASA missions.
SSL is also collaborating with NASA to develop Dragonfly, an ultra-lightweight robotic system that is expected to enable entirely new architectures and capabilities for government and commercial missions through on-orbit assembly. With Dragonfly, large structures, such as platforms, apertures, and antennas, are no longer confined by the volume limitations of the rocket fairing, and sensitive instruments can be launched in a soft environment, removing the need to survive the harsh vibrations of a traditional
launch environment.
Small satellites and LEO constellations are emerging as affordable, resilient, and capable assets that complement GEO systems. How is SSL participating in the smallsat market?
RW
In the smallsat realm, SSL is demonstrating ongoing success on a number of programs. We recently shipped two more SkySat EO satellites that we built for Planet to Vandenberg Air Force Base. Six of Planet's SSL-built satellites were launched in 2017 and five were launched in 2016. With this launch, there are now a total of 13 SSL-built SkySats on orbit. SSL continues to manufacture additional SkySats for Planet's constellation in the company's state-of-the-art manufacturing facility.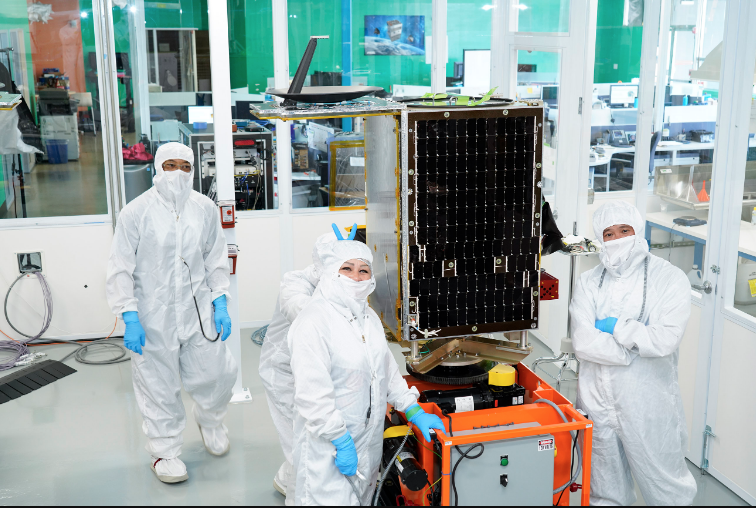 In additional work on remote sensing satellite constellations, SSL is making progress on the firm's innovative design for WorldView Legion, a next-generation, high-resolution constellation for Maxar's DigitalGlobe. The LEO satellites will more than double DigitalGlobe's high-resolution capacity in important regions.
Additionally, in July, SSL announced that the company is working with Thales Alenia Space to pursue the development and manufacture of Telesat's global LEO satellite constellation and end-to-end system. The constellation will transform global communications by offering an unsurpassed combination of capacity, speed, security, resiliency, and low cost with latency performance that is as good or better than the most advanced terrestrial networks. Telesat anticipates selecting either the Thales Alenia Space/Maxar team or an alternate team to begin work on the program in mid-2019.
What is USG's role in advancing technologies that support American leadership in space?
RW
The USG has a growing and evolving focus on space and on working with commercial companies to leverage the benefits of a competitive marketplace and space-proven systems. Innovative government contracting vehicles, such as Other Transaction Authorities and Public-Private Partnerships, are supporting collaborations that can result in ongoing commercially provided services that serve both public and private interest.
In this way, government support continues to play a very important role in the development of next-generation space technologies. Investment, partnership and cooperation from government help to identify and accelerate next-generation technologies that support American leadership in space
Earlier this year, Jim Bridenstine was confirmed as NASA Administrator. We're encouraged by his plan to go forward to the Moon as an important step in developing technologies that will enable humankind on its journey to Mars and are pleased to be providing concepts for one of the first major systems to support that journey — NASA's Lunar Gateway. The Gateway is a human crew-tended spaceport in lunar orbit that will function as an access point to the Moon and deep space. SSL is leveraging its extensive commercial experience in solar electric propulsion systems to provide concepts for the Power and Propulsion Element, which would be the first Gateway module launched.
What is on the horizon for SSL in 2019?
RW
SSL is a world-renowned authority in designing and building commercial GEO satellites that deliver services to billions of people across the globe. We're also a world leader in space robotics, having provided every robotic arm on the surface of Mars. Now, together with Maxar Technologies, we're steadily building our reputation for smallsats and mission systems engineering.
In 2019, SSL will continue to diversify the business while maintaining the commitments already made to customers. We're investing in new technologies that unlock the promise of space for commercial and government markets and combining our decades of commercial experience to accelerate innovation for the new space economy. The future is looking bright.
www.sslmda.com
---