Thwarting adversaries by deploying advanced defensive technology is one way to address the challenges faced by the 21st century warfighter. The loss of technological superiority and the resulting harm to operational capabilities is a risk our nation cannot afford.
U.S. force projection seeks the "away game" for military operations. That is, we want to bring the fight to the adversary's neighborhood and avoid military conflict on American soil. The away game demands long-haul communications, and that satellite communications supports the vast majority of telecommunications capacity early in a conflict and far from the United States.
In the increasingly net-centric military of today and tomorrow, mission success depends on highly assured communications. During critical military operations, "protected" communications is not a "continuum"—our warfighters have the essential communications, or they don't, it's that simple.
Northrop Grumman is working to develop and deliver affordable and discriminating technologies that improve the performance of MILSATCOM architecture. As leaders from government, academia and industry work closely on how to offset the toughest technological challenges faced by warfighters, breakthroughs by our company are contributing to the solution.
Microelectronics
Northrop Grumman's work in advanced III/V compound semiconductors (semiconductor materials made from elements in groups III and V of the periodic table of elements) and integrated circuit technology is pushing the state of the art to enable solutions that were thought to be impossible just a few years ago. These advances have the potential to unlock many new applications.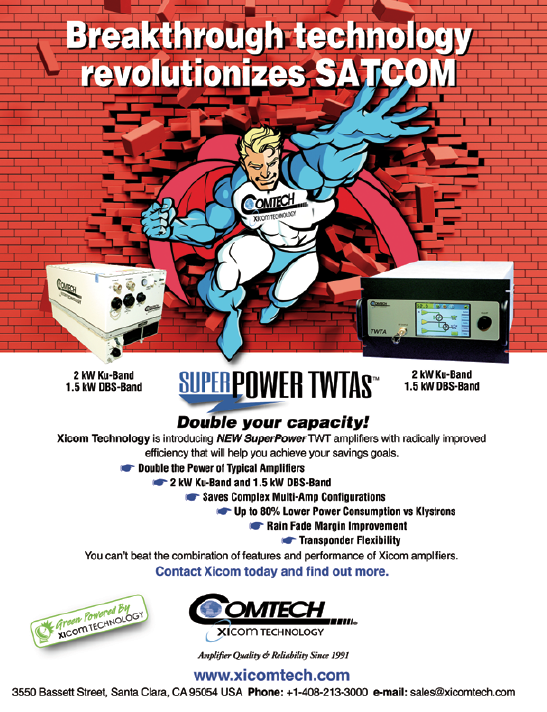 Recently, the Defense Advanced Research Projects Agency (DARPA) recognized Northrop Grumman for developing the world's fastest integrated circuit amplifier. The amplifier is able to operate at a speed of one terahertz, or one trillion cycles per second, surpassing our own record of 850 billion cycles per second set in 2012.
Just 10 years ago, there was doubt that an integrated circuit operating at one terahertz was even technologically possible. An interdisciplinary team of Northrop Grumman scientists and engineers worked together in scaling all facets of our monolithic microwave integrated circuit (MMIC) technology to enable this result, which may potentially be used in satellite links at much higher frequencies than are currently used. It is also expected to improve system range, and reduce size, weight and power consumption of existing systems.
In the same vein, functions that were typically realized with separate chips and technologies are now being produced as a compact system-on-a-chip by combining multiple functions with our advanced deep submicron silicon nodes that enable complex ASIC (Application-Specific Integrated Circuit) development and design. This allows size, weight and power savings compared to traditional design methodologies.
A standout technology is our DAHI (Diverse Accessible Heterogeneous Integration) 3-D technology that enables Northrop Grumman's high-performance III/V compound semiconductor technologies to be intimately integrated with commercial scale advanced deep submicron CMOS (complementary metal–oxide–semiconductor). This hybrid approach provides revolutionary integrated circuit capabilities with substantial improvement in affordability.
Next-Generation Processor
An affordable and agile solution to delivering assured communications is our next-generation flexible data processor that allows users to quickly enable different applications and communication architectures. We have recently completed the development and successful demonstration of a protected satcom digital processor capable of combining advanced protection features with enhanced user data rates 20 times faster than currently available. The processor is compatible with space operations, and the demonstration validates that the hardware, firmware and software are at a technology readiness level that can move quickly to flight readiness.
The processor builds upon the proven protection features of the Advanced Extremely High Frequency (AEHF) satellite's Extended Data Rate (XDR) waveform. New features not only enhance user data rates, but provide spectrally efficient bandwidth-on-demand connectivity. Security for the new processor is provided with an algorithm that is readily exportable and does not require physical protection when it is unkeyed, increasing the applicability to coalition forces and unmanned platforms. When implemented as part of a comprehensive protected architecture, the processor can deliver assured communications to the warfighter, enabling operation in contested tactical environments.
The need for fully processed, spread spectrum architectures with highly discriminating antennas operating across the spectrum is the best and most reliable way to counter the growing threat of low-cost commercial terminals that can be repurposed as jammers by adversaries.
A notable development in this area is our maturing knowledge of atmospheric effects on W- and V-band RF signal propagation to enable future SATCOM systems. Success in this area will enable space-ground communication links to be designed at these bands and expand the possibilities for assured communications.
Lasercom
Laser communications technology has long held promise as key to an enhanced MILSATCOM architecture and remains a promising enabler to help realize a space-based, wideband IP-based Internet vision. Advantages of lasercom include access to an uncongested portion of the spectrum, ultra-high data rates, low probability of intercept / low probability of detection and small terminal size, weight and power.
Significant enabling technologies such as space-qualified, reliable high-power optical amplifier, multi-gigabit optical modulator-demodulator, and high-precision pointing/tracking and fast-acquisition subsystems have been demonstrated to TRL-6 or higher and are primed for flight production for a wide variety of applications.
While lasercom has been funded and in development since the early 1980s, in 2007 the government eased off on its support. Since that time, Northrop Grumman has continued to invest and advance lasercom technology and is currently focusing on compact, affordable terminal solutions for both space relay and user platforms.
The Northrop Grumman team is at the forefront and committed to supporting strategic and tactical users for their ever-growing and continuous communications needs. Yet, the acquisition of these advances has to be accomplished much faster to get critical technology in the hands of warfighters before the adversary outpaces us and negates our advantage. Affordable, comprehensive and enduring solutions are critical to counter current and potential threats, and Northrop Grumman is excited to be part of the solution as we continue to work hard to protect our warfighters.

Timothy J. Frei is vice president of Communication Systems in the Space Systems business area of Northrop Grumman Aerospace Systems (NGAS), a premier provider of manned and unmanned aircraft, space systems and advanced technologies. In this role, Frei leads the organization that provides architectures, systems, payloads, advanced products and technologies to satisfy communication current and future needs of air, space and terrestrial users across the DoD, Intelligence, NASA, civil, commercial and international communities.
Prior to his current assignment, Frei was the vice president of the System Enhancements and Product Applications (SEPA) organization, overseeing all aspects of Space Systems' growth, including all Military Satellite Communications future programs. Previously, Frei was vice president of Advanced Systems at NGAS, responsible for the formulation and execution of the sector's strategy for space-based ISR new business pursuits through identifying, qualifying and capturing both follow-on and new system and technology contracts.
Previous assignments spanned a range of engineering and engineering leadership positions, and, over his career, his experience spans 16 different space programs in 11 different mission areas, covering all phases of engineering — from proposals, through design, production, integration, to launch and activation. Frei earned a bachelor's degree in aerospace engineering and a master's degree in mechanical engineering from UCLA. He completed the UCLA Executive Program at the Anderson School of Business. He is also a chartered financial analyst.
---