The number projected by for the global UAV (unmanned aerial vehicles) market by 2024 from analyst firm NSR is 4.1 million. While civil and commercial sectors are contributing to this accelerated growth, by far the largest stimulus is driven by the military and government sectors around the globe.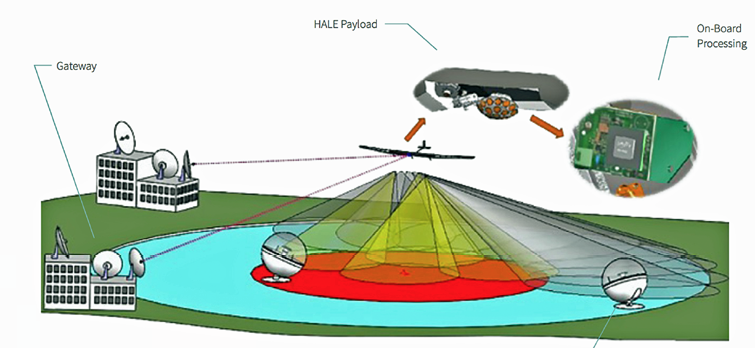 UAVs are synonymous with global defense. The nexgen vehicles play a primary role in facilitating information and reconnaissance missions, all without the need of placing soldiers in harm's way.
A growing segment of the UAV market consists of HALE (high-altitude, long endurance) vehicles. In fact, HALE will comprise just over 25 percent of the aforementioned NSR projection. These solar-powered, unmanned aircraft fly at altitudes higher than about 60,000 feet and are able to remain airborne for extremely lengthy periods of time, allowing them to view large areas of land.
Over the past year, this market segment has definitely "taken off." There are increased levels of interest from the primary aerospace manufacturing companies that are developing these nexgen vehicles as well as by major players from the technology realm. What's been particularly exciting to watch is how the technology giants from Silicon Valley—you know the names—have all been drawn toward the idea of enabling HALE vehicles.
You could say that these technology company interests in the space are primarily tied to the commercial connectivity aspects of HALE—to assist in the altruistic mission of providing Internet to the roughly three billion unconnected around the globe.
This motivation is to be applauded, as part of satellite's overall mission is to play a crucial role in seamlessly connecting more and more people and more and more devices to the Internet across more and more locations around the globe. This interest and investment by leading tech firms have elevated the stature of this segment of the market.
Down On The Ground
While stature and headlines are great, the fact of the matter is that the true value of HALE vehicles will never get off the ground—so to speak—without ground infrastructure technology that can handle every demand that is required.
Technology must be able to significantly enhance ground equipment performance, reduce costs and increase satellite efficiency. Doing so will enable a broader audience to enjoy a larger variety of applications via satellite. However, that means some key technical challenges must first be addressed:
• The UAV payload must be low in weight and power consumption and support high altitude environment conditions
• The handheld terminal must have a small form factor with low power consumption and weight
• The modular phased array must be designed for RF performance, multi-beam support, low power consumption, and also be cost effective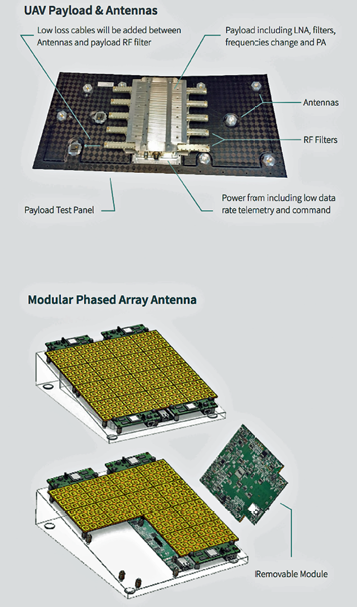 Agilis has taken an integrated approach to help solve these issues. The company recently announced the release of the HALE UAV Communication solution, which can be applied to defence and commercial applications. In the case of defence, the solution is used to augment or enhance the three primary defence applications: communication, ISR (Intelligence, Surveillance and Reconnaissance) and navigation.
Leveraging the firm's guiding principle of a partnership with understanding, Agilis is aligning with the correct technology to build the most capable technology that can scale to meet future demands.
In particular, work has been continuing with a company that develops ASIC (Application Specific Integrated Circuit) chips—this level of intelligence at the chip level is necessary in order to provide the sophistication required of HALE vehicles.
Multiple chips are being developed, each of which have a software/hardware hybrid architecture that combines the benefit of a software defined radio (SDR) with custom hardware acceleration.
The technology also played a strong role in the development of the satellite modem, mechanical steering antenna, and the modular phased array antenna, along with parts of the UAV payload.
Together, what I like to call a 'pseudo-satellite' system, has been developed. This system can be rapidly deployed anywhere when needed. This is far different from conventional communications satellites, which are costly and time-consuming to launch into orbit. This is innovative and sustainable.
The latency issue has also been addressed. With typical satellites, with data transmission latencies of around 600 ms, the Agilis system performance has been taken to a level that is about 20 ms.
Another critical piece to this solution is the payload. The payload design can be custom built to fit a customer's HALE UAV platform and operational requirements. Certain engineering parameters will still be maintained, such as a weight and power requirement that does not exceed 10 kg and 100 W, respectively, as well as broadband capacity up to 6 gigabytes per second with zone coverage of up to 100 km around the UAV.
Built To Soar
A new era in satellite communications has arrived, where age-old challenges related to cost and performance of the technology are being challenged and overcome. This progression is not only about solutions for traditional satellite space, but also what new opportunities are being developed along the way, such as HALE.
When you have the correct technology in place, the reach of satellites is taken to levels never before experienced.
agilissatcom.com
---