Two NRO Launch Successes in Two Months
A National Reconnaissance Office (NRO) payload — NROL-76 — was successfully launched aboard a SpaceX Falcon 9 rocket from Launch Complex 39A (LC-39A), Kennedy Space Center (KSC), Florida , at 7:15 a.m. EDT, on May 1, 2017.
"Thanks to the SpaceX team for the great ride, and for the terrific teamwork and commitment they demonstrated throughout. They were an integral part of our government/industry team for this mission, and proved themselves to be a great partner," said Betty Sapp, Director of the National Reconnaissance Office.
LC-39A, located at NASA's Kennedy Space Center, is historical for launches dating back to the early 1960s.
Originally built to host the Apollo program, LC-39A supported Apollo 4— the first Saturn V launch, and subsequent Apollo missions including Apollo 11, in July 1969.
In the late 1970s, LC-39A was modified to support Space Shuttle launches, hosting the initial shuttle mission in 1981 and concluding with the final shuttle mission in 2011.
NROL-76 is the second of five launches slated for the NRO in 2017.

A United Launch Alliance (ULA) Atlas V rocket carrying a payload for the NRO lifted off from Space Launch Complex-3 on March 1 at 9:50 a.m. PST. Designated NROL-79, the mission is in support of US national defense.
"I am so impressed by the incredible teamwork between the NRO, US Air Force our industry partners and the ULA team that resulted in today's successful launch. The integrated mission team overcame many challenges this flow including delays associated with the Vandenberg Canyon Fire last year," said Laura Maginnis,Vice President, Government Satellite Launch.
"Tragically, Ventura County firefighter Ryan Osler lost his life en route to assist in fighting the fire. We are honored to dedicate today's mission to Ryan and his family. Thank you to all of the men and women who worked to deliver this critical asset for our nation's security."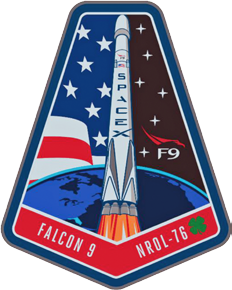 This mission was launched aboard an Atlas V Evolved Expendable Launch Vehicle (EELV) 401 configuration vehicle, which includes a 4 meter diameter extended payload fairing.
The Atlas booster for this mission was powered by the RD AMROSS RD-180 engine and the Centaur upper stage was powered by the Aerojet Rocketdyne RL10C-1 engine.
This was ULA's second launch in 2017 and the 117th successful launch since the company was formed in December of 2006.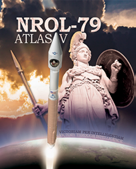 The EELV program was established by the US Air Force to provide assured access to space for Department of Defense and other government payloads.
The commercially developed EELV program supports the full range of government mission requirements, while delivering on schedule and providing significant cost savings over the heritage launch systems.
ULA has successfully delivered more than 115 satellites to orbit that provide critical capabilities for troops in the field, aid meteorologists in tracking severe weather, enable personal device-based GPS navigation and unlock the mysteries of our solar system.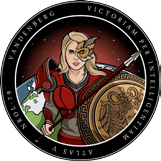 "I congratulate everyone who made this morning 's launch a success. Without the dedicated commitment from our government and industry teams, working together as one, it would not have been possible. All their hard work has contributed to providing superior vigilance from above for the Nation," said Colonel Matthew Skeen, USAF, Director, NRO Office of Space Launch.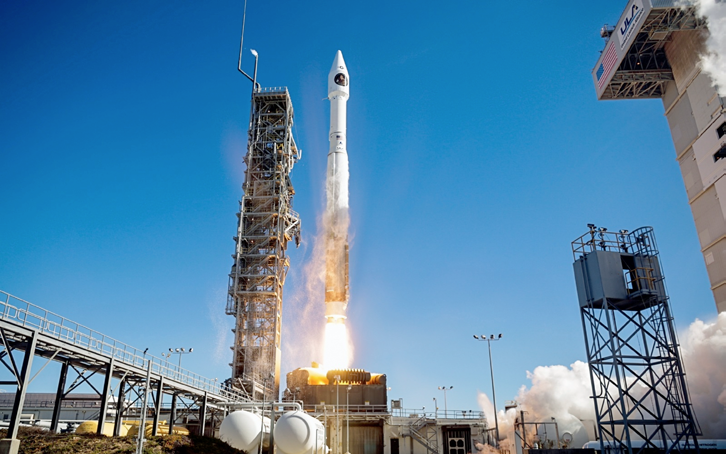 The next NRO launch is on schedule for August 14 from Vandenberg Air Force Base (VAFB), California.
The NRO is a joint Department of Defense – Intelligence Community organization responsible for developing, launching, and operating America's intelligence satellites to meet the national security needs of our nation.
nro.gov
www.spacex.com
www.ulalaunch.com
---
At the Transform Africa Summit 2017, Inmarsat's Plan
Inmarsat is showcasing how satellite communications can be deployed to deliver unified mission critical data and voice communications at the Transform Africa Summit (May 10th through 12th) in Kigali, Rwanda.
The summit, organized by the Smart Africa Alliance, brings together Presidents and senior government officials from 18 African nations, alongside leading technology innovators, such as Inmarsat. The purpose of the summit is to discuss and demonstrate how key technologies, including satellite communications, could be deployed in Africa to accelerate socio-economic development. The theme of this summit is Smart Cities and one of the critical developmental areas on the agenda is how technology can be deployed to enhance the safety and security of citizens.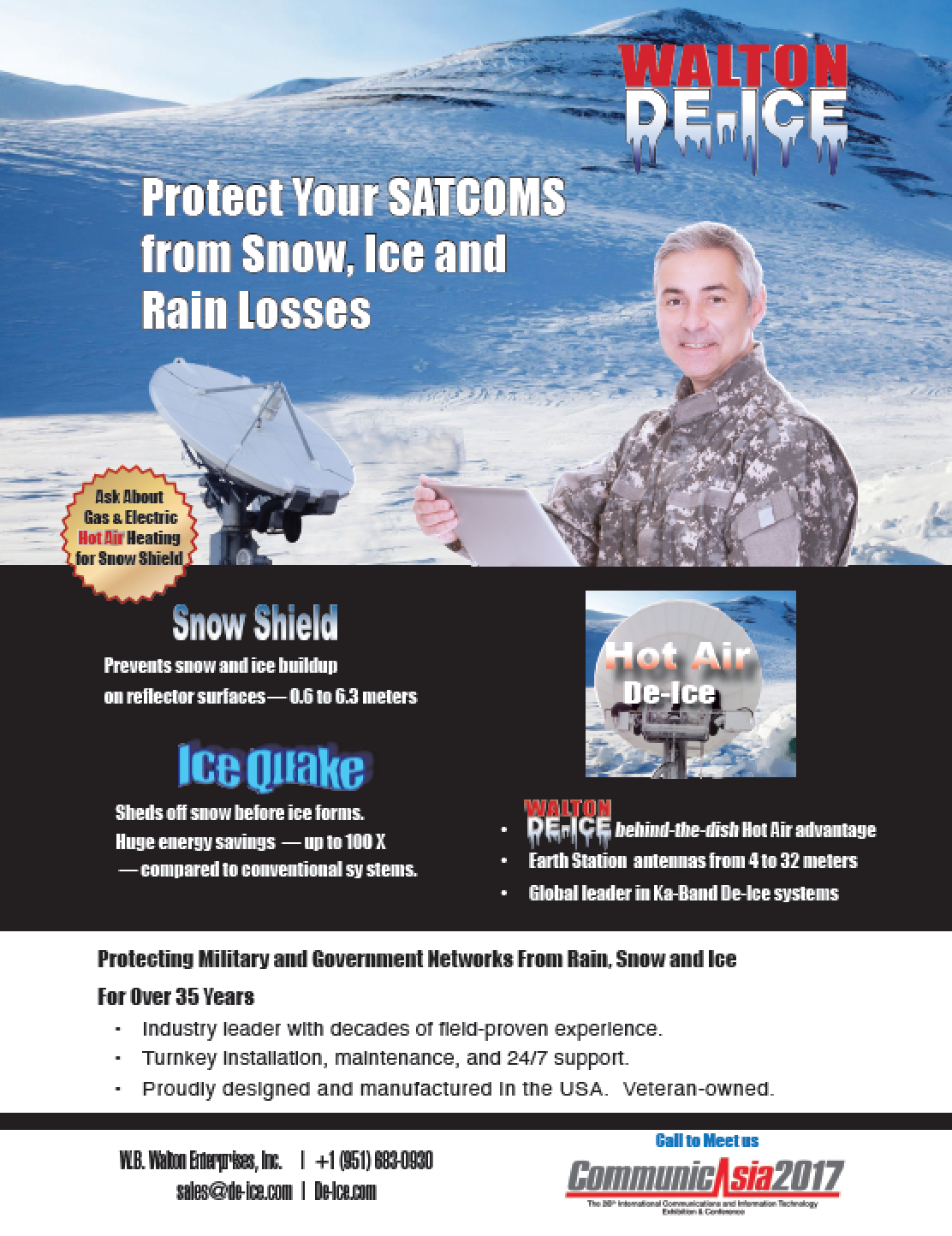 http://www.de-ice.com/
Inmarsat's goal is to demonstrate how SATCOM can enable first responders and other relevant government departments to coordinate security and relief efforts more effectively and operate jointly in ways that were not possible just a few years ago. Until recently, many security and safety agencies, such as emergency services, defence and intelligence, have operated independently of one another, procuring and deploying their own unique communications solutions to meet individual operational objectives. However, the Internet of Everywhere, Everything and Everyone has transformed how individuals, organized social groups, and commercial companies now communicate and organize themselves, and this transformation has also been embraced rapidly and effectively by criminals and terrorists alike.
The need for responsive and effective joint operations among the security and safety agencies has never been greater and Inmarsat has responded with the rapid innovation of a number of data, video and voice solutions, which integrate terrestrial and satellite communications services in a secure, resilient and cost effective manner.
Inmarsat's Global Government team will be demonstrating a range of mission critical unified communications solutions at the Transform Africa event, which will enable Government officials to see very directly how their security agencies and disaster response organizations can benefit from access to real-time video surveillance, integrated push-to-talk radio networks, and enhanced command and control, and situational awareness, linking their mobile and remotely deployed personnel back to the operational HQ.
Andy Start, President, Inmarsat Global Government, said that the President of Rwanda, H.E. Paul Kagame, recognizes the vital contribution of ICT to the development of African nations and took the lead in establishing the Smart Africa initiative, which many other African nations quickly embraced. Inmarsat was the first private sector partner to join Smart Africa, and we are very excited at the prospect of being able to contribute practically to the objectives of the alliance. The Transform Africa Summit in Kigali provides an unrivaled opportunity to showcase Inmarsat's innovative and compelling solutions designed specifically to address the unique operational challenges faced by security and safety agencies. This all adds up to fewer lives lost to security and disaster incidents and to citizens feeling, and being, safer; to creating a protected environment where commerce and leisure activities can flourish.
Additionally, during this event, Inmarsat announced that, in conjunction with the government of the Republic of Rwanda, the company is launching a series of digital service initiatives across the capital, Kigali, a city of more than one million people.
As part of the digital services initiatives, Inmarsat also signed a Memorandum of Understanding (MOU) with Rwanda's Ministry of Youth and ICT, which will facilitate closer cooperation and coordination between the Government of Rwanda and Inmarsat. The objective of the MoU is to develop a number of key ICT projects aligned with the Rwandan National ICT strategy. That announcement was made by Inmarsat's CEO, Rupert Pearce, at the opening ceremony of the Transform Africa Summit in Kigali (10-12 May 2017), hosted by HE Paul Kagame, President of the Republic of Rwanda.
Under the Smart Africa Alliance, Rwanda is spearheading the smart cities agenda and will showcase the components of the smart city to over 300 city mayors from across Africa. The digital service pilots, which will be enabled through Inmarsat's world-leading satellite communications network, are scheduled to last up to 12-months in Kigali. The results of the lessons learned during the pilots will be used to develop blueprints for a range of digital services initiatives that can be applied more broadly across Rwanda and in other African nations, in conjunction with the Smart Africa Alliance.
The Smart Africa Alliance is a partnership bringing together all African countries committed to the Smart Africa Manifesto and is supported by regional and global bodies including the African Union, the International Telecommunication Union, World Bank and The African Development Bank. Inmarsat was the first commercial company to join the Alliance, becoming a platinum member in 2016.
www.inmarsat.com
www.smartafrica.org/tas17/
---
Orbit Communications Recruited
Orbit Communications Systems Ltd.'s expertise has been recruited by a global defense systems provider who has ordered several AL-4012 digital tracking pedestal systems and control units for a leading air force.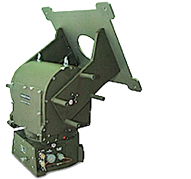 The transaction totals US$700,000 and the product will be delivered in 2018 bringing a total of more than 100 units ordered, to date, by
this customer.
The mechanics of the AL-4012 digital tracking pedestal systems engage as the tactical reconnaissance pod simultaneously collects high resolution infrared and visual digital images within a very wide field of view. The images and data annotation are recorded on a solid-state recorder and transmitted to the ground station for real-time interpretation.
An integral part of the ground station, Orbit's AL-4012 digital tracking pedestal solution features:
• Elevation-over-azimuth axes configuration with optional stabilization
• A digital servo amplifier to control antenna motion
• Highly dynamic, low-backlash motion capabilities for outstanding accuracy
• Brushless motor and planetary gear assembly for easy maintenance and high reliability
• Modular and easily maintainable
• Robust, reliable and environmentally durable
The AL-4012 is Orbit's most compact, portable and light-weight solution for field-based applications that require accurate tracking capabilities, such as UAS command and control, telemetry and stabilized point-to-point RF communications. The AL-4012 is a self-contained elevation-over-azimuth tracking positioner that delivers high performance under demanding field conditions. Easy to deploy, it may be ground-based, transportable or shipboard (with additional stabilization) to fit specific needs.
orbit-cs-usa.com/?product=al-4012s
---