50th Space Wing—Masters of Space
"You are, in fact, the masters of space."— These are the words Gen. C. Robert Kehler, commander of U.S. Strategic Command, stated when he visited Schriever Air Force Base back on May 17th to present the 2012 Omaha Trophy for Global Operations to the 50th Space Wing.
For the second time in three years, the wing has captured the trophy, which is awarded annually to units that demonstrate the highest performance standards in USSTRATCOM's global strategic mission. Selections are based on formal evaluations, meritorious achievement, safety and other factors such as community involvement and humanitarian actions. Col. James Ross, 50 SW commander, received the trophy on behalf of the wing.
"I want to congratulate you on a job spectacularly well done," Kehler said. "The Omaha trophy is a big deal; it's a big deal in Strategic Command and it's a big deal for the people of Omaha. They maintain a connection with this award. They know who gets it. We sit down with our consultation committee members, which is the sponsor of the Omaha trophy. And every year, we review with them who gets the award and why."
The general said many of the units assigned to USSTRATCOM are operating in the shadows with the 50 SW as the epitome of "ultimate operations in the shadows. It's difficult for the people who benefit the most from what you do, which are the Soldiers, Sailors, Marines, Airmen and in particular, those who are forward deployed, and in some cases, engaged with the enemy, and in other cases, deployed elsewhere around the world, [to appreciate what you do]," he said. "They are the ones who benefit the most from what you do and yet the odds are, they don't know who is doing it. This is our chance to say thanks to you, on their behalf."
"Not only will we recognize you here today for what you have done and the outstanding way you've done it, but I think when we leave this trophy with you today, we are recognizing your potential," he said. "We are going to rely on you to do things differently as time passes. We are going to rely on your expertise to keep providing for those forward users who can't fight the American way of warfare without GPS, can't fight the American way of warfare without satellite communications, can't fight the American way of warfare without surveillance, without weather, without all of the other things that are provided by you and people like you."
Additionally, Kehler stressed the award is about the whole team, which includes civil engineers, security forces, medical services and more. Kehler added, "Congratulations to you, you deserve it. You don't get enough praise for the things that you do. You labor in silence and in the shadows."
Ross said the award, the Trophy for Global Operations, is what the wing does with its mission "Command satellites to deliver decisive global effects "What General Kehler said was exactly right," he said. "It was a team effort; the entire team is responsible for this. This is your award. Each and every one of you should be proud of how you contributed to the outstanding manner in which we did our mission. Thank you for what you do for the wing, for the Air Force and for this great nation."
Story by Staff Sgt. Julius Delos Reyes, 50th Space Wing Public Affairs
* * * * * * * * *
General Dynamics C4 Systems—A Win-T Win
Tactical (WIN-T) Increment 2, built by General Dynamics C4 Systems, recently completed a Follow-on Operational Test and Evaluation (FOT&E) during the U.S. Army's recent Network Integration Exercise (NIE) 13.2.
WIN-T Increment 2 is the mobile, secure communications backbone of the soldier's network and the cornerstone of the Army's network modernization plan. When combined with the AN/PRC-154 Rifleman and AN/PRC-155 two-channel Manpack networking radios, WIN-T Increment 2 delivers vital situational awareness, intelligence and mission command that keeps pace with soldiers and their commanders during every stage of a mission.
U.S. Army Lt. Col. Robert M. Collins, product manager for WIN-T Increment 2, said during the exercise, that several insights indicate the "positive impact this mobile network is going to have on the way we fight across the full spectrum of military operations. WIN-T Increment 2 will increase the pace at which the Army can conduct combat operations, extend operational distances for reach and reach back, while also decreasing the military decision-making time cycle."
During the evaluation, more than 3,800 soldiers from the 2nd Brigade Combat Team, 1st Armored Division conducted a wide range of on-the-move military and peacekeeping operations, both day and night, using the WIN-T Increment 2 system. The tests took place at White Sands Missile Range, N.M., from May 6 to May 23.
"The Army's support for the Soldiers' Network has been unwavering and the full and continuous funding of the WIN-T program ensures that soldiers have a decisive advantage in combat," said Chris Marzilli, president of General Dynamics C4 Systems. "Communications gear can be just as important as body armor and rifles in combat."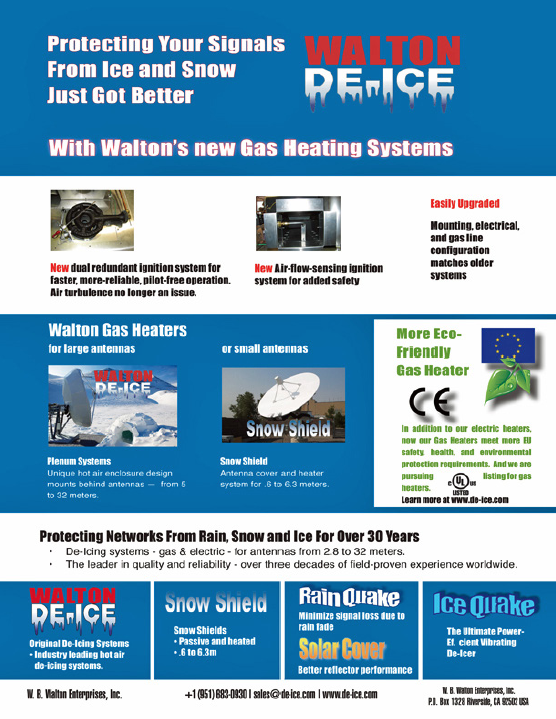 WIN-T Increment 2 systems are currently fielded with the 101st Airborne and two Brigade Combat Teams with the 10th Mountain Division. WIN-T Increment 1, the predecessor to WIN-T Increment 2, is fielded to the entire Army with 210 systems in the hands of active-duty Army, Army reserve and National Guard units.
The centerpiece of Army's network modernization plan, the Soldiers' Network, includes the WIN-T Increment 2, the AN/PRC-154 Rifleman, and AN/PRC-155, two-channel Manpack networking radios and other capabilities including Nett Warrior, Command Post of the Future (CPOF) and Tactical Ground Reporting (TIGR).
Led by General Dynamics, WIN-T Increment 2, the Rifleman and Manpack networking radios and related Army programs rely on the support of hundreds of suppliers. These companies deliver vital technologies and products that support the Soldiers' Network. Located in more than 30 states, these suppliers include small, veteran-owned, woman-owned and other businesses and represent about 7000 skilled workers.
* * * * * * * * *
Office Of Naval Research—Storm Predictions
With the arrival of the Atlantic hurricane and Pacific typhoon season-and the often dangerous storms that can accompany it-new technology sponsored by the Office of Naval Research (ONR) will be used to help Navy and civilian officials alike plan for stormy weather. Called the Coupled Ocean/Atmosphere Mesoscale Prediction System-Tropical Cyclone (COAMPS-TC), the groundbreaking new weather prediction model offers forecasters a detailed look at tropical storms and gives accurate predictions of a storm's intensity from one to five days out. The new model went fully operational June 6 at the Navy's Fleet Numerical and Meteorology and Oceanography Center-the naval command that provides meteorological data to U.S. forces.
"COAMPS-TC will be invaluable to Navy leadership," said Dr. Ronald Ferek, the ONR program officer who helped sponsor the project. "It will give them detailed intensity and wind fields for site-specific damaging wind forecasts: 'This upcoming storm will exceed hurricane-force winds at X time, for Y hours.' For naval installations, that kind of forecast is really useful."
The program was developed by researchers at the Naval Research Laboratory (NRL), primarily to support the mission of the Department of Defense's Joint Typhoon Weather Center. Accuracy has improved dramatically in recent years when it comes to predicting the path, or track, of tropical storms. However, until now, the ability to forecast a storm's strength, or intensity, has been much less reliable. The new model will help close that capability gap.
Navy officials rely on accurate weather models for a wide array of fleet operations, including planning and executing military operations; avoiding damage; protecting or evacuating vulnerable installations; and humanitarian assistance and disaster relief-all part of Chief of Naval Operations Adm. Jonathan Greenert's Sailing Directions that emphasize using "new technologies and operating concepts" to create the ability to "operate forward at strategic maritime crossroads."
Part of the uniqueness of research to further improve COAMPS-TC involves utilizing unmanned aerial vehicles, like NASA's Global Hawk, to make observations above and inside the cyclones themselves, and at higher altitudes than ever before. That kind of innovation and partnership is precisely what Chief of Naval Research Rear Adm. Matthew Klunder has emphasized in order to help increase knowledge to benefit the nation and its warfighters and to share the load on costs.
Investigators from NRL, National Oceanic and Atmospheric Administration and several universities are also collaborating on research to rapidly improve a new generation of regional (mesoscale) models designed to predict details of atmospheric and oceanographic processes that control tropical cyclone intensity. These models represent an entirely new capability for forecasting tropical cyclones.
"This effort is the poster child for interagency cooperation," said Ferek. "The nation is benefitting from our shared science and technology work."
A new video with more details on COAMPS-TC has been released and may be viewed at:http://www.youtube.com/watch?feature=player_embedded&v=rGznRSfuThE.
Story by David Smalley, Office of Naval Research
* * * * * * * * *
Fischer House + DSL— Heroes' Legacy Scholarship
Fisher House Foundation is proud to announce a sponsorship from DHL to support the Heroes' Legacy Scholarship, a program that honors not only those who have fallen in battle, but those who have become severely disabled through their active U.S. military service since September 11, 2001.
DHL announced its support of Fisher House with a donation of $300,000 to help fund the scholarship program for the 2013-2014 academic year. The Heroes' Legacy Scholarship program was founded in 2010 when President Obama donated the proceeds from his children's book, "Of Thee I Sing: A Letter to My Daughters," to help establish a scholarship for children of fallen and disabled service members. The contribution from DHL is the largest corporate grant to the scholarship program since its inception.
Donations from DHL and other corporate and private sponsors have made it possible for Fisher House Foundation to help 130 military children with college tuition in the program's first three years.
This scholarship program helps students like Josh Hamilton, a high school senior from Virginia who is a three-time recipient of the Heroes' Legacy Scholarship. Receiving the scholarship in 2011, 2012 and 2013, Josh is currently enrolled at Princeton University and in addition to a full courseload, he is a member of the school's ROTC. He plans on becoming a chemistry or biology major, setting him up to become a pre-med student and eventually a doctor in the Army.
"The Heroes' Legacy Scholarship is definitely a great opportunity," Josh said. "It's a good way to remember people and the scholarship really helped me a lot."
DHL announced the contribution yesterday during the 2013 DHL Public Policy Forum in Washington, DC, a two- day conference on the economy, global supply chains, trade policies, and the changing political-regulatory environment.
"We are so thankful to DHL for their support to this wonderful program," said Ken Fisher, Chairman and CEO of Fisher House Foundation. "They are investing in education for children of those who have made such sacrifices to protect our nation."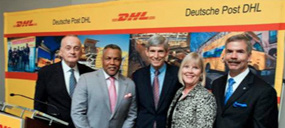 "The Fisher House Foundation has provided invaluable support for U.S. veterans and their families, an we salute their outstanding work," remarked Wolfgang Pordzik, Executive Vice President for Corporate Public Policy at DHL.
"We are honored to support the Fisher House Foundation's mission to provide these scholarships to the children of lost or disabled U.S. service members."
For more information about the Heroes' Legacy Scholarship and Fisher House Foundation's other programs, please visit www.fisherhouse.org.
* * * * * * * * *
TCS—DISA Dishes Out CS2 Contract
TeleCommunication Systems, Inc. (TCS) has entered into a contract with the Defense Information Systems Agency (DISA) to provide Managed Satellite Services, Ku- satellite bandwidth, terrestrial support and 24-hour support services for the U.S. Marine Corps' Tactical Satellite Communications Network.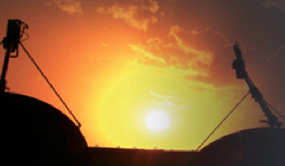 The initial funding on this award is $12.8 million for the base 12-month period starting August 1, 2013. The contract includes four, one-year option terms, which, if exercised, have a total contract value of $58.3 million.
This contract was issued under the joint DISA/GSA Future Commercial Satcom Acquisition program. TCS is one of eight prime contract awardees under the $2.6 billion Custom SATCOM Solutions (CS2) vehicle, which was awarded in August 2012. The CS2 contract has a base term of three years, ending August 2015 with two subsequent one-year option terms.
The U.S. General Services Administration and DISA are managing this procurement through the $2.6 billion Custom SATCOM Solutions (CS2) contract vehicle.
This is the first CS2 task order awarded directly to TCS, who will be providing the Marine Corps with commercial satellite services to various terminals to extend the Marine Corps Enterprise Network to deployed users.
As real-world missions arise, TCS has created a cost-efficient managed services solution through a network of commercial satellite bandwidth pools that has the flexibility to increase bandwidth in one region and decrease bandwidth in another region to support the Marine Corps¹ diverse operations.
Additionally, The company has received $2.8 million in incremental funding from the U.S. Army for Secret Internet Protocol Router and Non-secure Internet Protocol Router Access Point (SNAP) Tactical Transportable TROPO (3T) deployable communications systems.
The U.S. Army Project Manager for the Warfighter Information Network - Tactical (PM WIN-T) Commercial Satellite Terminal Program is funding these procurements through the Army's $5 billion World-Wide Satellite Systems (WWSS) contract vehicle. The JF-12 certified 3T is a combination of the TCS battle-tested SNAP VSAT system and Comtech Systems' modem. Troposcatter technology overcomes significant terrain challenges that are extremely relevant in today's complex battlefield.SNAP's 3T option provides high bandwidth, low latency, non-satellite Beyond Line of Sight (BLOS) network transport for existing and future bandwidth intensive C5ISR platforms. The 3T system establishes connectivity at data rates greater than typical satellite links without the recurring satellite airtime costs.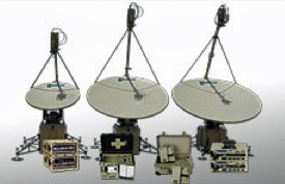 The increased throughput capacity offers greater speed for bandwidth-intensive applications such as Intelligence, Surveillance, and Reconnaissance (ISR) video distribution. Bandwidth offloaded onto 3T links will allow better use of the limited satellite resources and provide long-term cost savings to the warfighter.
TCS has established a proven track record for more than 25 years as a trusted provider of communication technology solutions to solve the government's toughest technical challenges, under conditions that demand the highest level of reliability, availability and security. To ensure mission continuity, TCS TotalCom® offers deployable, highly secure communication solutions and complete end-to-end managed services for converged (IP-based) voice, video and data solutions to organizations requiring seamless and secure connectivity between fixed sites and remote operations.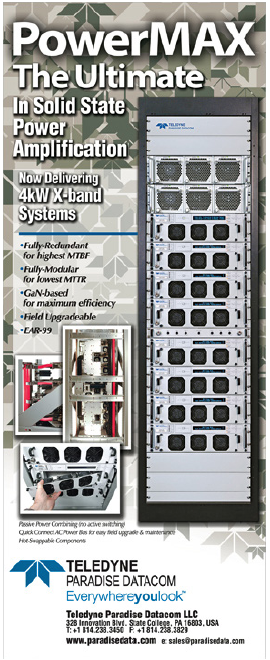 * * * * * * * * *
Northrop Grumman Australia—A Defensive Buy
Northrop Grumman Australia Pty Limited, a subsidiary of Northrop Grumman Corporation, has signed a definitive agreement with Qantas Airways Limited to acquire Australia-based Qantas Defence Services Pty Limited (QDS).
QDS provides integrated logistics, sustainment and modernization support to Australian government and military customers. The acquisition is subject to various conditions and is expected to close in 2014. Terms of the transactions were not disclosed.
With more than 300 employees in facilities throughout Australia, QDS provides through life support for the Royal Australian Air Force (RAAF) Multi Role Tanker Transport fleet, turn-key operational logistics services for the Australian Government's VIP aircraft, and engine overhaul services for the Orion P-3 and Hawk Lead-in Fighter.
In addition, Indonesia recently awarded QDS a contract to refurbish C-130H aircraft. QDS also provides engineering consultancy services to the Royal Australian Navy and other maritime customers.
* * * * * * * * *
1st + 7th Space Ops—Innovation Adds Life To ORS-1
The Operationally Responsive Space-1 satellite launched June 29, 2011, and has been a star Air Force performer since its first day on orbit. As members of the 1st and 7th Space Operations Squadrons celebrated the spacecraft's second birthday this week, they couldn't help but imagine years three and four.
"This is a great time to recognize all of ORS-1's accomplishments, but we're not looking to rest right now," said Lt. Col. Toby Doran, 1 SOPS commander. "We're focused on continuing to push innovation and the utility of this system."
The vehicle has earned numerous awards from the scientific community thus far. It was named one of the top 25 most important concepts by C4ISR Journal, an intelligence, surveillance and reconnaissance industry magazine, and the 2012 Mission Sustainment Integrated Product Team award from the Association of Old Crows, an association that advocates for electronic warfare, information operations and cyber technology.
Designed as a quick-response and low-cost alternative to traditional satellite systems, ORS-1 differs in several ways, but its primary distinction stems from its birth. It took approximately three years to develop from concept to launch and on-orbit operations, compared to seven years or longer for traditional systems.Its payload technology was gleaned from a camera first developed for use aboard U2 spy planes decades ago. Contractors attached a larger telescope to the Senior Year Electro-Optical Reconnaissance System-2 camera to give it adequate resolution from orbit.
"It was initially designed to operate for only a year, but 1 and 7 SOPS engineers and operators discovered they could expand the life of the vehicle by pushing it to a higher orbit," said. Lt. Col. Tony Calabrese, 1 SOPS director of operations. "They also found that the higher orbit would not substantially affect the required quality of its images. That action alone extended the life of ORS-1 by three years."
Doran explained that 1 and 7 SOPS, also known as Team 8-Ball, will continue to take innovative steps to prolong the vehicle's life even further, upwards of five times its original lifespan.For instance, the team informed U.S. Central Command that they could deliver effects on short-notice, urgent, high-priority tasks earlier this year. USCENTCOM responded a short time later when a CH-53 helicopter crashed in a remote location. In the meantime, the squadrons also expanded ORS-1 capabilities beyond a single combatant commander.
"We're focusing on the future," Calabrese said. "The vehicle was designed to support CENTCOM, but we recognized it could do so much more. We sent word out to U.S. Pacific and U.S Africa Commands, and reached out through the Joint Functional Component Command directly to combatant commander staffs to let them know we could support their taskings too. All they needed to do was ask."
As a result, ORS-1 now provides effects for PACOM on a regular basis and does so occasionally with AFRICOM and Special Forces commands.
Story by Scott Prater, 50th Space Wing Public Affairs, Schriever AFP
* * * * * * * * *
Vislink—Support For Surveillance + More
Immediately available is a motorized version of Vislink's Mantis MSAT satellite data terminal.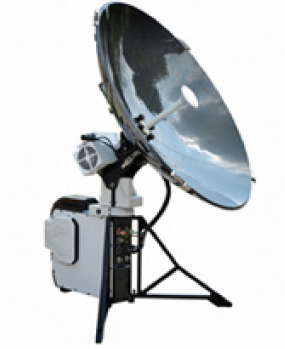 A rugged product that's resistant to extreme environmental conditions, the MSAT is designed to operate in any environment, anywhere in the world. Following the successful launch of the military-spec Mantis MSAT last year, the new Motorised MSAT adds the option of a 120cm reflector. It also provides improved data throughput rates of up to 10Mbps, making the MSAT the ideal system for surveillance missions in challenging or hostile environments.
With simultaneous three-axis motorisation and one-button auto acquire, the MSAT terminal offers full support for two-way video, voice and data communications and is designed for rapid deployment and one-man operation in a variety of scenarios. Despite these additional features, the Motorised MSAT still weighs less than 25kgs.
The Motorised MSAT is a full tri-band optioned system that can support X, Ka and Ku configurations. It is capable of delivering high-definition video and data from anywhere in the world and the feeds can be swapped in the field, building on the flexibility and portability that customers have come to expect from the MSAT range.
The MSAT also meets MIL 810F and DEF-STAN military specifications for shock, vibration, sand and rain, and is provided as a 'one-box' solution incorporating the antenna, modem and all electronics.
* * * * * * * * *
22 SOPS—Getting The "Green Light" For Antenna
During December 2012, the POGO-A antenna located at Thule, Greenland was considered unusable and investigations showed that a repair may not be the answer.
After an Air Force Space Command commander directive and discussion at the AFSCN Senior Steering Group, a unique solution was devised.
"It was determined by Honeywell Technical service] the repair costs would require over a million dollars, and require several months, perhaps years, because of the limited outdoor work season available at Thule," said Donald Blasius, program lead for TVCF. "It was determined that the best course of action to support the loss of POGO-A would be to move the Transportable Vehicle Checkout Facility core van from the Eastern Vehicle Checkout Facility in Florida, move the transportable antenna from Vandenberg AFB and connect the two components, as originally designed, though they had not been connected in 20 plus years."
With the recent removal of one of the PIKE antennas, 22 SOPS already had infrastructure in place for AFSCN making Schriever a perfect candidate to accommodate the new antenna.
"TVCF, in conjunction with infrastructure already at PIKE, is now able to carry some of the load that has been dispersed to other remote tracking stations allowing increased capacity throughout the network," said Maj. Aaron Gibson, 22 SOPS commander.
Even with the equipment being over 20 years old, there has been no loss of operational capability, said Gibson. As of September 2nd, operational testing is complete and operational use is slated to begin September 4th.
"The signing of the Operational Acceptance Letter by the 50th Network Operations Group commander, officially marked the success of the operational testing," said Blasius.
The transportable antenna will continue to function operationally as simultaneous efforts are made in both New Hampshire and Thule building new antennas to replace POGO-A.
"The TVCF was part of our overall mitigation strategy approved by HQ AFSPC to offset the loss of one of our ground antennas at Thule, Greenland. Using the transportable antenna as a temporary gap filler provides us with additional capability while we construct new ground antennas at New Boston, New Hampshire and Thule, Greenland."
After completion of the new antennas, TVCF will continue to be used for redundancy purposes.
"The TVCF provides our Air Force Satellite Control Network users 40 hours per week of additional support scheduling time, with up to 60 satellite contacts per week load sharing from the other nine antenna sites," said Gibson. "The TVCF provides both uplink capability for tracking, telemetry and command data as well as downlink capability to support our user's mission data needs.
Story by Staff Sgt. Robert Cloys, 50th Space Wing Public Affairs, Schriever AFB
* * * * * * * * *
iDirect Government Technologies—Allocations Analysis
iDirect Government Technologies (iGT) has has announced the availability of its Bandwidth Timeslot Correlator (BTC), an add-on module to its SatManage 5.2 Enterprise edition that allows network operators to view and analyze bandwidth and timeslot allocations.
The BTC expands Network Operations Center (NOC) capabilities in a Time Division Multiple Access (TDMA) network to enable network operators to manage timeslot allocations and to optimize networks to avoid network traffic gridlocks. This is important because several users share the same frequency in TDMA networks, and critical communications must get through the network for operation success.The add-on software module provides an automated graphical representation of historical timeslot usage and bandwidth for a given network, in-route group or remote. By using historical data, users can re-define and enhance upstream links for better throughput performance and achieve savings in satellite bandwidth and costs. These report designations are configurable through a user interface.
Karl Fuchs, iGT Vice President of Technology, said, "The BTC can arm military, government and emergency response agencies with insight into network traffic so they can plan effectively for communications. Organizations which require traffic engineering and better network optimization can rely on the BTC to meet their needs."
* * * * * * * * *
Northrop Grumman—Hours + Hours Of Proven Worth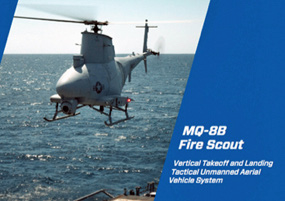 The Northrop Grumman Corporation-built MQ-8B Fire Scout unmanned helicopter surpassed 5,000 flight hours while providing critical surveillance capabilities to field commanders in Afghanistan.
Since deploying to Afghanistan in 2011, the MQ-8 Fire Scout system has provided real-time airborne surveillance and targeting supporting counter improvised explosive devices (IEDs), provided targeting support and delivered real-time video to military forces on the ground. Northrop Grumman is the prime contractor on the Navy's Fire Scout program. Combined with testing and Fire Scout's six at-sea deployments aboard Navy frigates, the system has eclipsed 10,000 flight hours supporting naval and ground commanders with critical intelligence-gathering capabilities to respond to threats.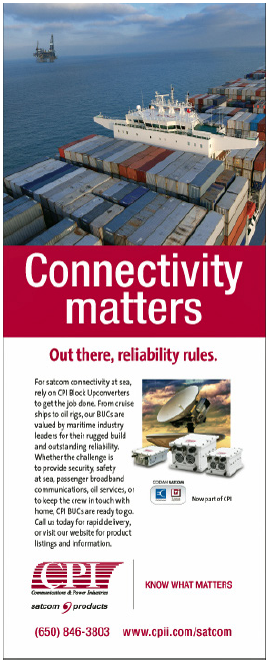 * * * * * * * * *
U.S.A.F.—No Of-Fence, After 50 years, space fence closed
Will the last one out please turn off the fence? For 50 years the U.S. Air Force relied on the "Space Fence" to detect objects in orbit, be it good, bad or ugly. Now what is attributed to the automatic budget cuts known as sequestration, the shutdown came a month earlier than anticipated.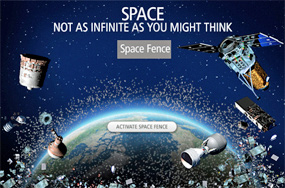 Early in August, it was reported that Gen. William Shelton, commander of Air Force Space Command, had directed the AFSSS, located in Texas, "be closed and all sites vacated" effective October 1, the start of the new U.S. government fiscal year. By discontinuing operations, the AFSSS would not be maintained in operational status; however, equipment will not be removed until a final disposition determination is made. Learn more at Raytheon's site here.
The AFSSS sites are operated under contract and the 21st SW has notified the vendor, Five Rivers Services in Colorado Springs, Colorado, that it most likely will not exercise the next contract option beginning October 1. By de-activating the AFSSS by October 1, AFSPC would see a cost savings of approximately $14 million per year, beginning in fiscal 2014.
AFSPC officials have devised modified operating modes for the Perimeter Acquisition Radar Characterization System at Cavalier Air Force Station, North Dakota, and for the space surveillance radar at Eglin Air Force Base, Florida, which allows the discontinuation of AFSSS operations while still maintaining solid space situational awareness.
The AFSSS is a series of three transmitters and six receivers along the 33rd parallel stretching across the southern United States.The three transmitter sites are located at Jordan Lake, Alabama; Lake Kickapoo, Texas; and Gila River, Arizona. The six receivers are located at Tattnall, Georgia; Hawkinsville, Georgia; Silver Lake, Mississippi; Red River, Arkansas; Elephant Butte, New Mexico; and San Diego, California. The two receiver sites at Tattnall and Silver Lake were deactivated in April of this year.
The AFSSS, which has been operational since 1961, is just one part of AFSPC's global Space Surveillance Network. The system is designed to transmit a "fence" of radar energy vertically into space to detect all objects intersecting that fence. The operational advantage of the AFSSS is its ability to detect objects in an un-cued fashion, rather than tracking objects based on previous information. The disadvantage is the inherent inaccuracy of the data, based on its dated design. The new operating modes at Cavalier AFS and Eglin AFB will provide more accuracy than the AFSSS and still collect un-cued observations The AFSSS is typically referred to as the "space fence," which has caused confusion with the new space fence being developed for the future.
"The AFSSS is much less capable than the space fence radar planned for Kwajalein Island in the Republic of the Marshall Islands," said General William L. Shelton, the commander of Air Force Space Command. "In fact, it's apples and oranges in trying to compare the two systems."
Unlike the AFSSS, the new space fence will provide very precise positional data on orbiting objects and will be the most accurate radar in the Space Surveillance Network. It will provide enhanced space surveillance capabilities to detect and track orbiting objects such as commercial and military satellites, depleted space boosters and space debris.
The new space fence will have much greater sensitivity, allowing it to detect, track and measure an object the size of a softball orbiting more than 1,200 miles in space. Because it is also an un-cued tracking system, it will provide evidence of satellite break-ups, collisions, or unexpected maneuvers of satellites.
(Story courtesy of Air Force Space Command Public Affairs)