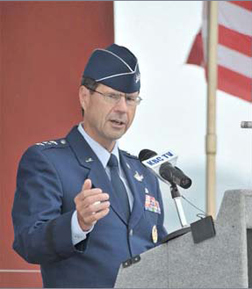 Lt. Gen. Sheridan is the Commander of Space and Missile Systems Center, Air Force Space Command, Los Angeles Air Force Base, California. He also manages the research, design, development, acquisition, and sustainment of space and missile systems, launch, command and control, and operational satellite systems.

General Sheridan is the Air Force Program Executive Officer for Space and oversees the Air Force Satellite Control Network; space launch and range programs; the Space-Based Infrared System Program; military satellite communication programs; the Global Positioning System; intercontinental ballistic missile programs; Defense Meteorological Satellite Program; the space superiority system programs; and other emerging transformational space programs. Space and Missile Systems Center was the presitigious 2009 SpotBeam Award recipient of the National Security Space Award for their Defense Meterological Satellite Program.

General Sheridan graduated from the University of Connecticut in 1973 with a Bachelor of Science in mechanical engineering. He completed the university's Air Force ROTC program as a distinguished graduate. Following an educational delay to earn a Master of Business Administration degree from Bryant College in Rhode Island, he entered active duty in August 1975. His wealth of experience includes acquisition leadership of aircraft, simulator and classified space programs; requirements development across all Air Force space programs; and operational leadership in four different national space programs. He has served as military assistant to the Assistant Secretary of the Air Force for Space, Commandant of Air Command and Staff College, Director of Requirements at Headquarters Air Force Space Command, and as the Deputy Director of the National Reconnaissance Office.
MilsatMagazine (MSM)
Good day, General. First of all, thank you for your dedicated
service to your nation. What led you to seek a career in the U.S.A.F. and into MILSATCOM?
General Sheridan
Thanks very much — I'll tell you, it has been an amazing 38 years. It occurred to me the other day that I've been in uniform for more than half of the Air Force's existence. I started my military career as an ROTC cadet at the University of Connecticut. I was looking for a way to serve my country and the Air Force was willing to give me a college scholarship to study engineering — it was a perfect fit. After ROTC, I entered active duty in 1975 when I finished an MBA at Bryant University in Rhode Island. My first seven years of service was in the aircraft development field as an R&D engineer on the AWACS and NATO AWACS programs, both at Hanscom AFB and at NAPMA in Brunssum, Netherlands. Then in October 1982, I was assigned to work for the Secretary of the Air Force - Special Projects at Sunnyvale AFS, which was then the primary satellite ops center for the Air Force. I quickly fell in love with the mission and found my life's passion — MILSATCOM has been a part of it ever since.
MSM
You are about to retire from the U.S. Air Force with the distinguished honor of having led the Space and Missile Systems Center, Air Force Space Command, at Los Angeles Air Force Base. Would you please describe your duties to our readers?
General Sheridan
I've been very fortunate to lead some of the most talented, dedicated folks in the world. The center has some 5,000 men and women comprised of uniformed military, Air Force civilian, FFRDC personnel, and direct support contractors.
Together we manage an annual budget of $10 billion, where we direct the research, design, development, acquisition, and sustainment of most of our military's satellite, launch, and space command and control systems. This includes mission areas in military satellite communication, missile warning, navigation and timing, space-based weather, space launch and range, space superiority, responsive space, and other emerging evolutionary space programs.
MSM
When you where the Deputy Director of the National Reconnaissance Office, what were your responsibilities with that agency?
General Sheridan
My role was to assist the Director in managing the critical NRO mission of designing, building, launching, and maintaining America's intelligence and reconnaissance space systems. I was the first military officer to serve as the Deputy Director. This was my fourth assignment to the NRO and a great honor to pave this path for the future. I also served as the commander of the NRO's Air Force Element.
MSM
An important aspect of protecting our nation is through the application of resource strategy, especially in regard to spatial resources and MILSATCOM technologies. Do you see such as remaining a high priority mission for our government? At SMC? What other areas do you feel are of crucial importance to safeguarding our warfighters and our citizens?
General Sheridan
MILSATCOM has been, and will continue to be, critical to our national security. The recent National Space Policy and the National Security Space Strategy highlighted the importance of space to the interests of our country. The requirements for MILSATCOM capability continue to grow.
Our future space architectures will need to be mission-resilient through many means, such as disaggregated systems providing more affordable satellites and avoiding constellation fragility either due to technical failures or potential hostile actions.
SMC has been developing and fielding space systems for over half a century and will continue to serve as the military space development center of technical excellence. It may sound cliché, but if you look at the big picture, every military space mission area is vital to our national security.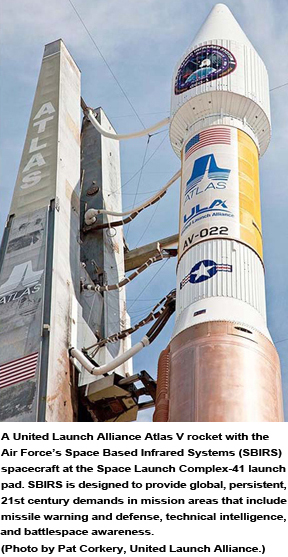 MSM
Two areas of concern for both the military/government and commercial arenas revolve around capacity and an educated workforce. How do you see the dire need for capacity being resolved? Are hosted payloads the answer? And how can the U.S.A.F., as well as the other services, encourage young students to follow careers within the STEM environs?
General Sheridan
Over the past year, SMC has been actively preparing options for addressing capability gaps to support future decisions. The DoD will undertake studies in FY11 to address capability gaps shortfalls in the mid-term and far-term. The capacity shortfalls will need to be addressed with appropriate investments across the SATCOM enterprise — terminals, ground, and space — and take into account resiliency, affordability, and other factors.
SMC is also currently conducting commercial SATCOM studies with six contractors, including non-traditional suppliers, who are investigating approaches to better utilize commercial SATCOM capabilities, services, and business practices in the future. The study is examining the feasibility and benefits of hosted payloads and commercial type solutions to meet the growing warfighter demand for satellite communications.
Our military and industrial base workforce make up the most talented and dedicated individuals in the world. We need to make sure that the following generations have the skills necessary to meet our future technological demands. I believe the trick to getting our youth excited about science and technology is in the presentation. We have to compete for their attention so we have to make it interesting, motivating and challenging.
MSM
What SMC projects are you most proud of commanding and why?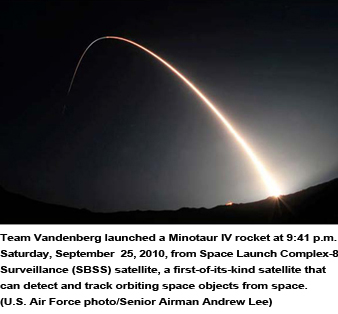 General Sheridan
I'm very proud of the work our team is accomplishing in all of our mission areas — they complement each other very well. SMC has had several new programs in work for many years. Over the past two years we have succeeded in completing development and launching four new first-of-a-kind systems into orbit — GPS IIF, AEHF, SBSS, and on 7 May, SBIRS GEO-1. All newly developed systems now have a spacecraft in orbit except for ORS-1, which I expect will launch in late June. The team has worked tremendously hard to achieve this result.
MSM
Where do you see MILSATCOM technologies for the military and the government leading over the next couple of years? What are your major concerns regarding our nation's ability to continue the delivery crucial MILSATCOM collected data to commands and warfighters as drawdowns continue and budgets are slashed?
General Sheridan
Our dependence upon space has never been greater and that might just go double for MILSATCOM. Our nation simply doesn't go to war in the 21st Century without our space capabilities. AEHF and WGS will each provide 10-times the protected and wideband capabilities of their predecessor programs. They are our workhorses for the near term.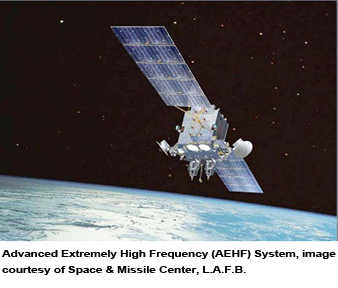 Right now, SMC is actively looking at SATCOM technologies that will address our long-term future needs. We're looking to see what we can do to better and more rapidly deliver capabilities to specific users or geographical areas, thus granting protected connectivity instantaneously to greater segments of users at lower echelons of the force structure.
I believe part of the solution is going to be in developing superior technology that delivers more throughput, but we're also going to need to be efficient in using our available resources and capabilities. We're being asked to do our ever expanding mission with fewer resources. So, we're looking hard at efficiencies; we have to achieve many of these as we proceed. The bottom line is that a system that we cannot afford is not much better than a system that we cannot technologically achieve.
MSM
What are your plans after you leave the U.S.A.F. and SMC? Will you be entering the world of commercial SATCOM?
General Sheridan
First off, I'll be taking a few months off to just unwind. I owe my wife and family a little more "quality time." After that we'll be starting a new chapter in our lives in Washington, D.C. As I said, Space is my passion, so I wouldn't be surprised if SATCOM becomes some part of my future.