Maxar demonstrated one of the winning military solutions during the British Army's Hackathon 2021, delivered in collaboration with AI software provider Adarga, at the Army's new Battlelab facility in Dorset, U.K. Maxar was tasked with creating a solution that delivers the safest and most appropriate routes for military convoys in real time via a digital platform.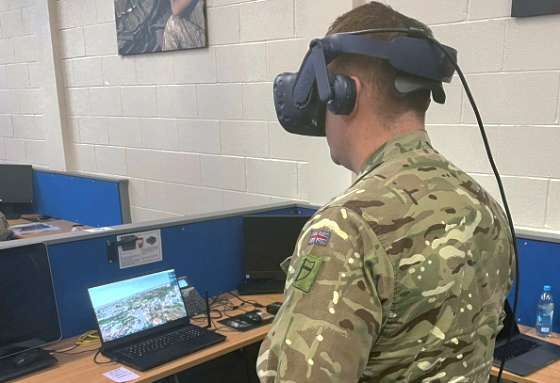 Maxar's Sam Orlando demonstrates the
company's immersive solution to a British Army
1st Division Headquarters Staff Officer during the
hackathon. Photo is courtesy of Maxar.
"This challenge presented a great opportunity to bring together unique data and tools from across Maxar to help military operators better understand environments ahead of deployment," said Mike Small, Maxar's Defense and Security Director for Europe, Middle East, Africa and Asia Pacific. "With our solution, commanders have access to these digital environments anywhere on the globe, providing the means for British forces to plan and rehearse for multi-domain operations."
The hackathon, organized by the British Army and Adarga, asked participants to design digital solutions for the future that leverage artificial intelligence and software solutions to address real-world challenges the British Army faces. Nine teams composed of military subject matter experts, as well as software engineers and data scientists from across industry, came together to develop innovative concepts.
---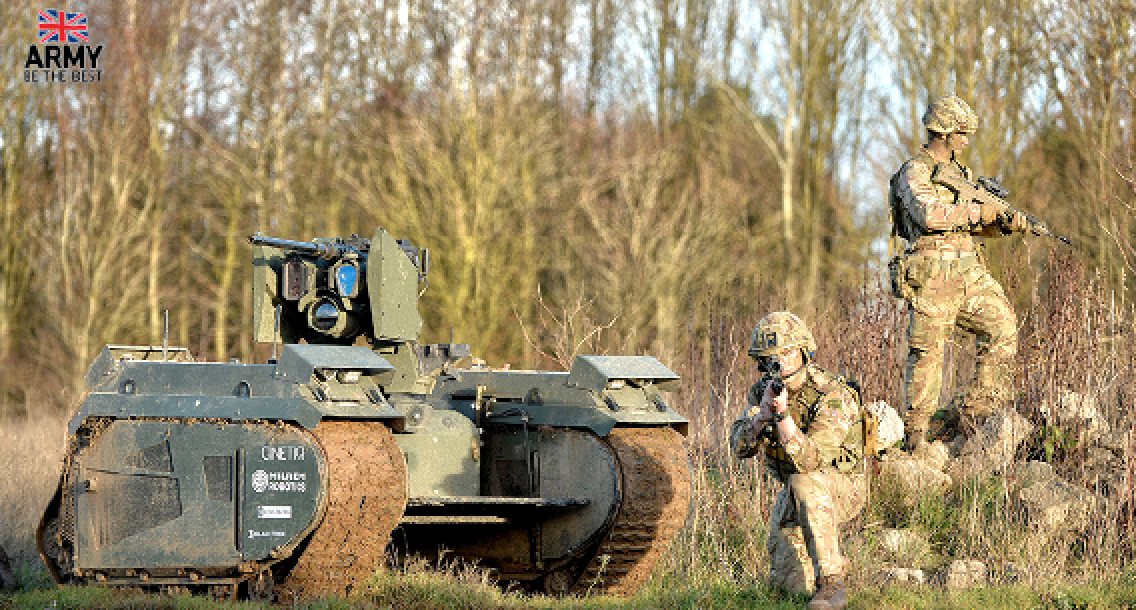 ---
Maxar's solution was selected for further development and was deployed for testing during an exercise at the close of 2021.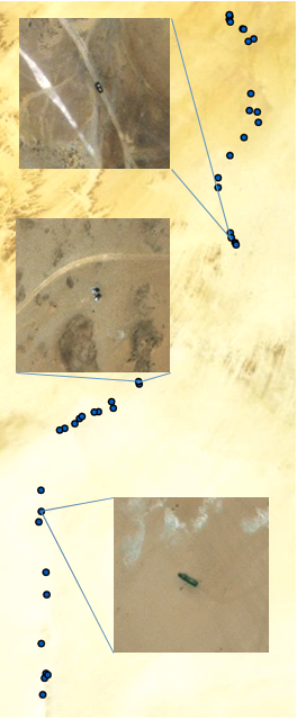 The Maxar satellite image to the right shows
GeoHIVE-produced tags identifying vehicles along
a potential smuggling route.
Next Steps
This event formed part of the 1st (UK) Division's Digital Readiness Experiment, designed to accelerate the British Army's understanding and ability to adapt to digital force preparation timelines and processes. The British Army tested the winning solutions, including Maxar's, in a real-world environment.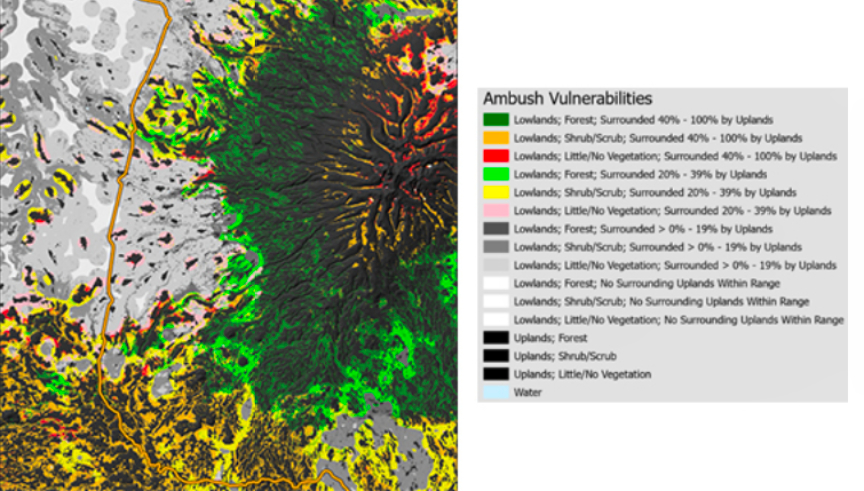 This image of a location in Africa shows an ambush vulnerabilities
report from the British Army's hackathon.
Maxar's Hackathon Solution
Maxar's innovation-as-a-service team, called xLab, led the development of the company's concept. xLab designers, data scientists, product owners and software developers create custom capabilities for customers using Maxar's core product suite.
The team combined high-resolution 3D data and human geography data to enable military forces to train in an immersive virtual environment. When this environment is coupled with datasets such as vehicle mobility and ambush vulnerability, military staff can plan and rehearse missions with a level of accuracy and realism that improves readiness and mission outcomes.

Maxar tested the solution with the British Army, drawing on the company's experience as the prime contractor for the U.S. Army's One World Terrain program. Elements of the solution included the following Maxar products and capabilities:
Maxar's Globe In 3D
The company's high-resolution, high-accuracy, 3D data provides true height measurements of terrain, structures and vegetation, enabling an immersive solution to display and interact with large volumes of data and acclimate with real-world environments for mission planning and rehearsal.
Human Landscape
Maxar's country-scale human geography information bundle leverages crowdsourcing and AI to reveal important demographic insights for enhanced situational awareness.
---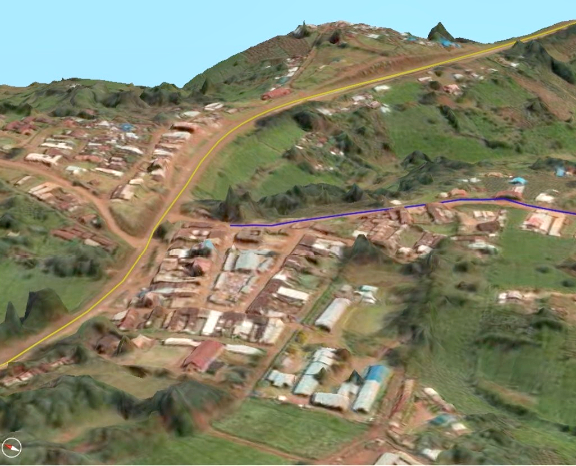 This image shows an accurate 3D model of a village in Africa. The
model allows military staff to quickly understand the environment in
which they will operate. Image is courtesy of Maxar.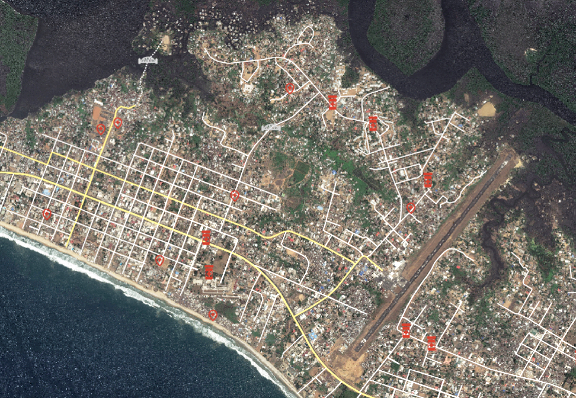 Human Landscape data identified medical facilities and clinics in Monrovia, Liberia. This information streamlined the transportation of humanitarian aid resources to combat the 2014 Ebola outbreak. Image is courtesy of Maxar.