Keeping forward-deployed units safe, informed and connected are the difference-makers in remote missions. The best way to accomplish this is to ensure communications and power are available even where neither are available. Traditional solutions cannot achieve this though.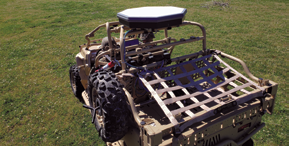 An installed CopaSAT STORM terminal.
Reliable tactical communications rely on infrastructure and power supplies that work even in the harshest environments. When units operate in places that are completely disconnected from the rest of the world, they need SATCOM hardware that works on-the-move and ruggedized, independent power supplies that can withstand everything nature and people can throw at them.
Four Chief Challenges of Remote, Mobile Military and NATO Operations
Constantly changing circumstances
Wherever the cooperative efforts of NATO and the U.S. military may go in the world, situational awareness is crucial — particularly in austere environments. The need for quick deployment, tear down and redeployment of communications infrastructure and power means operations can move quickly to adapt to changing and unpredictable circumstances. In addition, clandestine operations led by special operations have even more exacting and extensible requirements for communications and power.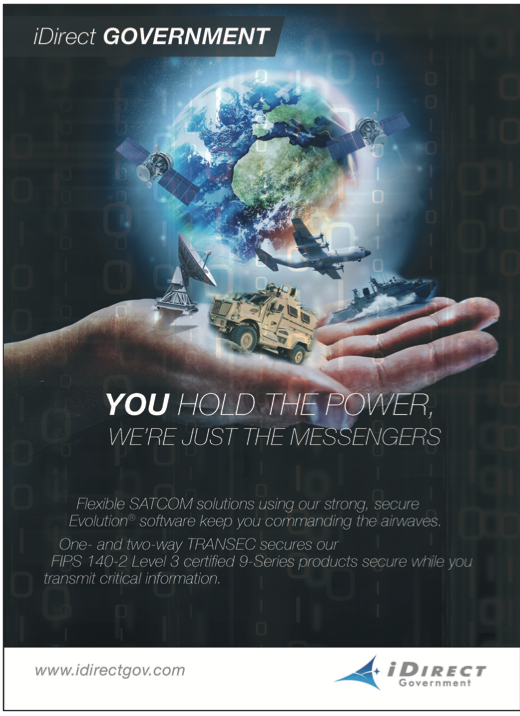 SATCOM On-The-Move (SOTM)
NATO and military forces rarely stand still, whether they are operating on land or on the water. This introduces an entirely new set of challenges and requirements. SOTM has always had its limitations, particularly on small military vehicles and vessels like MRZRs, 11-meter ridged hull inflatable boats (RHIBs) and the combatant craft medium — CCM Mk 1. These vehicles and vessels operate at high speeds, and on rough terrain and extreme sea states further exacerbating connectivity challenges.
Remote, hostile environments
Deployments can happen anywhere in the world at a moment's notice. High-risk dismounted operations often occur where communications and power are not available. The importance of further remaining inconspicuous makes off-the-grid infrastructure necessary. Keeping the location of mission operations concealed is critical. These units also need equipment that can withstand extreme weather, dust and sand, water spray and rough handling.
Sustainable, autonomous operations
Self-reliance is crucial for forward-deployed units. Operations often continue for extended timelines, whether planned or unplanned, requiring sustainable field power and communications. Expeditionary units need autonomy and the discretion to execute in fluid situations.
Addressing Military and NATO Communications and Power Requirements
Today, there are means to addressing each of these challenges. Innovative SATCOM on-the-move (SOTM) and sustainable, ultra-portable field power solutions are supporting our military and NATO forces around the globe.
Powering sustained, mobilized operations is challenging. Wherever missions may deploy, military operations need rugged, reliable, expeditionary power solutions that are scalable to support a variety of demanding requirements from simply charging devices to powering full SATCOM communications terminals. There are many environments where trailers and generators are not an option. Eliminating the logistical hassles of transporting, maintaining and supporting traditional power generation sources means missions can go on, even in harsh, isolated locations.
Here's a checklist for reliable, field-deployable power.
Portability
Getting power to remote locations means the lighter the better when it comes to making power available. Today, there are expeditionary power solutions that are easily man portable. The ability to provide power at nearly any location without a logistics trail can make a critical difference in many missions.
Sustainable and renewable
Look for power that is autonomous and renewable, particularly when missions can end up stretching out past the normal 72-hour window.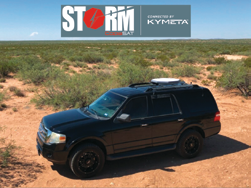 Military-grade
Field power needs to meet military-grade requirements. Solutions that are designed to MIL-SPEC standards will ensure power continues to flow even after being exposed to inclement weather and unexpected drops or rough handling and transport.
Water and dust infiltration
Working in remote environments often means equipment is exposed to the elements such as dust and rain. Ensuring your power generation equipment is designed to withstand the elements is crucial. Look for passively cooled devices that do not rely on fans or filters. This will reduce maintenance and increase reliability.
Flexibility and usability
Systems should provide scalable field power designed to meet fluid requirements and extended operations. Support for regulated, unregulated output power and MPPT solar charging is also important. While protection against overvoltage, undervoltage, over current and short circuit are a requirement.
Modular
Specifying modular systems that can support multiple power sources including AC, DC, battery and solar is vital. Having multiple input and output types provides maximum flexibility and adaptability to a variety of environments, situations and requirements.
Fast set up and tear down
With units constantly on the move and situations being fluid, easy set up and tear down of power systems helps keep forward-deployed units powered while allowing maximum transportability.
Keeping the Lines of Communication Open
There are so many places, vehicles and vessels where you can't use commercial off-the-shelf (COTS) SATCOM solutions. On-the-move communications and SATCOM for MRZRs, 11-meter rigid hull inflatable boats (RHIBs) and other special operations craft have not been available. Legacy solutions don't fit and cannot track fast enough to remain connected with a satellite while the vehicle or vessel is moving at high speeds. This has always been a challenge. However, now there are solutions addressing the challenge, making all of these applications possible for the first time.
Here's a checklist for what to look for in SOTM.
SOTM
Reliable tactical SOTM connectivity and communications are critical to remote, austere operations. Keeping vehicles and vessels that have never been connected before connected over rough terrain and high sea states is now possible. Even 11-meter RHIBs, MRZRs, CCM Mk 1s can all have on-the-move broadband connectivity.
Mobile hotspot
The best alternative is to have a mobile hotspot that can use SD-WAN and select between cellular, Wi-Fi and satellite networks for optimization, failover and balancing. This offers maximum flexibility.
Connect into communications networks and equipment
In addition to being able to select between cellular, Wi-Fi or satellite networks, integrating other devices like MANET handheld radios provides interoperability between a flexible mobile network and various communications devices.
Plug and play
Another important thing to look for is fast deployment and provisioning. Setting up a satellite network can be complicated. However, there are solutions available today that only require a simple push of a button to auto-provision and acquire the satellite.
Anti-spoofing
Identify communications solutions that will protect the networks. SATCOM solutions need to accept external GPS sources such as Defense Advanced GPS Receiver (DAGR) for selective availability and anti-spoofing.
Military-grade
Equipment used in the field needs to be able to withstand rough handling, drops and weather. Look for solutions that have an IP68 rating and protection against water and dust infiltration.
Maximum flexibility and usability
Real estate to install SATCOM terminals is limited on small, fast-moving vehicles and vessels. Solutions that can both transmit and receive on a single terminal, make communications to and from vehicles and vessels that would have never been connected in the past.
Low visibility
Keeping a low profile is important. Portable solutions that don't call attention to forward-deployed units make all the difference. Making sure it isn't obvious that a vehicle or vessel has satellite communications capabilities is also useful for clandestine missions.
Capacity flexibility
Predicting satellite usage and purchasing satellite capacity typically means commissioning capacity that may never get used. Getting access to flexible satellite services that are designed to have the connectivity follow the terminal means only paying for the satellite capacity that is actually used.
Expeditionary Power and SOTM
Ultimately, military and NATO operations require low visibility, standalone expeditionary power and SOTM solutions that can withstand remote and unforgiving environments and use. Combining these solutions into a single package helps maintain communications so every deployed unit can remain vigilant while remaining situationally aware at all times.
www.copasat.com

Obie J. E. Johnson is a technology entrepreneur and Auburn University electrical engineer that has worked with military satellite communications systems for nearly 40 years. CopaSAT is focused on providing expeditionary communications to U.S. and NATO forces.
In 2008, Mr. Johnson pulled together a small team to develop very successful X/Ku/Ka band manpacks and fly-away terminals while a co-owner at Tampa Microwave. In 2017, CopaSAT acquired Eclipse Composites Engineering in Salt Lake City, which provides carbon fiber composite antennas used in WGS certified satellite terminals.
In 2019, CopaSAT completed the acquisition of Virideon's intelligent power management product solutions. Mr. Johnson enjoys time with his wife and two sons racing and fishing.
CopaSAT helps government and commercial organizations turn missions in some of the world's most extreme and remote environments into realized objectives by providing reliable SATCOM on-the-move (SOTM) communication and renewable expeditionary power solutions. CopaSAT has been recognized with the 2019 Mobile Satellite Users Association (MSUA) Mobility Innovation Award for the Top Public Safety Solution for its CopaSAT STORM SOTM terminal. The company also recently acquired the Virideon Intelligent Power and Energy Router (VIP/ER) product line.
CopaSAT professional services and AxialOne managed services employ professionals that understand mission critical because they have been deployed in some of the world's most demanding missions. We partner with leading satellite operators, satellite service providers and satellite hardware manufacturers to deliver reliable communications on a global scale.
When commercial off-the-shelf (COTS), one-size-fits-all satellite communications services and solutions don't meet your mission requirements and you require a custom-engineered solution, that's where CopaSAT comes in. CopaSAT brings on-the-ground, real-world field experience to every engagement. CopaSAT knows mission critical because we have lived mission critical.
---