U.S. Army's Tac Comms Upgrade Plans
The Army is preparing to field up to eight brigade combat teams with an advanced, integrated tactical communications network beginning early next year.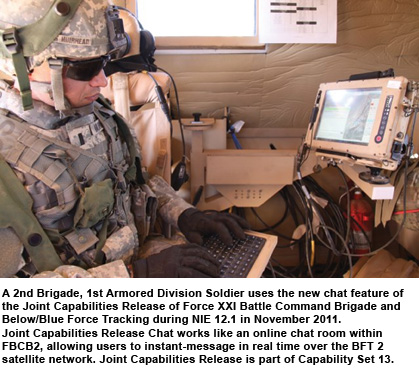 This was according to senior leaders during the Association of the United States Army (AUSA) Winter Symposium and Exhibition here this week.
The service is now synchronizing the production, fielding and training for Capability Set 13, which is composed of vehicles, network components, and associated equipment and software.
These technologies will, for the first time, deliver an integrated voice and data capability throughout the brigade combat team formation down to the tactical edge.
"It's not the individual products that we're delivering —we're putting together an integrated capability set for the brigade," said Col. Dan Hughes, director of the Army's System of Systems Integration Directorate. "This synchronized effort means that deploying units will receive integrated equipment and comprehensive training, so once in theater they can use the network to the maximum operational effect."
Capability Set 13 has taken shape through the Network Integration Evaluations, or NIEs, a series of semi-annual field exercises designed to quickly integrate and mature the Army's tactical communications network. The connectivity, architecture and components of the capability set will be validated and finalized at the NIE 12.2, which takes place in May at White Sands Missile Range, New Mexico, and Fort Bliss, Texas, involving 3,800 Soldiers of the 2nd Brigade, 1st Armored Division executing realistic operational scenarios.
The centerpiece of Capability Set 13 is the Warfighter Information Network-Tactical, known as WIN-T, Increment 2, a major upgrade to the tactical communications backbone that will enable mission command on-the-move and extend satellite communications to the company level. Integration and configuration of WIN-T, Increment 2, equipment on combat vehicles is now underway at Army facilities in preparation for production and synchronized fielding, Hughes said. The formal operational test for WIN-T, Increment 2, will take place in conjunction with NIE 12.2.
During presentations this week, Hughes and other Army acquisition officials stressed that the NIEs and Agile Process have accelerated the pace of network modernization by leveraging industry innovation to keep pace with technological advances. "The Army is now taking several steps to ensure small businesses are able to participate in the NIEs, including ways to evaluate prototype technologies in small quantities, and to minimize field support cost," Hughes said.
"Small businesses with less mature capabilities also have opportunities for technology insertion through the Army research and development community," said Marilyn Freeman, deputy assistant secretary of the Army for Research and Technology.
"We really want small business innovation to be part of this," Hughes said.
The Army is also working to formalize the precise mechanisms through which contracts can emerge from the NIE process. Earlier this week, in its first procurement action resulting from the NIEs and Agile Process, the Army issued a "sources sought" notice for a single-channel, vehicle-mounted radio. The radios, known as Soldier Radio Waveform, or SRW, Applique, will act as a conduit for voice and data between the dismounted Soldier, his unit and higher headquarters, increasing situational awareness and reducing fratricide.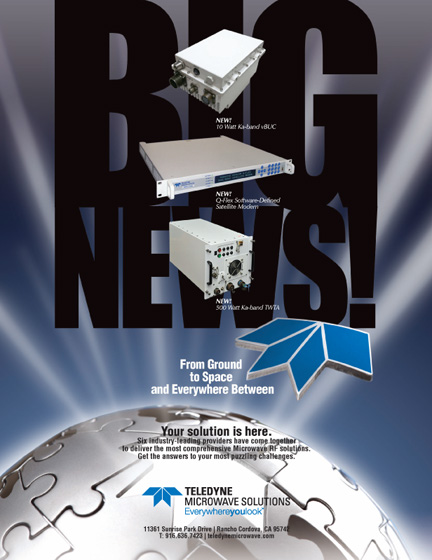 This procurement, planned in time for Capability Set 13, illustrates how the NIEs and the Agile Process allow the Army and industry to work together to quickly fulfill network hardware and software capability gaps.
Synchronized fielding of capability sets every two years also will allow the Army to buy the right amount and type of gear for the brigades that need it first, then incrementally modernize it—instead of spending resources on technology that may be out of date by the time it is needed, leaders said.
Heidi Shyu, acting assistant secretary of the Army for Acquisition, Logistics and Technology, known as ASA (ALT), described the NIEs and Agile Process as a "pioneering effort that reflects adaptive thinking across the Army" at a time when the service must find fiscal efficiencies in today's more constrained budget environment.
"By bringing diverse equipment together for testing at Fort Bliss, the Army will have an unprecedented opportunity to assess equipment interoperability and address integration challenges much earlier," Shyu said. "The warfighter feedback will be helpful to industry in developing capabilities and will help inform the Army's requirements and Requests For Proposals, or RFPs. Moreover, the NIE provides an opportunity to work collaboratively with the requirements and testing communities early in the acquisition process."
That collaboration is necessary because the Army is using the NIEs to examine not only systems' technical merit, but also their impacts on doctrine, training, requirements, force structure and other key areas. Brigades fielded with Capability Set 13 through the ARFORGEN process will also receive the tactics, techniques and procedures, known as TTPs, necessary to leverage the new gear to its full potential.
"It is a combined, very large-scale effort, and we are moving forward," Hughes said.
* * * * * * * * *
The Decision Has Been Made
Raytheon Company's U.S. Air Force satellite terminal system that provides protected communications to warfighters has received a successful Milestone C decision and subsequent production award.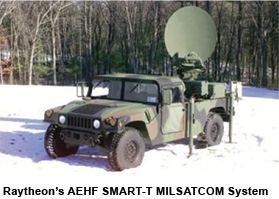 The Minuteman Minimum Essential Emergency Communications Network Program Upgrade (MMPU) is Raytheon's first Advanced Extremely High Frequency (AEHF) terminal for the U.S. Air Force to enter into the production phase. In another achievement, it became the company's third AEHF terminal to interoperate with the on-orbit AEHF satellite, joining the U.S. Army's Secure Mobile Anti-Jam Reliable Transportable Terminal (SMART-T) and the U.S. Navy Multiband Terminal (NMT).
The first AEHF satellite, launched in August 2010, recently began an extensive set of operational tests. In this testing, MMPU, SMART-T and NMT demonstrated interoperable communications using the AEHF satellite's eXtended Data Rate (XDR) waveform, moving data more than five times faster than previous EHF systems. MMPU adds essential nuclear command and control capabilities to the Raytheon AEHF terminal product line established by SMART-T and NMT.
Raytheon is projected to deliver 67 MMPU AEHF terminals, including spares, to the U.S. Air Force. The MMPU AEHF systems incorporate Raytheon's XDR waveform hardware and software, including new cryptographic algorithms for protecting national command and control (NC2) networks, a complex technological breakthrough in protected communications. XDR and the cryptographic algorithms provide increased bandwidth, speed and significantly improved security within the NC2 communications architecture.
* * * * * * * * *
UAS Finds New Home In The Americas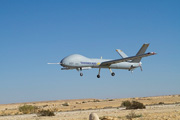 Elbit Systems Ltd. has been awarded a contract, valued at approximately $50 million, to supply Hermes 900® Unmanned Aircraft Systems (UAS) to a governmental office of a country in the Americas.
The UAS will be operated in a variety of perimeter security missions. The project will be performed over approximately one year. The UAS will also include systems such as the Universal Ground Control Stations (UGCS), Elbit Systems Electro-Optics Elop's highly advanced DCoMPASS™ payload systems, as well as satellite communication systems.
The Hermes
®
900 UAS builds on the vast operational experience accumulated by the Hermes
®
450, the backbone of the Israel Defense Forces' UAS operations. Hermes® 900 offers a range of enhanced capabilities, from higher flight altitude (up to 30,000 ft.) to longer endurance and larger payload capacity. The system's unique structure enables it to carry a variety of payloads in different shapes and sizes for quick "conversion" between payload configurations.
Elad Aharonson, General Manager, Elbit Systems UAS Division, said, "We are very proud that yet another customer has selected the Hermes
®
900, following orders by the Israeli Defense Forces and Chile. Hermes
®
900 is establishing its position as a world-leading UAS for intelligence missions, as well as perimeter and security missions.
* * * * * * * * *
Moving Results For Customers

Last year, SES announced the integration of their two satellite operating companies and the creation of a truly unified global fleet.
With this integration, their U.S. Government business was realigned to better leverage SES' fleet of 50 satellites to serve the unique needs of their customer base.
Tip Osterthaler, President and CEO of SES Government Solutions noted, "This integration and the new alignment of SES Government Solutions within the company, has enabled us to react faster to the changing needs of our customers worldwide—including our government customers.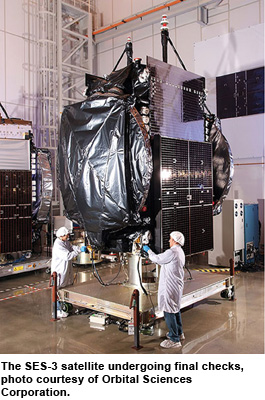 In February of this year, global commercial satellite operator SES announced the relocation of the SES-3 satellite from its former location over North America to Asia, an area of increasing great demand for state-of-the-art, reliable satellite capacity.
The SES-3 satellite was relocated to 108.2° East to provide coverage of the Middle East and South Asia regions, where SES is experiencing growing customer demand. The drift began in mid-December 2011 and the satellite arrived at its new orbital location on February 6, 2012.
"The relocation of the SES-3 satellite is a result of continued engagement and dialogue with our customers and in response to the growing demand for bandwidth to support critical communications capabilities. This move is a confirmation of our commitment to provide affordable and vital capability for our government customer," Osterthaler said.
SES-3 is a young satellite as it was just launched in July of 2011. Once reaching 108.2° East, the planned coverage is capable of supporting such applications as video, voice, data, and end-to-end communications networks. With MAC-1 compliance and encrypted tracking, telemetry and control, the satellite is also well positioned to meet the secure communications needs of government customers.
In a recent press release, Romain Bausch, President and CEO of SES, stated: "With a fleet of 50 spacecraft in orbit around the globe, SES has the operational flexibility to swiftly respond to shifting customer demand by re-deploying in-orbit capacity without affecting existing services."
* * * * * * * * *
Hastening HX
Hughes Network Systems, LLC has announced the planned release of its HX System 4.0, bringing a host of technology enhancements to the HX product family which will enable higher performance, higher efficiency, and a number of significant new features.
Summarized next, these enhancements further strengthen the HX System in specialty markets such as IP trunking, 3G/4G cellular backhaul, Virtual Network Operator (VNO) hosting, and Comms On-The-Move (COTM) for airborne/maritime/land, including defense and Intelligence, Surveillance, and Reconnaissance (ISR) solutions.
IPv6/IPv4 Support: A major element of HX System 4.0 is a dual stack IPv6/IPv4 design which will enable the simultaneous support of both protocols. The ability to implement IPv6 is fast becoming a critical issue for every telecommunications service provider as the availability of new IPv4 address space is quickly disappearing. HX System 4.0 will enable operators to smoothly transition to IPv6 while continuing to support their installed base of IPv4 customers and devices
HX90 Satellite Broadband Router: The new HX 90 features higher efficiency and lower operational costs on satellite links through a new optimized encapsulation scheme on the outroute, and through LDPC coding on the inroute, the same coding scheme as used in the DVB-S2 standard. Combined with a major performance boost across the entire HX System family of routers, in sum these enhancements provide operators with best-in-class throughputs and efficiencies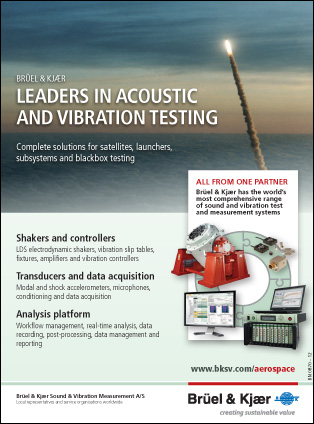 Defense & Mobility Support: HX System 4.0 brings to market key functionality and specific operational frequencies in support of the Wideband Global SATCOM (WGS) system for military and defense organizations. In addition, HX System 4.0 encompasses a comprehensive set of enhanced mobility features including integrated Doppler correction, automatic beam switching, and enhanced return channel spreading for even the most demanding COTM applications
Network Management Enhancements: The industry leading HX ExpertNMS™ (Network Management System) has been upgraded in HX System 4.0 to provide enhanced management capabilities for VNOs. This new capability enables a VNO to monitor and control elements within their operational service domain, allowing a wholesale network operator to effectively partition their network and provide complete control to private users of these partitions.
HX System 4.0 will be available for delivery later in 2012. Hughes product info link:
http://www.hughes.com/ProductsAndTechnology/BroadbandSatelliteSystems/HXSystem/Pages/HXSystem40.aspx
* * * * * * * * *
Argus One UAV Demo Video Approved
World Surveillance Group Inc., a developer of lighter-than-air (LTA) unmanned aerial vehicles (UAVs) and related technologies, has posted approved video footage and images taken at the recently completed Government testing and demonstration of the Argus One UAV in Nevada.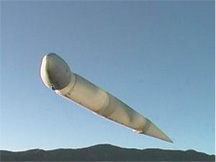 In preparation for subsequent coordinated flights and demonstrations, the Argus One UAV has been re-stationed at facilities in Nevada where the airship remains inflated inside a hangar facility, pending favorable weather conditions and scheduling permits.
The Argus One is a mid-altitude, unmanned, LTA airship designed to hover above the Earth's surface for extended periods of time.
The uniquely constructed low observable airship is designed to cope with winds in a more efficient manner than traditional "blimp-like" airships, while delivering a cost-effective solution based on minimal ground and human infrastructure. Link for additional info:
http://wsgi.com/argus
* * * * * * * * *
Kudos To CloudSat Ops Team

Retired Lieutenant General Gene Tattini, former commander of the Space and Missile Systems Center and currently the Deputy Director at NASA's Jet Propulsion Laboratory in Pasadena, California, paid a visit to the Space Development and Test Directorate recently to offer his personal congratulations to the CloudSat Operations team for a ground-breaking recovery from a six-month long anomalous condition.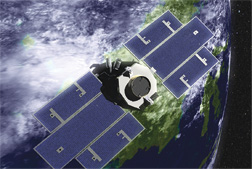 CloudSat is a one-of-a-kind weather radar satellite that was launched in 2006 and is one of a five-satellite Earth-observing weather science constellation called the A-Train.
Selected as part of NASA's Pathfinder program, CloudSat flies a radar more than 1,000 times more sensitive than existing weather radars, providing detection of smaller ice and water particles within clouds than ever before, enhancing our understanding of weather patterns around the world.
In April 2011, the satellite experienced a crippling battery anomaly that shut down its payload and forced the satellite to drop out of the A-Train for safety reasons.
Since launch, the satellite has been operated out of the Research, Development, Test and Evaluation Support Complex at Kirtland Air Force Base, the Air Force's only R&D satellite operations center. The operations team, consisting of Air Force Space Command officers and LinQuest contractors, maintained the satellite in seamless operations for two years past its expected lifespan. Therefore, when the undervoltage condition onboard persisted, many believed that CloudSat had seen its last days.
However, due to the irreplaceable nature and uniqueness of the payload radar, the relevance of the satellite's data to cutting-edge weather modeling around the world (including to the Air Force Weather Service), as well as its complementary nature to the data from the other A-Train satellites run by allied mission partners such as Centre National d'Etudes Spatiales (France) and the Canadian Space Agency, members scrambled to beat the odds. A joint team was formed between the Air Force, LinQuest, the satellite manufacturer; Ball Aerospace and NASA JPL to investigate and attempt to restore CloudSat.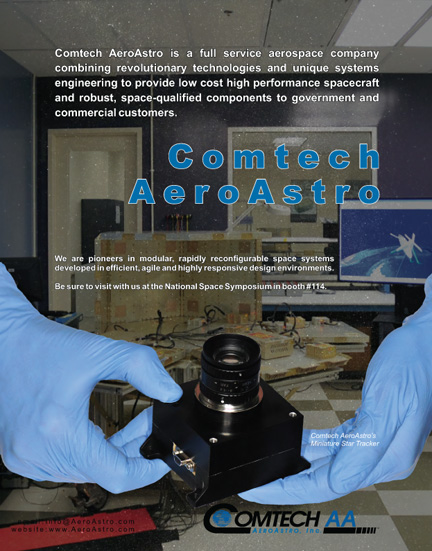 Four hundred plus operation memograms, 150 anomaly resolution meetings, 30 training sessions and six months later, the team had designed, tested and responsively adapted a ground-breaking new concept of operations they called DO-OP: Daylight Only Operations. Re-working risk management strategies and exploiting the momentum caused by Earth's magnetic field, the team cycled the payload and satellite sub-systems between being in the sunlight and being in the shadow of the Earth.
Through critical commanding over several nights and weeks, the team engineered positive thermal and power profiles in tune with the satellite's entry and exit from sunshine above the Earth. By October 2011, CloudSat's unique cloud-imaging radar was functioning during 96 percent of the sunlit orbit. The team had brought the 'left-for-dead' satellite back to life.
Gen. Tattini presented the operations team with a NASA Certificate of Appreciation, as well as individual congratulatory certificates. He also expressed his gratitude to SD for their dedication and pursuit of excellence in refusing to give up on CloudSat. "Cowboy operators are frowned upon," the certificate reads, "but operators that cowboy up are greatly appreciated."
* * * * * * * * *
Early Ops Capabilities Witnessed
Marines witnessed the first flight of the service's newest small unmanned aircraft January 22nd at the Marine Corps Air Ground Combat Center in Twentynine Palms, California.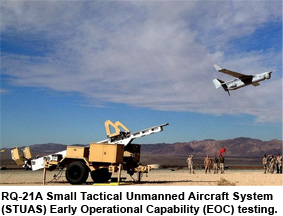 As part of the RQ-21A Small Tactical Unmanned Aircraft System (STUAS) Early Operational Capability (EOC), personnel from Marine Unmanned Aerial Vehicle Squadron (VMU) 2 and 3 and Insitu operators exercised the current configuration of Insitu's Integrator for the two-hour maiden flight.
"The lessons learned from this flight and all operations that will be conducted at Twentynine Palms are invaluable," said Lt. Col. John Allee, STUAS integrated product team co-lead at Pax River. "It will help our Marines fully understand how to operate the system when in theater."
Insitu delivered one EOC system, which is the current configuration of the company's Integrator to Twentynine Palms early in January. The EOC contract option allows for up to 30 months of contractor-provided training and logistics services for the Integrator system. The team at Pax River received the second EOC system January 12th. "This is a substantial achievement for the team" said Heather Bromley, the STUAS IPT co-lead. "To go from contract award to an operable system in 16 months is a testament to the responsiveness of the government and contractor personnel."
A CONUS-based deployment for EOC allows the Navy and Marine Corps to train operators, collect additional performance data, and support development for Initial Operational Capability (IOC). The government-industry team will continue to develop the RQ-21A configuration for initial and full operational capability while the EOC system is deployed with VMU-3.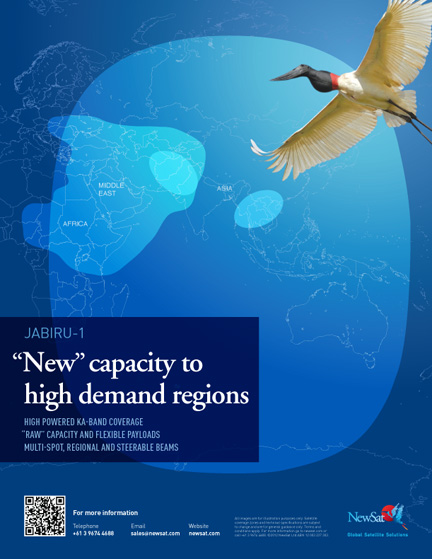 RQ-21A will have payload capacity to support multi missions in a single sortie. Its sensor package will include Electro-Optic, mid-wave infrared cameras with an infrared marker and laser rangefinder.
"We are very excited to deploy an asset that has a greater performance capability with a significantly larger payload, mass, volume and power than intelligence, surveillance and reconnaissance services available in theater today," said Marine Col. Jim Rector, Navy and Marine Corps Small Tactical UAS program manager. RQ-21A will eventually replace the Navy and Marine ISR services contract in which current ISR missions are conducted in Iraq, Afghanistan and shipboard. The system will provide battlefield commanders with an organic capability 24/7, for real-time, actionable intelligence, surveillance and reconnaissance.
"The appetite for ISR has been insatiable," Rector said. "There is an increased demand for ISR capability in theater; and with fewer boots on the ground, we need this asset more than ever."
* * * * * * * * *
Space Capabilities Rank High
As the Department of Defense and the Army look for ways to reduce forces while increasing strategic capabilities, the leader of the Space and Missile Defense Command/Army Forces Strategic Command is confident his organization will continue to provide capabilities essential to the Army's core strength.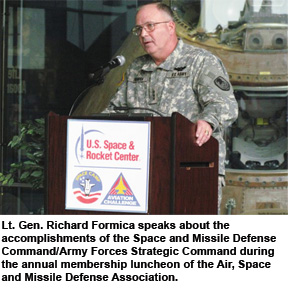 Lt. Gen. Richard Formica told more than 500 industry, government and technology leaders at the Air, Space and Missile Defense Association's annual membership luncheon on January 26 at the U.S. Space & Rocket Center that space and cyberspace defense capabilities are crucial to combatant commanders and their troops.
"If the Army wants to be able to shoot, move and communicate—it needs space. If the nation wants to be protected from rogue nations' ability to launch ballistic missiles—it needs missile defense," Formica said. "If joint forces want to fight in domains without geographic boundaries—they will need space and missile defense.
"I believe exploiting the potential of space and missile defense capabilities become even more important in an era where conflicts may take place in domains without boundaries and where forward presence may be reduced."
Although there will be "efficiency drills" across the entire Department of Defense, Formica said the space and missile defense capabilities that SMDC/ARSTRAT and the U.S. Strategic Command's Joint Functional Component Command for Integrated Missile Defense provide become more relevant as the Army focuses on being leaner and more effective.
"You are well aware of the fiscal challenges we face. These will lead to force reductions and program changes, and will mean a different future for all of us," Formica said.
"The recently published strategic defense guidance—'Priorities for the 21st Century'—reminds us that we need to ensure we can operate in anti-access/area denial scenarios. We must have cross-domain synergy with assurances that our forces can operate effectively in space and cyberspace. And as the STRATCOM commander emphasized recently—we must be able to fight in domains without geographic boundaries. Space and missile defense capabilities are critical to the Army as a decisive force and the Army's ability to execute unified land operations."
Last year, as the new commander of SMDC/ARSTRAT, Formica used the platform of the Air, Space and Missile Defense Association's annual meeting to announce the three core tasks of his organization—the operations function of providing trained and ready space and missile defense forces and capabilities in service to the war fighter and the nation; the capability development function of building future space and missile defense forces; and the materiel development function of researching, testing and integrating space, missile defense, cyber, directed energy and related technologies.
As the organization enters 2012, SMDC/ARSTRAT will "remain focused on accomplishing our three core tasks while being disciplined stewards of our nation's resources," Formica said.
He went on to say that SMDC/ARSTRAT "is uniquely organized and geographically well-positioned" at Redstone Arsenal and in Colorado Springs, Colorado.
"We are well positioned here in Huntsville because we are co-located with MDA, MSIC, PEO Missiles and Space, PEO Aviation, AMC, AMCOM, NASA, and the strong tech base here in the Tennessee Valley," he said. The lieutenant general reviewed a long list of SMDC/ARSTRAT's accomplishments for 2011, including streamlining the command, synchronizing SMDC/ARSTRAT with the Joint Functional Component Command for Integrated Missile Defense, sustaining collaborative relationships with the Missile Defense Agency, seeking out opportunities to integrate activities within the Army enterprise, and improving relationships with both Department of Defense and industry stakeholders.
Formica noted the deployment of 12 space support teams to theater, bringing to 70 the number of teams deployed since the beginning of combat operations in Afghanistan and Iraq; providing space and missile defense capabilities to 15 combatant commanders, war fighters and mission rehearsal exercises; activating the Forward Based Mode Radar Missile Defense Detachment in Japan and Turkey; providing Friendly Force Tracking data to armed forces around the world; providing geospatial intelligence and tailored satellite imagery products in support of Operation Odyssey Dawn and Operation Tomodachi; providing the High Altitude Test Bed Aerostat to support the Army's Network Integration Evaluation; leading the Army's effort to draft an Army Space Operations White Paper for determining future space capabilities for the Army; orbiting the Army's first nanosatellite; and conducting the first flight of the Advanced Hypersonic Weapon.
In 2012, SMDC/ARSTRT will continue to provide space and missile defense forces and capabilities in support of the geographic commandant commands and war fighters, Formica said. "On any given day, we have approximately 850 operational forces supporting ballistic missile defense systems and space operations around the world—CONUS-based, forward-stationed or deployed. That includes five space support and commercial imagery teams currently deployed, and we will deploy another eight teams in 2012 as part of the Army's nine-month deployment cycle," Formica said. "We will provide space and missile defense forces in support of 11 combatant commands, war fighters and mission rehearsal exercises, to include the Strategic Command's Global Thunder and Global Lightning. These provide an opportunity to train the way we plan to fight in all our mission areas, and ensure we are prepared for crisis operations."
The command will also prepare for the deployment of the Long Endurance Multi Intelligence Vehicle to theater, launch the first flight of the low cost ballistic missile target alternative, the Economical Target-1; prepare for the initial High Power Demonstration of the High Energy Laser Mobile Demonstrator with a 10 kW laser; and progress toward nanosatellite demonstrations in 2012, among a long list of other tasks.
"To accomplish everything we do, we must continue to recruit, retain and support our high-performing team of Soldiers, civilians, contractors and the families that support them," Formica said.
"We are all about providing capabilities and developing public servants. SMDC/ARSTRAT is a diverse, complex and global command that provides critical capabilities to the Army, USSTRATCOM, the geographic combatant commanders and the war fighter. I am very proud of the Soldiers, civilians and contractors at SMDC/ARSTRAT on our team—focused on accomplishing our mission, in concert with our partners in industry, academia and the other federal agencies."
* * * * * * * * *
U.S. Military Pivot Strategy
Northern Sky Research (NSR) informs all that, amidst the trends of military budget cuts and troop withdrawals, one region is unquestionably on the rise for military SATCOM demand: Asia.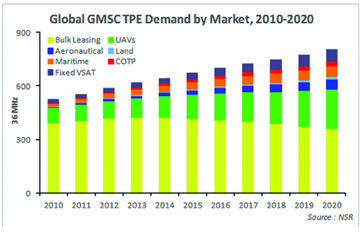 With China as the lead player and with numerous potential flashpoints on the horizon, this region is now the focus of a new "pivot strategy" from the U.S. Military.
China's continued spending patterns, which have been at double-digit levels over the past two decades, will likely lead to a rise in space-based capabilities, specifically satellite assets and services from the U.S. and its allies despite the tightening fiscal landscape.
China plans to boost its official defense budget by 11.2 percent, an increase to 670.247 billion RMB (Renminbi) ($110 billion U.S. dollars) in 2012. However, the Stockholm Institute for Peace Research (SIPRI) puts China's official figure at about 60 percent of its actual total military spending, while Al Jazeera reported that China wants to double the current budget by 2015.
China's current levels can, therefore, be pegged at roughly $200 billion based on SIPRI's estimates, and a doubling of the budget amounts to some $400 billion. Compare this to the U.S.' annual military budget of roughly $700 billion (and declining), and the spending gap with China will narrow significantly in the next two to three years.
Individual countries in Asia cannot outspend China for military purposes. Rather, a smarter, more cost-effective approach will likely be undertaken as part of an emerging containment strategy.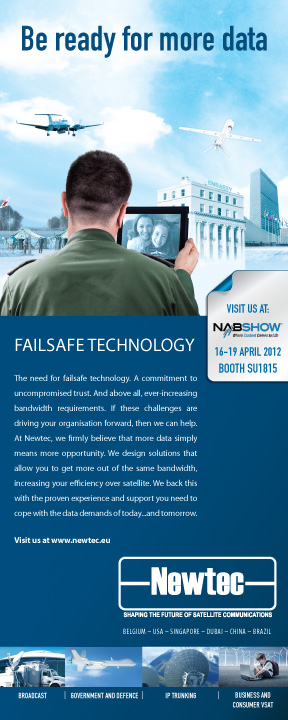 In the area of SATCOMS, procurement models are likely to change where bulk leasing will see a drop in demand as more specific applications take-up capacity. In particular, UAV, aeronautical and maritime demand should see significant growth given the need for ISR missions and coverage of airspace and ocean regions in preparation for potential flashpoints. It is worth noting that the above forecasts are NSR's Baseline demand projections and, depending on how events develop in the region, bandwidth demand can easily breach the 900 TPE mark by 2020.
Southeast Asian countries welcome a stronger U.S. regional presence. The Philippines has been wooing the U.S. in its Spratly and Paracel Islands territorial dispute, and other neighbors such as Vietnam, Singapore, Thailand and Malaysia have boosted weapons purchases.
However, the most closely watched regional player apart from China is India. The 2012 Indian defense budget was set at $36 billion, an 11.6 percent rise compared to the previous year. Although still significantly lower than China, New Delhi is reportedly on the threshold of a huge military procurement, and it is estimated that its defense spending in the next five years will reach $100 billion.
Australia and New Zealand should further add to demand as well as South Korea, given tensions in the peninsula. Japan could be the biggest wildcard where spending on commercial SATCOMS may need to be boosted as part of not only a budget contributor, but as part of an emerging regional network architecture to contain China's capabilities.
The U.S. exit strategy in the Middle East has led to what has recently been referred to as the "U.S. pivot strategy to the Asia-Pacific," which many consider as a containment policy against a rising China.
In the area of commercial SATCOM demand, the U.S. via PACOM will unlikely account for the vast majority of spending similar to past missions in Iraq and Afghanistan. Rather, the U.S. can and will likely count on increased contributions from other countries. Here's why:
The perceived China threat "hits home," so to speak, where it is more tangible and real when compared to missions in Iraq and Afghanistan where many in the region consider it as a U.S. engagement
Many countries have the financial wherewithal to contribute more significantly, and a cash-strapped and over-stretched U.S. does not have to (and probably will not) provide a large regional financial umbrella
Most of all, a semblance of indigenous military strength and technological prowess has to be undertaken by individual countries
As it is expensive for small countries to launch dedicated military satellites, commercial satcom demand and creative partnership schemes may be the way forward in enabling military and technological capabilities.
Analysis by
Jose Del Rosario, NSR
* * * * * * * * *
Keynote To Military @ NAB

StratCorp Inc.'s CEO Robert Riegle will deliver a keynote address to the Military and Government Summit at the NAB Show on Wednesday April 18th in Las Vegas.
The Military and Government Summit at the NAB Show brings together military, government, and commercial interests to discuss new ideas and business relationships on topics such as digital video acquisition, management and dissemination; video encryption and information assurance; the need for technical standards; and how the broadcast industry and government sector can work collaboratively.
Mr. Riegle, a highly regarded expert in domestic intelligence with more than 20 years of successful government, industry and active military service, will join speakers from the National Geospatial-Intelligence Agency, Microsoft Corp. and Associated Press to present case studies and discuss the latest convergent solutions. "Recent events surrounding the Arab Spring have illuminated the importance of understanding the atmospherics relating to uprisings and potential threats throughout the world," explains Mr. Riegle. "Central to this understanding is the ability to determine what information is broadcast by those exercising command and control and what modalities this occurs through."
Headquartered in Tampa, Florida, StratCorp Inc. supports customers around the globe.
* * * * * * * * *
Budget Restraints Don't Restrain U.S.M.C.'s Comms
As the Marine Corps' budget continues to shrink, more and more units will feel the pressure of conducting training with a limited amount of funds.

The effects were apparent for service members with Communications Company, Combat Logistics Regiment 27, 2nd Marine Logistics Group participating in a training exercise from, February 29th, through March 8th at Camp Lejeune, North Carolina.
"The [2nd MLG] got less money this year for the budget," explained 1st Lt. Brian L. Burger, the operations officer for Communications Company "We had to find ways to accomplish the training while remaining within our budget constraints."
The company scheduled the exercise to test their capabilities and readiness in a field environment, but the necessary funds to fuel the generators were not available.
"It costs about $14,000 to fuel our generators for a week-long operation," Burger added. "We had to figure out a way to still accomplish the training without using generators."
Burger and his Marines determined a location aboard Camp Lejeune, which fulfilled the site requirements for the exercise."Here we can run our equipment using power from the base," Burger explained.
The Marines were also able to assemble their tents, antennas and transmitters in front of the company building to use as a secondary location to achieve their training goals.
"Although we are not in the field, this is what I call a real world experience," explained Sgt. Christopher T. Wehunt, the transmission site chief with the company. "All the Marines in the shop come out here and do their job. Here is where we get to see how proficient our shop is. This particular site might not be what we asked for, but it's better than nothing," Wehunt added. "Some of the new Marines in the shop have very limited experience and this is their opportunity to come out and train."
Cpl. Jonathan W. Barton, a digital multi-channel wideband transmission equipment operator with the company, expressed how important it is to go out to the field. "I think in the field is where we really get to test our skills," Barton said. "I think it's better when we get to work as if we were in a deployed environment.
"Regardless of the circumstances, we are Marines and we adapt to the situation," Barton added. "I'm glad that at least we still managed to come out and train."
Story and photo by Cpl. Bruno J. Bego, 2nd Marine Logistics Group