Mission success is often defined as things going smoothly as planned, with no major upsets in achieving the desired outcome. For our customers, mission success is about the availability and reliability of the service they receive from Intelsat General.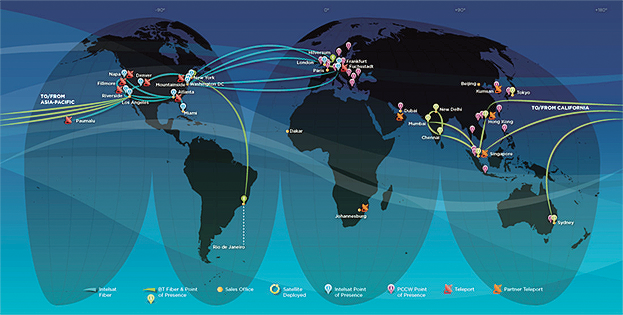 Across industry and government, we all strive for this kind of mission success. But in many ways, we in the commercial arena plan for it differently than our government counterparts.

Not unlike the U.S. Air Force or the National Reconnaissance Office (NRO), Intelsat is a major satellite system operator where affordability and mission success are critical to its viability as a commercial entity. Without affordability and mission success, our business would ultimately fail, either financially or technically. As with any enterprise, the competitive marketplace is our harshest critic, so we are constantly balancing affordability and mission success as we acquire, launch and operate our network.
Our 51 satellites, more than 140 gateways and teleports, and 36,000 miles of fiber give us diversity and resiliency. However, space is still a risky business and so we accept a small amount risk in our satellite and launch programs. Costs quickly become prohibitive in trying to retire that risk. Therefore, we anticipate failure scenarios and develop recovery plans. We have designed a network that can support anomalies through fleet planning, overlapping capabilities and acquisition tempo.

An example of the risk we take occurred in January 2013, when Intelsat had its first satellite launch failure in 15 years, after a Sea Launch rocket carrying the Intelsat-27 satellite veered off course and was destroyed. Within three weeks, we were able to reposition bandwidth and customers on neighboring satellites. We issued a new satellite contract within four months and that satellite will be launched in mid-2015. We did forego additional revenue for a few years, but no customers lost service. For Intelsat, mission success was defined as providing a highly reliable service to our customers, not the specific launch of IS-27.

In contrast, the U.S. government seeks more of a zero-risk strategy toward mission success. U.S. government space programs often involve complex satellites supporting multiple missions, all using just one type of launch vehicle, where failure would place unacceptable pressure on already fragile constellations.
To prevent this, risk is often "bought down" on certain programs to a minuscule level by spending more on redundant designs, double- and triple-checking assemblies, and multiple back-up systems. This creates billion-dollar satellites and extremely expensive launch programs.
The cycle repeats itself. The push to eliminate risk drives costs up exponentially, yet risk is never completely eliminated. Mission assurance is often achieved by trading in on affordability. Is this a sustainable model in the current fiscal environment? And does this ultimately make the government satellite fleet more resilient?

Beyond the launch phase of a mission, Intelsat and other commercial companies look for other ways to reduce risk and maintain affordability. One key way that we increase mission and information assurance is the automation of our satellite operations. Over time, automation can create a more affordable process, but this has not been the reason for Intelsat to automate certain functions. Rather, we have automated operations to correct for human error and reduce time to resolve anomalies.
Currently, our flight operations are fully automated so that by using specific tools, we can fly 76 satellites with eight flight controllers because commands are planned, created and uploaded into a master scheduling system, and our controllers are there to monitor the fleet and to handle anomalies. Even our TT&C network has automation for "sensing" certain maneuvers and automatically commanding the spacecraft.
Many of our command-and-control (C2) stations are operated with no personnel and are "remoted" back to the operations center using a highly reliable, diverse network. Access to these assets and other operational capabilities are available to our controllers via the press of button.

Any measurement of "mission success" must include planning for failures and developing best practices over time that enable those plans to be affordable, responsive, and resilient to the risks associated with being a space operator.
There are lessons to draw from the commercial approach to mission success that would help the U.S. government better insert affordability and resiliency into its current space programs and architecture.
For further information, please visit http://www.intelsatgeneral.com/
Editor's note
This article has been repurposed from Intelsat General's "From The Top" newsletter, the May 2014 edition, with permmission.

About the author
Kay Sears was named President of Intelsat General Corporation in 2008 and is responsible for the overall leadership of the organization, setting the strategic direction and managing all facets of the business. Ms. Sears joined Intelsat in 2006 when it acquired PanAmSat. With PanAmSat from 2004-06, she most recently served as Senior Vice President of Sales and Marketing. Prior to joining PanAmSat, Ms. Sears held senior management positions with Verestar, American Tower Corp. and COMSAT.
In 2009, Ms. Sears was appointed to the President's National Security Telecommunications Advisory Committee (NSTAC) to provide information, technical expertise, advice and guidance on issues affecting national security telecommunications capabilities. In 2011, she was named to the board of the Space Foundation, an international non-profit organization and the foremost industry advocate for all sectors of the space community.
Ms. Sears earned an MBA from George Washington University and a Bachelor of Science degree from the University of Richmond.