MUOS MilsatCom Capabilites Exceeding USMC's Expectations
The U.S. Marine Corps Systems Command (MCSC) is updating their tactical satellite system that provides increased communication on the battlefield — based on field user evaluations, the upgraded technology is performing beyond expectations.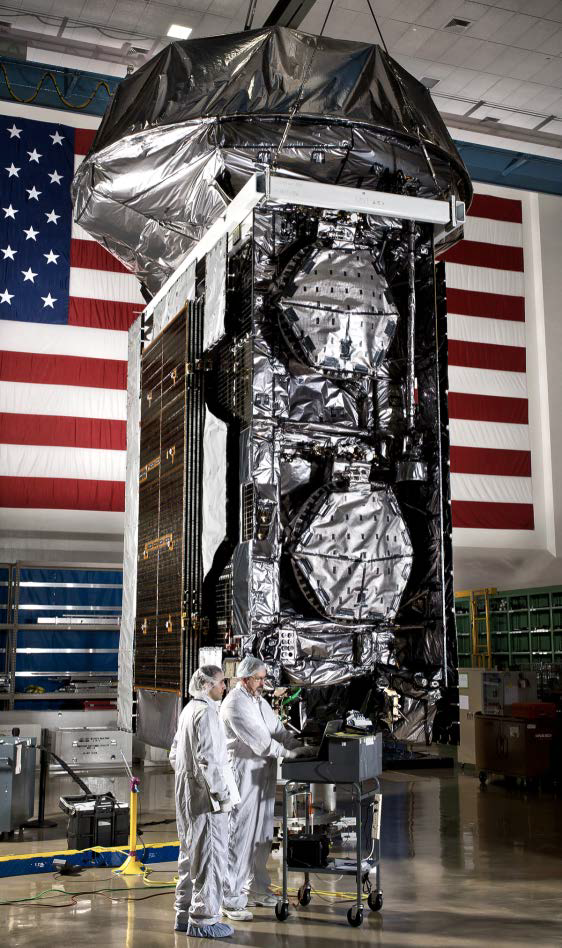 The Mobile User Objective System (MUOS) is a next-generation, narrowband satellite communication capability that enables Marines to connect to SATCOM networks. It encompasses updated firmware to the AN/PRC-117G radio system and one of three antenna kits that help users simultaneously access these networks.

Initially fielded in March of 2019, the system enables mobile or stationary Marines to leverage cellular technology to increase access to voice and data communication. It also improves overall reliability in urban environments.
Lt. Col. Jeff Decker, MCSC's Ground Radios product manager, said that MUOS gives the USMC a 3G capability using satellite constellations,. It is similar to a cell phone capability in the sky that covers the entire globe, adding that the 3G networks used with MUOS remain far superior to the Marine Corps' legacy SATCOM channels.
Decker noted that the Ground Radios program office continues to monitor the latest technologies and looks toward working with other services for future incremental improvements to the capability. He stated MCSC is looking to support the warfighter with a lethal and sustainable capability, which is the command's focus. The more robust and resilient the capability, the more we can start adding on back-end systems to help Marines. MUOS is changing the way the USMC looks at a tactical satellite architecture.
From March to May 2020, MCSC conducted various field user evaluations with I Marine Expeditionary Force at Twentynine Palms, California, to assess an updated version of MUOS that increases network stability while executing missions. During the testing, Marines participated in fire support simulation exercises where they employed MUOS for coordinated air strikes and mortar support. They also used the technology during scenario-based exercises that involved rehearsing command and control operations.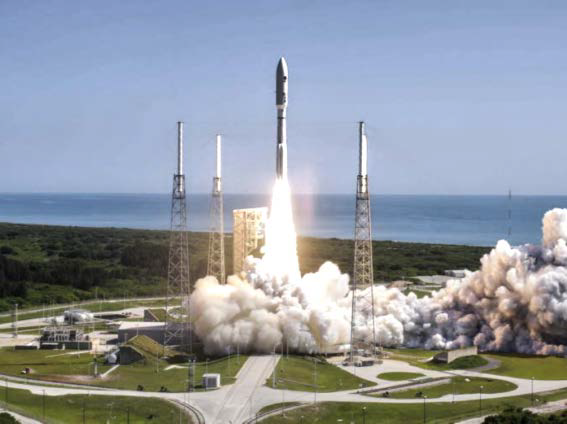 The launch of the U.S. Navy's MUOS 5 satellite via an Atlas V
launch vehicle in November of 2016. Photo is courtesy of ULA.
Decker said the system was tested through user evaluation exercises to understand what the capability can do on paper as well as how it can be uses to increase lethality and provide redundancy across the [Fleet Marine Forces].
The testing enabled users to grow familiar with the system, ask questions and provide feedback. It allowed MCSC to learn more about MUOS, including the system's strengths and limitations. Leveraging Marine feedback, the program office can make additional updates to MUOS as needed.
Eddie Young, project officer of Multiband Radio II Family of Systems at MCSC, said the testing helped the Ground Radios Team assess MUOS in combat-operational environments, which will better prepare them to employ the system during real missions and noted MCSC wanted to bring in these units and make sure the system is working as it should to ensure the warfighter's needs are met.
Both Decker and Young said the feedback on the updated MUOS from Marines has been overwhelmingly positive, and that the system has exceeded performance expectations. Decker noted how Marines commended the new waveform for its lack of performance gaps, its adaptability and the absence of any technical difficulties while testing.
Decker commented that the Marines showed no frustration while trying to execute point-to-point calls while employing MUOS in an operational environment. The system is doing what we expect it to do, and that is exciting."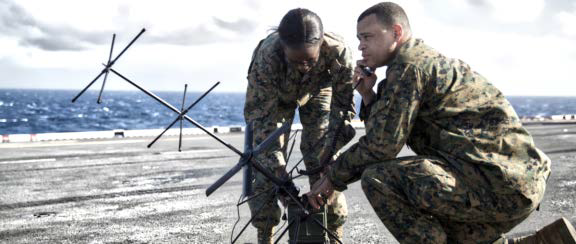 Sgt. Mason J. Roy, video chief for Communication Strategy and Operations at I MEF, participated in the communication exercises. He raved about the benefits of the exercises in training Marines for future missions that involve MUOS employment. He related that he believes the exercises went really well. The idea that a video or photo can be sent from the field to a command post [using MUOS] shows the Marines can rapidly inform commanders with visual information in order that commands could potentially adjust battlespaces to promote mission accomplishment and protect our troops.
The program office will begin fielding the updated version of MUOS this summer.
---
Hughes Demos Helosat Transmission of FMV Via Satellite From In-flight Blackhawk.
Hughes Network Systems, LLC (HUGHES) has announced the in-flight demonstration of Hughes HeloSat™ satellite communications (SATCOM) from a Black Hawk helicopter.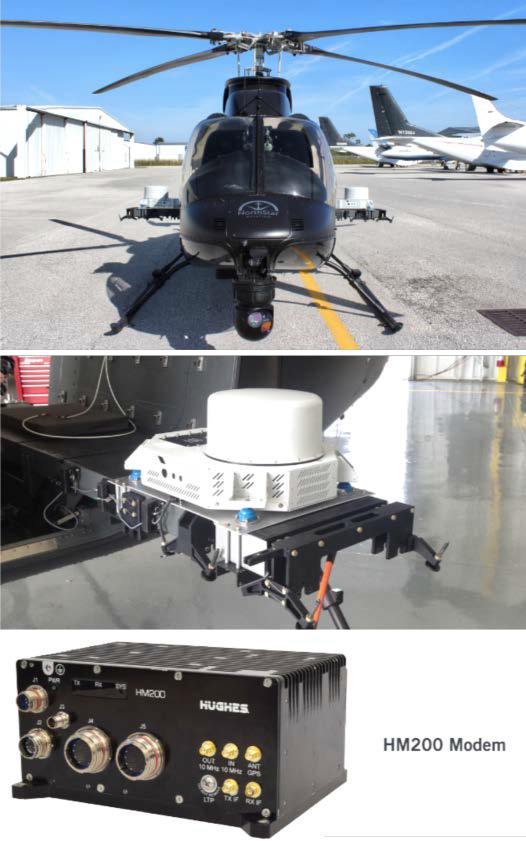 The HeloSat solution—including a Hughes HM series modem with proprietary through-the-rotor waveform, fuselage-mounted antenna and network management — transmitted consistent, real-time, full-motion video (FMV) to a live global audience from the Black Hawk as the helicopter surveilled the Tennessee landscape on May 21
Customers from as far away as Spain, India and the United Arab Emirates watched the Hughes HeloSat demonstration in Tennessee via livestream — the epitome of Beyond Line of Sight (BLoS) communications, said Wayne Marhefka, Senior Ddirector, Hughes Defense.
He noted this flight validates the Hughes HeloSat capability to support missions such as Intelligence, Surveillance and Reconnaissance (ISR), search and rescue, emergency response and airborne command aboard rotary aircraft such as the Black Hawk.
John Wellington, Chief Dflight Instructor, XP Services Inc., and former 160th Special Operations Aviation Regimen flight lead, who piloted the Black Hawk for the demonstration, reported that throughout the 30-minute flight, HeloSat maintained the live-stream video feed — something he said he's never experienced before on a rotary wing. Maintaining connectivity for the duration of the mission is critical, because when it is time to go, everything needs to be ready to go.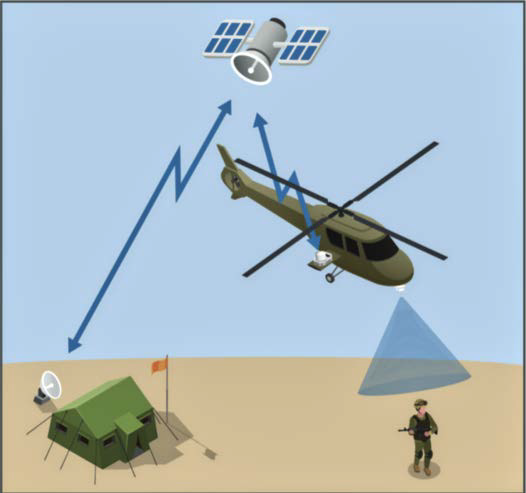 Hughes HeloSat provides connectivity
between the blades connectivity.
Graphic is courtesy of the company.
With the low Size, Weight and Power (SWAP) necessary for in-flight applications, HeloSat has been tested on more than a dozen different types of rotary-wing aircraft.
The wideband SATCOM solution supports mission-critical transmissions ranging from basic voice and data to bandwidth-intensive, high definition camera and electro-optical/infrared (EO/IR) feeds.
Several partners contributed to the success of the demonstration, including GetSat, DataPath, Applied Concept Group, Intelsat and XP Services.
Watch a video recap of the Hughes HeloSat In-Flight Black Hawk demonstration at this direct link.
www.hughes.com/collateral-library/hughes-helosat-solution
---
Land COTM Service Breaks Out From Intelsat General Corporation
Intelsat General Communications LLC (IGC), a wholly owned subsidiary of Intelsat, has launched their FlexGround Communications-On-The-Move (COTM), a portable land-connectivity solution designed specifically to meet the advanced communications needs of today's military, government and emergency responders, including border patrol agents and humanitarian aid workers.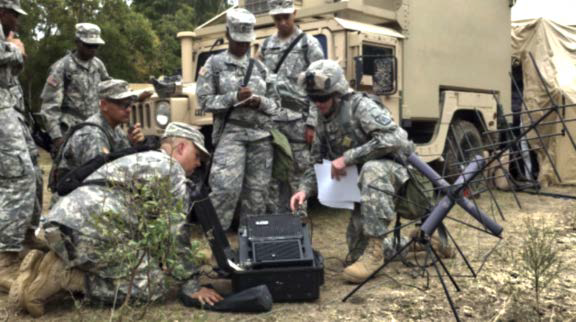 IGC's FlexGround COTM solution offers expansive global broadband coverage and the ability to transmit high-definition, full-motion videos using compact, low-profile satellite antennas.
FlexGround COTM leverages the strength of the Intelsat Epic high-throughput satellite fleet to deliver high-speed broadband mobile connectivity for a host of applications, including converged voice, data and video.
Specifically, IGC's FlexGround COTM manage service delivers:
• High-speed data transmission rates: with speeds up to 5x2 megabytes Maximum Information Rate (MIR), FlexGround COTM enables the transmission of high-definition, full-motion video using small antennas – all while users are on the move;
• Compact, easy-to-use hardware: small terminals and low-profile antennas are designed for easy use by non-technical operators;
• Affordable, flexible pay plans: with gigabyte and shared plans, plus a flexible, pay-as-you go model, FlexGround COTM is ideal for both occasional first-responder missions and around-the-clock military operations;
• Global coverage: the managed service leverages Intelsat's integrated global satellite and terrestrial network, which covers 99 percent of the world's populated areas, and it is comprised of more than 50 satellites worldwide, including the only global high-throughput Ku-band satellite fleet in operation; and

• Secure, reliable communications: anti-jamming capabilities, combined with multiple layers of resiliency, ensure secure communications and seamless connectivity.
Skot Butler, the President of Intelsat General Communications, said ground forces and emergency responders often work in remote areas far from any communications infrastructure, or where that infrastructure has been destroyed. Intelsat General customers have told us they need a more advanced and affordable solution, one that goes beyond the capabilities of the push-to-talk radios and low-bandwidth satellite communications currently on the marke.
Scott added that FlexGround COTM meets this need, enabling military personnel and first responders to securely, reliably and easily access and share information while in a moving vehicle.
FlexGround COTM is the third product in the FlexGround managed services platform, which also includes FlexGround Communications-On-The-Pause (COTP) and FlexGround Manpack.
www.intelsatgeneral.com/flexground/
---
GPS III Core Mate Success by Lockheed Martin
The United States Space Force's Space and Missile Systems Center's (SMC) Global Positioning System (GPS) III program reached a major milestone with the successful core mate of GPS III Space Vehicle 08 at Lockheed Martin's GPS III Processing Facility in Waterton, Colorado. With core mate complete, the space vehicle was named in honor of a NASA trailblazer.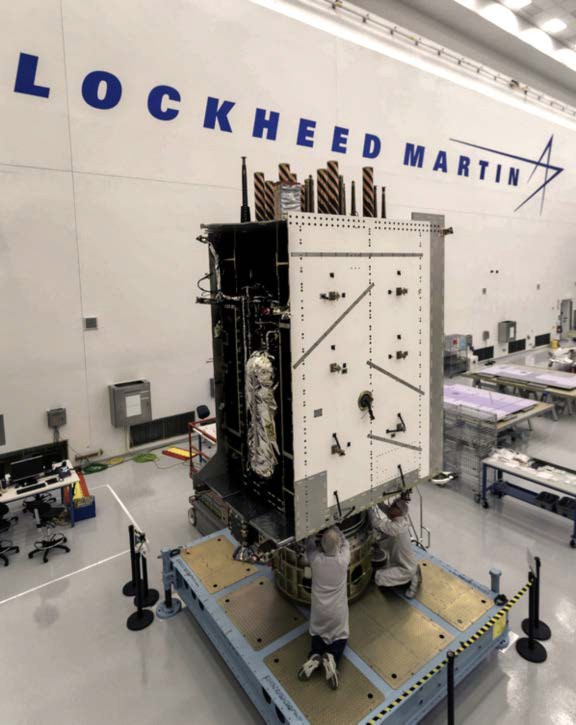 Lockheed Martin technicians successfully
integrated the U.S. Air Force's third GPS III space
vehicle (GPS III SV03) on August 14, 2017.
Note: This is not SV08, which is scheduled to
launch on June 30.
Photo is courtesy of Lockheed Martin.
The two-day core mate consisted of using a 10 ton crane to lift and complete a 90 degree rotation of the satellite's system module, and then slowly lowering the system module onto the satellite's vertical propulsion core. The two mated major subsystems come together to form an assembled GPS III space vehicle.
Despite the COVID-19 pandemic, SMC and its mission partner Lockheed Martin ensured that SV08 core mate took place — in accordance with all Centers for Disease Control and local guidelines to minimize exposure or transmission of COVID-19.
The GPS III Processing Facility's cleanroom high bay was restricted to only key personnel who were directly supporting the operation.
When the core mate operation is successfully completed, a GPS III satellite is said to be "born." In keeping with the team's tradition of naming GPS III satellites after famous explorers and pioneers, SV08 was named "Katherine Johnson" in honor of the trailblazing National Aeronautics and Space Administration (NASA) mathematician and "human computer" who designed and computed orbital trajectories for NASA's Mercury, Apollo and space shuttle missions.
One of four African-American women at the center of the nonfiction book by Margot Lee Shetterly and the movie titled "Hidden Figures," Katherine Johnson was awarded the Presidential Medal of Freedom in 2015 for her groundbreaking contributions to the U.S. Space program.
Other GPS III satellites have been named in honor of explorers including GPS III SV01 "Vespucci" after Amerigo Vespucci; GPS III SV02 "Magellan" after Ferdinand Magellan; and GPS III SV03 "Columbus" after Christopher Columbus.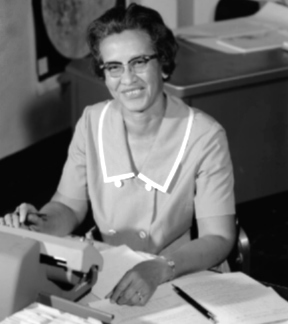 Katherine Johnson. Photo is courtesy of NASA.
The next step for the newly christened "Katherine Johnson" is the post-mate Systems Performance Test (SPT) scheduled to begin in August. SPT electrically tests the performance of the satellite during the early phase of build and provides a baseline test data set to be compared to post-environmental test data.
Launched in December 2018 and August 2019, GPS III SV01 and SV02 became part of today's operational constellation of 31 satellites, on January 13 and April 1, 2020 respectively. GPS III SV03 is scheduled to launch on June 30.
GPS III SV08 is currently scheduled to launch in 2022.
Lt. Col. Margaret Sullivan, the program manager and materiel lead for the GPS III program, said core mate is the most critical of the GPS space vehicle single-line-flow operations. Despite the restrictions presented by the COVID-19 pandemic, the team adapted and worked tirelessly to achieve this essential milestone.
www.lockheedmartin.com
---
Clearbox Systems to Enhance Australian Defense's SatCom Network
The Australian Department of Defence has selected Australian small business Clearbox Systems to enhance its global Satellite Communications (SATCOM) network.

The multi-year contract, which includes options for extension, will see Clearbox Systems design and implement the Aggregated Monitoring and Control System (AM&CS) to provide remote, centralised operation of Defence's SATCOM ground and space assets in Australia and abroad.
Currently, various SATCOM capabilities are operated in 'silos' causing operators to have to navigate through multiple systems to complete everyday tasks. The AM&CS will mak use of Clearbox Systems' world-leading SATCOM technology to integrate these silos. This will allow Defence to better meet its growing bandwidth needs by making more efficient use of equipment and radio frequency resources as they become available.
The value of the award to date is $12.1 million with the contract allowing for future task orders as the program progresses.
Work has commenced to deploy the system with Clearbox Systems providing locally developed products as well as specialist software engineering, integration and cyber security services. The work is building on over a decade of contribution to Defence's SATCOM capability.
The work is being conducted out of Clearbox Systems' secure facilities in Sydney and Canberra and has led to the creation of new specialist engineering roles within the company.
Jeremy Hallett, Executive Director of Clearbox Systems, said the company's entry into the Defence market over a decade ago was on the back of the firm's leading SATCOM solutions. He stated that it is gratifying that the quality of the company's work over that time has been recognized through the award of this Prime Contract to deliver an enhanced SATCOM capability to Defence. Clearbox Systems look sforward the continuing this close engagement with Defence and ensuring its global SATCOM networks are secure and easy to use.
www.clearboxsystems.com.au/
www.defence.gov.au/
---
General Atomics Partners With the Space Development Agency
General Atomics Electromagnetic Systems (GA-EMS) announced the company has partnered with the U.S. Space Development Agency (SDA) to demonstrate and conduct a series of experiments for an Optical Intersatellite Link (OISL) using GA-EMS's internally developed 1550nm (nanometer) wavelength laser communication terminals (LCTs).
This will be one of the first Department of Defense contracted efforts to develop and deploy a state-of-the-art 1550nm LCT to test capabilities to increase the speed, distance, and variability of communications in space.
The OISL demonstration will consist of two GA-EMS internally designed and built 12U cubesat spacecraft, each of which will host an Infrared payload (IRPL) and LCT payload, with an anticipated launch date in March 2021. Satellite development, integration and testing is being conducted at GA-EMS facilities in San Diego, California, and Huntsville, Alabana. GA-EMS will also provide mission control capabilities from its mission control centers in Centennial, Colorado, and Huntsville.
Scott Forney, President of GA-EMS, said this is an exciting opportunity for GA-EMS to leverage work currently underway to advance OISL technologies. For several years, the company has been developing a series of optical laser communication terminals to improve and increase satellite crosslink data transfer rates and downlink data rates. These experiments will demonstrate robust communication capabilities through multiple mediums, from Earth, to and between satellites in multiple orbits and on into deep space. GA-EMS' LCT technology will modernize and enhance space communications permitting faster communication transmission across longer distances and with greater fidelity.
Nick Bucci, VP of Missile Defense and Space Systems at GA-EMS, added that the company's small satellite designs offer unique solutions to many of the challenges that arise when developing demonstration assets, such as LCTs including addressing specific size, weight, and power requirements. With GA-EMS' proven spacecraft and capabilities, coupled with the company's significant investment in LCT research and development, the firm anticipates this demonstration to show data rates up to 5 GB a second at ranges up to 2500 km, and this LCT can support out to greater than 4500 km. This increased speed in communications is necessary to advance a variety of space applications in intelligence, surveillance, telecommunications, reconnaissance, and more.
www.ga.com/
---